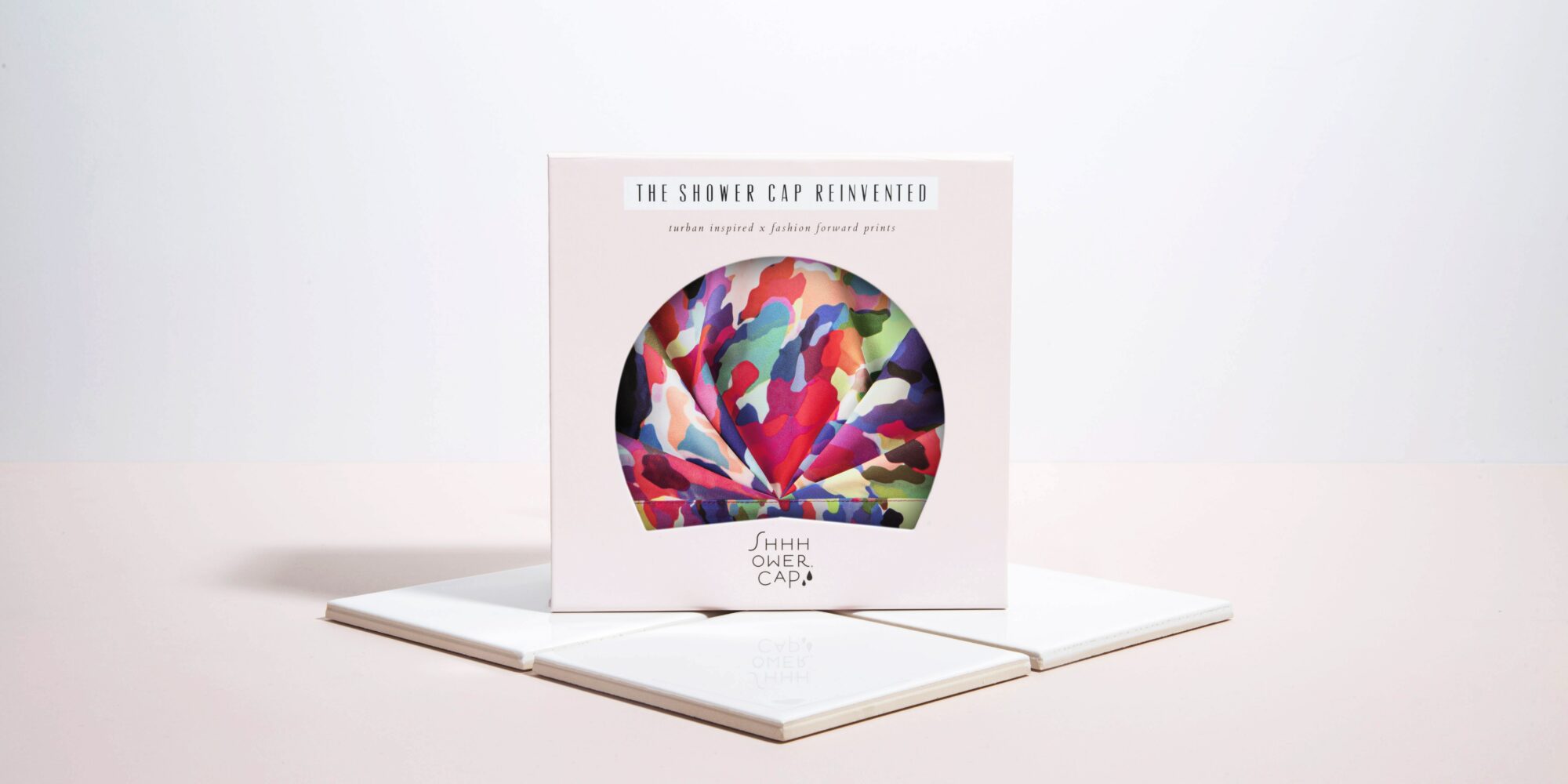 After Reinventing The Shower Cap, Design-Focused Brand Shhhowercap Is Now Poised To Do Much More
Too much focus is scarcely ever a bad thing for a brand in its nascent stages. Shhhowercap is case in point. Founder Jacquelyn De Jesu launched it in 2015 with very clear vision to upend the shower cap category with a luxury store-worthy stylish and effective version of a throwaway plastic product consumers were accustomed to picking up at their local drugstore. Essentially, Shhhowercap was doing for shower caps what Starbucks did for coffee, making it valuable, if not essential, to buy a cheap staple good at a more expensive price.
The focused formula worked splendidly for Shhhowercap. On average, the multimillion-dollar brand's sales have jumped 300% year-over-year and, last year, amid the pandemic, they increased 39%. Now, with its shower cap firmly established in the marketplace and available at stockists the likes of Goop, Revolve, Anthropologie, Nordstrom, Net-a-Porter and Violet Grey, Shhhowercap is ready to broaden its focus. "It's really a game of scale, and continued growth and international distribution while we are protecting the prestigious positioning we have worked so hard to establish," says De Jesu. Beauty Independent asked her to elaborate on seeking funding for Shhhowercap, reaching profitability, selling on Amazon, expanding merchandise and building out a portfolio of brands.
What were you doing before you launched your brand?
I had a career as an advertising art director working at the world's top agencies, Saatchi & Saatchi and BBDO, on clients like Oreo, Fisher-Price, Olay and Suave. I had the idea for the brand, and I was just sick of making other people's brands exciting and interesting. It really struck me that my idea was one of those things that I would regret for the rest of my life if I didn't do. There wasn't a period of time where it sat at the back of my notebook. It hit, and I recognized it as a huge opportunity because it was a space that needed my design skills and aesthetic to create a brand where there was no brand.
I wasn't washing my hair every day. None of my friends were. We were spending hundreds of dollars on blowouts and dry shampoo, but, when I went to find a shower cap, there was nothing I wanted to spend on. For me, what was most inspiring was the palpable brand opportunity because there needed to be a repositioning. The entire category was viewed as something for aunts or neighbors downstairs, but, at the end of the day, people who were powerful and beautiful wore these things in the nude, and that's a time when you need to feel your best.
How did you execute your idea?
First thing I did was I Googled a patent attorney. I called one of the first search results and asked if I could talk to him for five minutes to ask what would make something patentable. I knew I wanted to make something that was an actual invention. I also went on G Chat, which shows how long ago this was, and asked every woman I could find—girls I went to high school with and ones in my sorority—two questions: One was, do they wash their hair every day? The next was, do they wear a shower cap? The answers validated my next steps pretty quickly.
From there, I started to work on the brand and orient myself around what I wanted it to look like. That's where the turban silhouette came into play. I wanted to create something that was long-lasting and had the opportunity to be iconic. I was able to mind my network in New York City, run back and forth to the Garment District, and go to trade shows at the Javits Center to educate myself on performance fabrics. It became an iteration game to make something that checked all the boxes.
Once I had a silhouette that fit all my hair plus a towel and looked chic, I felt the design was ready to test with a large group of women that weren't me. I was so passionate about the idea that I spoke to anyone about it. If you happened to be near me, I was asking you about your hair health habits. It was through those conversations that important things rose to the surface. A good example is that I never had a problem with the indents that elastic make on your forehead, but, through those conversations with women, I realized it was a pain point for them, and realized it was critical in development and also critical for marketing messaging.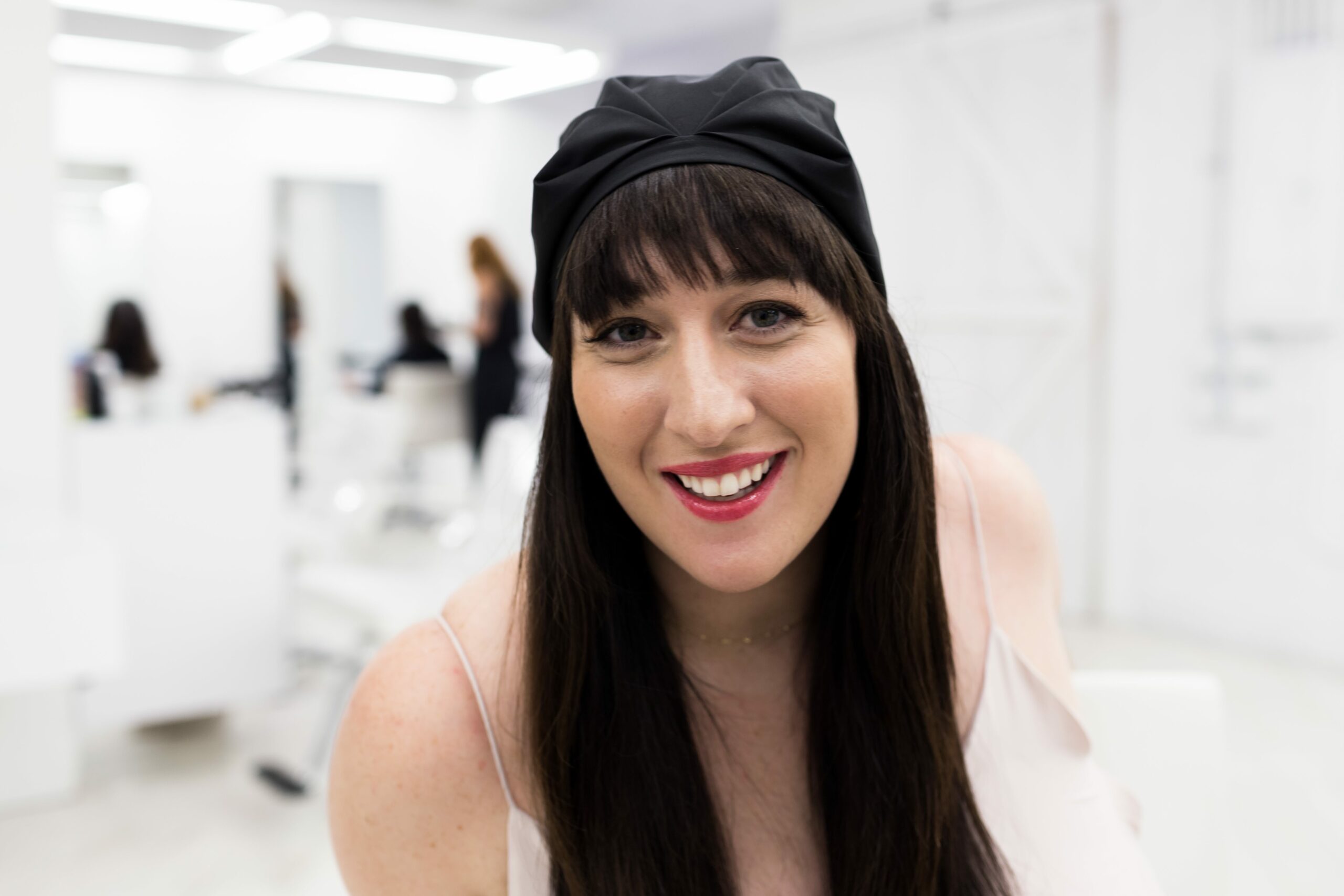 How much money did it take to develop your brand?
I was freelancing at the time, and it was effectively my passion project. The ballpark figure is about $10,000. I was able to build the brand, do the site and direct my first photo shoot. While I was in development, I would give people business cards and ask them to sign up for the mailing list, and I created a group of advocates of almost 350 people. I announced to my family and friends on Instagram as well and wrote my own press release with images from our first photo shoot. It looked like we had a $2 million seed round when it was really me as a solo founder trying to make things happen.
My husband and I were blasting out the press release to any contact with could find. Fast Company picked it up the day after the site went live. Having many friends that have hired expensive PR firms before launch, it's not lost on me that a headline like "Reinventing The Shower Cap For The Modern Woman" the day after the site went live was important to our start.
If you could go back and raise $2 million, would you?
I think my story is unique because we didn't. A lot of what I talk about is the power of brand and product disruption, and not this false disruption that's fueled by pumped-up money. I have thought about this a lot because we are now expanding the brand and the product line, but it was really important to stay narrow and deep, and iterate through print and color for the first couple of years of the company's history. I don't think I would have been able to do that and still be CEO and as happy as I am personally with the brand if I didn't have that as a clear vision. I think, if I had $2 million from investors in the early days, I would have had to have bathrobes and matching shower curtains.
Why did you want to call the brand Shhhowercap?
One is that I wanted a brand name that was synonymous with the category. I thought that a huge opportunity was to basically be the Xerox of shower caps. I also liked that that it was fun to say. I read that Sara Blakely credited a lot of the success of Spanx to the 'x' being a letter you could really hear. I liked that Shhhowercap had an ownable sound. And it was because the fabric we were using made less noise than the plastic of shower caps.
What price did you launch your product at?
The price was $43 because I knew that it was one of the levers I could pull at launch that would validate the fact that this was something different and elevated, and no longer a commodity item in this category. It was important to me to price it as something someone one value. I got advice from my cousin's husband, who was head of sales for Scotch & Soda. He said, "You can always trickle down, but you can never go back up." I'm so grateful for that advice because it made sure our margins weren't handcuffing us to DTC, and we didn't need to reach a certain scale with the margin we had to support wholesale. If I launched at $19, I don't think we'd be selling at Goop or Net-a-Porter.
What was your distribution strategy?
We launched online without any wholesale partners at the time. Because of my background, it's been very familiar to me to create the brand as a DTC brand, and e-commerce has been the majority of revenue as we have scaled. That is something I loved because it allows us to have direct communication and a relationship with our customers. So much of what we are building and creating next is really about understanding what their needs are. While I'm happy that is the majority of our sales, I think wholesale growth is a huge opportunity at this stage. That's true through scaling and sell-through with our existing partners, and internationally with new partners.
What about your retail strategy?
When we disrupted the category, it was first and foremost because our patented waterproof turban innovation is a game changer. It does what it says it does, and addresses issues in the market that women experienced and that there was no solution for, but very important to our success was the elevation of the commodity category. So, our partnerships were critical. It was important to me that we weren't just taking any retailer that came to us. Violet Grey was one of our first-ever retailers. Now, after years of being incredibly selective, I want to make sure we are on a path to ubiquity, and that means being readily available both domestically and internationally. Currently having a single hero product, it's important that scale and continued growth is at the forefront of our decision-making.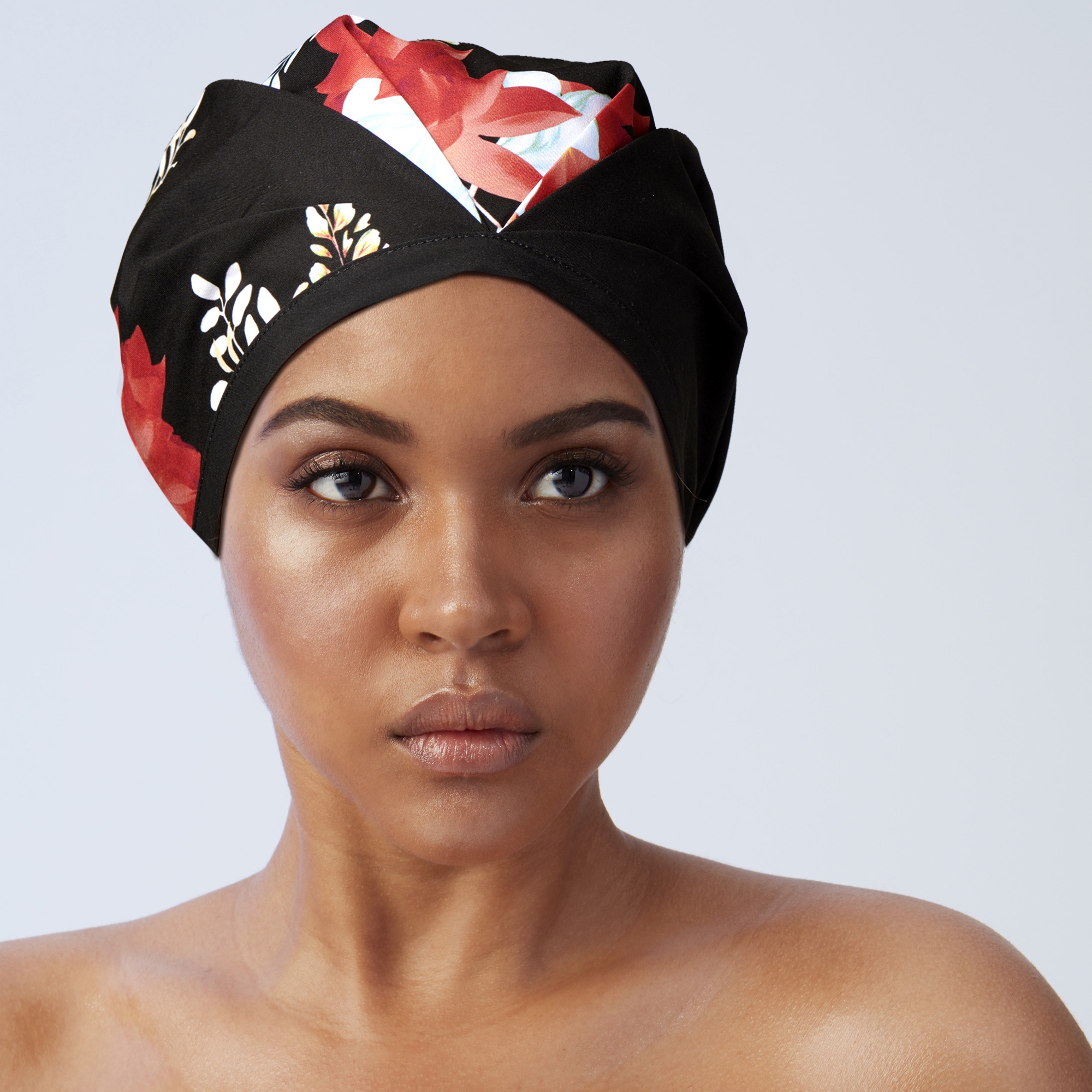 Is Shhhowercap on Amazon?
We stayed off for as long as we could because of the prestige positioning, and I wanted to make sure we weren't going to cannibalize our traffic from shhhowercap.com since SEO is so dominant. I wanted people to buy from us in the early days instead of buying from Amazon. Also, we got some whispers in our ears from retailers that they would consider it a threat, but, at the end of the day, we held out for as long as we could. It's a necessary evil. When you have knockoffs, at some point, you have to be there, and our customer wants us there now. It's aligned with her shopping patterns. And, as an indie company, it's nice to be able to point people to somewhere if there's a delay from us.
What's been your product launch cadence?
Our launches are more in line with the fashion calendar than the beauty calendar. It's always important that you have something new that's exciting for people to come back to. Certain brands do that through new products, but we have always done that through new fashionable prints or seasonal colors. The woman who gets our winter exclusive is loving us in the summer. So, when we drop a summer print, she wants that one. We communicate with her to encourage her to come back and take a look. Also, we always have a high-growth Q4 because we have a very giftable item.
I think we have rushed launches in the past. It's really important to have a full timeline so you can hype it up properly, whether that means you are dropping hints on Instagram or building a pre-sale list. Any opportunity to tease and excite your customer is only going to make whatever you are introducing more powerful when you do.
How are you expanding the product line?
We have a really exciting opportunity as a brand in that we know that every shower cap that has ever been made, gifted and sold in wholesale or e-commerce went to a person who is not washing their hair every day. That in itself is allowing us to effectively scale our white space position. We are listening to our customers and having ongoing conversations with her about what she's missing in her arsenal, and that's everything from accessories to formulas in relation to her hair health behavior.
When do you expect Shhhowercap to reach profitability?
For the past couple of years, we have been investing heavily in growth, and I'm happy to say that we are on a clear path to profitability for 2021. COVID had a lot of unexpected costs I will say, but, in any heavy growth period, your customer acquisition costs are raised and your marketing is amplified. Also, right now, we are fighting a pretty significant infringement case against Kitsch, so that's been an investment for us. Going into this year, our CAC costs have stabilized, and we are at a scale where we can continue to negotiate with our suppliers because we have enough bargaining power to do so. It takes volume and a length of time in the relationship to be able to do that.
Have you considered the possibility of doing a lower-priced brand?
It's something we have definitely thought about, especially when it comes to larger opportunities like the Targets of the world. I'm not that precious. I think there will be a moment in time where we will revisit pricing, but what we do now—our performance fabric and manufacturing here in the U.S.—those things validate the price points that currently exist. The nice thing about our price as well is it's a good gifting price under $50. Even though it's expensive for a shower cap, in the grand scheme of beauty products, it's well within what consumers are spending.
What was the toughest day at your business?
There was a really hard day during what was a well-planned transition for the exit of my first employee, who was my VP of operations and my right hand for the first four years of my brand's growth. She was the closest thing I had to a co-founder. I remember literally crying in my office because I missed her, but also because I didn't know what my company would be like without her. I knew I had a great team, and we were going to continue to be successful, but it felt like the end of an era. I think transitions are always hard. It doesn't matter how long someone has been with you, but that felt like, not just the closing of a chapter, but the closing of the first volume of my book. I love her so much and am appreciative of everything she gave.
Did you hire another VP of operations?
We had a three-and-a-half-month transition planned. Her last day was Feb. 7, 2020. I wasn't crying in my office that day because I knew there was going to be a global pandemic, but maybe in my gut I knew something was coming. Because of where we found ourselves after her transition, I made the decision to hire a supply chain consultancy to help us as we navigated things we had never seen before. I'm having interviews now for the person who's going to be in the position next.
Has there been a rejection that's particularly stung?
With all of the press that we have gotten, Into The Gloss has never written about us. I think about it more than I want to. I've met [founder] Emily [Weiss] on the street, and she's posted about the brand on social. We have been on Into The Gloss because we pop up in people's Top Shelf, but they have never featured the brand independently. It's not really a grudge, more of a yearning. It's a stamp of validation I'm really looking forward to one day. It's a desire and a goal I have yet to reach. It may not be the biggest one, but it matters to me.
You are starting to fundraise for Shhhowercap. Why is it the right time now to do that?
We are planning to raise about $3 million. Over the years, my husband, and I have made the investment in this incredible opportunity. We always say, "It's the best place we can invest because the Shhhowercap brand is ours," but I would like to not do that as much. I think that COVID-19 proved that anything can happen, and I never want to be in a position further in our growth story where we are hit with such an epic surprise. Also, I have many ideas that aren't just shower caps. My core competencies allow me to be able to launch more innovations and brands into the world, and I want the ability to be able to do that without bootstrapping from the ground up again. It's not for the faint of heart.
If we were investors, why should we invest in your company?
We reinvented the shower cap. We have an incredible IP protection assigned to an innovation that solved for pain points that no one was thinking of and, because of that, we have become a category leader in a space that we own. We have a very exciting way we are going to scale that white space with hundreds of thousands of loyal customers ready to buy along with the opportunity for global distribution.
What are your key short- and long-term goals?
I'm the immediate future, I'm really focused on building our team and my executive line. I've never had that in our history. I'm looking for a deputy line of VPs. Obviously, making sure we are set up for continued success is important, and we are working off of a new product development schedule. It's exciting to see things other than just shower caps come to life.
As far as the next five years of the Shhhowercap brand go, I'm most excited about Shhhowercap being one of my brands in a portfolio of brands that are built around innovative hero products. If you look at Shhhowercap as a case study around powerful consumer insight and design at the forefront of a company, those are the core principles that I want to take to the next thing we launch. Shhhowercap is my first baby, but I hope she's not my last.
Addendum from Feb. 3, 2022: At the time this article was published, the brand was in the exploratory stages of an institutional fundraise. It's since decided to rely on the contributions of individuals and angels in its network.