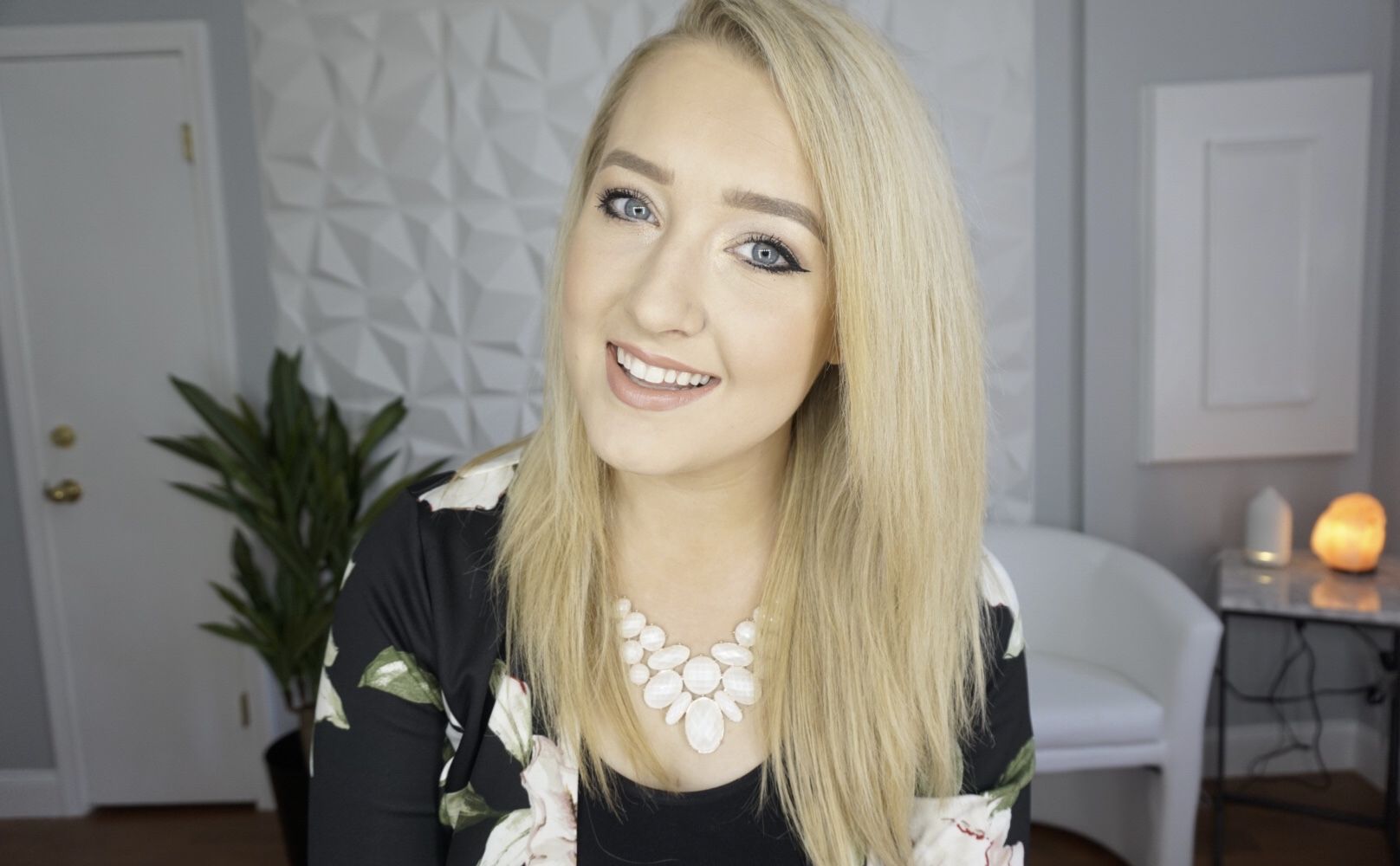 Aisling Organic Cosmetics Gives Millennials Instagram-Worthy Clean Beauty Products
Krysta Lewis, the 23-year-old founder and CEO of Aisling Organic Cosmetics, regularly encounters doubters who jump to conclusions about her business based on her age, but she wins them over with entrepreneurial acumen and an intense drive to convert millennials to organic makeup with her brand's high-performance products. "It comes down to getting people to see my passion and vision for where the brand is going. That trumps everything else," she says. "Once people sit down with me, they put aside the fact that I'm 23, and they're excited for the future of Aisling." Beauty Independent talked to Lewis about the current state of her brand, including its distribution strategy, assortment, makeup artist program, online customer retention, supply challenges, content creation and why Sephora may not be the best retail fit.
How did Aisling Organic come to be?
My family owned C.B. Sullivan Company. It was the largest beauty distributor on the East Coast. It was sold to L'Oréal in 2010. Since I was little, I was involved with the hair shows, and going to stores and events. I grew up on the conventional side of beauty, specifically haircare, but I always shied away from hair. Makeup was my thing. I would spend hours studying new techniques and spend all my Christmas money at Sephora. While I was in college and even before that, I suffered from chronic nausea. I was seeing the best doctors, and they led me to pain management and anti-depressants, which I knew weren't the right solutions for me. I started investigating myself, and eating well and exercising. I still wasn't feeling better, and I was surprised that I wasn't.
One morning, I was sitting at my makeup area, and I took a look at my foundation and said, "Holy cow, I have no idea what's in this product." The foundation had things in it that you'd find in a body shop, and you didn't think were your beloved beauty product. So, I thought, "Why don't I not use this makeup for a few weeks and see what happens?" A few weeks later, my symptoms went away and haven't returned. I started looking for alternatives on the market, but products that claimed to be clean weren't as clean as I hoped. The products that were clean didn't work the way I wanted them to and was used to. I decided to launch a line focused heavily on ingredients, but equally as heavily on performance.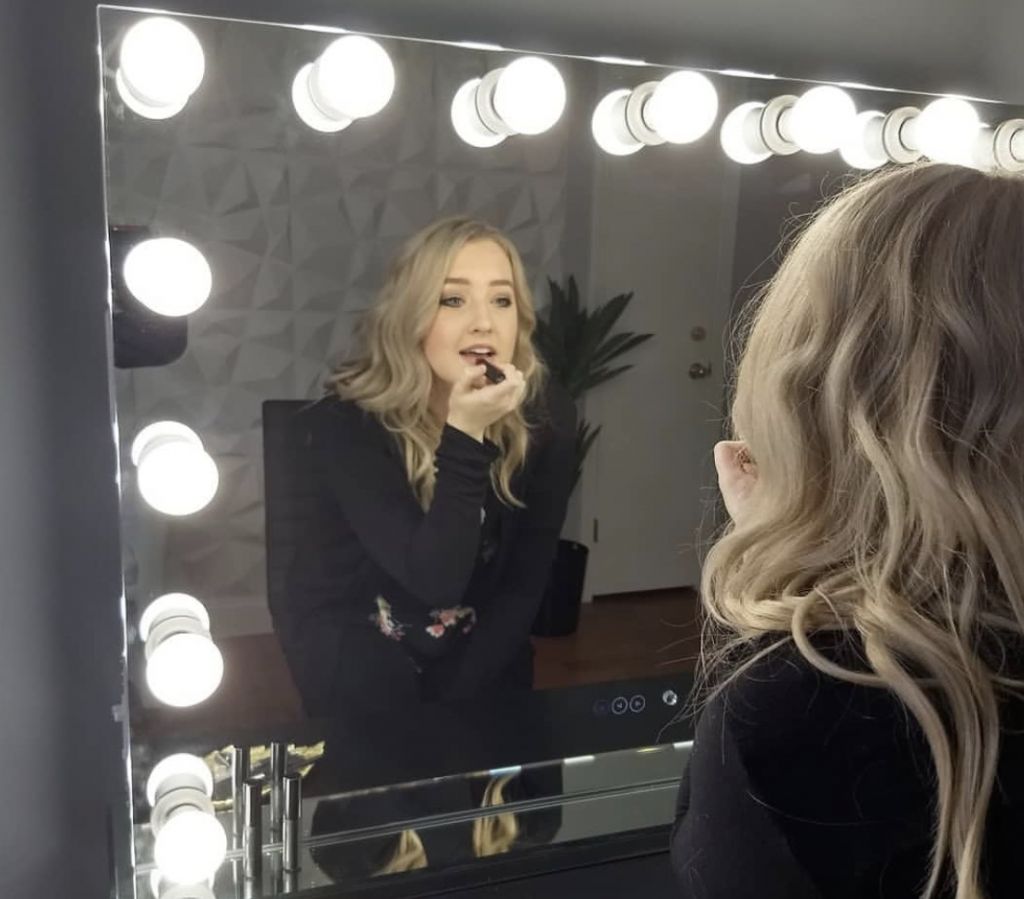 When did the brand launch?
I launched my brand in April 2016. I was 21-years-old and had just graduated college. At that time, my philosophy was: What do I have to lose? I knew I had passion, and I spoke to my family about what it takes to grow a successful company, especially when it comes to beauty, and how I should attack the industry. It took six to eight months to figure out the logistics of everything before I was able to launch. Aisling means vision in Irish, and my vision is that, one day, everybody will use the purest ingredients on their skin to promote optimal health. My vision is so important that I put it in the title.
What did Aisling Organic launch with?
I launched with five products: foundation, concealer, lipstick, cheek tint and mascara. The price range was $25 to $45. I envisioned Aisling to be a luxury line. You look at the line, and you wouldn't know it was organic until someone told you it was. The pricing was aligned with a high-end line. I didn't want it to be unaffordable for people shopping better alternatives, but, at the same time, I wanted the pricing to be able to encompass distributors and wholesalers.
What's your distribution strategy for the brand?
Distribution has been tricky. I grew up with salon distribution. That's what I thought I would work with, but I quickly realized that the people going into salons aren't necessarily people who are educated in organics. Jane Smith who walks into a salon seeing an organic lipstick might think, "OK, organic is trendy," but she isn't thinking about the ingredients. As I started to work with distributors, salons and wholesalers, I realized it's hard to rely on them to educate for you in the right way.
There are a lot of people who switch to my line because they believe in my story and the impact I'm trying to make. They are educated not only on what's in the products, but how to you use them. Once a consumer gets those points, they are a lifelong customer, but they weren't receiving the type of attention that's needed at these places. Our focus right now is e-commerce and practitioners such as chiropractors and nutritionists. The customer going into those offices is making a life change. They are switching supplements, skincare and other products, and they are going to switch their makeup and be dedicated to that switch. They are not just grabbing organic makeup because it's trendy.
How do you reach people through practitioners?
It's a trickier distribution method, and it's different from what's mainstream right now, but we've had great success with people telling practitioners about the brand. We also use a platform from Emerson Ecologics called Wellevate. Practitioners can use it to choose different products they want their patients to start using. We've been able to access practitioners by partnering with the company.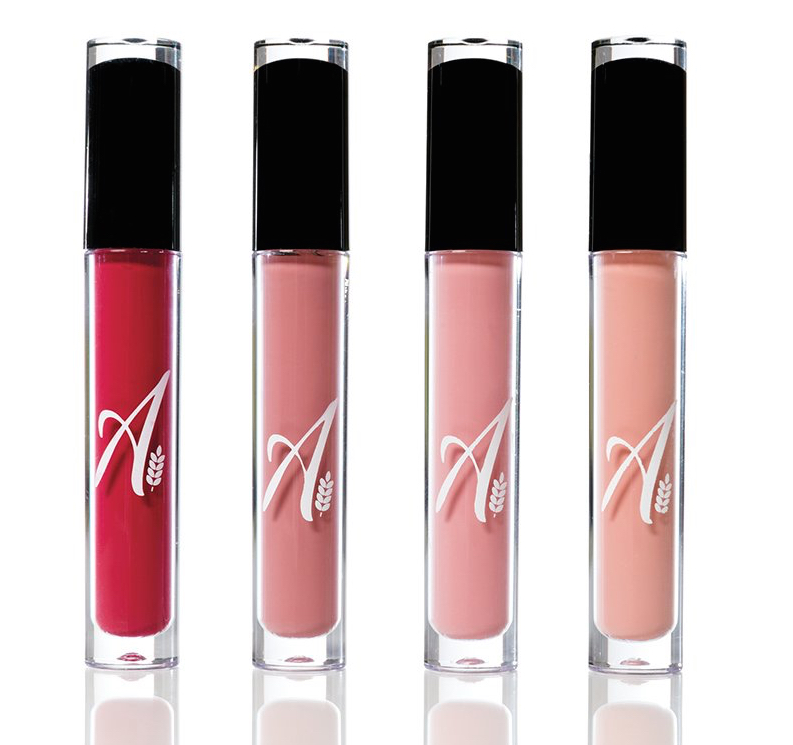 Pretend we are a distribution partner you want to pick up Aisling Organic. Give us a quick pitch on the brand.
Aisling Organic Cosmetics is a revolutionary line of high-performance and organic makeup. We stand out from competitors by focusing heavily on performance, education and quality ingredients.
Can you tell us about the brand's growth?
From year one to year two, we grew 251%. We currently have a 44% reorder rate that's growing by 2% each month, which is very high for e-commerce and speaks to how much people love our products. We are expecting the same type of growth from this year to next year, around 200%.
How much of the business is wholesale versus e-commerce?
Right now, wholesale makes up about 60% of our sales, and that's fueling our e-commerce, but we want that switched. We would prefer e-commerce to be at 60%. When it comes to makeup, you still need places where people can try it in-person, but I don't think they need to be the majority of where our sales come from.
Who is the brand's target customer?
Our target customer is the girl who I was. It's someone who loves Instagram makeup, the artistry elements of makeup, beautiful pigments, strong colors and long wear, and who is interested in living a healthier lifestyle, but doesn't want to give up on makeup performance. She is switching to us because she knows that our products work the same if not better than the conventional alternative. A portion of our customer base is millennials, and that's why one of our focuses is on content because we are really trying to show them that you can have organics that work the same if not better than conventional.
What is Aisling Organic's bestseller?
Our bestseller is definitely our liquid lipsticks because they are unlike anything else on the market. Some people might be say, "Why did you choose liquid lipstick of all products?" The reason we did it is that Kylie Lip Kits are popular, and our focus is to get millennial customers to switch to better products. We found that the quickest and easiest way to do that is with a product that they know and love in the conventional world, which is the liquid lipstick. The best part about ours is that it is long-lasting, and it's heavily pigmented, so you get those bright colors, and that's something you don't see in other products on the market.
What's been the most challenging product?
The liquid lipsticks have been our bestsellers, but they've also been our most controversial products. A good portion of the true natural product lovers aren't necessarily people who use matte. They are using light glossy finishes. So, I have a good portion of consumers expecting it to be a gloss, and it's not a gloss. That's the only product where I have a divided customer base.
Have you endured a tough period at Aisling Organic?
When I first started, I was 21, so I was very trusting, especially with my partners and suppliers. That really ended up hurting me because they wouldn't follow through on the promises they made me. When you are a small partner, people don't take you seriously. That resulted in delayed product delivery times and products not having what was promised in terms of performance. I started working with a lab who promised me that a product would be delivered to a huge account on a certain date. They said it verbally, and it was not in a contract. The account ended up getting the delivery a month-and-a-half late. That's not how I operate or run my business. It's really unfortunate when you rely on other people, and they let you down, and it reflects back on you.
What was the takeaway from that experience?
I have a lawyer look at everything, no matter what it is. I'm not afraid to negotiate even if it takes a few months to get an agreement. At the end of the day, it's about what works best for us and, if a supplier can't meet our demands, they are not the right supplier for us. Sometimes, when you are small brand, you think you need to please everyone, but you shouldn't do that. Even if you miss an opportunity, in the end, you only want to work with people on the same page as you.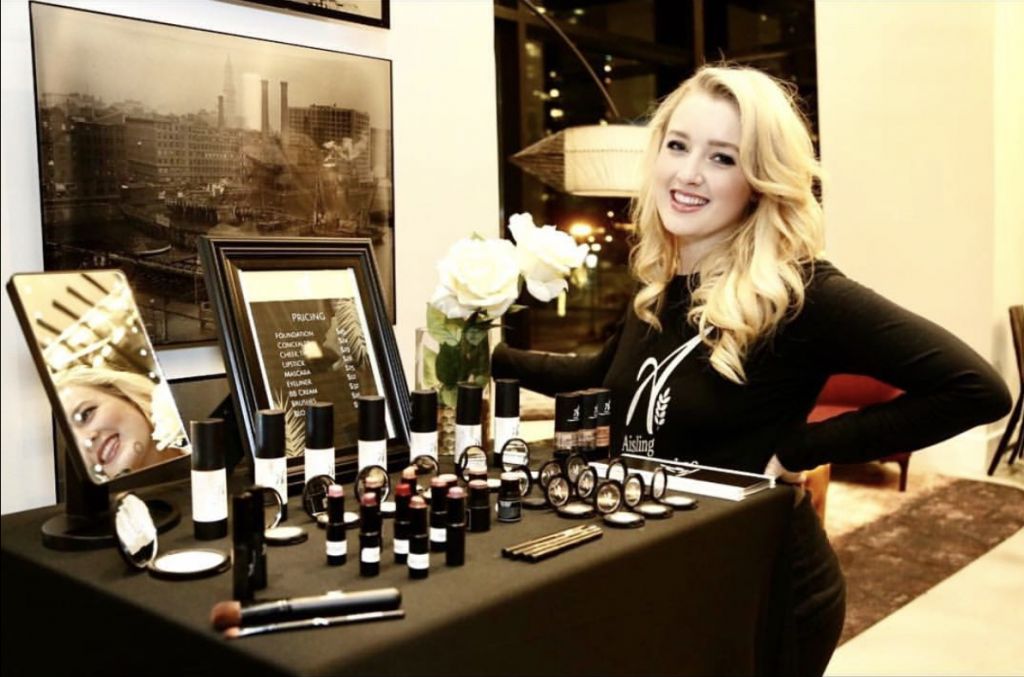 Do you feel your age has been an impediment?
Absolutely. People judge before they speak with me. I've gotten this exact quote from investors, though, that, "Yes, you are judged at first, but, the second you open your mouth, people realize you are wise beyond your 23 years when it comes to business." I've been through two accelerator programs, and I continue to educate myself. I went through Alpha Loft, which is a tech accelerator out of New Hampshire. Then, I did the WIN Lab, which is through Babson College. When you are young like I am, the only way to compete against other brands is to be educated.
Do you have a mentor? If so, has he or she given you impactful advice?
I have my family and, besides that, I have different ones that I've discovered through the accelerator programs. Something that's stuck with me that one of them mentioned is, "Just because it's right for someone else doesn't mean it's right for you." When you think about success for a beauty line, you automatically think of places like Sephora. You might think that's the right path, but, realistically, it could crush your business. And it might not be the right place for my line. I've had a hard time putting aside the fact that Sephora isn't the right fit for me because people think that's what success means, but I need to do what is right for my brand and what will help it grow.
What do you think has been particularly helpful in propelling Aisling Organic's growth?
Content is driving our growth. I have always been someone who loves to speak publicly and be in videos, but, when I first started my line, I was afraid to post videos because they weren't perfect. Perfection is the enemy of getting anything done. It took a while to for me to build up the guts to post anything. This past January, I was in a Harvard class, and the professor forced us to post videos. I was so afraid to post something that wasn't perfect, but I did it anyway. I got seven times the engagement of the pictures I was posting on Instagram. That was the catalyst for doing more video content.
Since then, we have seen tremendous growth online just from videos. We do how-to videos called Aisling Master Class. They focus on how to use products effectively in their best form. A great example is our cheek tints. A lot of people fear cream blush, and they don't necessarily know how to apply it. We put up a video showing how to properly use it and, since then, we have seen so many reviews on how much people love the product because they are using it correctly. We forget sometimes as brand owners that it is important to show technique as well as showcase ingredients. Unless people are formally trained, they don't necessarily know how to use these products. When I started my company I got my aesthetics license, and it's become so helpful when it comes to training our customers.
Can you build on the Aisling Master Class concept?
Our long-term strategy is to do nationwide Master Classes in-person to engage customers who are loyal to our brand and really want to learn from us the best ways to apply. We have done small-scale ones locally, and we see that it increases sales and leads to customer retention.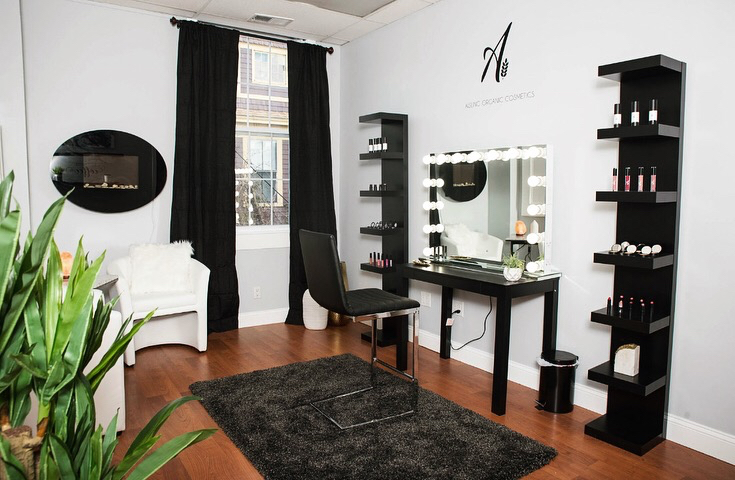 What's your work space like?
We just opened up a new color consultation studio in Andover, Mass., that's also our headquarters. It embodies our brand because it's modern and minimalistic, and it showcases the product. Right now, I have five employees, and they're all remote. They don't work out of the main office, although they can. I'm hard-working, but try to understand the importance of work-life balance. Work should be fun, and it is something that should be split among other hobbies. I am flexible with work schedules and make sure that they love what they do because, if they don't, it's time to find a new job.
What is your approach to building Aisling Organic's direct-to-consumer business?
When I started, I thought, "Who wouldn't love to be just a direct-to-consumer brand and not worry about anything else?" Well, what I quickly realized is that, unless you have a huge marketing budget, that's not realistic. That's why my strategy is part strategic wholesale because I need that capital to fund the growth of my e-commerce site.
When it comes to e-commerce, it's about being seen as an expert in the industry, telling your story and educating customers, and making sure your website functions in a way that retains your customers and promotes reorders. I see so many brands that have a standard website. They aren't thinking about a loyalty or affiliate program, and how-to videos or apps connected to products make sure you have don't high rate of cart abandonment.
Is there something you've done to retain customers online?
Adding a subscription component has been great for customer retention. Let's say, for instance, someone is using our Eco-Luxe Liquid Foundation. Generally, you run out every one to three months, depending on the user. If someone purchases once, they might love it so much that they purchase a subscription when they go to buy it a second time. They will save money with the subscription, and they're getting it within a set timeframe, so they never run out.
The biggest enemy of an online business is running out [of stock], and the customer going to their local store to pick up another product. Subscription means they are getting it automatically, and it helps with our forecasting because we already know when there is going to be orders for products, and customers are loyal because they consistently get products when they need to.
Do you cultivate relationships with makeup artists?
We love, love, love makeup artists, and they love us because they are able to not only use their skills for income, but our products. There are so many makeup artists that refer people to stores for products. When they represent us, they are able to provide an organic option and sell it on the spot, which can double and triple their yearly revenues. We have a pro artist program, but it works by us essentially signing them up as a wholesaler. A lot of our makeup artists do weddings, and we put together packages that have a lipstick, setting powder and other products, and we call them touch-up kits. For the day of the wedding, the bride and the bridesmaids buy these touch-up kits, so, when the makeup artist leaves, they can use the products to touch up. Those sell for over $100. The makeup artist is not only making money on the service, they are also making money on the products, and new customers are introduced to us.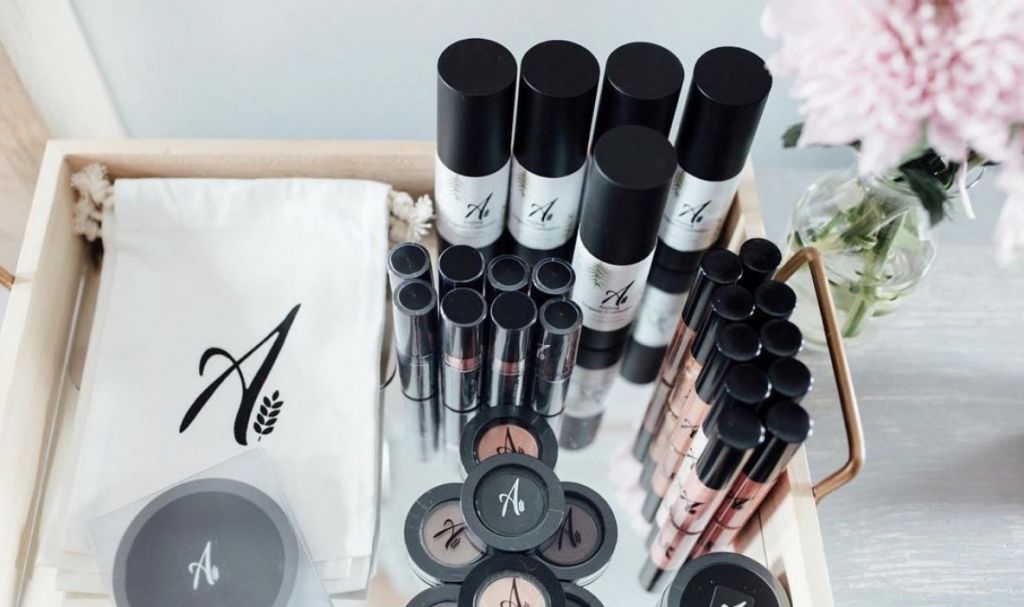 Have you done any fundraising?
We have been pitching to multiple funds, and it really comes down to finding a good strategic partner. We don't want to just take anyone's money. We want to find someone who is really invested in our vision. We are looking for capital to help the growth of the company. We are not looking for an acquisition. We want to hire more employees, [produce] sample sizes and [increase] product development.
What do you want to add to Aisling Organic's assortment?
We are working on a primer, and we also think that there isn't a kick-ass mascara in the market that's organic. There are good ones, but nothing that's like a cult-favorite mascara. We have a mascara now, but we want to create something that's more unique than what we currently offer. Mascara is universal, and it's a great entryway into the line.
What's the biggest lesson you've learned about what it takes to make it as a beauty entrepreneur?
The biggest lesson that I have learned is that you have to have tough skin. This business is really cutthroat, and you have to move past challenges, and keep your eyes on your vision and not be focused on competitors and naysayers.