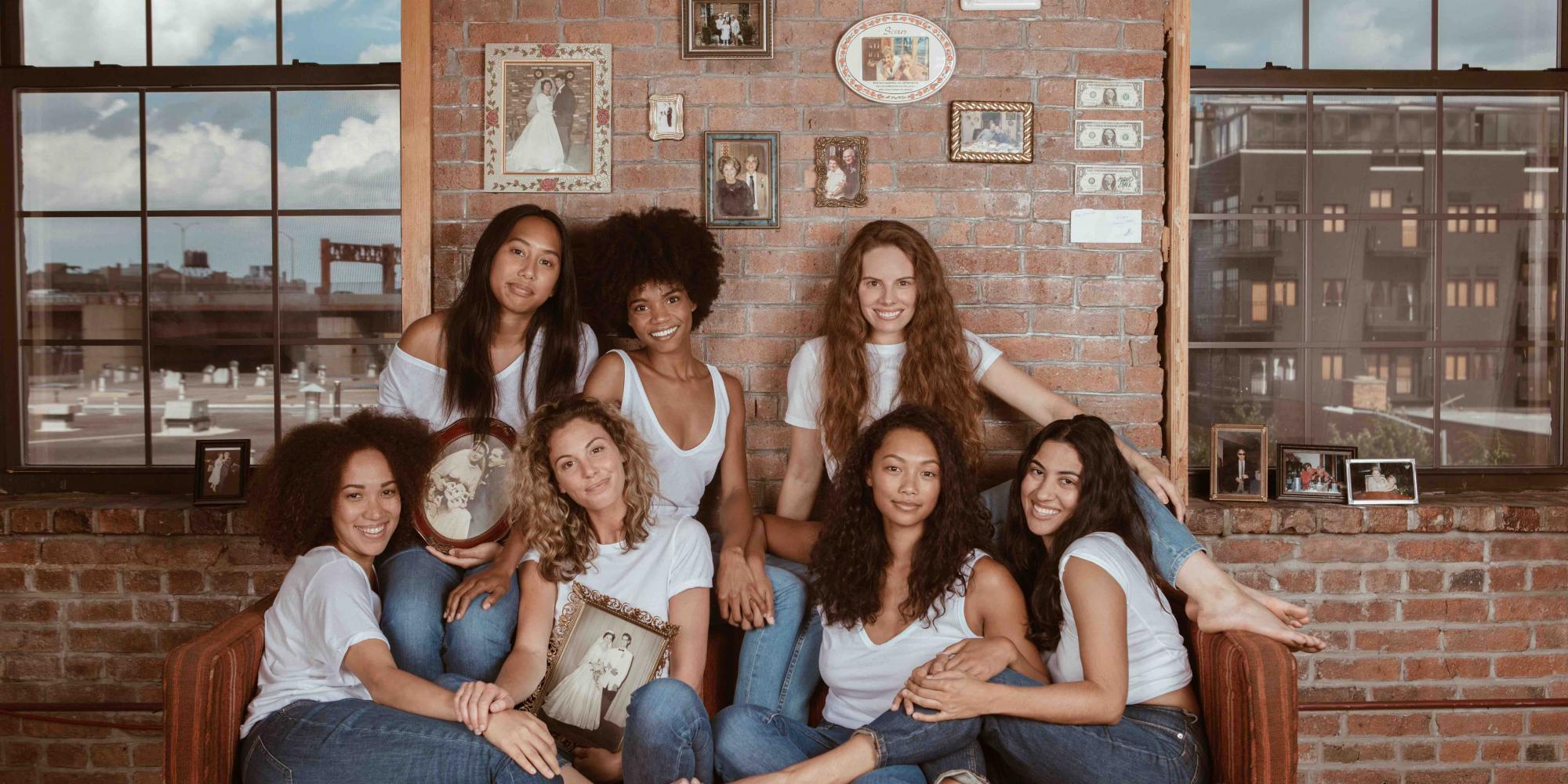 Allyoos Is The Clean Haircare Equivalent Of Your Cool Cousin Who Knows The Awesomest Products And Loves To Share Them
Everyone's on the inside at Allyoos, a forthcoming brand that strives to bring universality and family sensibilities to the sometimes highfalutin and exclusive clean corner of the beauty industry.
"We care about quality the way our grandparents do. We think you look your best without all that makeup and over-styled hair. Our grandparents tell us the same thing. And we do our own stunts. We're grass-rooting this thing," says founder Samantha Denis, a former product development manager at Bumble and bumble. "We're making a splash by pounding the pavement to promote Allyoos and totally skipping the PR agency thing. We're not afraid of hard work, just like the old-timers. They just did it. So, we're just doing it."
Denis, who started in beauty as a hairdresser at 14-years-old, just did it by leaving Bumble in September to develop Allyoos, which gets its name from the Italian-American spin on "all of you" that's a common term in the Bucolo clan. (Bucolo is Denis's maiden name.) She felt compelled to depart the comfy confines of corporate haircare to inject both kindness and au courant innovation into clean beauty, a sector that jived with her hot yoga-going, healthy-eating, green-juice drinking habits.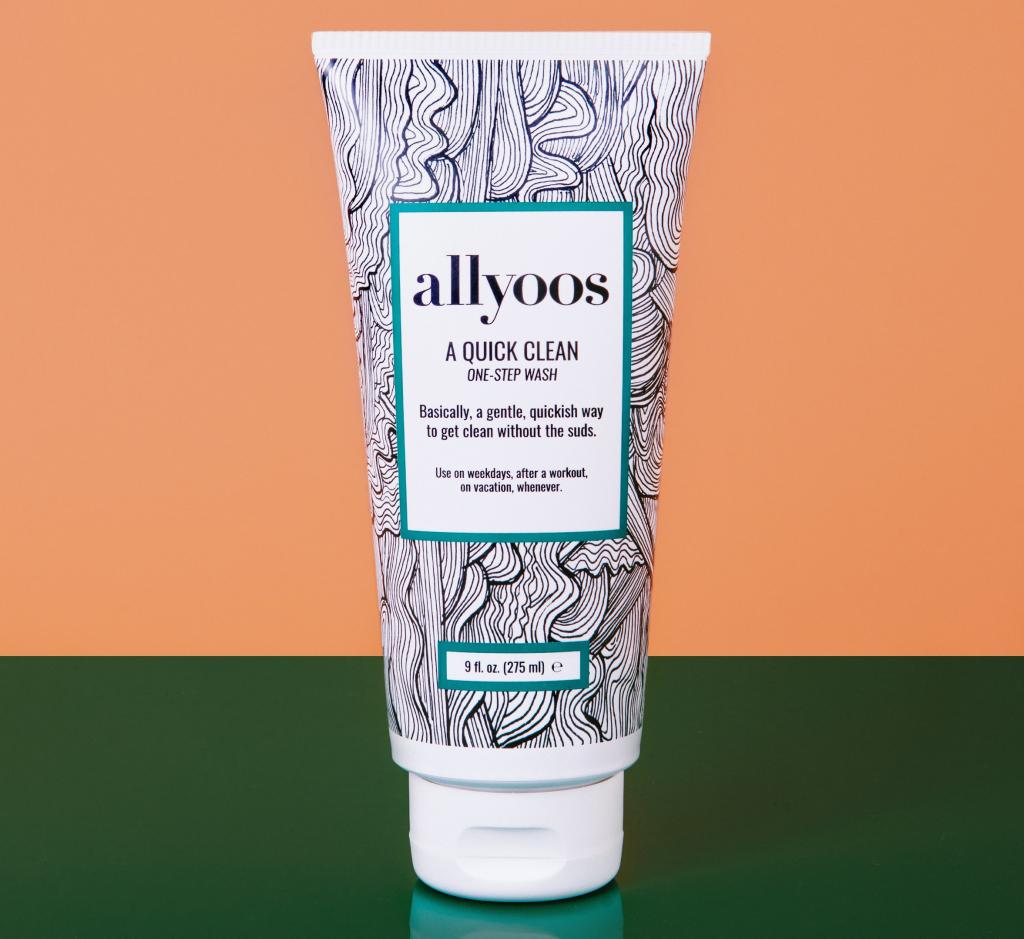 "We're a clever take on clean beauty for all of you and your hair. We're forward thinkers with old-school values. We're creating cool concepts with clean ingredients, and we know good ingredients are good for everyone, so let's all use them," says Denis, adding, "I wanted to create haircare that's super clean, but I also wanted to create haircare that's super cool. There are no clean haircare lines that speak to me like Bumble or Ouai."
Launching in November, Allyoos is starting with two products that don't discriminate based on hair type: $26 one-step wash A Quick Clean and $32 soak Juice Drench. Denis likens the Juice Drench treatment product to green juice for hair, listing off the ingredients such as spirulina, mango, and watermelon seed and coconut oils in its formula. "My philosophy is that, if you treat your hair the right way and focus on your hair health, you will have to focus less on styling," she says. "I feel like my skin and hair have benefited so much from drinking green juice, and I wanted to create a product that would benefit the hair in the same way."
"I wanted to create haircare that's super clean, but I also wanted to create haircare that's super cool. There are no clean haircare lines that speak to me like Bumble or Ouai."
Denis, a dry shampoo detractor, defines A Quick Clean as a gentle shampoo alternative. "I use it on the days I don't shampoo where I don't need my hair to be absolutely squeaky clean, but it definitely leaves my hair cleaner than if I didn't wash my hair," she says. "It's a great way to feel fresh and clean, but skip shampoo and conditioner because you don't need them every time you wash your hair."
The design aesthetic for Allyoos is what Denis calls "friendly minimalism." Its packaging isn't completely stripped down and reliant solely on black and white, although it does have black and white. The tubes contain wavy and straight lines meant to mimic the patterns of hair. Green is a signature color for Allyoos and different shades of it are employed to outline rectangles on the containers.
Inside the rectangles are the sizes of the products, the brand and product names, product descriptors and what Denis dubs usage statements. On A Quick Clean, the usage statement reads, "Use on weekdays, after a workout, on vacation, whenever." "People are used to seeing information about how to use products, but no one is really telling them when to use them," says Denis. "We want to tell people when to use them because we want people to instantly understand how to fit Allyoos into their everyday lives."
To get Allyoos off the ground, Denis secured a $100,000 loan from a family friend. Not afraid to ask for advice, she sought it from Amy Koenigsberger, a fashion industry veteran with experience at Bloomingdale's, Theory and Helmut Lang, and co-founder of organic clothing company 1212. Koenigsberger didn't simply give advice, she decided to become a partner in Allyoos, and roped in her friend and 1212 co-founder Stacey Effman, a graphic designer by trade, as a fellow partner.
"People are starting to care about their hair health and not just use products to hide their hair or make their hair something that it's not. People are embracing their natural beauty and texture. Now more than ever people want to look like themselves, and hair is a huge part of that."
For Allyoos's first marketing campaign, Denis was adamant about choosing real women. She enlisted friends, family members, a customer at a nail salon she goes to, and women frequenting The Wing. Allyoos doesn't airbrush their tresses in imagery that features pictures of Denis's grandparents in the background.
The imagery shows women appearing comfortable with their hair and each other. It depicts the community Allyoos is attempting to build. "We want everyone shopping the brand to feel like a cousin," says Denis. "We want to create a following that's contagious and really creates brand evangelists."
She hopes the brand following will attract stores. For Allyoos's initial year on the market, Denis doesn't plan to pitch retailers. Instead, she's waiting to see if they approach her. Among the retailers on her distribution wish list are Target, Credo, Sephora and Goop. Allyoos participated in a recent Credo pitch competition in New York. Hotels are possibilities for Allyoos as well.
"Allyoos is launching at the most perfect time because haircare is the fastest-growing category in prestige beauty," says Denis. "People are starting to care about their hair health and not just use products to hide their hair or make their hair something that it's not. People are embracing their natural beauty and texture. Now more than ever people want to look like themselves, and hair is a huge part of that."