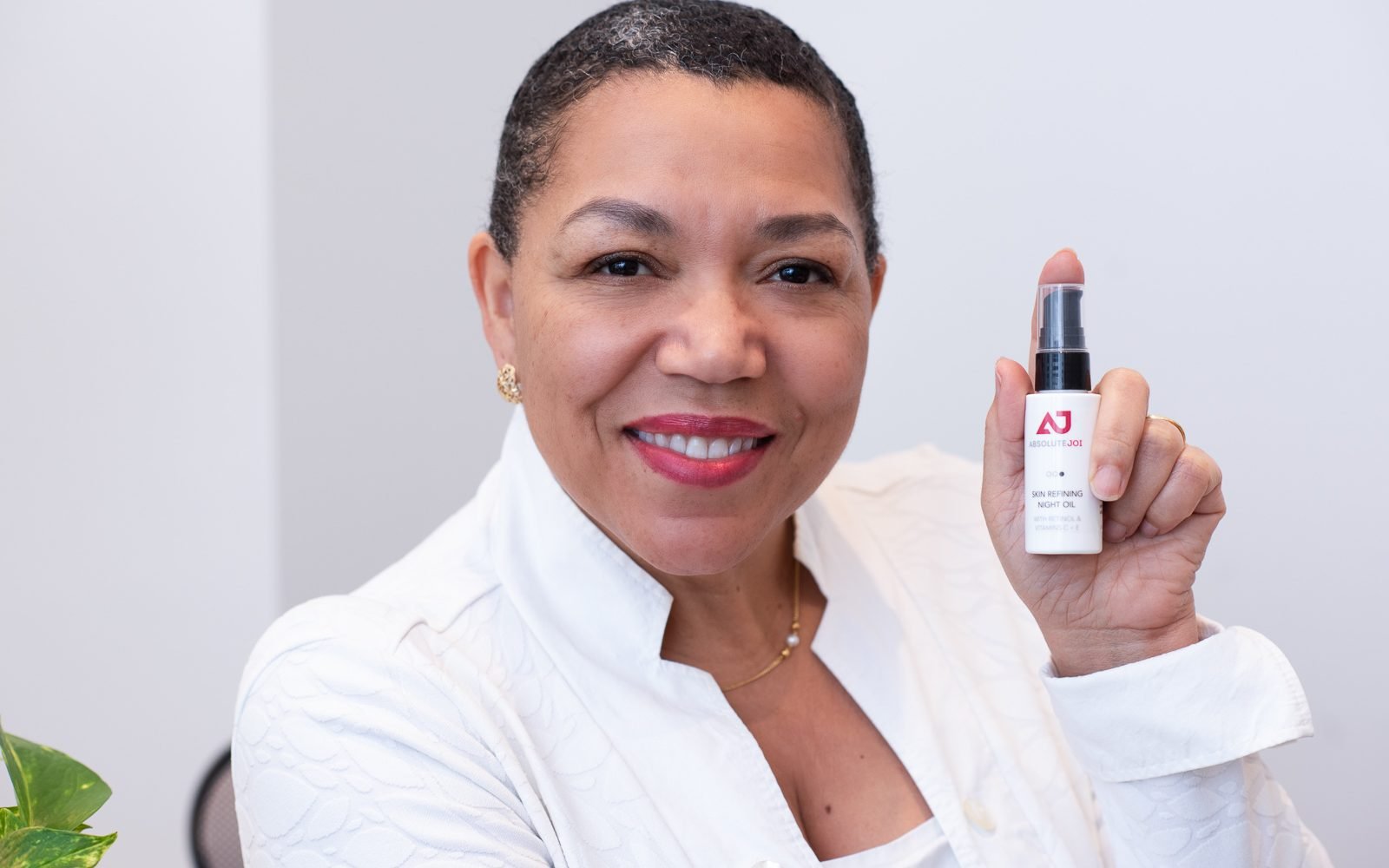 Anne Beal, The 57-Year-Old Black Founder Of Skincare Brand AbsoluteJOI, Wants To Change The Face Of Clean Beauty
Like most of the women in her family, physician Anne Beal suffers from extremely touchy skin. Fearing irritation from fragrances and dyes, she avoided buying beauty products off the shelf to put on her face. Instead, Beal would make her own for herself and her two daughters, who share her propensity for stubborn sensitivity.
While working for Sanofi and living in France four years ago, Beal popped by the store Aroma-Zone to pick up items for her do-it-yourself beauty products. In the store, she was surrounded by fellow black women on the same mission. The experience sparked a realization that the challenges she faced were widespread and led her to launch the clean skincare brand AbsoluteJOI aimed at women of color.
"About 70% of women of color say that the products currently available don't work for them," reports Beal, adding, "60% of women of color have sensitive skin as compared to 35% of white women." She continues, "As a physician, I focus on skin health and, when I came back to the United States to start my brand, I began researching clean beauty. I read that EWG found 75% of products marketed toward women of color contain ingredients classified as toxins as opposed to 60% of the products marketed to the general public. A big part of that is haircare, but it's hydroquinone in skincare as well, and parabens and phthalates are common in products marketed to women of color."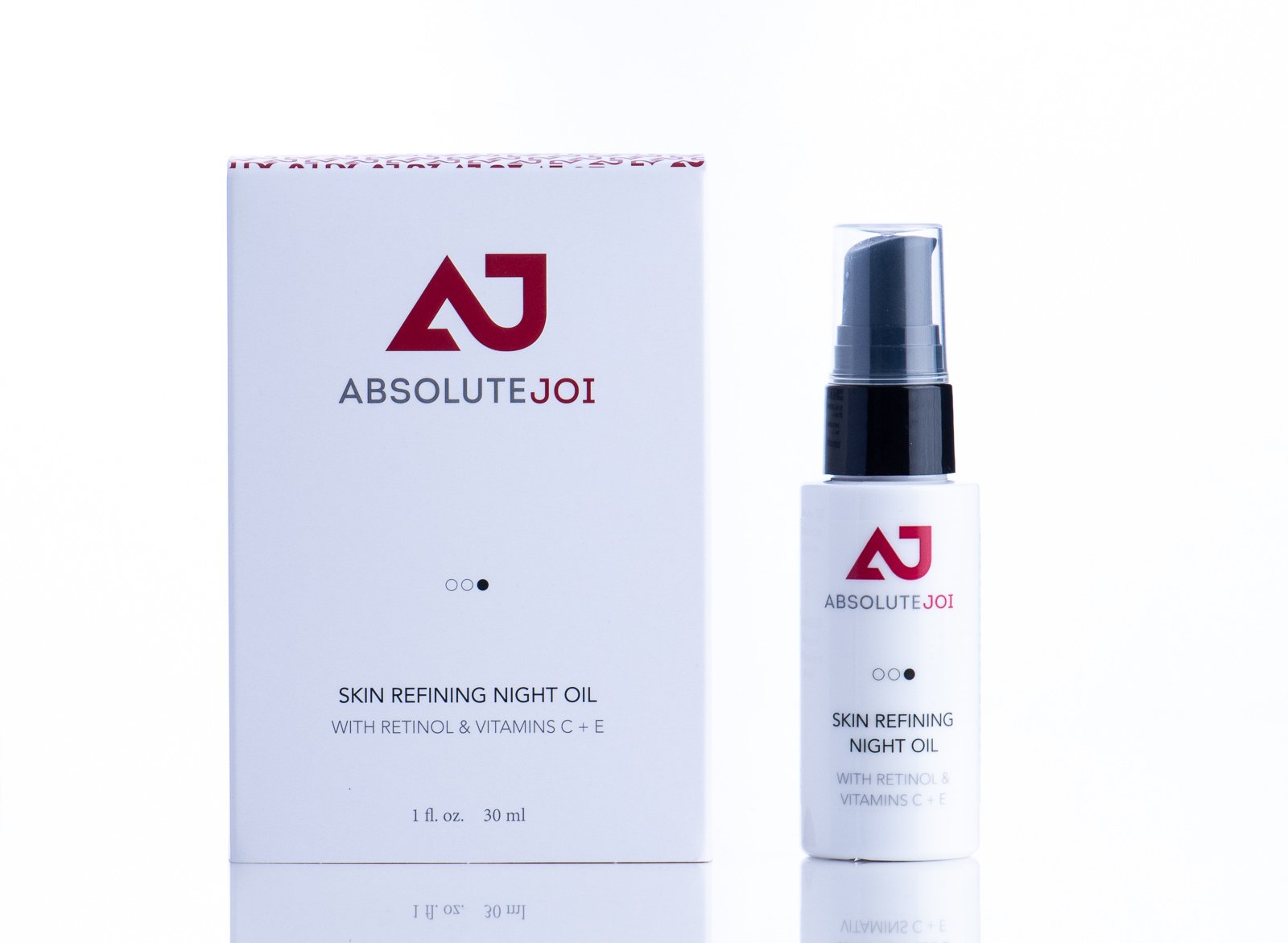 In late 2018, Beal introduced AbsoluteJOI with its star product, Skin Refining Night Oil with Retinol and Vitamins C + E. The product steers clear of potentially harmful and inflammatory ingredients, and incorporates granactive retinoid, an advanced retinol developed to tackle signs of aging without stoking soreness and swelling. Prompted by requests from customers for AbsoluteJOI to fill out their skincare routines, particularly with cleansing items, the brand followed Skin Refining Night Oil with Sunflower & Moringa Fresh Cleanse Oil, Hydrating Gel Foam Cleanser, and Balancing pH Toner with Aloe, Oat & Hyaluronic Acid.
Today, AbsoluteJOI is crowdfunding through the platform FundBlackFounders—as of publication, the brand had drawn $12,775 toward its $15,000 goal—as part of a multistep process to gather resources to support expanding its assortment to 10 products, including a vitamin C serum, lactic acid exfoliator, sunscreen and moisturizers, over the course of 12 months and increase marketing efforts. Later this year, Beal is planning to pursue an equity funding round she's hoping will bring in around $500,000.
"The big thing we've heard loud and clear is that women of color are saying, 'Where's the anti-aging products for us?'"
"I looked at other types of [crowdfunding] platforms, but most of them are very tech-oriented. A lot of the tech people are looking for the next Uber, and we are not an Uber industry, but we are a Drunk Elephant industry. There's a big opportunity, but it's a 300% opportunity, not a 3,000% opportunity for return on investment," she says. "So many of the indie beauty people are bootstrapping, and it's just not necessary. I definitely see my brand growing and moving, and what's going to be fuel for the fire? I am going to get to the same place, but the question is: Am I going to get there in a year or three years? Fundraising can get me there in a shorter period of time."
In its nascent stage, AbsoluteJOI has attracted fervent fans. Beal mentions 30% to 40% of its customers on a monthly basis are repeat shoppers, compared to an industry standard she pegs at 10%. While she initially figured its core customers would be women of color in their 30s and above, it turns out the group most passionate about AbsoluteJOI is women of color in their 40s and above. Beal reasons AbsoluteJOI attracts women of color 40-years-old and older is because there's not a ton of skincare brands speaking specifically to them.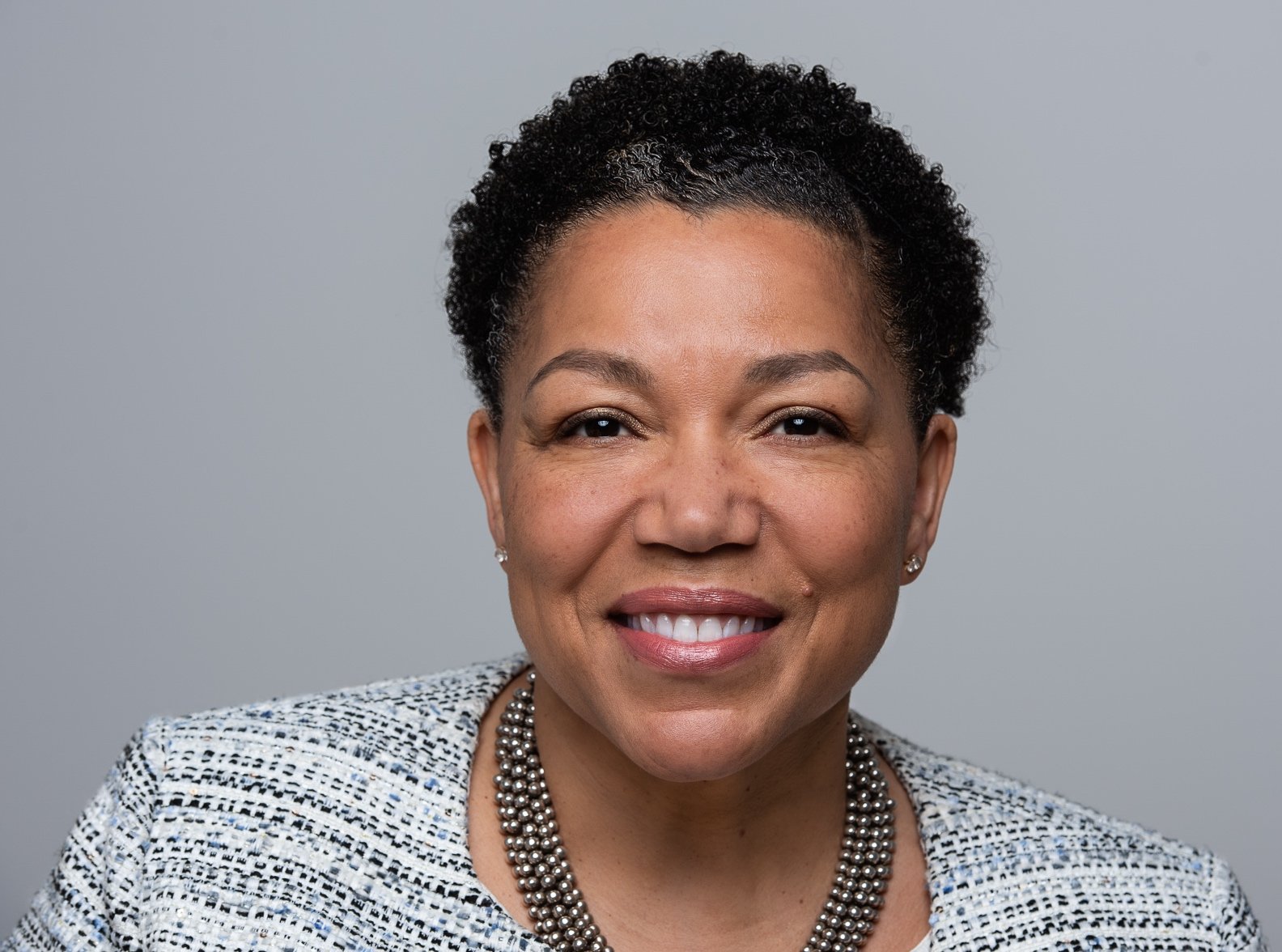 "The big thing we've heard loud and clear is that women of color are saying, 'Where's the anti-aging products for us?' There's a lot of interest not only in anti-aging, but in healthy anti-aging. So, it's not necessarily about wanting to look young, it's about having a healthy approach to aging. Women of color tell us, 'I've never had fine lines and wrinkles, but I do see a change in my skin, and I'm interested in looking my best, I just don't know how to do that,'" shares 57-year-old Beal. "They will say, 'My skin is not as bright.' I've heard that so many times, which is funny because it's not a term I would have used. The Skin Refining Night Oil with Retinol and Vitamins C + E is a perfect product for that."
AbsoluteJOI's fans also appreciate its affordability and sleek design. The brand touts that the eight key ingredients that go into its Skin Refining Night Oil would result in another company charging possibly $171 for a similar product. It charges $57 for a 1-oz. size. Beal says, "We are not a mass market price, but we are not a Neiman Marcus price either." To give AbsoluteJOI a polished presentation, Beal housed its products in boxes with paper akin to the paper encasing iPhones; imbued it with a straightforward color palette of black, white and red; and crafted a logo reminiscent of modernized hieroglyphics.
"The face of clean beauty and a healthy lifestyle is not a brown face, and I would like us to feel more comfortable and welcome."
"Oftentimes, when you think about products marketed toward women of color, they have the same brown tones, and an urban look and feel. My experience is that women of color are in Paris, in London, in New York. We speak English. We speak Portuguese. We speak French. We are very cosmopolitan," says Washington, D.C.-based Beal. "There's urban marketing, and there's urbane marketing. We are trying to drive home that we are urbane."
Beal is quick to admit her faults. As a physician, she points out marketing isn't her strength. AbsoluteJOI tweaks its marketing approach as Beal learns about the messages that are effective. At the beginning, the brand was talking about detailed elements of skincare and the science behind it in advertising. The message that's been resonating, however, is that AbsoluteJOI delivers simplified skincare. Beal says, "The reality is that we don't have time for 10- to 12-step routines." This year, she projects AbsoluteJOI will generate $150,000 in sales, but it's still spending greater amounts than it's earning on social media ads as it refines its channel and messaging strategies.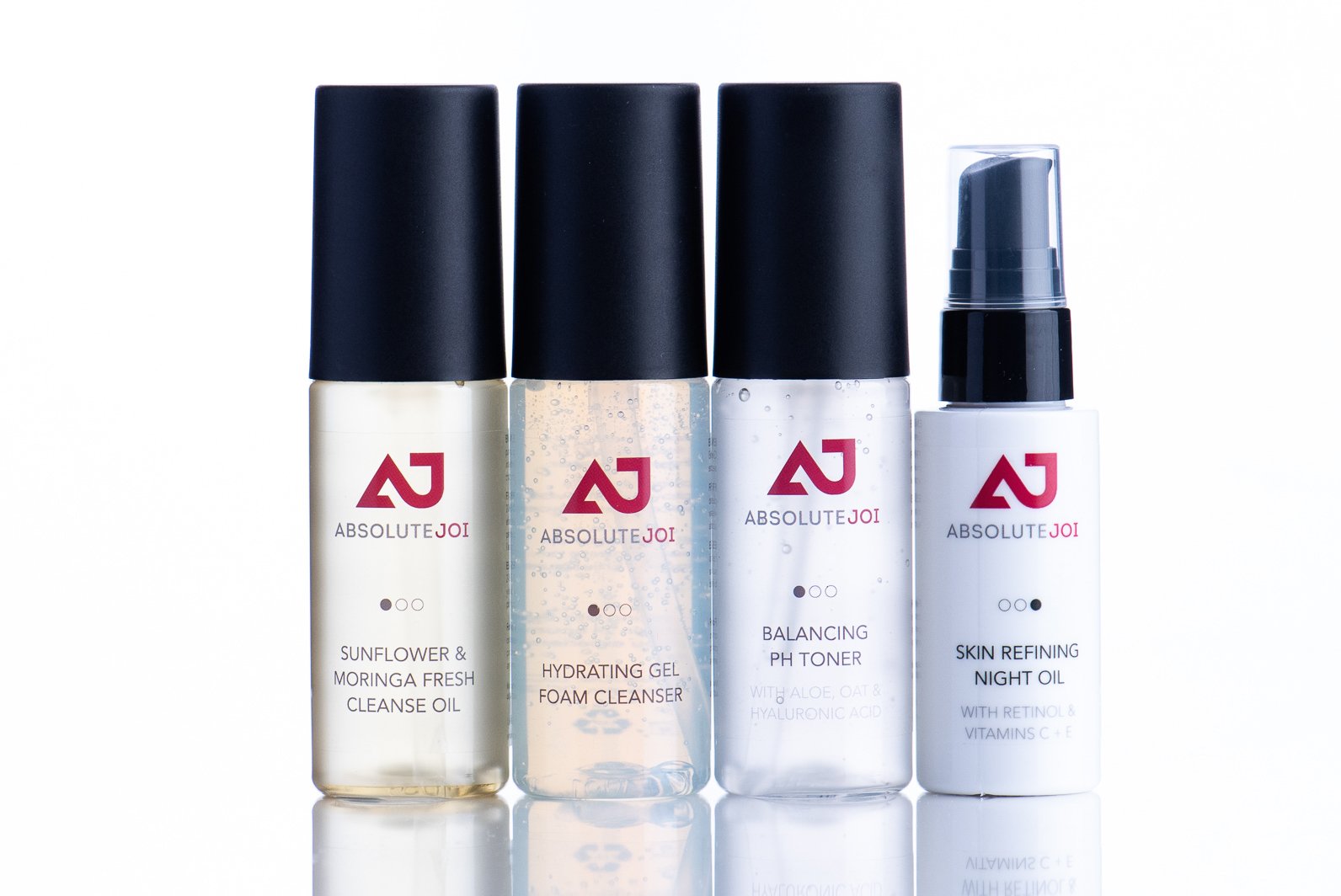 AbsoluteJOI is available online at Amazon and BLK + GRN, and Amazon is responsible for roughly a quarter of its sales. The brand has broken into doctors' offices, too. Whole Foods is a dream retailer for it. "I'm a vegan, and I think that a very holistic approach to health and prevention is something women of color need to take on," says Beal. "The face of clean beauty and a healthy lifestyle is not a brown face, and I would like us to feel more comfortable and welcome in a place like Whole Foods."
At her brand, Beal's long-term goal is to foster the sort of professional environment she believes should be the norm in the beauty industry. "I would like to create a company where women can come, work hard and be heard, and where they can be leaders," she says. "I know the usual answer for what goals I should want are about reaching X sales, Y in distribution and Z in market penetration, but what I really want is to have a functioning organization that is selling products to women by women that respects our intelligence as consumers and executes by lifting us up, not tearing us down."