Anthology Of Independent Beauty Celebrates Five Years Of IBE And Reveals Retail Buyers' Favorite Brands
Indie Beauty Media Group has released its most recent Anthology Of Independent Beauty covering August's Indie Beauty Expo New York, BeautyX Capital Summit 2019, and the first-ever Uplink Live and Week Of Independent Beauty.
The digital lookbook also reveals the results of the IBE NY survey taken by retail buyer attendees of the trade show. The trade show, IBMG's 14th, also marked the five-year anniversary of IBE's August debut in New York in 2015.
The two-day IBE New York 2019 was the largest show to date. Over 240 beauty and wellness brands from 15 countries commanded 90,000 square feet at Manhattan's Pier 94 event space. For emerging beauty and wellness brands, getting products in front of retail buyers is an essential business concern, and the IBE shows, now held once a year in Los Angeles, Dallas, London and Berlin as well as New York, draw buyers from an extensive range of in-demand retailers. The August show drew representatives from Barneys New York, Saks Fifth Avenue, Ulta Beauty, Sephora, Bluemercury, Cos Bar, Kohl's, Lord + Taylor, The Detox Market and more. 
The survey results yielded an eclectic mix of 15 buyer attendee favorite brands. They are unisex skin and body care brand Alder New York; K-beauty range Banila Co; clean beauty-focused brands Berlin Skin, Dr. Botanicals, Erbaviva and Province Apothecary; CBD wellness companies BLNCD Naturals and Winged; arch specialist Browluxe; superfood-infused mask upstart Elina Skin; sustainable hair and body care brand Ethique; color cosmetics line Gorjue; app-assisted skincare range Knours; Pony Puffin ponytail tool and menstrual cup maker Saalt.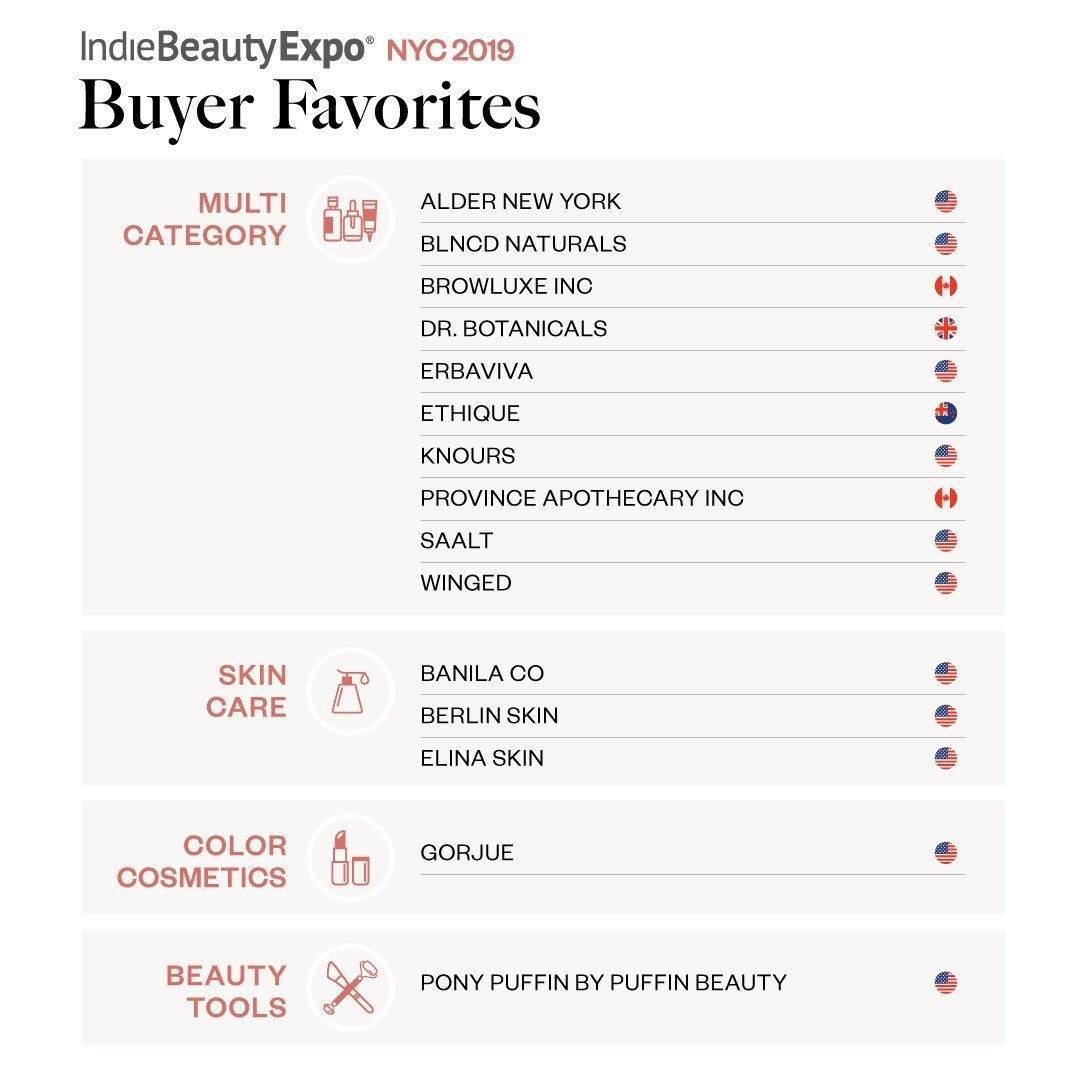 The variety of the buyer favorites reflects the increasing heterogeneity of brands exhibiting at IBE. What started in 2015 with 60 brands that belonged squarely in the beauty aisle now includes multiple sexual wellness brands, hormone-supporting supplements and upscale oral care authorities. "Indie brands have been at the center of innovation in the beauty industry for years, creating the products that larger companies couldn't or weren't willing to create," says Jillian Wright, co-founder of IBMG, parent company of Beauty Independent and IBE. "Every year, we are adding new exhibitor categories, and these inventive products are getting picked up by major retailers."
CBD-infused beauty and wellness products are evidence that an obscure category can have a meteoric rise. The hemp-based ingredient has spawned not only numerous brands but also a cadre of stylish retailers focused on serums, supplements and salves featuring the buzzy cannabinoid. IBE had its debut CBD skincare exhibitor in January 2017 at IBE LA. At IBE NY in August, there were over 20 cannabinoid-powered brands. One new CBD brand ranking as a buyer favorite is female-focused ingestible company Winged.
"We decided to launch our beautiful line of CBD body and facial care at IBE as we had heard from so many in the beauty space on what an impactful show it was," says Winged founder Jessica Mulligan. "It was an incredible two days as we got access to buyers we wouldn't normally be able to connect with and are in the process of launching with many of them. The excitement and interest we got from the buyers and influencers was really affirming of us making an impact in the clean beauty space."
"Female entrepreneurs are addressing needs previously unmet by beauty and personal care brands. It's women supporting women."
In addition to ranking as buyer favorite in survey results, Winged was the only brand to have three products picked as IBE NY 2019 buyer first impression favorites. Winged Relaxation Gummies, Sheet Mask and Happiness Softgels were singled out as notable finds by Shari Auth of WTHN, Nigel Lawmon of Feelunique and Rachel Mulcahy of Ivy Wild, respectively. With Winged's expansion from supplements into premium skincare, Mulligan hopes to extend its distribution beyond the natural grocer category into niche retailers. 
Feminine hygiene is another merchandise category gaining momentum at retailers outside the its traditional channel. Buyer favorite Saalt was one of three menstrual cups brands that exhibited at IBE NY. Just this year, Revolve, Uncommon Goods and Beauty Heroes picked up the period care company's products. On top of those distribution partners, Saalt launched in all 1,850 Target locations in April.
Numerous IBE NY brands also showcased stylish takes on intimate washes and vulva serums. There was even a pelvic floor strengthening device from Kegelbell. Wright is thrilled to see the arrival of modern women's products that tackle taboos. She says, "Female entrepreneurs are addressing needs previously unmet by beauty and personal care brands. It's women supporting women." Saalt, Hello Cup and Organicup, as well as design-forward vibrator companies Dame and Smile Makers, will travel to London later this month for the final IBE of the year taking place at the Old Truman Brewery Oct. 23 to 24.