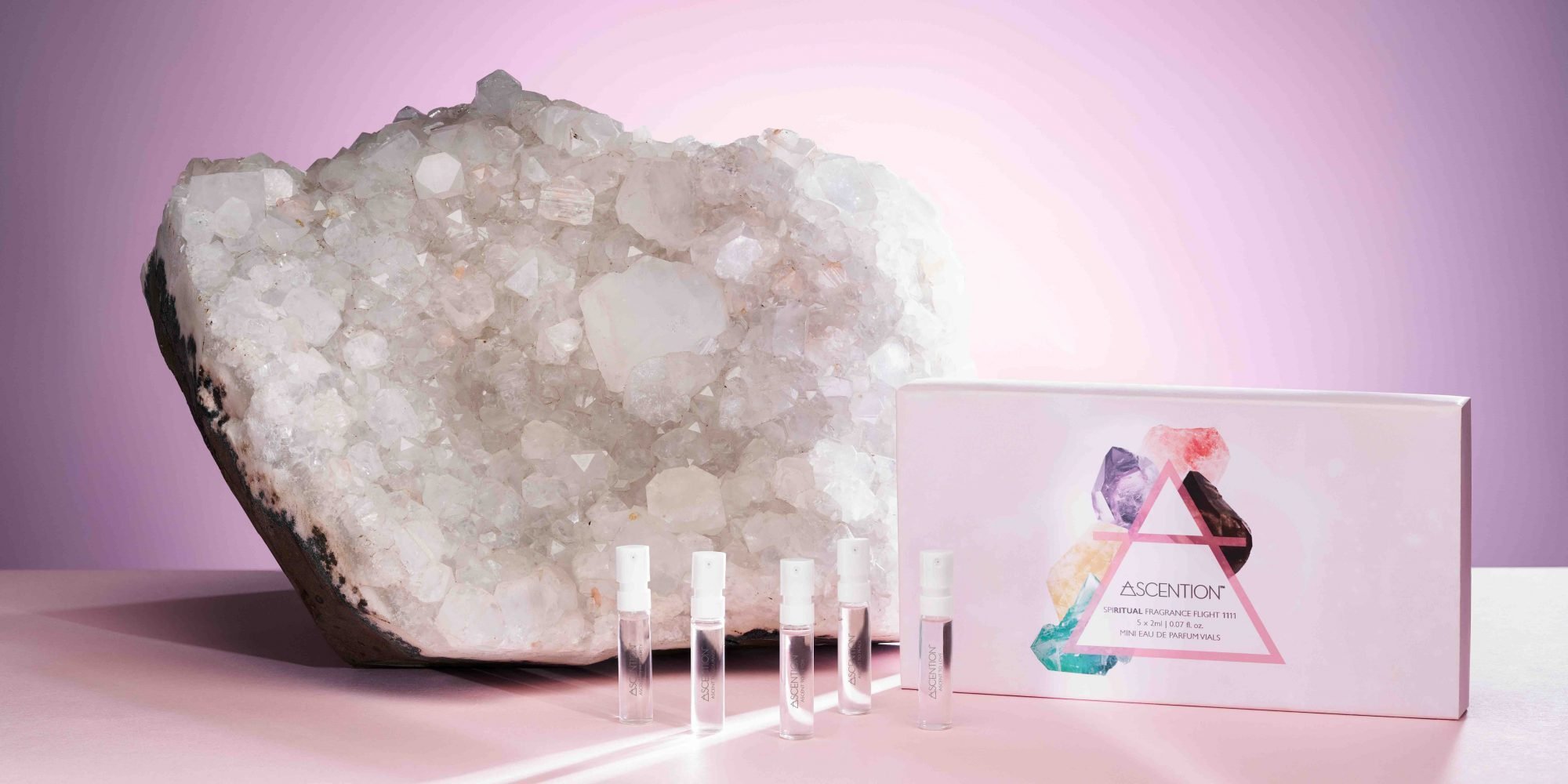 Can Fragrance Help You Become Your Best Self? New Brand Ascention Beauty Co. Believes So
When the world seems like it's spinning out of control, sometimes a few sniffs can help set things straight.
That's what Greta Fitz discovered two years ago as she faced a divorce and precancerous polyp in her colon that, thankfully, was caught early enough to stave off cancer. "My life flashed before my eyes," she recalls. "My doctor said, 'Whatever is making you stressed, you have to change it.'" Influenced by her professional background (she's held fragrance marketing positions at Coty, Shiseido, L'Oréal and Clean Beauty Collective) and her passion for crystals, Fitz turned to gem-powered aromatherapy to get her through the tough stretch.
"I needed to change my vibe and be more positive. It's known that lavender chills you out. I also discovered palo santo, and it changed my life. Palo santo cleansed my mind from limited thinking," she says. "I've had crystal collections since I was 5-years-old in the '80s. Crystals gave me something to believe in even if I didn't believe in myself." Fitz's practice of centering herself with scents and stones boosted her confident and, to her surprise, improved her skin and hair, too. She says, "I realized the big why of what I wanted to do. I needed to pay this forward because I was thriving and healing myself."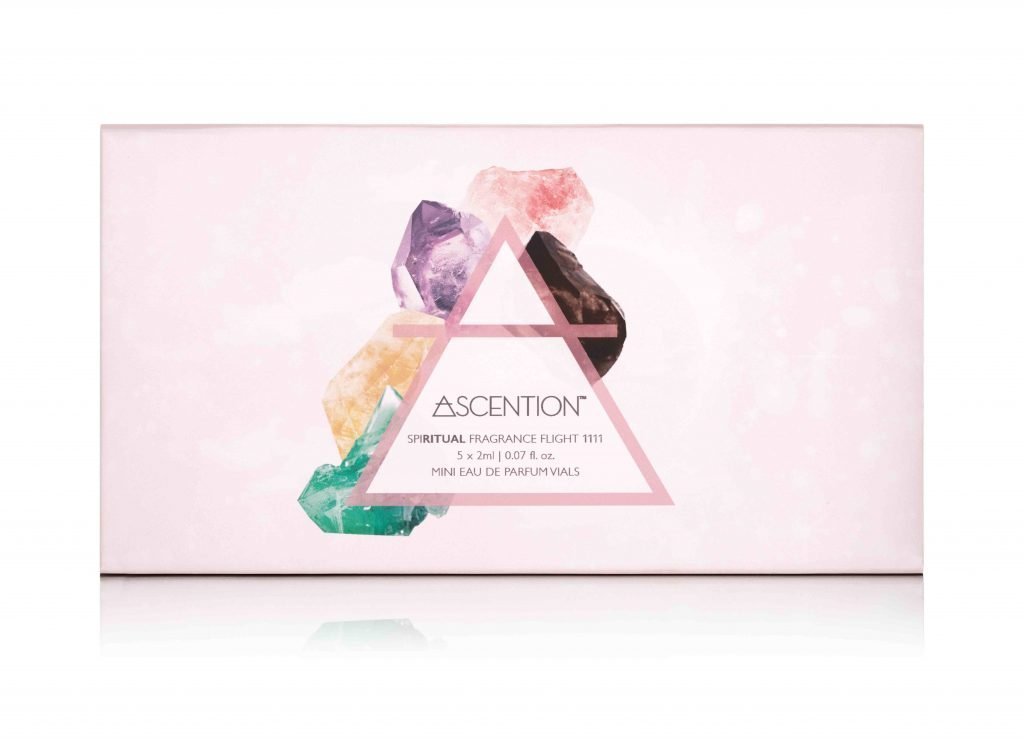 Long interested in going the entrepreneurial route, Fitz decided to build upon her personal journey in the development of a brand. It couldn't be another schmaltzy metaphysical foray. With Ascention Beauty Co., which is launching today, she's seeking to redefine the millennial-fueled mysticism movement gripping the beauty industry as spiritual luxury. It's starting with a $29 sample box called Flight 1111 featuring five 2-ml. scents that's a prelude to 50-ml. full sizes of the $98 fragrances Ascent to Detox, Ascent to Love, Ascent to Courage, Ascent to Peace and Ascent to Prosperity available in March.
"The brand is not a crystal fragrance brand. It's a ritualistic experience, and we are a prestige fragrance brand. We're using the best of the best ingredients and have partnered with the only fair-trade crystal supplier in the U.S.," says Fitz, referring to Columbia Gem House. She continues, "You smell the fragrance and recite a mantra. As you go about your day and life throws obstacles at you, you take your fragrance, spray it on your skin and, right away, because of the memory and the impression the fragrance made, it brings you back to the morning when you first sprayed, and you are back on track."
"The brand is not a crystal fragrance brand. It's a ritualistic experience."
The sample box comes with a universal mantra to foster gratitude and self-love, and the full-size fragrances will come with mantra cards containing five mantras each. Working with Jon Michael Design, Ascention carved out a chamber for crystals at the bottom of Ascention's patented bottles similar to wine glass punts. The fragrances have different crystals. For example, Ascent to Love is coupled with rose quartz, and Ascent to Courage arrives with citrine. The components of the fragrance bottle that Fitz likens to a witch's potion bottle are disassembled in the boxes received by customers ordering online.
"Everything sits like Tetris in the box. The bottle and the cap are separate. The base is snuggled next to the bottle on the side. The lip of the carton has a groove for the crystal to sit in," details Fitz. "It's a whole new level of personalization. It's not about layering and pairing. It's about putting your intention, your vibe and soul into a fragrance."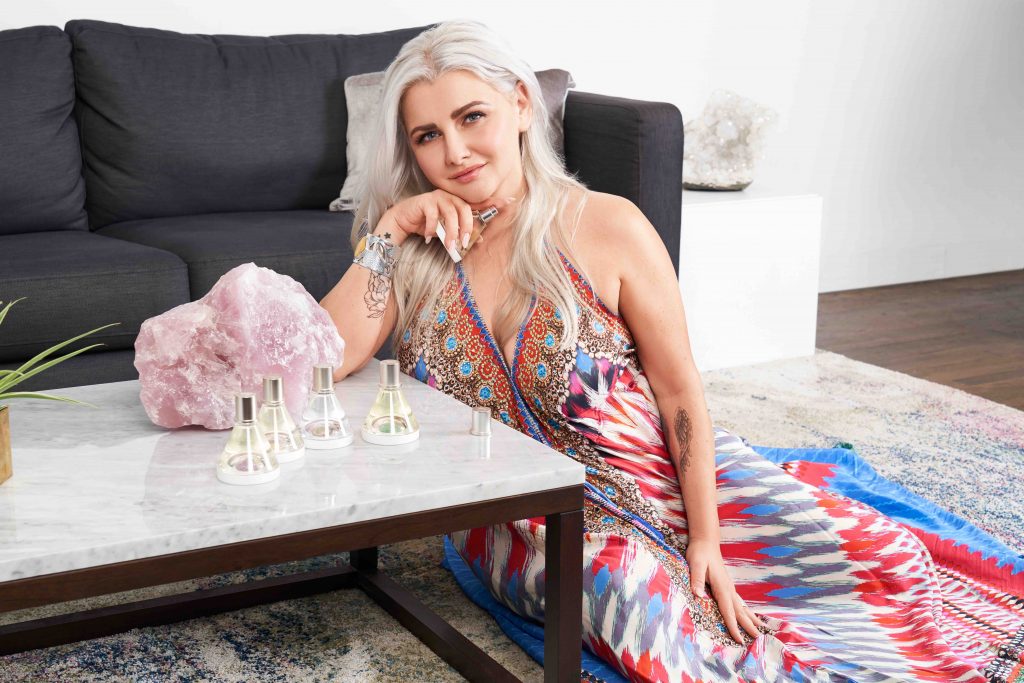 Concocted with MANE, Ascention's vegan and cruelty-free scents use natural and what Fitz labels nature-identical ingredients. In partnership with ingredient information platform See Thru, the brand will make its ingredient lists clickable by November to give customers insights into the ingredients in its formulas. The ingredients were chosen to promote desired aromatherapy benefits. Ascent to Love's red currant, wild strawberry, amber musk and vanilla nurture feelings of adoration. Ascent to Peace's bergamot, lavender, orange blossom, jasmine, vetiver, neroli and guaiac wood assist with mental balance.
With stress an epidemic in contemporary society, Fitz conjectures Ascent to Peace will be Ascention's bestseller. "It smells like the South of France," she says. "My boyfriend and I went to the South of France, stayed with friends and charted a boat. On the boat, I smelled pure sea salt, the lavender breeze, bergamot and neroli all in one. In that moment, nothing else mattered, and I felt I could fly."
"My why is to give inspiration to people who have no inspiration or purpose because I was there."
Fitz declined to disclose the amount of money it took to get Ascention of the ground and project sales for its initial year in business. She attempted to raise $100,000 on Indiegogo four months ago and, in her crowdfunding campaign, estimated Ascention's tooling would cost $19,000, production $62,000, and filling $19,000. The Indiegogo campaign fell short and collected only about 3% of Fitz's goal. She chalks up the stumble to a lack of social media marketing, but emphasizes the effort taught her to simplify Ascention's message. She's distilled customer interaction with the brand into a three-step process: choose a fragrance, set an intention and say the mantra.
Ascention is focusing at the outset on a direct-to-consumer distribution model. Premiering with the sample box on the brand's website will allow Fitz to understand demand for full-size fragrances, and tweak communication and products where necessary. After it finds its footing digitally, she's keen on expanding Ascention to retail, especially physical and e-commerce destinations like Credo and Violet Grey to validate its clean and luxury positioning. Fitz is a member of Sephora Accelerate's 2019 cohort, and Sephora is a dream retailer for Ascention.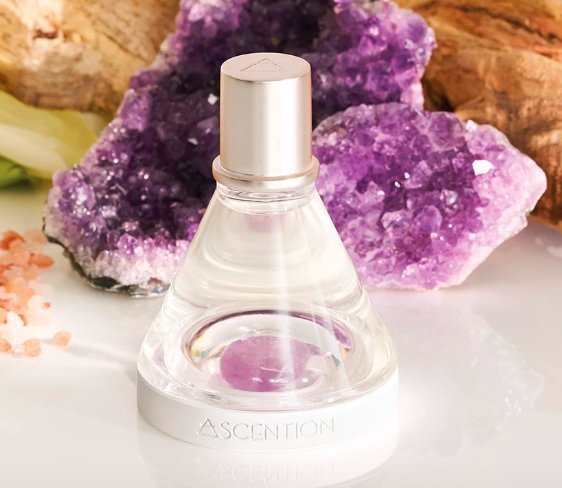 In 2020, a chief objective for Ascention is to spark conversation about its products. "We want to get the word out," says Fitz. "Do we want to be a multibillion-dollar brand and become the Drunk Elephant of fragrance? Absolutely. We are all looking to create a successful business, but my why is to give inspiration to people who have no inspiration or purpose because I was there. I know what it feels like, and it sucks. When you don't believe in yourself, you feel like you are falling apart."