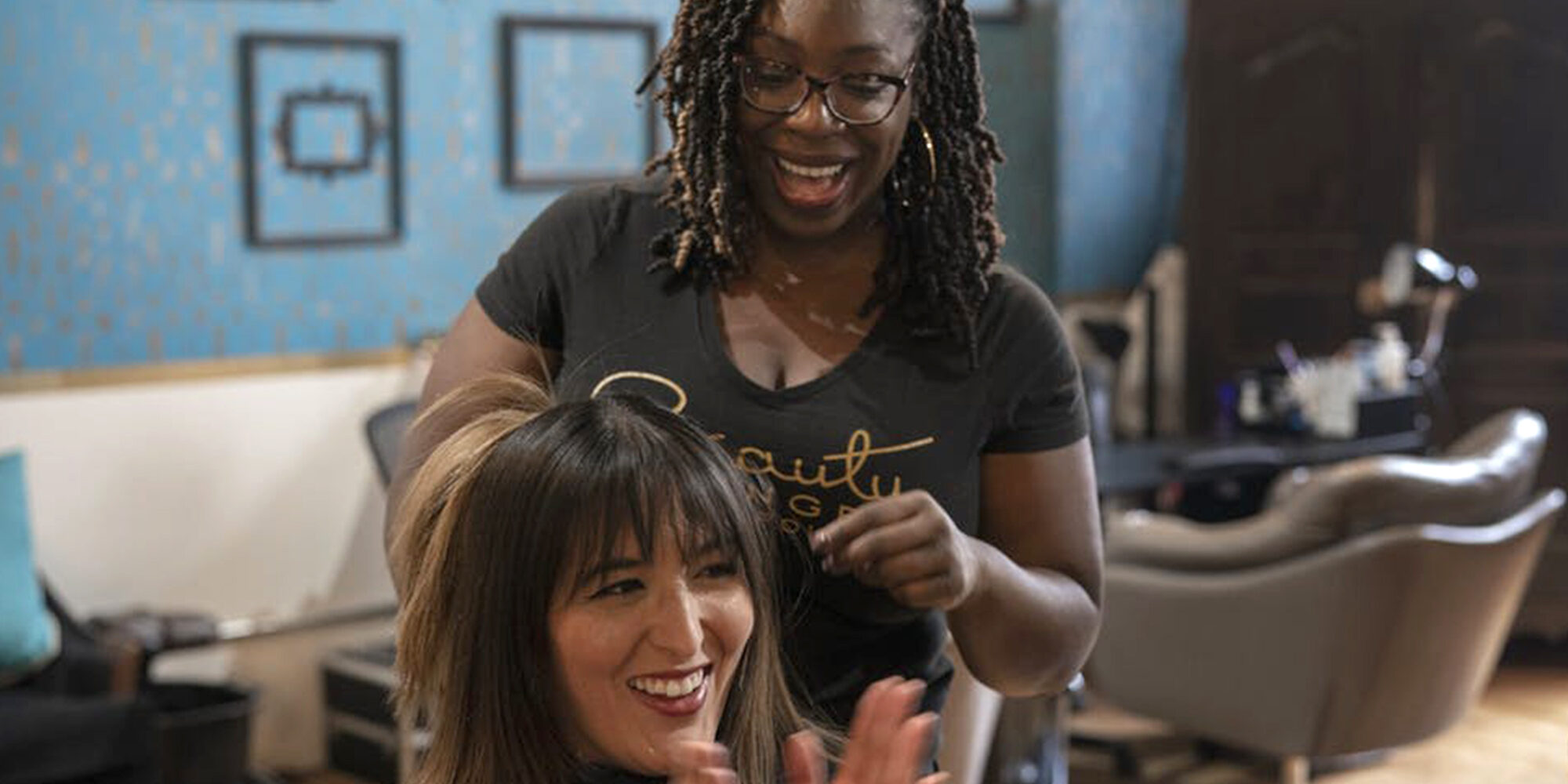 The Beauty Entrepreneur Working To Desegregate Minneapolis Salons
When Melissa Taylor relocated to Minneapolis after college to work in finance for a Fortune 500 company, she never imagined the sharp turn her career would soon take. With an economics degree from an HBCU under her belt, and having grown up in a predominantly Black neighborhood outside of Atlanta, moving to the Twin Cities was culture shock.
Still, she found that while diverse communities were present (Minneapolis is 63% white; all of Minnesota is 83% white), inclusive spaces were particularly lacking in beauty—so she set out to make one. "I wondered, 'Why are salons so slow to catch up with the times?'" she says. "I saw a problem and had to do something about it." One degree from cosmetology school and a few years later, the entrepreneur turned her side hustle doing wedding hair into a new career by purchasing Minneapolis Beauty Lounge to fill an economic and cultural void with an inclusive, multicultural salon. That is, one where every stylist is proficient in all hair textures and types, from the fundamentals of washing, cutting, and styling, to the vernacular of discussing Black hair. 
It seemed easy enough, but next came an even bigger realization: Staffing a salon with stylists who were proficient in all hair textures was incredibly challenging. Taylor says it goes back to a lack of textured hair education in cosmetology schools, thus perpetuating segregated salons where many white stylists are never exposed to Black hair and therefore must refuse clients with textured hair due to their own lack of education.
Enter the Texture Academy, an inclusive, continuing education arm of Taylor's business that seeks to demystify styling textured hair with fundamental and advanced workshops, and, most importantly, a safe space for questions and learning. 
Now in the shadow of the Black Lives Matter movement—and with her salon just a few blocks from where George Floyd was killed by Minneapolis police in May—Taylor's program has taken on new meaning. As companies across the country jockey to book training sessions on implicit bias, as well as general diversity training, a cottage industry is on the rise to bring practical diversity education to the salon industry.
For Taylor, it was never just about hair. "You can't just come in and learn about texture, you have to learn about history, vernacular, preferences, and expectations—there are so many layers to it," she says. Today, Taylor is often hired by salon owners who want their entire staff educated, for which she charges $175 per hour. 
Most workshops follow a similar cadence, although she tailors her curriculum based on need. This ranges from the basics (from how to properly shampoo textured hair to cutting and styling) to specific topics, like bridal hairstyling. Workshops normally span two full days: The first is spent going over the fundamentals; models show up on day two. Taylor implores stylists to continue practicing after the class ends by offering free or discounted services whenever they can, similar to how they logged their hours in cosmetology school. 
Katie Steller, owner of Steller Hair Company in Northeast Minneapolis, brought Taylor into her salon last year for a workshop. "Being a primarily white salon, we recognized our need to not only continue our education overall, but also put our energy where our words were to create a space where we can confidently say we do hair for all hair textures," she says. "We can use our words to say we are inclusive and welcoming to all, but there is so much inequity, so we need to show we are putting in the work."
"People let their guard down in a salon Just sitting and watching is an opportunity to learn. I see quiet aha! moments all the time around learning about each other's hair."
Steller says the training has already paid off with new clients, so she's brought in barbers and other educators to continue to expand the salon's potential client base. "Melissa was definitely a catalyst," she says. "My team left feeling excited and inspired."
Taylor also offers workshops in her salon for individual stylists looking to grow their client roster, multicultural families that need practical knowledge, and for non-profit groups, such as adoption agencies like Minneapolis Adopt that seek to empower transcultural adoptive parents unfamiliar with textured hair. Tricia* took a workshop with her 8-year-old adopted daughter last summer after her daughter's hair was damaged at a local salon, partially due to Tricia's inconsistent upkeep at home. "I realized I wasn't trimming her hair nearly as much as I should have," she says. "I want to honor my daughter's hair." She notes that she had been nervous about her underdeveloped hair abilities for years before finding Taylor's class, which she said was incredibly helpful and, most importantly, a warm, welcome environment for learning, not judgement. Now Tricia and her daughter can go to Minneapolis Beauty Lounge together despite their different natural textures. 
"People let their guard down in a salon," Taylor says. "Just sitting and watching is an opportunity to learn. I see quiet aha! moments all the time around learning about each other's hair."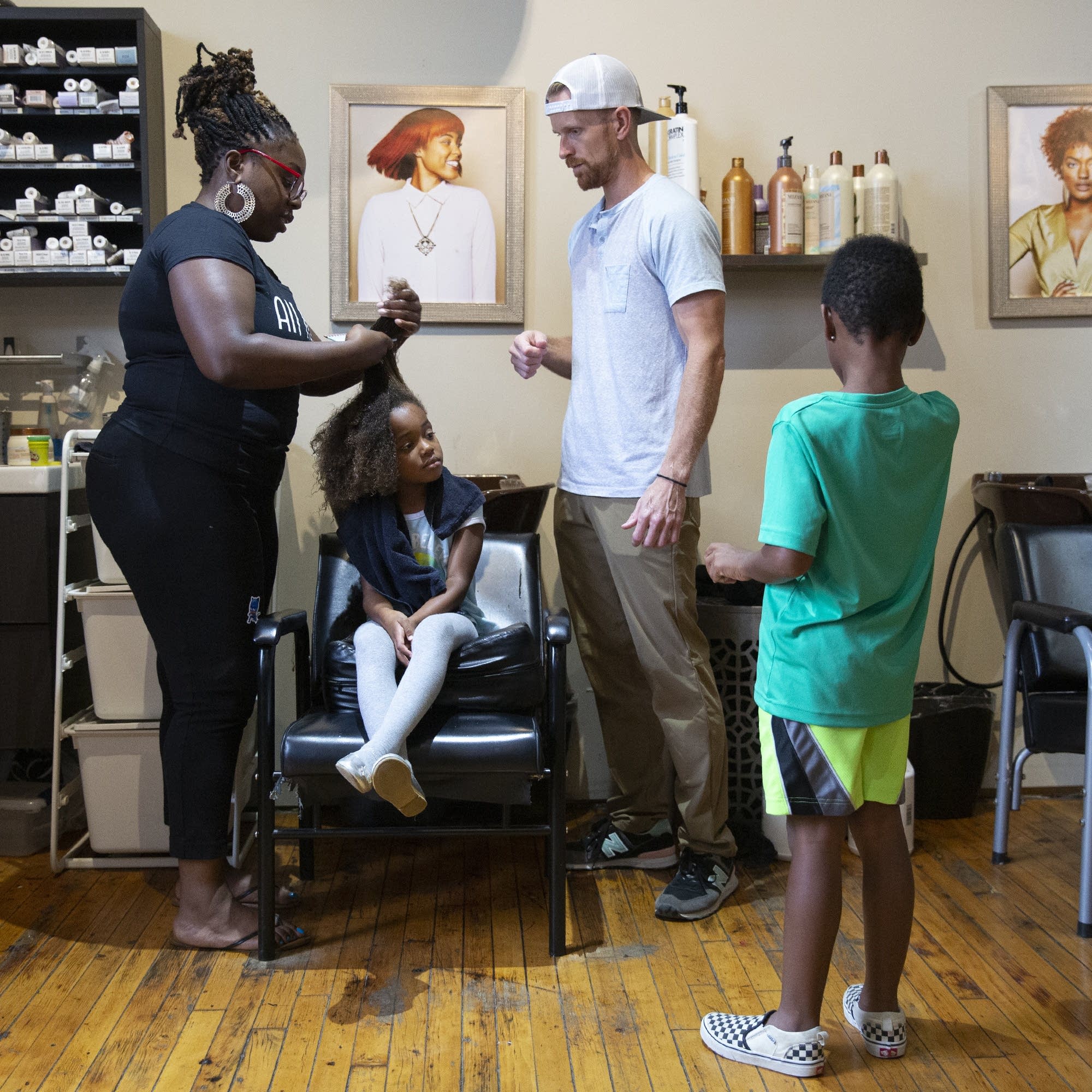 While Taylor's Texture Academy has enjoyed organic growth over the past few years, textured hair education might soon be in even more demand as legislation grows against hair discrimination around the country.
Minnesota, for example, passed The Crown Act earlier this year, which seeks to protcect natural hairstyles from discrimination in every setting. For Taylor, the real solution starts at the salon. She has no shortage of anecdotes from Minneapolis and beyond that paint a picture of discrimnation on par with a Jim Crow South. "One stylist told a client her hair was like animal's hair," Taylor says. Still, she believes that empathy and education is the only way forward.
Time is ticking as to when her work will no longer be optional. Refusing service to people with textured hair, whether through racism or an honest lack of ability, could soon have landmark cases across the country primed to rewrite salon culture. In New York City, for example, a salon was forced to educate staff on textured hair after numerous complaints of racial bias. 
For Taylor, it's one step at a time. "I would love to have several educators on my team so we can reach more people," she says. "Minneapolis is definitely not the only place that needs this." 
*Last name was withheld for privacy. 
Main image credit: Minneapolis Star Tribune/Jerry Holt