Beauty Independent 2.0: Connect To Grow With Uplink
So begins the launch of Beauty Independent 2.0: On Tuesday at BeautyX Capital Summit, Beauty Independent publisher and Indie Beauty Media Group co-founder Nader Naeymi-Rad introduced Uplink by Beauty Independent, a new services marketplace connecting indie brands with vendors.
The unveiling of Uplink coincides with the 1-year anniversary of Beauty Independent. It's one of several major enhancements planned for BI, all of which are designed to promote the growth  of entrepreneurial businesses in the beauty space.
"During the past year Beauty Independent established itself as a beacon for the growing community of independent beauty brands and those who work with those brands, by monitoring its progress and revolutionary innovations," said Naeymi-Rad. "Now we see an opportunity to use this digital destination as a means to facilitate growth. Uplink is the first piece of a multipart roll-out of site developments we have planned, and it's a direct reaction to calls for help from brands and service providers who want to have a more reliable and efficient way to engage with each other."
Uplink provides a comprehensive directory of more than 600 solution providers grouped in six major categories: Product Manufacturing; PR & Influencers; Strategy, Marketing, Branding; Logistics, Distribution, Sales; Business Operations; Technology & Technical Development.  Recent qualitative and quantitative surveys of BI's readers point to the need for a trustworthy, reliable way for brands to engage indie-attuned vendors, upon whom they rely. Of the 60 percent of readers of Beauty Independent who are associated with brands, 77 percent are owners, CEO's and decision makers. Just as telling, 84 percent of the brands have fewer than 10 employees. Like most small businesses, indie brands rely heavily on outsourcing.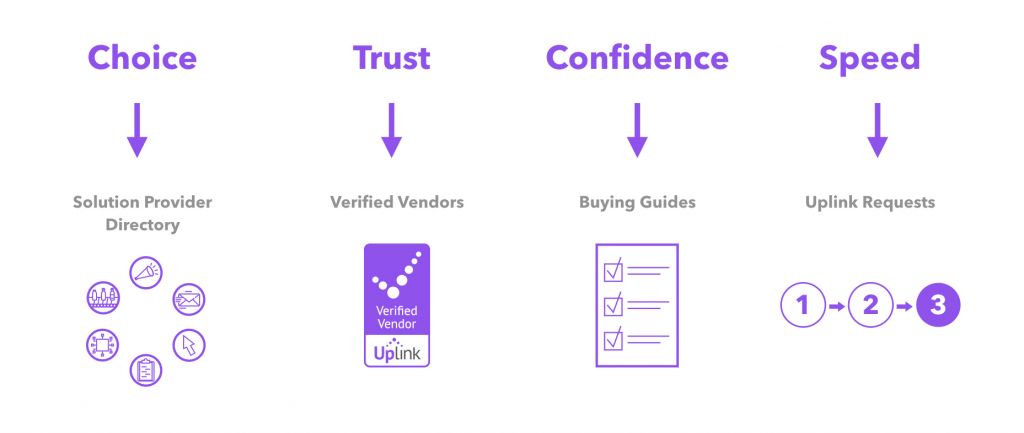 The new Uplink marketplace features tools to speed the process of getting large and small outsourced jobs done, namely Verified Vendors listings, Uplink Requests and Buying Guides. Verified Vendors are solution providers who have applied for and passed a vetting process involving a review of references and past work performed. Uplink Requests are digital work orders that can be produced by a brand looking for help to complete a project. Buying Guides, like the itemized deliverables offered by vendors in each category, help define the scope of work while providing business intelligence to first-time purchasers, and makes the process as simple as placing deliverables in a virtual shopping basket.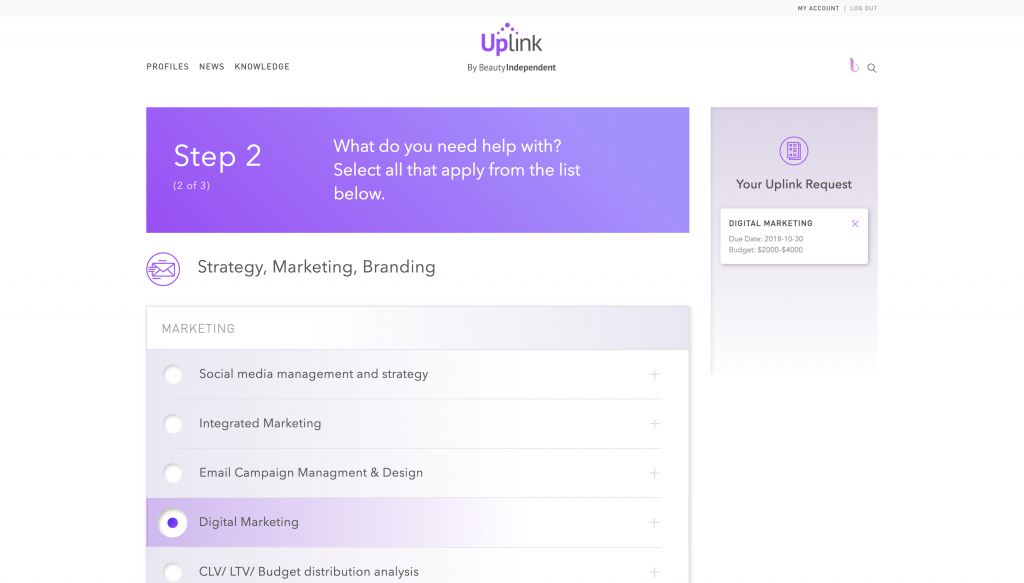 "When it comes to finding vendors, it's a jungle out there," said Jillian Wright co-founder of IBMG and founder of her eponymous skincare line.  "When I started my brand, I really struggled to find qualified vendors. All I had was google and that only takes you to vendor websites. There was no way to know they did what they actually claimed to do.  Knowing that a vendor has gone through a basic verification process by a trusted third-party gives you extra confidence." Wright's perspective was echoed by many brand founders who participated in BI's survey. Among their comments: "I'm always  freaking out, looking for marketing help. Tired of having long chats with reps before they tell you what they do or how much it costs;" "there is no guidebook for people who are new to the beauty industry and following their passion;" "it would be great to see endorsements;" "I'd love a resource where I could find all the manufacturers and distributors in one place."
Service providers see the benefits as well. "As a branding and marketing boutique solely dedicated to indie beauty brands, participating in Uplink is a no-brainer. We all read Beauty Independent and being aligned with BI reinforces our market position," says Uplink verified vendor Rachel Roberts, CEO and Founder of Oyl + Water. Roberts, like other Verified Vendors, are part of the wave of businesses helping indie beauty brands surge. In addition to Oil + Water, Uplink launch partners include Leaping Bunny, Qosmedix, Solesence, Colour Collective, Ritual Rebellion, Ten Eyck Solutions, Erin Kelly PR, Aptar, Texas Beauty Labs, Formula Botanica, de Janosi Designs, and Essential Wholesale & Labs.
At the introduction of Uplink at BeautyX Capital Summit, Naeymi-Rad also introduced two other growth initiatives for the Indie Beauty Media Group, parent company of Beauty Independent: the addition of two new Indie Beauty Expos in Asia planned for 2020-2021, as well as the addition of two new BeautyX Summits for 2019.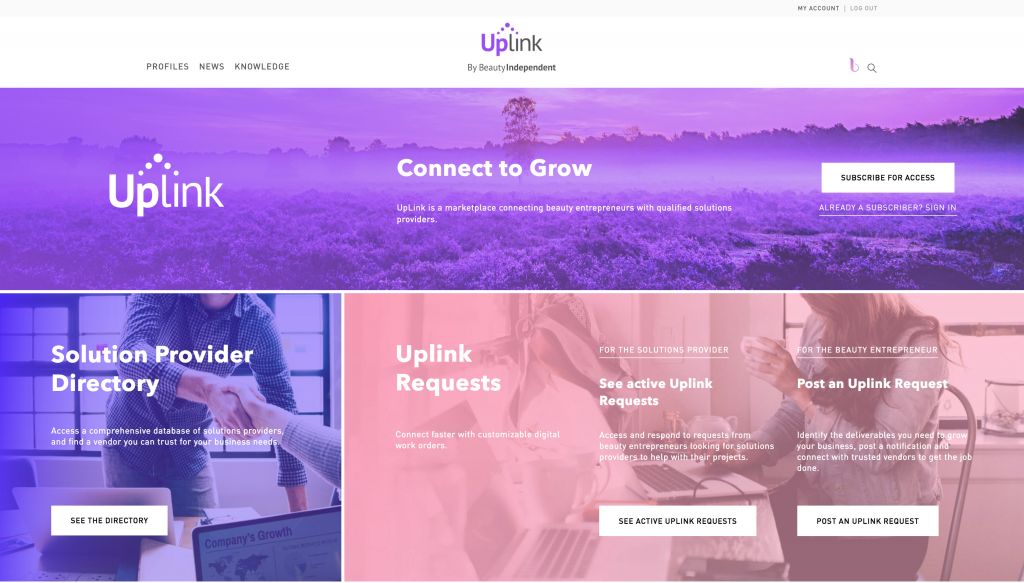 The Uplink portal page will be accessible via its logo in the top right of BI's nav bar; the entire system will have a hard launch on September 4, 2018. At that time, BI will also implement a new subscription service which provides readers unlimited access to all BI content as well as access to Uplink.  Non-subscribers will have access to 5 complementary articles a month.