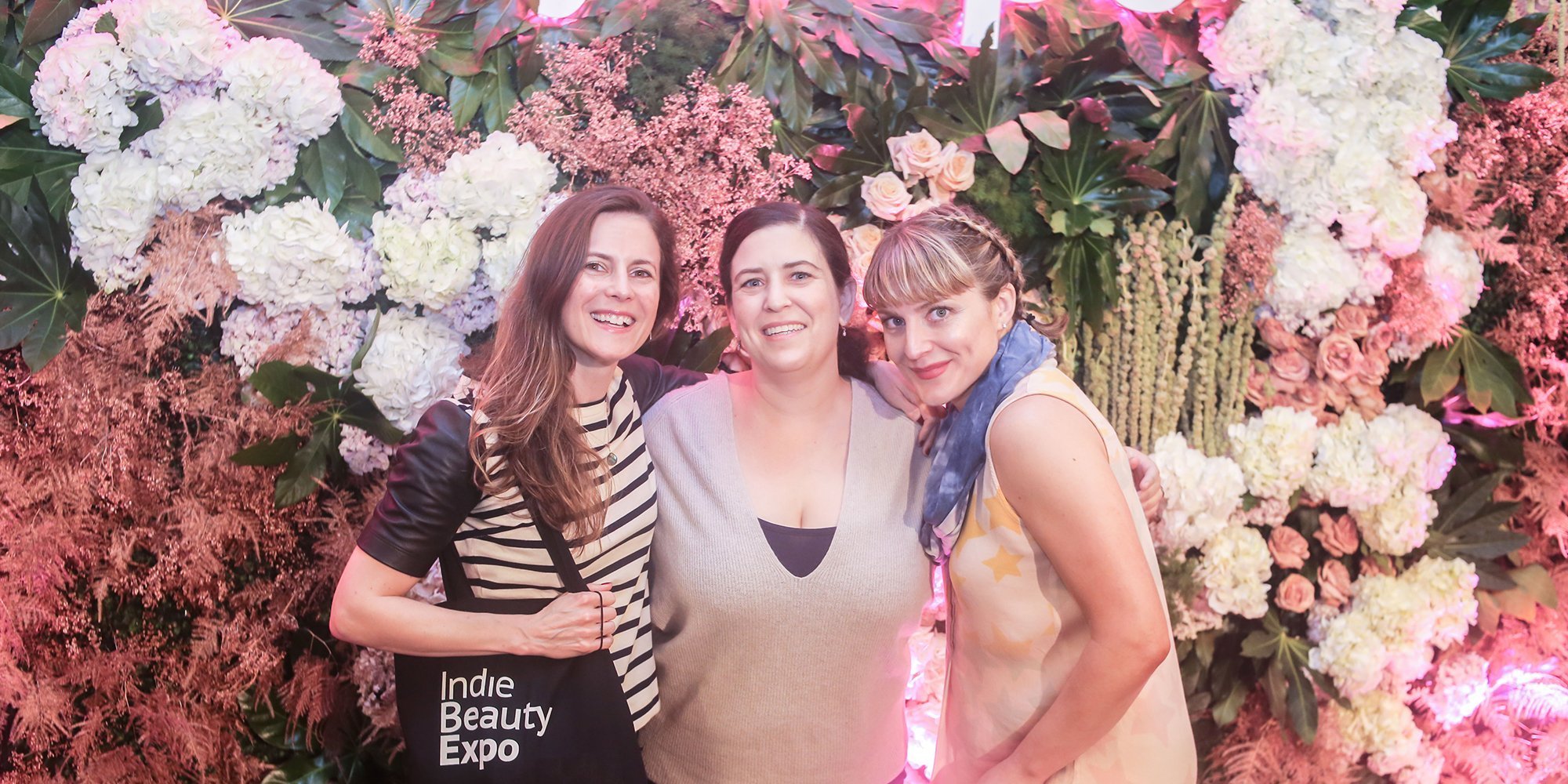 Beauty Independent Doubles Down: Two Years Of Independence And Growth
Two years ago, Beauty Independent launched with as much fanfare as the young Indie Beauty Media Group could muster. The hundred or so beauty professionals who heard IBMG co-founder Nader Naeymi-Rad announce the publishing platform at CONNECT INDIE, the precursor to entrepreneurial education conference BeautyX that was held before Indie Beauty Expo New York 2017, cheered the move.  
They trusted that IBMG was expanding to better celebrate its cause, and IBMG trusted the community to support the venture—if all went well, that is. Given IBE attendance, Beauty Independent was guaranteed to have a few thousand readers for at least a week. After that, well…no risk, no reward, right?
Two years later, that risk made by Naeymi-Rad and borne of his frustration with mainstream beauty business media, which had largely turned a blind eye to the concerns of emerging beauty brands, has paid off—and paid off big time. In recent months, traffic to Beauty Independent's website has eclipsed 50,000 unique visitors per month, and the number of readers increases every month. Since September 2017, editor in chief Rachel Brown and the rest of the editorial team, including IBMG's Claire McCormack and a stellar group of freelance beauty writers, have published more than 1,300 original articles.
In a marathon sprint, Beauty Independent has rolled out an entire wing of tools and services with Uplink; launched an edition in Germany; produced nine comprehensive Trend Reports from the floor of various Indie Beauty Expos; amassed a 20,000-email strong database for its daily emails; sold 1,500 subscriptions in one year; and unveiled a total redesign on its second anniversary, complete with a new premium content section. Even better, Beauty Independent has become the community's calling card. IBMG team members continually are told by beauty industry professionals that Beauty Independent has become a must-read, from the discovery arms of Sephora and Ulta Beauty to the offices of multinationals like L'Oréal and Douglas.

"It's a small part of the overall business of Indie Beauty Media Group," says Naeymi-Rad. "But thanks to Rachel, it's perhaps the thing we're most proud of. It does exactly what it set out to do: Celebrate today's beauty innovator and raise awareness of TOBI's importance."
In its second annual survey of readers, Beauty Independent learned its audience values its interest in independent brands and their journeys. "As a founder of a roll-on sunscreen company I, like most other founders, had basically no idea what I was doing except for the feeling that my product was good," Rachel Henderson of Project Sunscreen commented in her survey response. "Beauty Independent was able to showcase my brand in a way that gave me exposure to some very large players in the industry. Ulta got in touch after reading about us, and it was a dizzying experience having my gut feeling confirmed by a big player in the beauty space. Thank you Beauty Independent for the opportunity!" 
Even before Beauty Independent, Brown was drawn to the intensity and seismic shifts happening in the emerging beauty space. "Indie brands warrant their own media stage, and I'm almost fanatical about revealing their awe-inspiring stories," wrote Brown in her first editor's letter. "They often don't receive the ink of their larger corporate counterparts unless they are swallowed by them. That's an injustice to entrepreneurs and the beauty industry that has benefited from their forward thinking." The press previously also often ignored the fascinating realities of the independent brand founder journey, which is often fraught with challenges and loneliness. By keeping it real for the real and transformative people in beauty, Beauty Independent has hit its target.

"As the owner of a small, personally-funded indie beauty brand located in rural Northern California and a single parent to a 5-year-old, I am so immersed in my business I hardly have time or energy to come up for air," relayed Mira Herman, Beauty Independent reader and founder of Rosemira Organics, in her survey response. "I have rarely been as inspired to read as I am with Beauty Independent. It is actually one of the incoming emails I look forward to and open every day, instead of rushing to delete as happens with others. Thank you for providing this valuable and much-needed service."
"From our article in BI, we were given a platform and visibility. It meant we had access to investors, new clean brands and contacts. Fantastic exposure!"
Established brand founders feel similarly. "I read all my emails in my inbox before I get out of bed every morning and Beauty Independent is top of my list," wrote Graydon Moffat of Graydon Skincare. "I was locked out of my [subscription] account for a few weeks and, OMG, I felt like I was missing a body part when I could not access the site. I regularly bookmark ideas when I read your articles and love going back to reread them. As an emerging brand, it can feel isolating sometimes, but I always feel like I'm part of an important community when I read BI. Thank you!"
Founders such as Graydon Skincare's Moffat, Henderson of Project Sunscreen and Fig Face's Jessica Walsh ("From our article in BI, we were given a platform and visibility. It meant we had access to investors, new clean brands and contacts. Fantastic exposure!") are inspiring the large body of readers who have just launched a brand or will soon launch a brand. Readers representing brands account for 65% of Beauty Independent's audience. Retailers, investors and solution providers mixed relatively evenly comprise the bulk of the rest. Nearly three-quarters (71%) represent brands that are four years old or less. Similarly, 79% of these brands are bringing in annual revenues of under $1 million.
Beauty Independent's embrace of beauty entrepreneurs led to the publication of such popular pieces as 10 Things I Wish I Knew Before Starting My Skincare Brand written by IBMG co-founder Jillian Wright; a behind-the-scenes reveal about what it took for one brand to break into Sephora, Nomaterra Founder Aggie Burnett Shares The Steps She Took To Win Over Sephora; and an honest Q&A with a widely-admired, OG founder, May Lindstrom Is A Badass—Here's Why. No Stupid Questions, a feature in which brand founders share war stories (the latest: Indie Beauty Entrepreneurs Sound The Alarm On Scams), comes at the subject of indie beauty entrepreneurship from a different angle. Alice Mroczkowski, a staunch contributor to Beauty Independent from day one, produces the go-to series.
Beauty Independent's core readers are drawn to articles emphasizing practical, actionable information. Don't Bullsh*t The Buyer summarized key findings from the 2019 BeautyX Retail Summit. Recently, Beauty Independent insights and reporting rose to particular heights with The Beauty M&A Bubble Is In Full Effect. Will It Burst?, which hit multiple touchpoints, driving traffic and generating next-day, event buzz among the major beauty investors and founders who participated in the BeautyX Capital Summit in August. 
Because of its proximity to the leading actors in the new beauty space, Beauty Independent is non-pareil for trend spotting. Its editors picked up on developments in natural deodorant way before it was cool (and dry), along with the rise of CBD, beauty below the belt, and the democratization and diversification of beauty. Here's a peek at Beauty Independent's previous trend pieces in advance of a forthcoming article that will take a closer at some year-two achievements: Weedwashing: How Brands Are Trying To Cash In On Beauty's Biggest Trend; 8 Trends Sweeping The Natural Deodorant Segment; The Backside Is Moving Front And Center In Beauty; and Beauty Companies Join The Menstrual Realness Movement.
"I have made connections, researched potential manufacturing centers, followed up with verified vendors on UpLink, connected with other founders, learned about new retailers and how to pitch, and so much more."
The dividend from such content isn't just enlarged audience size. It's helped build reader trust—two impressive trend lines. Beauty Independent witnessed a 5% jump in readers reporting that they made business decisions based on what they read. The publication saw a 9% bump among readers who "strongly agreed" that the outlet was a "source I trust and respect." The "strongly agreed" and "agreed" segment of four key categories went well into the 95th percentile.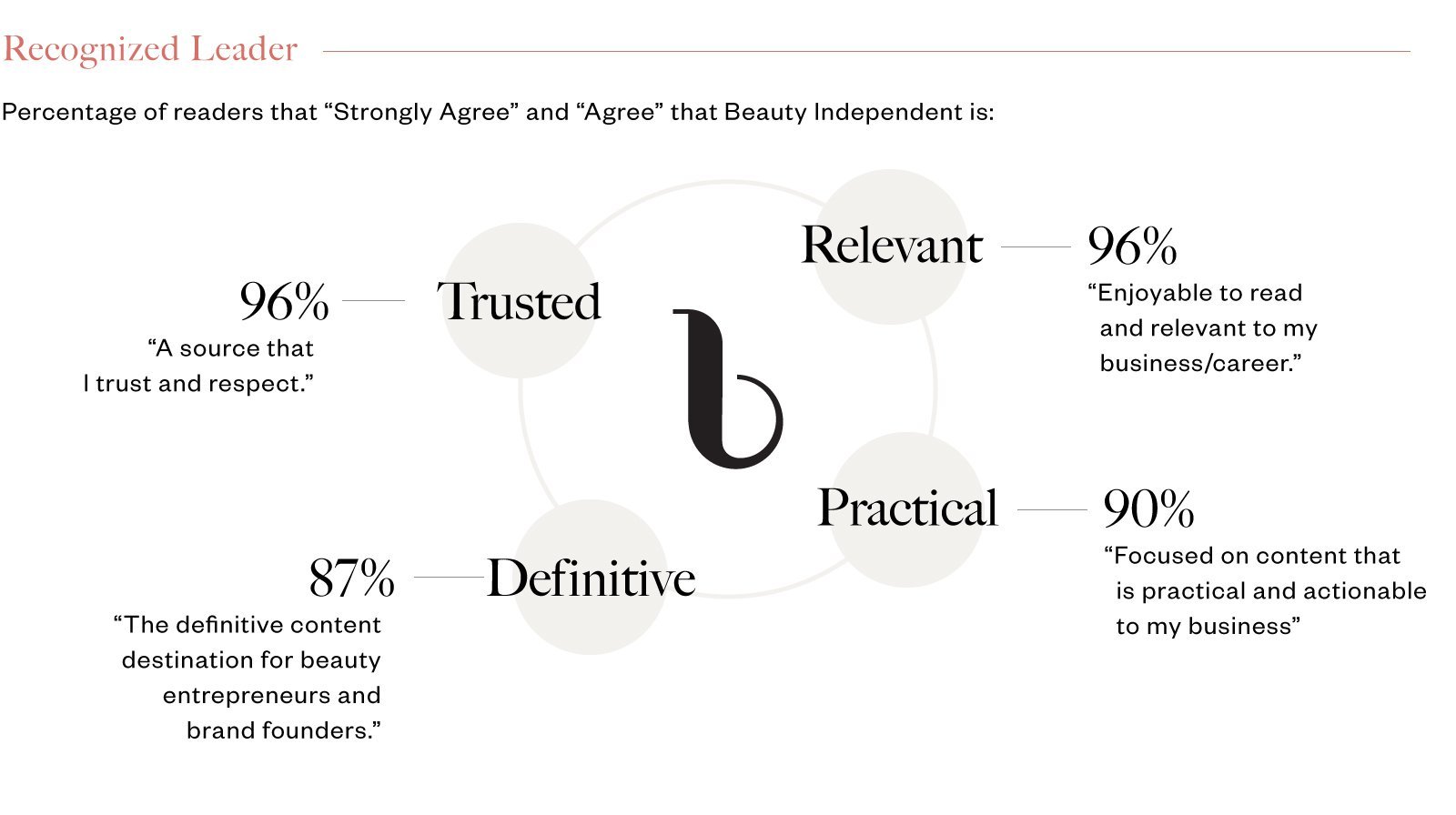 The for entrepreneurs, by entrepreneurs and about entrepreneurs approach is a winning formula, and one that motivates IBMG's entire enterprise. On the slow road to success—no one said this was easy—the moments outside the numbers tend to mean the most. One of the best articulations of Beauty Independent's role in a founder's life was expressed by Lissette Monzon, founder of Lilly Be Organic. 
"Beauty Independent has been the friend with all the industry-specific know-how that I have needed on my entrepreneurial journey. While my organic skincare and aromatherapy business was doing well at local markets, I wanted to expand but I found myself bewildered at the intricacies of the beauty and wellness industry. I started delving deeper and followed Indie Beauty Expo on social media, then observed the companies that participated and the speakers they brought in to BeautyX Summit. I researched about those topics," she says. "When Beauty Independent came out I read almost every article. Subscribing to BI was an easy decision of 'Absolutely, yes!' Since then, I have made connections, researched potential manufacturing centers, followed up with verified vendors on UpLink, connected with other founders, learned about new retailers and how to pitch, and so much more. Beauty Independent is a fantastic investment that will benefit any beauty entrepreneur. I'm grateful to have this resource on my journey!"
We, too are grateful to have such readers who serve as our resource and sounding board for all we do. Any thriving media operation strives to develop a conversation with its readers. We appreciate any and all feedback about what we present, how we present it, and the effectiveness of our intentions—all of our content ideas, thoughts on expansion and development of new features are our best attempts to serve our audience. We rely on our readers and subscribers every day for support and inspiration, but it's not every day that we are able to express our gratitude. So, on behalf of the editorial team and IBMG staff, thank you.
All data presented in this article is based on a survey of 214 Beauty Independent readers, selected at random, conducted in September of 2019.