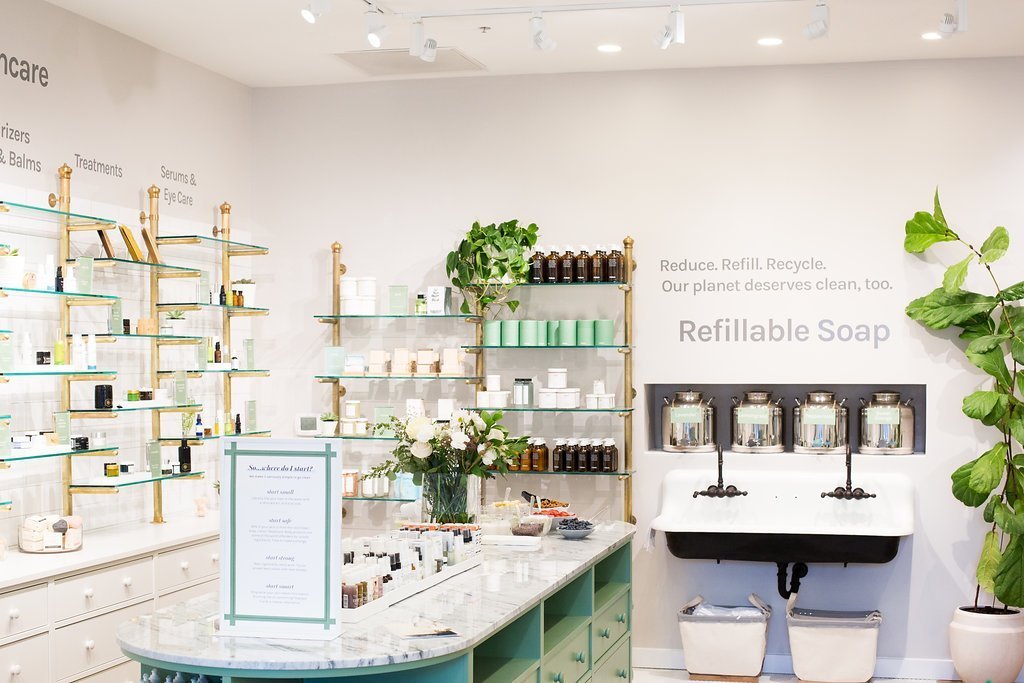 What Beauty Retailers Say About The Pledge To Dedicate 15% Of Shelf Space To Black-Owned Brands
On May 29, Aurora James, the designer behind Brooklyn-based accessories label Brother Vellies, called upon retailers to dedicate 15% of their shelf space to Black-owned brands. "Female founders and Black people who are the founders of their own businesses end up contributing to their own communities as well," she told Vanity Fair. "So this isn't just about Black business owners. This is about Black people in Black communities as a whole."
Some companies such as facial specialist Heyday, fashion rental service Rent the Runway and beauty specialty chain Sephora have signed on. Others such as Whole Foods, Target, Ulta Beauty, Kroger and Shopbop haven't. For this edition of our series posing questions relevant to indie beauty, we asked scores of retailers: Will you commit to the 15% Pledge, and what do you think of the idea? A dozen responded. Here's what they said.
Artemis Patrick

EVP and Chief Merchandising Officer, Sephora

We were inspired to make the 15% Pledge because we believe it's the right thing to do, for our clients, our industry and for our community. Ultimately, this commitment is about more than the prestige products on our shelves, it starts with a long-term plan diversifying our supply chain and building a system that creates a better platform for Black-owned brands to grow, while ensuring Black voices help shape our industry. We recognize we can do better, and this pledge builds on our ongoing work to use our resources to drive meaningful and long-term change for Sephora and our industry.

Yes, we are committing to the 15% Pledge and are generally assessing the diversity of our brand portfolio as a whole right now. We know this is where we can make the most immediate impact: through the marketing programs, internal team training, mentoring, monetary commitment, and general partnership that comes through onboarding new brands.

When I founded Copal, I knew that two of our core values would be education and empowerment. We are happy to continue learning and making strong efforts to amplify the voices of our Black community. In the past weeks, I have spent time learning, listening, donating and sharing as many resources as possible to help our community better understand white privilege and learn how to take actionable steps for change.  

We have also contributed 10% of our sales from last week to a wonderful organization called The Loveland Foundation. They provide therapy to Black women and girls in need. I still feel we can all do better, which is why I am proud to sign the 15% Pledge and continue to support Black-owned clean beauty brands. Currently, we only retail one Black-owned brand, Organic Bath Co., which does really well in our shop.  

In addition, we will be expanding the color ranges in our existing makeup collections for further inclusivity. It's not always easy for a small business to retail every color in a collection, but I now understand how important it is and I'm happy to make a difference. I stand with the BLM movement and will do my best demand change for equality. 

The Detox Market was founded on the belief that our choices have real power and that everyday changes can lead to profound, lasting transformation. A decade ago, that looked like creating a safe community for people to detox their lives. Over the past few weeks, it's meant scrutinizing how our company can do more than offer sideline support and words of solidarity against racial injustice.

It may seem obvious, but it bears repeating: The status quo is unacceptable. Awareness is simply not enough; what matters is advocacy and action—taking concrete steps to pave a better way forward towards equality. Here's how we're starting...

Our Team: Establish an employee-led Diversity and Inclusion Committee to help identify issues and solutions when it comes to inclusivity and diversity across all departments, along with an anonymous hotline to highlight any issues of discrimination or inappropriate behavior. Implement improved hiring, professional training, and career advancement practices for BIPOC. Proactively seek a diverse pool of candidates with the goal of having substantially higher representation of BIPOC across all position—including leadership roles. Invest in regular, mandatory inclusivity and diversity training, including how to combat racism and unconscious biases.

Our Industry: Commit $1,000,000 over four years to help launch and accelerate BIPOC-owned green beauty brands by investing in media space, funds for marketing, creative resources, and senior-level mentorship across all business operations. We are creating a submission form on our website where founders can apply to be part of The Launchpad. Carry at least 20% BIPOC-owned/BIPOC-founded brands, with an emphasis on Black-owned brands; proactively reach out to BIPOC-founded/BIPOC-owned brands to submit for consideration.

Our Promise: We recognize the time for action is long overdue. While implementing these initiatives will not happen overnight, we are working to put them into practice as swiftly as possible—and will continue to demonstrate our commitment not through words, but through action. The future is in our hands. We can and will do better. This is just the beginning.

Michael Pollak

Co-Founder and Chief Experience Officer, Heyday

Heyday is dedicated to challenging and expanding the ways in which our platform is utilized to create and promote change in our communities and this industry as a whole. First inspired by Aurora James, Heyday has committed to the #15PercentPledge and has promised to work towards stocking at least 15% of our shelves with Black-owned brands as well as launching a program that donates both funding and consulting to Black entrepreneurs in the skincare industry.

We view 15% as a concept, not a quota that's met and rested on—we would love to surpass it and expand the skincare landscape for our current and future customers. We believe that complete representation and inclusivity is imperative within the beauty industry and this 15% pledge is our first step in making that a reality. We've already begun speaking with brands and are working additions into our merchandising upgrade later this summer.

Personally, from the point of view of a consumer, I think the 15% Pledge is vital. Black women spend more on beauty than any other demographic. So, when retailers offer more brands that are made by the people who understand their unique beauty and skin needs, it's a win-win for both sides. It would be foolish and a huge missed opportunity for any major retailer not to take action toward this pledge. Pretty Well Beauty has always been on the hunt for clean beauty and wellness brands founded by Black and brown people, and it was one of my goals at the top of 2020 to include more.

As the entire beauty industry takes a hard and much needed look at its practices, I think it's important that mainstream beauty companies include the voices of Black women in this conversation and in these change efforts. There is no way for you to effect real change without having the very group most affected by your "commitments" in the actual room, at the actual table.

Beyond releasing the breakdown of your leadership and committing to increased shelf space, I call on "mainstream," "majority-owned" companies to really take a look at their organizational culture. How are Black consumers treated when shopping in your stores? What marketing practices, if any, do you employ targeting brown and black faces? How do you treat the Black staff and employees at your respective organizations?

I ask that these companies (1) disclose actual long-term plans to ensure discrimination and racism is not tolerated within your company cultures, (2) hire more Black women in decision-making roles and (3) commit to a substantial financial commitment to Black women owned beauty brands and businesses. This is an opportunity to set the tone and lead by example for an entire industry.

Prior to now, my vision and commitment has been to showcase Black artisans and their products—solely, always. The opportunity to address questions, highlight successes, gaps, challenges, or even share observations regarding the lack of equity for these brands, to compete on a mass-market scale, is advantageous. The 15% Pledge creates a necessary space to encourage other retailers to make the same commitment or at best generates dialogue around the quality goods, created by Black artisans, that serve customers well.

Michelle Connelly

VP of Merchandising and Planning, Credo

Credo is so excited to sign up for the 15% Pledge. We are committed not only to ensuring our assortment is at least 15% represented by Black-owned brands, but also to taking a deep dive into our marketing. Sourcing new brands across all categories of our business is an important step, but we want to ensure that these brands will be successful at Credo by supporting them with marketing efforts that are equally inclusive and evoke the brand's core ethos.

Transparency is incredibly important to every aspect of the Credo business, including the makeup of our company. We are committed to expanding our diversity across all aspects of business, including team members, marketing, partnerships and assortments. We are happily signing the 15% Pledge to dedicate 15% of our shelf space to Black-owned clean beauty companies. In addition, we are introducing a BIPOC Clean Beauty Mentorship Program, Credo for Change. As entrepreneurs ourselves, we want to help aspiring entrepreneurs navigate product development, clean ingredients, packaging choices, marketing and fundraising.

Kathryn Dickinson

Founder,

Aillea

When presented with the opportunity to sign the 15% Pledge, I immediately knew that this was something that I needed to do. This initiative allows for a clearer path for BIPOC brands to reach the doors of Aillea. Women receive less than 3% of all private equity funding in this country. Minority women represent a fraction of that. This leads to a very uneven playing field on the road for a brand to get to Aillea's shelves. 

Funding is the key to everything. It is access to the trade shows where I find many of my brands and make many of my connections, it is access to samples, to paying influencers to promote their products or to do Facebook or Instagram ads. I came to the conclusion that signing and moving forward with the 15% Pledge was the right thing for me to do. It is something that I knew needed to happen, but this initiative brought it to the forefront. 

At one point in time, someone made these steps for women so that I could be where I am today, and I am a big believer that it is our obligation to keep working to elevate people and brands that have not received the opportunities to showcase their amazing products. We know that there is a lot to be done beyond the 15% Pledge as well, and we are ready to do the work.

In the beauty industry, looking in the mirror is always part of the job. During this historic moment, Violet Grey is doing so deeply—with eyes and heart wide open—and owning our responsibility and privilege as a platform to advance equality, promote diversity, and stand for inclusivity.

We see the deep and ongoing pain of racism in our society. We recognize, too, that historically beauty ideals have excluded people of color, especially the Black community and acknowledge our role in not doing enough to change them. Violet Grey believes in the power and beauty of diversity, but we haven't always demonstrated that belief through our content and products. We intend to now. And we are committed to championing beauty in every form and pursuing the meaningful change we know needs to happen in the industry and in society at large.

We know self-reflection and donations aren't enough. Action that is tangible, real, and enduring is what matters. To that end, we are sharing three actions that Violet Grey is putting into motion now.

1.) Start from within

Change happens only when we listen. We created an open forum to discuss racial inequality within our organization and to learn how we can better support our Black colleagues, clients, partners, and community. We will implementing implicit bias training to improve our hiring practices and ensure equal employment opportunities to people of color across all ranks.

2.) Diversify our brand partners

True inclusivity calls for economic justice. We are supporting Aurora James' initiative and pledging to evolve our product assortment to include 15% of Black-owned businesses. We recognize that we need more products to address the beauty interests of Black people such as those for natural, curly hair, and we will prioritize finding those that are best-in-class. In addition, we commit to stalking all color complexion shades from our current brand partners and will focus on securing wider makeup shade ranges moving forward.

3.) Amplify diverse voices

Representation matters. We will use our platform to celebrate a diverse group of talent—not just in front of the scenes, but behind them too with photographers, editors, and writers of color. Our current community of beauty experts includes some of the worlds most respected artists, many of whom are BIPOC—and as we grow our committee of creative partners, we will actively seek out more experts of all backgrounds to share their perspectives on beauty. Recognizing that people of color have to work harder to gain opportunities, we will introduce an Emerging Artists Initiative with the mission of opening doors for and fostering them as the future stars of the beauty industry.

All of us at Violet Grey value diversity, fairness, and equality. And as we take the first steps in a long-term commitment to living these values, we welcome your feedback.

When I first opened Lena Rose in 2016, we surpassed this pledge with diversity on our shelves, but, over the years as we grew, our shelves became more of a representation of the industry than our values. So, I'm recommitting...There are so many brands to explore and find, and this is the funnest part about owning a retail store: Discovering amazing beauty entrepreneurs!
If you have a question you'd like Beauty Independent to ask beauty entrepreneurs, please send it to editor@beautyindependent.com.