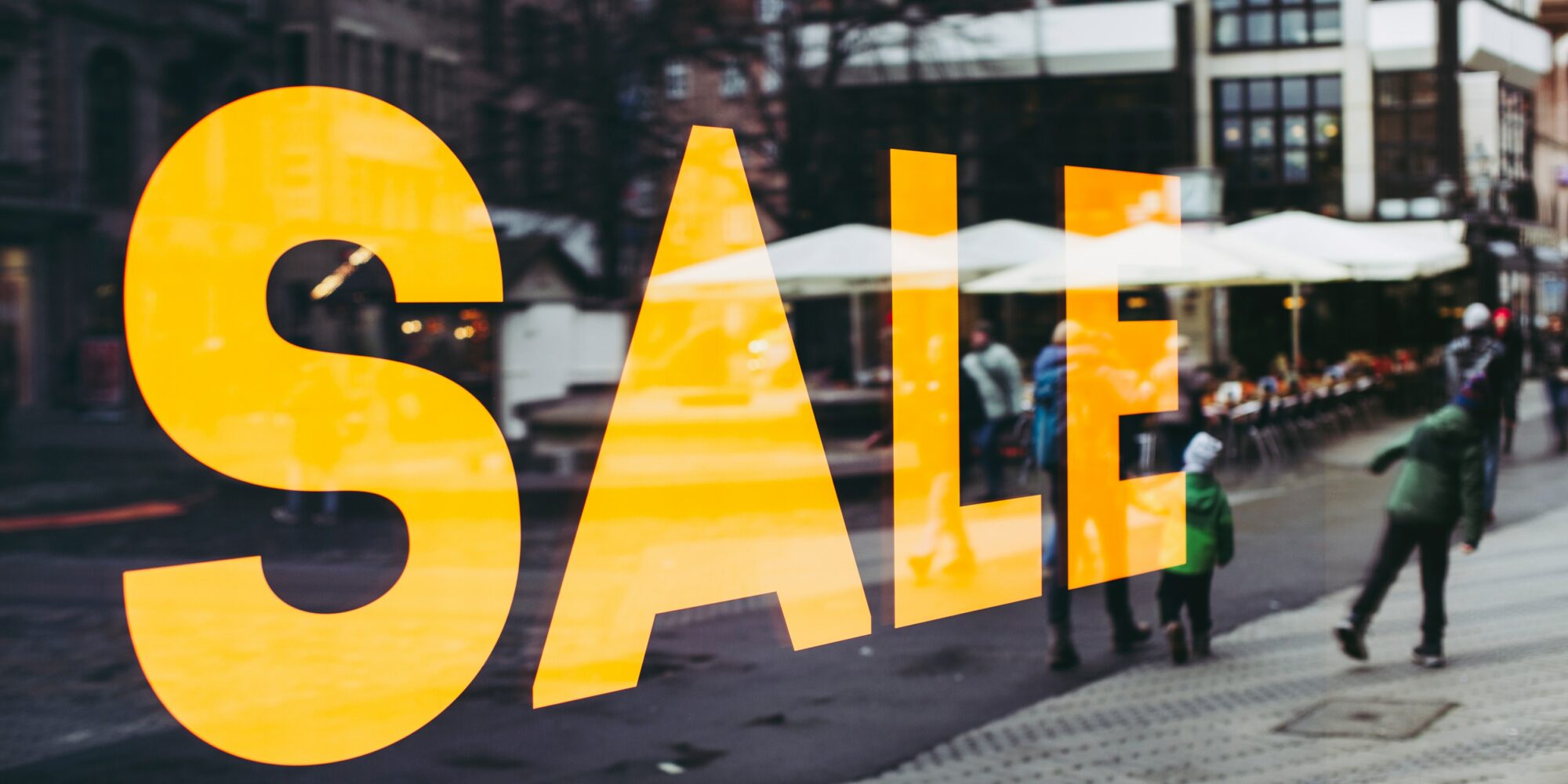 Beauty Retailers Are Upbeat Heading Into A High-Stakes Black Friday
At Trellis Beauty, a clean beauty retailer with North Carolina locations in Raleigh and Durham, founder and CEO Tracy Trellis Gori is confident heading into the all-important Black Friday stretch despite persistent inflation weighing on Americans' wallets.
"It's going to be a great weekend for us," she says. "
So, we're not worried per se because we really haven't seen a shift in buying yet."
Trellis Gori isn't the only beauty merchant optimistic that consumers are going to pick up beauty products as Christmas and Hanukkah gifts for their friends and family members. At Adit Live, a trade show held by Beauty Independent parent company Indie Beauty Media Group from Nov. 2 to 3 in Los Angeles, buyers from beauty retailers were largely bullish on the fourth quarter wrapping up with higher sales than last year. 
The positive outlook counters economic headwinds that aren't favorable to heightened retail spending. Shoppers are contending with tightened budgets amid elevated inflation—the United States inflation rate hit 7.7% in October, a dip from 8.2% in September—and slowing private sector wage growth. Sixty percent of Americans are now living paycheck to paycheck, up from 56% in 2021, according to a survey conducted by loan company LendingClub and payments news resource PYMNTS. 
Many retailers entered the holiday shopping season with a host of problems such as bloated inventories and supply chain snags. Target downgraded its critical fourth-quarter profit outlook following disappointing third-quarter earnings, and $1 trillion has been wiped from Amazon's market value. Department stores haven't fared too well either as consumers trim their spending on discretionary categories like apparel, home and electronics.
So far, the results from early holiday shopping have been mixed. Consumers have been spending, but are being prudent with their dollars. "We believe that retailers will have to work very hard for gains over the holidays, including by discounting and promoting," said Neil Saunders, managing director of market intelligence firm Global Data, in a statement. "This will come at the expense of margins and profits, and we expect to see some weak trading numbers as we enter the new year." 
The National Retail Federation (NRF) isn't predicting serious weakness. The trade organization forecasts 2022 holiday sales will rise 6% and 8% over 2021 and that a record 166.3 million people will shop in the United States from Thanksgiving to Cyber Monday, about 8 million above last year. An NRF survey, however, underscores consumer caution. Sixty-nine percent of the 7,719 consumers in the survey reported that scoring savings is their top priority for holiday shopping.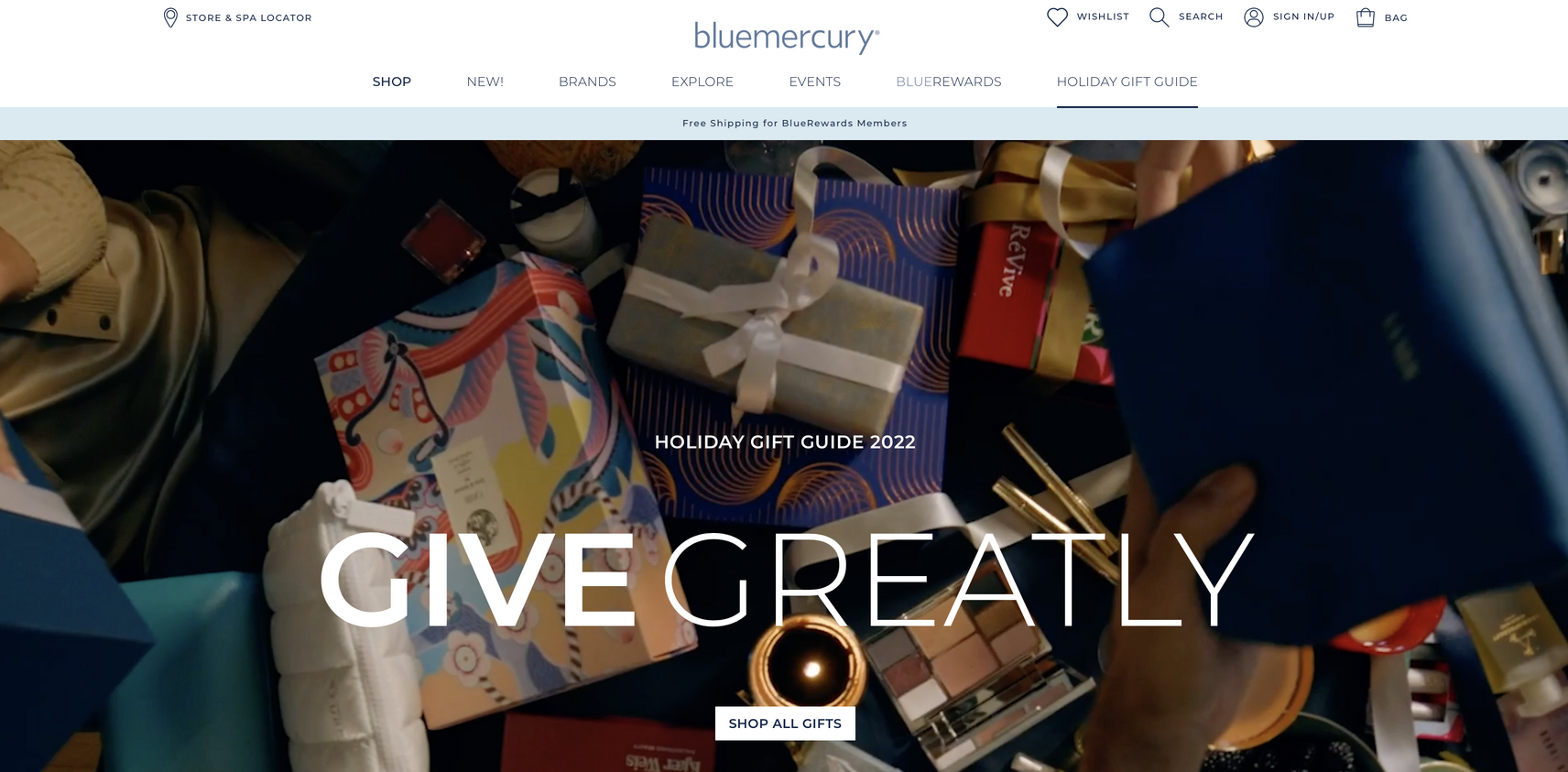 Beauty Retailers Are Positive
While multicategory retailers suffered blows to their bottom lines this year, the success of pure-play beauty retailers, most notably Ulta Beauty, buttresses the long-held belief that beauty isn't as crippled by sour economic conditions as other sectors. The beauty retailers at Adit Live were buoyed by beauty's resilience.
At Macy's Inc.-owned Bluemercury, the holiday playbook hasn't changed much from last year—and why should it? The premium beauty retailer has been ascendant. Its third-quarter comparable-store sales climbed 14% year-over-year and customer acquisition spiked 15%. The third quarter represented Bluemercury's fourth consecutive quarter of comp-store sales growth.
Running Wednesday through Dec. 4, its so-called Holiday Party promotions provide tiered discounts to incentivize spending, starting at 10% off every $100 purchase, 15% off every $175 purchase and 20% off every $250 purchase made online and across Bluemercury's 100-plus brick-and-mortar stores. Gifts with purchase are being offered on in-house brands M-61 and Lune & Aster. 
"Our message this year is about gifting greatly and thinking of others in your holiday journey," says Tracy Kline, head of merchandising, spa and supply chain for Bluemercury. "We try to keep it really personable. I would say that we are prepared for what is going on in the world—and that's all you can do." Planning for holiday 2022 started earlier than usual at Bluemercury due to supply chain considerations.
Kline and Leigh Quilhot, senior director of merchandising at Bluemercury, haven't detected inflationary pressures leading to Bluemercury customers trading down. "We have a very loyal client, and we carry a certain amount of brands with very limited distribution. That sort of protects us with our client. Our client really values the experience at Bluemercury, and she's not necessarily price jumping to whoever's having a sale," says Quilhot. "We have that personalization piece that we've always been known for, and we continue to challenge ourselves to up our game. Our clients know that."
The customer patterns at Bluemercury are aligned with prestige beauty generally. The segment has been on an upswing this year in the U.S. In the third quarter, market research firm The NPD Group estimates sales in the segment advanced 15% to reach $6 billion, demonstrating prestige beauty shoppers haven't slashed their spending outlays.
To bolster Trellis Beauty's 2022 holiday sales, it tapped an external marketing strategist to assist in planning its annual Pink Wednesday sale, a move the retailer has never made before. With the marketing boost, Trellis Gori predicts "as a small business that's growing in the retail space that our sales are going to grow even more." 
Pink Wednesday is the retailer's alternative to Black Friday and typically the event is responsible for its single largest daily volume. Mirroring traditional Black Friday strategies, Pink Wednesday features a "doorbuster" event in which the initial 20 people in its stores receive a bag of gifts, exclusive brand bundles, GWPs, swag bags on tiered spending, savings on services and loyalty member rewards. The extravaganza has registered double-digit sales increases since it debuted four years ago. 
Trellis Beauty didn't dwell on the state of the economy when devising Pink Wednesday messaging centered on self-care and a treat-yourself mentality. "I know what's happening, but we like to create a new narrative at Trellis," says Trellis Gori. "People are craving experiences right now so they can feel good and empowered. They're not looking to come into a store just to buy $500 worth of skincare, and it's not about thinking too much about the real world."
Trellis Beauty, which is gearing up to double its store footprint in 2023, stocks over 30 clean beauty brands, including One Love Organics, Ursa Major, Ere Perez, Plantkos, Salt & Stone and HoliFrog. In addition, it offers facial steaming, waxing and spray tan services.
Physical Stores Are Holiday Shopping Stars
In its survey, the NRF found that 67% of consumers expecting to shop during the Black Friday period are anticipating doing it at stores, a 4% jump from last year. Retailers at Adit Live concur that physical store transactions will be the driving force this holiday shopping season. 
Half of The Detox Market's six-store fleet is in Canada and was shuttered for a lengthy six-month stint at the height of the pandemic. Traffic began to rebound in earnest in the summer across its U.S. and Canada stores—and the clean beauty retailer believes its stores will be at the heart of its holiday shopping business this year. 
"The past two years have seen the majority of Black Friday traffic online for The Detox Market, but, with the resurgence of retail store traffic everywhere we are forecasting footfall to be steady throughout the week," says Elena Severin, senior director of merchandising at The Detox Market. "Before the pandemic, I think everyone was getting a little weary of shopping in stores and picking out gifts, and now because of everything we've been through, there's almost an old-school excitement about getting back into stores again."
Similar to Bluemercury, The Detox Market hasn't changed its holiday strategies much. Its week-long Black Friday/Cyber Monday promotion kicked off on Monday with tiered rewards based on spending. The savings starts at $15 off a $100 purchase and progress to $30 off a $200 purchase before landing at $80 off a $400 purchase. GWPs commence after customers spend $200. 
Severin has noticed The Detox Market's customers are willing to spend a decent amount on potent products if they conclude they're worth it. "Customers are really honing in on specific ingredients from a minimalist perspective when it comes to skincare," she says. "We are seeing that they will splurge for that one product or two products that they really need like a beautiful vitamin C, hyaluronic acid or moisturizer they can use day or night, versus buying five to 10 more accessible-priced products."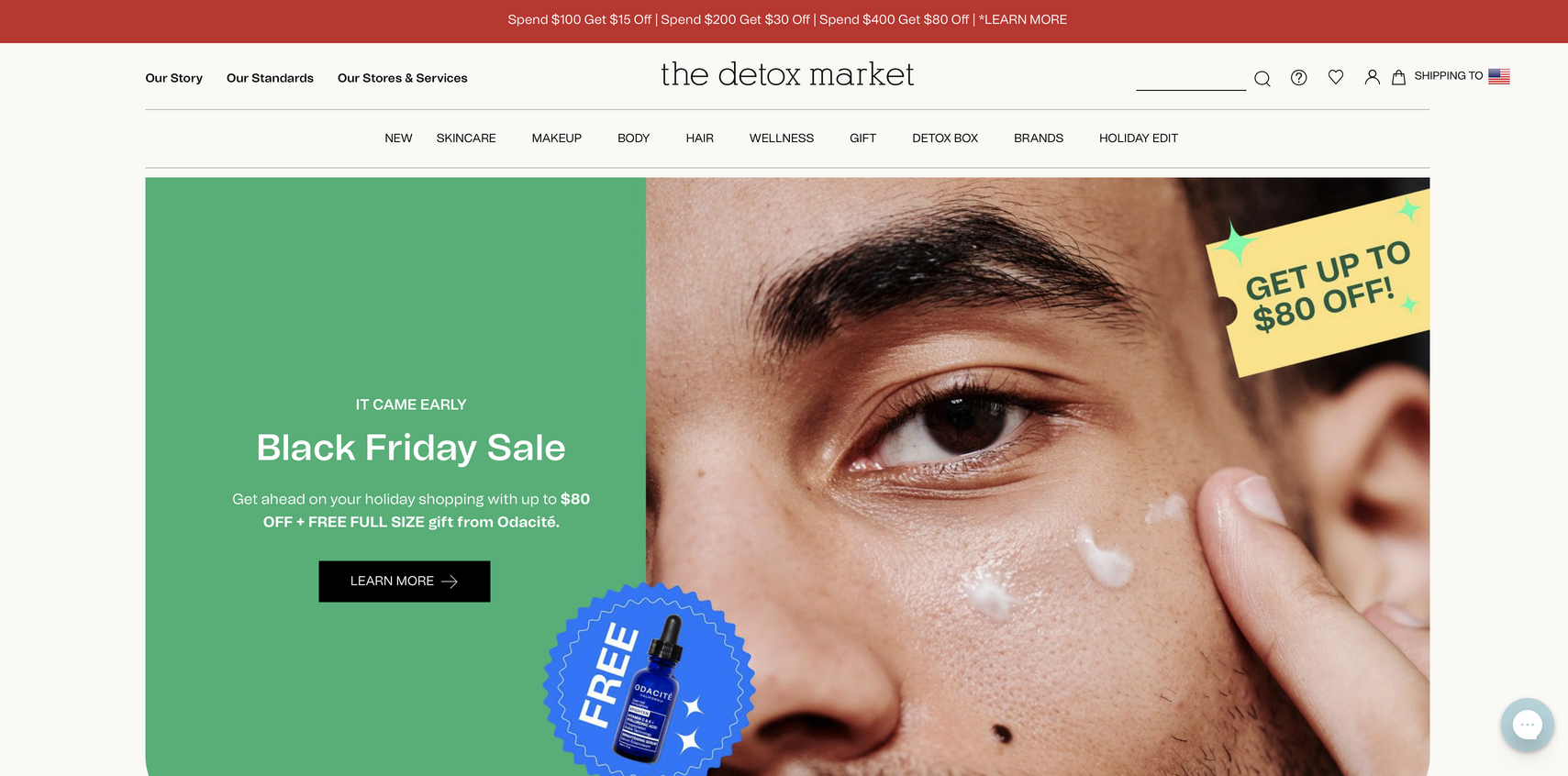 With promotions weaved into products and services, Trellis Gori foresees that Pink Wednesday will attract "a large crowd in store" at Trellis Beauty this year after two years of strong e-commerce sales. As brick-and-mortar stores hit their stride, she forecasts Trellis Beauty's Pink Wednesday sales will notch a triple-digit increase. 
Trellis Gori says, "Historically with Black Friday, especially in retail, I feel most people are at your Best Buys or your Walmarts, they're not necessarily lining up at the cosmetics store that day, but they are lining up at Trellis Beauty on Pink Wednesday." 
Retailers Are Experimenting
Metropolitan Market is instituting Black Friday deals for the first time this year in a bid to shake up usually slow post-Thanksgiving days. From Black Friday to Tuesday next week, the nine-unit Seattle-headquartered grocer will be offering 50% off discounts and buy-one-get-one promotions. Email marketing, social media posts, in-store signage and store displays within designated endcaps are intended to raise awareness of the deals. 
"People have had their holiday, and now they're coming in for some easy meals. So, what else are they going to find when they get there? They're going to find these amazing deals and surprising buy-one-get-ones," says Shanon Hertzer, wellness and beauty category manager at Metropolitan Market. "I think that we are going to delight those customers."
She elaborates, "We don't anticipate Black Friday being a main shopping experience for us, but the guests who want to avoid crowded shopping areas and long lines will have an alternative or will get some pre-shopping in when they stop for their cup of coffee or bakery item and see that we have some incredible deals."
The promotions will spill into the wellness category, which currently accounts for about 2% of Metropolitan Market's business. Hertzer, who joined the company three years ago from Whole Foods, is working to transform what she refers to as a "forgotten aisle" into a refreshed department. Top-performing brands for Metropolitan Market include Olly, Sylling's Elderberry, Vital Proteins, Dana Herbert Accessories, Garden of Life, Liquid IV, Sprout Living, Latika, Pre de Provence and Weleda.
Select Retailers Are Abstaining From Black Friday
Flip, the beauty-focused social commerce platform with over 700 brands, prides itself on doing things differently, and its approach to Black Friday is definitely different. It's shunning app-wide promotions and instead will be holding a private event for loyalty members.
Philipp Wingsoe, CEO of international and president of retail and partnerships at Flip, points out the platform doesn't rely on promotions to fuel its business. "We don't want to dictate what our brands should do," he says. "We allow brands to run their own promotions, do their own thing, and set their own prices. Most large retailers simply force brands to run promotions and worse, make them pay for such promotions."
Wingsoe declines to comment on the size of Flip's loyalty program, but mentions the program rewards members based on engagement and interaction rather than spend. Since its launch in the fall of 2021, he reveals Flip's user base has grown by 500%. Its transactions are up 600% since the outset of this year. 
"Shoppers continue to flock to our platform and embrace our new way of shopping even faster and in greater numbers than we could ever have imagined," says Wingsoe. "We are the fastest growing social retail platform and continue to grow 50% month-over-month. We believe we may be able to more than double this astonishing growth during the holiday season." 
The company, which is preparing for a series C fundraise, introduced revenue-sharing consignment model Fulfilled By Flip in the summer to draw smaller brands to the platform. It's onboarding roughly 100 new brands a month.