Blue Beauty, Regenerative Agriculture, Community Gardens: How Mission-Driven Brands Raise Environmental Consciousness Among Suppliers and Consumers
Independent beauty companies are on a mission to change the industry from the outside, so it's no surprise that there are so many mission-driven brands among them. Beauty brands align themselves with particular health issues or production processes and, frequently, support various causes with brand stories and marketing. Increasingly, a number of emerging brand founders are gauging success as much on their external missions as they are on growing their brands' sales.
After attending a dinner celebrating the anniversary of the Well + Good Council hosted by Donna Karan, I became determined to draw attention to mission-driven brands. During the event, Well+Good co-founders Melisse Gelula and Alexia Brue asked the audience about wellness goals for 2019. While the range of answers reflected the diversity of the group, which included health and wellness leaders Kimberly Snyder, Gabrielle Bernstein, Mark Hyman, Alisa Vitti and Kelsey Patel, a universal theme was the importance of environmental issues and taking care of what we've been given.
Since then, I've reached out to brand founders I met through Indie Beauty Expo, parent company of Beauty Independent, doing great things for the environment. I connected with people like Kapua Browning, founder of Honua Skincare, who, together with Jeannie Jarnot, founder of Beauty Heroes, started the Blue Beauty movement as a way to organize beach cleanups in their childhood home of Hawaii; Kaibae co-founders Tom Cole, Barbara Berger Maes and Luc Maes; and Lanima Beauty founder Debbi Symes. They are just a few of the founders dedicated to developing ecologically-sound ways of living and doing business.
Kaibae
Kaibae, producer of skincare and prebiotics from the fruit of the baobab tree, is dedicated to spreading the healing benefits of an indigenous staple while benefiting the cultures that have preserved traditional knowledge. The founders refer to baobab and ingredients like it that are often ignored or unknown in Western and industrialized cultures as Lost Crops.
What has been the greatest impact to communities you are trying to support through the harvesting of Kaibae's key ingredients?
Berger Maes: Hope. For years, the small-scale farmers who wild-harvest our baobab [in Central Africa] have been entirely reliant on unstable rainfall and degraded soils to grow their sorghum and other grains, essentially their entire food [allotment] and income for the year. Partnering with Kaibae provides income-generating opportunities for baobab harvesters and producers at times of the year when income and access to food are at their seasonal low, helping households move from struggling with subsistence and climate instability to a space of confidence and greater control.
What positive change does this kind of harvesting and sourcing yield?
A key message that has reverberated throughout our harvesting communities is that it pays to conserve their baobab trees and look after their natural environment. The management and stewardship of their natural resources can now be felt across multiple levels—economically, nutritionally, socially, ecologically. The income generated from baobab gives these communities better access to food, healthcare and educational opportunities for their families, and provides a strong environmental case for both preserving and regenerating the natural resource base from which these properties are derived. This is the foundation of Kaibae's supply-chain management.
What other domino effects do you anticipate?
Kaibae's mission is to push beyond organic, building partnerships and collaborations that model the regenerative lens of promoting holistic practices that support people and the planet. These systems are those that keep giving to the soil, the environment and the economy.
For local communities in Ghana, Colombia, Kenya, Uganda and Zanzibar, Kaibae creates and builds networks of opportunity by taking time to listen to their concerns and stories, then consciously weaving that narrative into business decisions that are made with the best interests of everyone in mind. This strategy not only ensures lasting relationships, but resonates with our wholesale and retail customer base. We have spent the last six years nurturing and developing partnerships with community-based organizations in those countries to ensure there is a solid economic base from which to make sound ecological and financial decisions.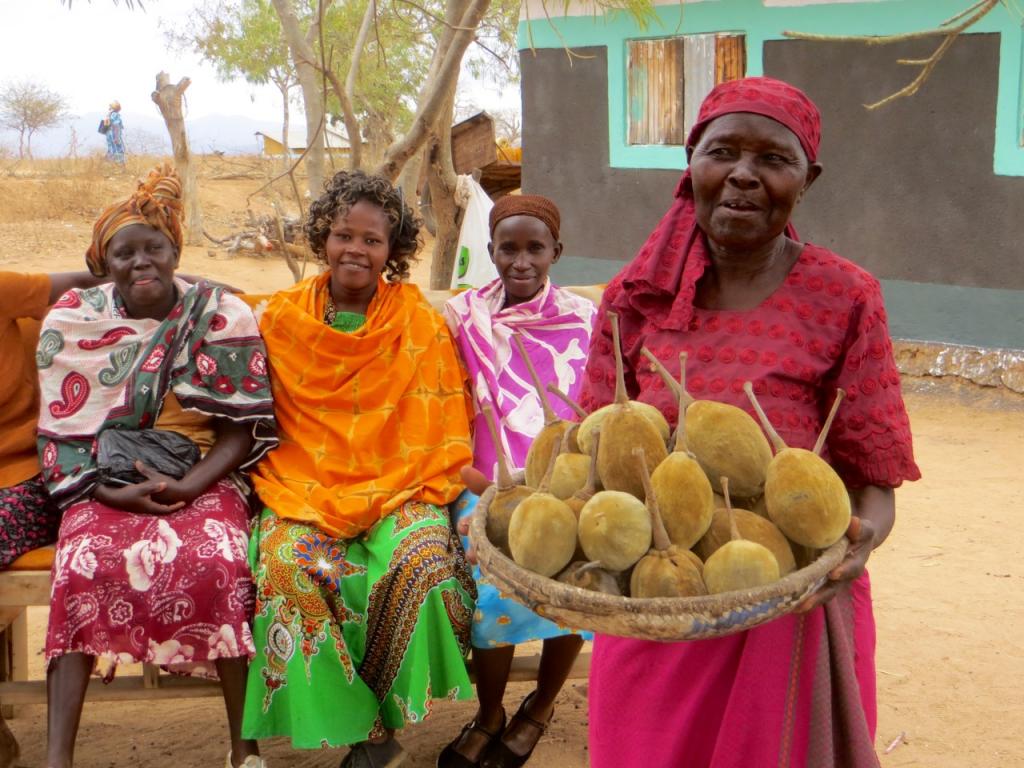 The next stage is both regenerative and resilient. Moving beyond the commodity-based, factory-farmed ingredients that most brands, labels and products are based upon to those that are natural and wild-harvested or cultivated in healthy and productive ways. The key to making agriculture regenerative is ensuring that the water and mineral cycles of the soil are being restored and built even as we or our partners farm the land. This involves enhancing biodiversity, increasing soil fertility and ensuring that the ecosystem that supports the whole farming process is healthy and productive.
This process from the Kaibae standpoint is about building and nurturing relationships, whether between organisms in the soil or between communities harvesting baobab and companies in the U.S. These things take time, but are infinitely more powerful and sustainable than many of the systems we currently have in place producing our food. Understanding that consumers are actively choosing mission-driven brands that align with their own values, Kaibae is well-positioned to help guide and show the way forward.
Lanima Beauty
After starting Lanima Beauty, Symes teamed up with Humanity Unified to create vegetable gardens in Rwanda that nourish local communities. She works with the Tujembere Cooperative, which supports over 130 women in Kigali. Tujembere is an attempt to create a source of friendship and inspiration for women who have suffered losses during the country's internal conflicts. Symes employs women from the Tujembere Cooperative to hand make Lanima's Conscious Clutches.
What is the driving force behind your desire to support women and communities in Africa?
Symes: I knew from the start that I wanted to include a social impact initiative as part of the brand, but it wasn't until after many rounds of unsuccessful fertility treatments did I actually find myself in Rwanda. I read something when I was young that said, "When you're hurting and feeling helpless, go help someone else." That stuck with me. I spent 10 days exploring the beautiful area of Kigali, visiting the villages and getting to know the women in the Cooperative who were making the bags for Lanima's Sustain Collection. The Coop is a place where women who face extreme poverty and post-genocide trauma come together as a supportive community and are taught sustainable skills to help them thrive. These women have endured so much, but they continue to have faith, are filled with joy and push on. My heart completely broke open that trip. I went only with the intention to help, but it turned out it was also the beginning of the journey of my own healing.
What have you learned from your visits and partnerships?
First let me say, Rwanda is truly an amazing place filled with so much beauty, warmth and joy! The people are incredibly welcoming and kind. However, as with anyone who has faced tragedy, it takes time to build trust. I continue to go back because of the relationships I've made and continue to build upon. I also want these women to know I'm committed to helping and not just there for a marketing story.
This past trip, I was invited into some homes to meet families, which was incredibly meaningful. I also began securing new sources for some beautiful ingredients here through small-scale farmers and suppliers who hire women from multiple cooperatives around Rwanda and pay above fair wage. Getting to visit the farms and factories, and connect with the locals who are truly grateful for the work makes me confident not only in the way these ingredients are being produced, but also the high-vibrational energy that is going into them. Kind of like when your mom made you chicken noodle soup when you were sick instead of just giving you the canned stuff. It's just healing on another level.  
How does your approach affect the growth of Lanima?
I love this question because it's something I've had to put a lot of thought into lately. We softly launched just under a year ago, but I didn't feel quite ready to jump in because so much of the story was—and is—still unfolding. Have you ever heard the expression, "Obstacles are detours in the right direction"? Believe it! Lanima is inspired by beauty practices from all over the world. The reality is, it's not just Africa that needs healing, it's all of us. As we continue to grow our Impact-Sourcing Initiative, I hope to secure as many ingredients as possible from underserved communities. Morocco and India are targets for 2019.
What is the main message you want to share with consumers?
I'm a constant work in progress on this, but I'd have to say be mindful. Be mindful of what you consume. Plants are our best friends, and each time you choose them over foods/products that are harmful to your health and the environment, you contribute to the health of our entire planet. Be mindful of what you purchase. You vote for the kind of world you want to live in with every dollar you spend. Be mindful of how you source. Your choices can be the difference between empowering or exploiting, supporting the planet or harming it. Be mindful of how you treat others. We are all connected. If you want to feel love, give love. A healthy world starts with a healthy mindset.
Honua Skincare and Beauty Heroes
Jarnot and Browning treasure their roots in Hawaii. Together and independently, they have taken an activist stance on preserving the ecology of the Hawaiian islands and fighting back against plastic pollution plaguing our oceans.
RELATED: Hawaii's Proposed Ban Of Octinoxate And Oxybenzone In Sunscreens Hailed By Clean Beauty Community
What's the goal of Blue Beauty?
Jarnot: To me, Blue Beauty is bringing awareness that conscious companies are making real efforts to give back to our planet, and my goal is to shine a light on these efforts, celebrate them and encourage companies to follow suit. Consumerism is shifting to a more conscious place, and my hope is that it will continue to shift and favor companies that are going beyond being green. I define it as having sustainability efforts in place, but actually giving back more than they take. It's more than social responsibility, more than sustainability, it's a sense of responsibility and desire to make a difference, and contribute to a bluer planet. This can take many different shapes. Two that we've highlighted recently are Osmia's initiative to plant one tree per online orderand Honua's work to develop traditional agriculture and farmers in her native Hawaii.
This past year, I organized a beach cleanup in Hawaii with Honua Skincare as a way to help tell Honua's Blue Beauty story and also to create content to educate on the global ocean plastic crisis. We also delivered glass straws to all of our Beauty Heroes members as a conversation starter about plastic consumption. As a consumer-facing company, we think it's important to think about these issues and talk about them, and continue to become more conscious.
We decided to give a portion of Beauty Heroes profits each month to 5 Gyres, an organization that educates and does research on ocean plastic. My ultimate goal is to create a community of brands and consumers who are influencing the way companies develop product that is lighter on our planet and helping to reverse the damage that has been done. We have a long way to go in the world and, if Beauty Heroes can be a small part of this shift in consciousness, well, that would be cool.
Can you tell us a little bit about your journey to create reef-safe sunscreen?
Browning: From day one, I knew I needed to release an SPF with my line. As an aesthetician, it is the most important product that we recommend to our customers and is a necessity in a skincare regimen. It took me two years to finally launch our Malu since there are many challenges that come with SPF creation. For starters, I knew creating a reef safe SPF was non-negotiable for me. I was born in the ocean, and understood the damage that our chemical sunscreens had on our reefs and ocean life. I hadn't known at the time that Hawaii would go on to ban chemical SPFs, but, whether they did or not, I could not create a product that would harm our reefs.
I had never worked with a lab before. So, I was in their face every week making sure that they used ingredients that were safe for the skin, but that effectively protected the skin. I must have turned down 20 samples before falling in love with Malu. The key was Ecocert zinc, a blend of oils, EWG-approved plant-derived lab ingredients and some key Hawaiian healing botanicals that I stand by: laukahi, our protector; noni, our antioxidant powerhouse; and pikake for the island vibes.
The finishing touch was our partnership with Sustainable Coastlines Hawaii, a non-profit that is doing amazing work to educate our community and world on the dangers of ocean plastic and how we can stop it at the source. I had been working with the founder Kahi [Pacarro] before launching the SPF and couldn't wait to start sharing a percentage of proceeds from Malu to this hard-working organization.