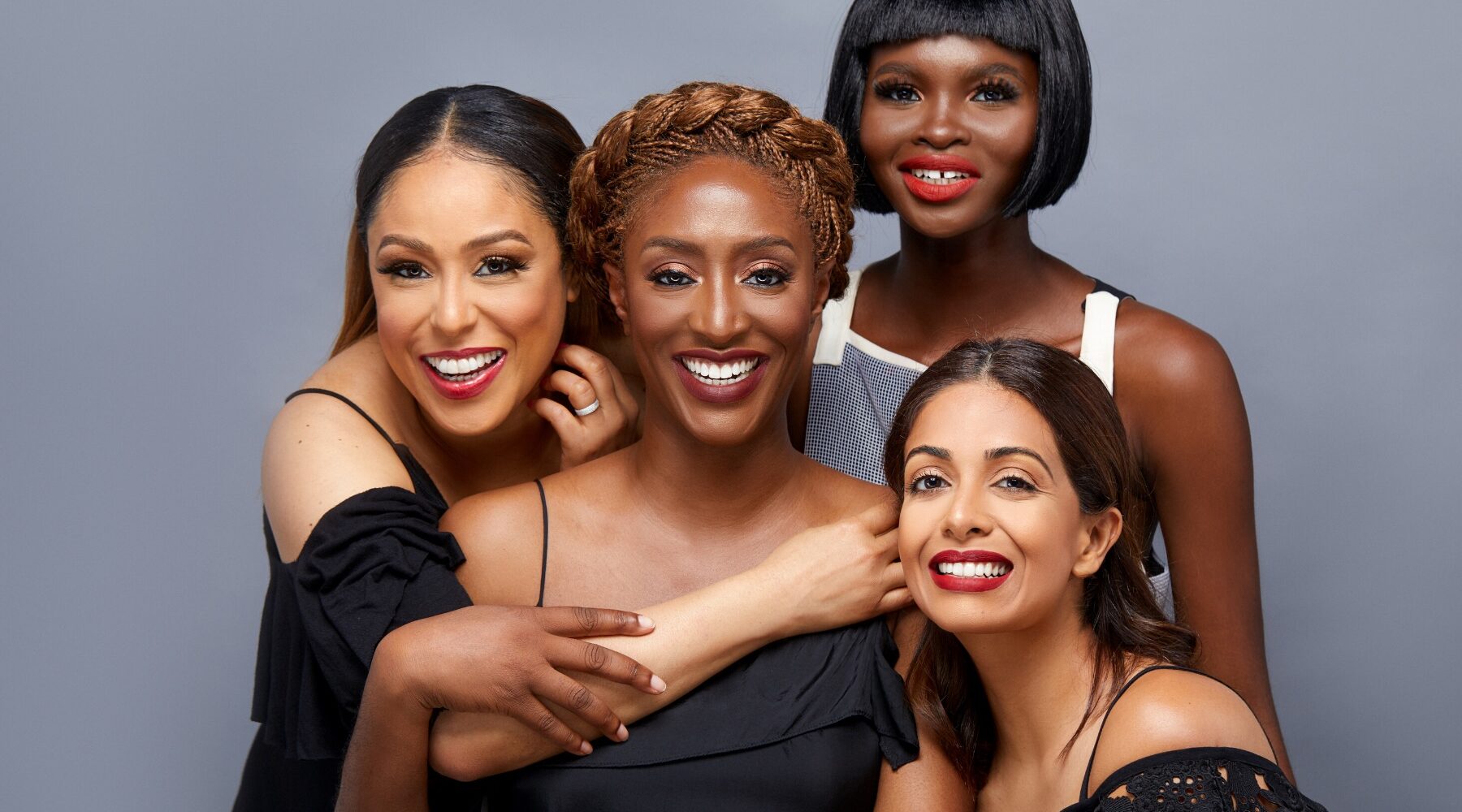 This Brand Is Building A Powerful Makeup Wardrobe For Working Women
For many working women, a red lip and the perfect pair of heels provide the extra boost of confidence needed to conquer an important meeting.
Bossy Cosmetics is offering those confidence boosters with a much cheaper price tag than Christian Louboutin pumps. The beauty startup's new collection, Power Woman Essentials, has launched with five $26 liquid lipsticks—bright red Faith, purplish brown Hustle, coral Courage, bold orange Wisdom and vivid fuchsia Bravery—housed in a component modeled after a high heel and boxes with affirmations such as "you are amazing" and "be you." The collection is due to be expanded later this year and next year with eyeshadows, blush, highlighters and more lipsticks.
"It's all about the elevation of an ambitious and successful woman, and cheering her on through this beautiful piece of art that she will have when she goes to a meeting or now when she's on a Zoom call," says Bossy Cosmetics founder Aishetu "Aisha" Fatima Dozie, adding, "Fashion has revolved around what working women wear to work every day, but that hasn't happened in beauty."
Bossy Cosmetics launched in March 2019 to put working women at the center of the conversation in beauty and beyond. Dozie describes it as "a mission-driven women's empowerment business that masquerades as a beauty business." Products are simply one facet of its three-pronged approach to women's empowerment. The other two are services and content.
The anchor of Bossy Cosmetics' service platform is Beauty Meets Wisdom, a career-coaching program supplying free one-hour sessions with an expert to customers purchasing over $50 worth of products. A dozen career coaches are involved in the program, including media, investment and marketing expert Precious Williams, public relations specialist Lauren Gill, and business attorney Shahara Wright.
"Some of the feedback from it has made me want to cry. A lot of people said, 'No one has ever done this before. I really can't believe a beauty company is doing it.' One woman said, 'This came at precisely the right time for me because I'm having an existential crisis,'" recounts Dozie. "People have kept beauty in one category and working women in another category, but this is how you create brand loyalty."
"Fashion has revolved around what working women wear to work every day, but that hasn't happened in beauty."
Bossy Cosmetics' content portfolio is vast already. It has a video series entitled "5 Minutes With A Boss" that's spotlighted Semaja Fulpius, managing partner and co-owner of fine jeweler Baszanger; Florence Evina-Ze, senior director of customer care at Ipsy; Idunnu Tomori, founder and CEO of jewelry brand Misayo House; and corporate lawyer Ike Adeyemi. In addition, the brand publishes features on women from various walks of life and posts chronicling Dozie's journey at the helm.
Highlighting women through content has been a long-term passion for Dozie. Prior to Bossy Cosmetics, she showcased distinguished professional African women in the media project African HERstory. "I was sick and tired of not seeing enough Black women in media who were badass from a professional standpoint. There were amazing Black actresses and models, but I didn't see executives and entrepreneurs," says Dozie. "I felt the media wasn't portraying enough women like me who were educated and, although struggling in the world, had seats at the table."
Dozie didn't set out to run a beauty brand. Born in Boston and raised in Lagos, she received her undergraduate economics degree from Cornell University and MBA from Harvard Business School, and spent 20 years in finance. "I wouldn't say finance is my passion. It was something necessary for me to pay off the bills for the expensive schools I went to, but it really allowed me to see companies at the highest level, and how CEOs think about strategy and growth," says Dozie. She notes, "Throughout my entire career, lipstick has been like my Superman cape. You put on a red lipstick, and you feel empowered and strong."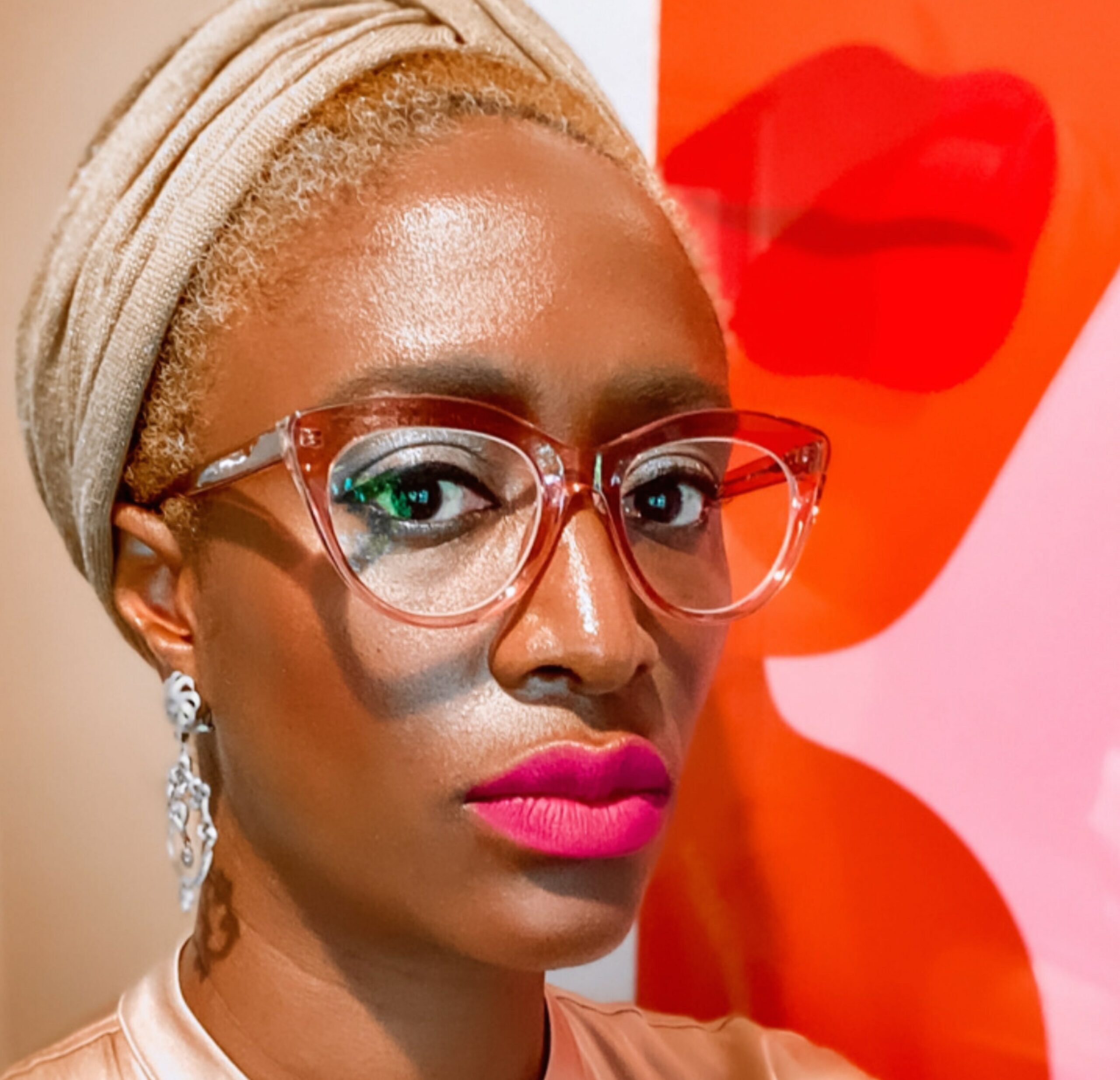 About five years ago, Dozie's doctor informed her she had stress-induced hypertension, and recommended she make changes to improve her health. Dozie decided to quit finance. It wasn't an easy decision. "When you have been doing something for a while, it's hard to think about doing something radically different, and you get comfortable with making a certain salary. You have these golden handcuffs, and you're petrified to do anything else," she says. "But I wasn't happy. In fact, I was so unhappy I was physically sick."
Following some time off, Dozie became a fellow at Stanford University's Distinguished Careers Institute. At the Distinguished Careers Institute, she zeroed in on her purpose: supporting working women often dealing with paralyzing imposter syndrome. Despite a stacked resume, Dozie experienced imposter syndrome. She says, "I wanted to create a product that was so intimate with women that, if you had a relationship with them through the product, you could use that as an inroad to talk about everything."
Bossy Cosmetics kicked off with 15 lip glosses, 13 lipsticks and 13 corresponding lip liners. Dozie learned that the average woman has at least five lipsticks in their beauty arsenal and figured, since they aren't stuck on a single lipstick brand, she could possibly persuade them to try her brand. She paid a ton of attention to producing an inclusive array of shades off the bat. Today, the Liquid Matte Genius Lipstick shades Ruby, Sugar Beet, Flirt and Ritzy are bestsellers.
"Throughout my entire career, lipstick has been like my Superman cape. You put on a red lipstick, and you feel empowered and strong."
"In the beginning, because I'm a Black woman, many people would say to me, 'This is a range for women of color, right? Or this is a range for Black women, right?' I found it shocking that people thought, just because I was Black, that I could only sell to Black women," says Dozie. "I really wanted a color range that could work for any ambitious woman, irrespective of her race, ethnicity or tone."
Dozie estimates it cost roughly $500,000 to date to develop Bossy Cosmetics. She secured friends and family funding to help with the expenses. The brand's first product grouping established Bossy Cosmetics' formulation chops, and the second, which takes the brand from standard to customized packaging, is intended to be a design statement. The Power Woman Essentials collection was supposed to be complete collection crossing makeup categories. However, pandemic-related supply chain issues interfered. As a result, products within it will be released on a staggered basis.
The pandemic has also interfered with Dozie's retail plans for Bossy Cosmetics. Early this year, she had expected to push for broader retail distribution. Knockout Beauty currently carries the brand. With the pandemic wreaking havoc on brick-and-mortar stores, Dozie has opted to hold back on pursuing retail growth. Instead, she's focusing on Bossy Cosmetics' direct-to-consumer channel and cultivating its message.
"Once the pandemic hit, I told my friends and family investors that we were not going to have any sales goals for this year. I don't want to put myself under stress. I can't cure coronavirus, and this is just too random a time to put myself in a position to want to drive to a sales goal," says Dozie. "What I told my investors and myself is that this is really a time to work on the brand and make sure we are unforgettable."