Fighting Breast Cancer, Sanara Skincare Founder Rebekah Jensen Advocates Showing Up For Yourself
At the age of 39, Sanara Skincare founder Rebekah Jensen was diagnosed with breast cancer two years ago only after she'd pressed for a doctor to take her suspicion that something was wrong with her body seriously. She had a mastectomy to keep the disease at bay, but learned earlier this year that it's returned.
Jensen started chemotherapy treatment last month, and over the weekend she and her friends threw a head-shaving party to fundraise for Flatwater Foundation, a nonprofit offering free therapy to people with cancer in Central Texas. "I wanted to show my nieces and nephews that it's OK to do hard things, and while we can't choose these types of things like cancer or losing one's hair, we can choose how we respond and show up," says Austin-based Jensen.
Showing up for herself has been crucial to Jensen's personal health and her entrepreneurial journey. Below, in her own words, she shares with Beauty Independent how she advocated for herself in a difficult medical environment, why she developed Sanara and keeps a full-time job while running it, and the business's meaning to her life.
I'm a registered sonographer, that's the person who scans the babies. I left my sonographer job in 2012 and have worked corporate for a manufacturer for the past 11 years. It was in my corporate career that I saw the misfortunes of our healthcare systems being run by corporations for profit and seeing patients with lower socioeconomic situations fight for adequate care because they simply can not afford it.
The fact that our health is tied to our employer, leaving us chained to a system that only works for shareholders, is very disheartening. Getting to see the healthcare industry and the inner workings, it just doesn't feel like healthcare anymore. That's why I started transitioning into creating Sanara.
About 2016 is when I started playing in my kitchen, which many independent beauty brands do, because I have psoriasis. I wanted to start paying attention to the ingredients I was putting onto my skin. I started seriously looking at the beauty industry and was like, OK, if I'm going to do this, what kind of white space am I going to enter? How am I going to set myself apart? I am Latina, and so that was obviously the first place that I looked. The name Sanara actually comes from the Spanish word "sanará," which means you'll heal.
We have Ayurvedic skincare, we have Korean skincare, we have all these beautiful places that are represented, but Latin America really hadn't been represented. It still isn't really. As a Latina, of course, that resonated with me. I decided I'm going to go all in on Latin American botanicals. I am a born and raised Texan of Mexican descent, and I always tell people that the border crossed us. Mexico used to be Texas. My family has been here for generations, but I've always felt like an outsider in a sense, so this really helped me feel connected to a country that feels so far away, yet so close at the same time.
As I was creating, it started doing things to me as a woman, as an entrepreneur that I didn't even realize. I discovered things about me being creative, being a business woman, being innovative and being a visionary. I really started paying attention to my skin, paying attention to my body, things that, as women, we shun for so long.
I launched my Tranquila collection in 2020, four months before COVID. I decided from a marketing standpoint that I was going to launch first into the spa market for several reasons: The healing aspect that the spa industry has, and I wanted to be a prestige brand in the wellness market. Little did I know what we know now that there was a 70% downturn in the spa market when COVID hit. Sanara has just been about holding on and believing in what I'm doing.
I'm now in the Four Seasons in Vail. They use my products for their signature body treatments. That's my first spa. I'm holding on to that validation. I just launched at Four Seasons Las Vegas. I'm getting my first Mexican distributor to get into some spas that are interested in Mexico. That is beautiful to me. I also want to scale into retail. I'm currently in talks with The Detox Market because they've been following my story. Nothing has happened in regard to any deals by any means, but they're keeping an eye on me.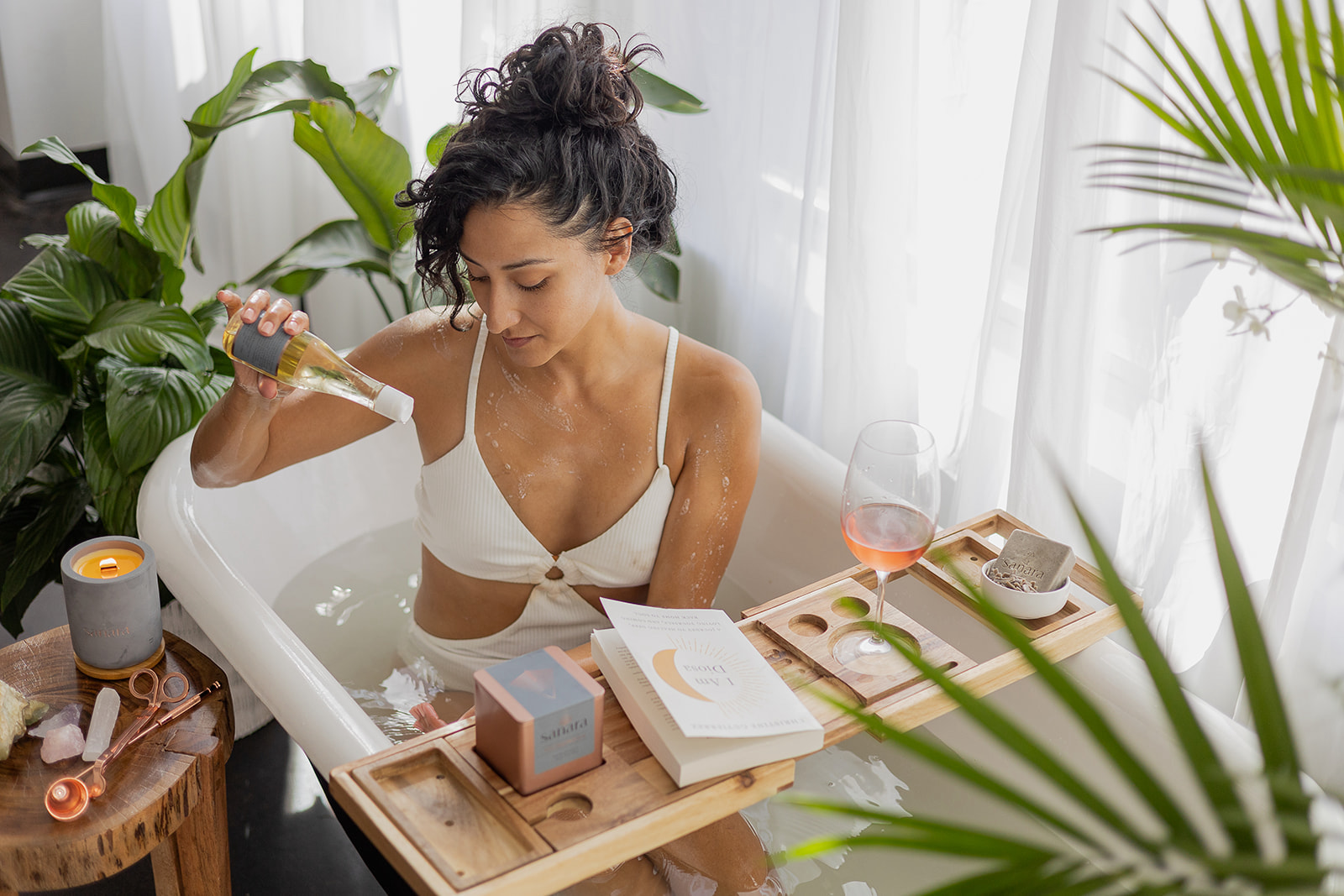 The Chilean Rosehip Seed Body Oil is my No. 1 seller. We've all heard of rosehip seed oil, but nobody knew it was from Chile. Another close second in terms of bestsellers is my Cupuaçu Seed Body Butter, and what's interesting about cupuaçu is it's two times more hydrating than shea butter, yet nobody's heard of it. The Four Seasons Vail used to have a shea butter treatment, and they've now replaced it with my Cupuaçu Seed Body Butter. It's an amazing hydrating body butter that is great for winter skin.
When 2021 came around, I was diagnosed with breast cancer with no family history. I started feeling changes in my breast tissue in my left breast. I had my mammogram and ultrasound done, and both of them indicated benign findings and, because I know ultrasounds, I agreed with the doctor. I'm like, "Yes, it looks benign, but I'm telling you what I feel in my body. The alarm in my body is telling me it's something." I couldn't even let my head get to cancer yet, but I just knew it wasn't right.
I insisted on a biopsy and the doctor's like, "You'll know by the end of the week, but I'm sure it's benign." I knew at that point I had done everything that I could. That week, I ended up getting a call back and the doctor was shocked. I was diagnosed so early, actually it was stage zero, which I didn't even know existed at the time. It basically means that the cancer cells are there, but they haven't yet formed a mass. I went through my only treatment at the time, a bilateral mastectomy, which was pretty aggressive, but I was like, if I can get it once, I don't want to get it twice, so I'm going to do what I need to do.
I was told my margins were clear based off my labs from my mastectomy. However, what I've now been told is that it's impossible to get every breast cell during a mastectomy. Only .8% have a recurrence breast cancer diagnosis after a mastectomy with stage 0 ductal carcinoma in situ. All of 2022, I thought it was behind me, although I did have a little area that I thought was scar tissue. I'd been following up with my doctor saying, "Hey, I've got this little area, it's probably scar tissue from the mastectomy, but let's just keep an eye on it."
December rolled around and I had had enough of going back and forth with my body and my spirit nagging me telling me this is something. I said, "Let's just get it taken out. I want to go into 2023 with this in my rear view mirror." I go into the office to get it tested. My latest diagnosis is ductal invasive carcinoma stage 2a, so I'm going to have five months of chemotherapy treatment, and I'll probably have to have some more surgery. We'll see how much we can shrink it down, and then I'll go through radiation.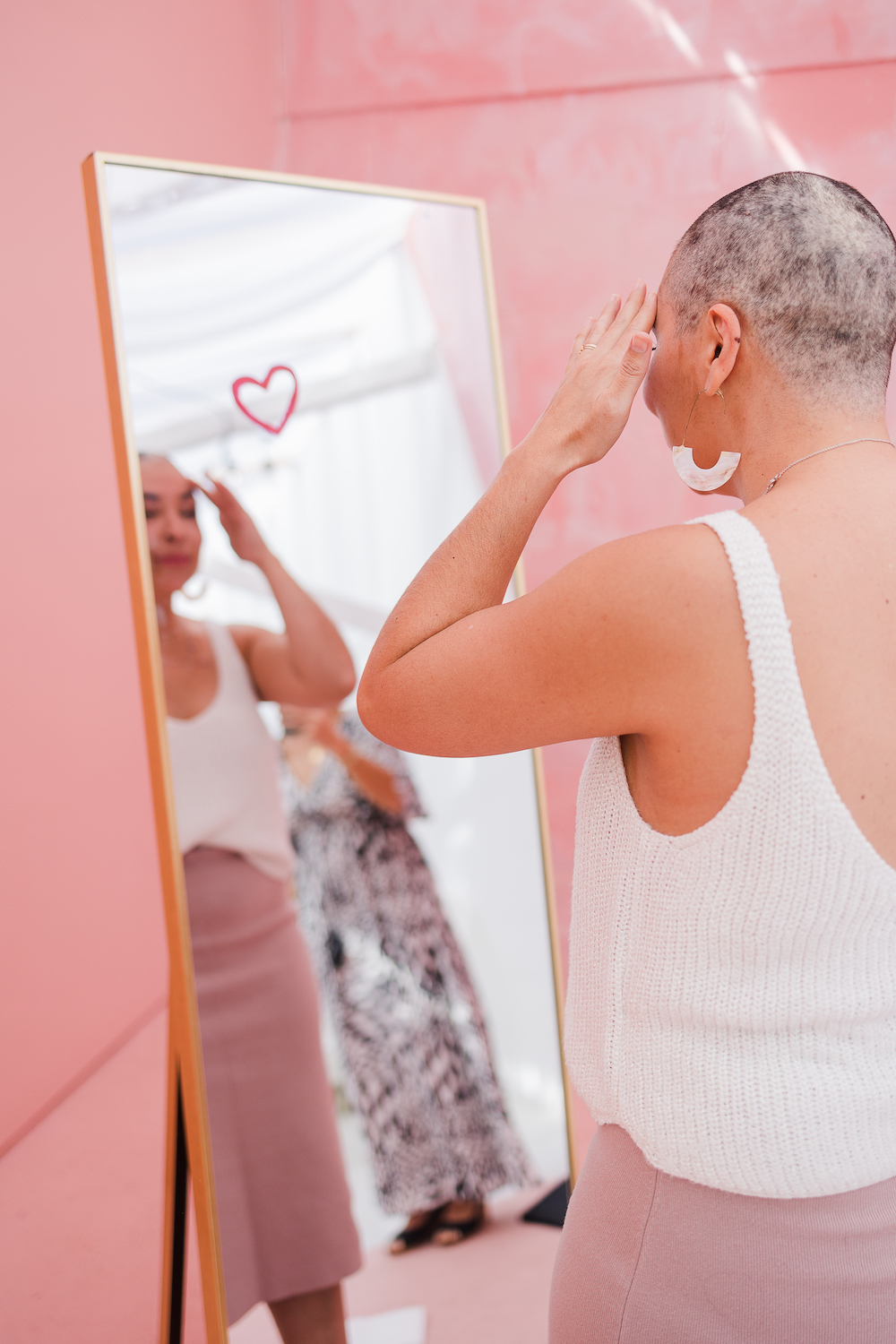 What I've come to realize is that my first job is probably what has saved my life. Being in the medical field, I understand medical science. While we learn more and more every day, it is not perfect and there are many shortcomings. There is a reason we say "practicing medicine." We don't have all the answers, which is why advocating for yourself could save your life.
I think everybody experienced a slowdown during COVID that we didn't have before. When we were able to actually slow down and see the impact this capitalistic mentality had done to our bodies and done to our minds, we were just run down. What it's done for me is realize we have to start with ourselves and what I can do for me, which is take care of me. If we could just stop for a second and listen to our body with what I call daily time slowing rituals, our body's actually speaking to us. If we could just listen, then we might catch that diagnosis a little sooner.
I still have my day job, and thankfully I get to be on disability. I have great insurance, and that was my biggest heartache because you have to support your family while you're building a business. You have to invest in your business. Last year when I was looking for investors through an accelerator I had applied for, I told them I still have my day job, it's not something I can give up right now. I've put over $250,000 into Sanara, quite a bit of money that wouldn't have happened without my day job. They ultimately declined me and told me I wasn't committed enough because I still had my day job.
I emailed them back, I'm like, "You know what? That's really not the advice you need to give. I may be too early, I may be in over my head, I may be all of these things, but not committed is not one of them." Thank god I listened to the universe, and I don't listen to investors because, had I quit my job, Sanara wouldn't be here today. I may not be here today. When Sanara can sustain me, I can't wait to make that transition, but I'm just not there yet. That has to be part of the story, too, because so many people just see the other side. Now I'm in the process of raising my very first WeFunder, and the goal is just over $90,000.
It really has been Sanara prophetically that's sustained me through this whole time. I was actually thinking about Sanara one day and what she's done for me. She's not a success yet monetarily, it's still touch and go in regard to supporting itself and the sustainability, but, as I was thinking about Sanara, I was like, I started this brand because of my psoriasis, but I feel like she, Sanara, has become my friend. She's done so much more for me.
I actually came up with my tagline thinking about all the things she's done for me, and it's, "Sanara restores more than your skin." My brand and the inner workings of it, the creation of it, the development, the struggles, it wouldn't be who she is now without all that I've gone through.