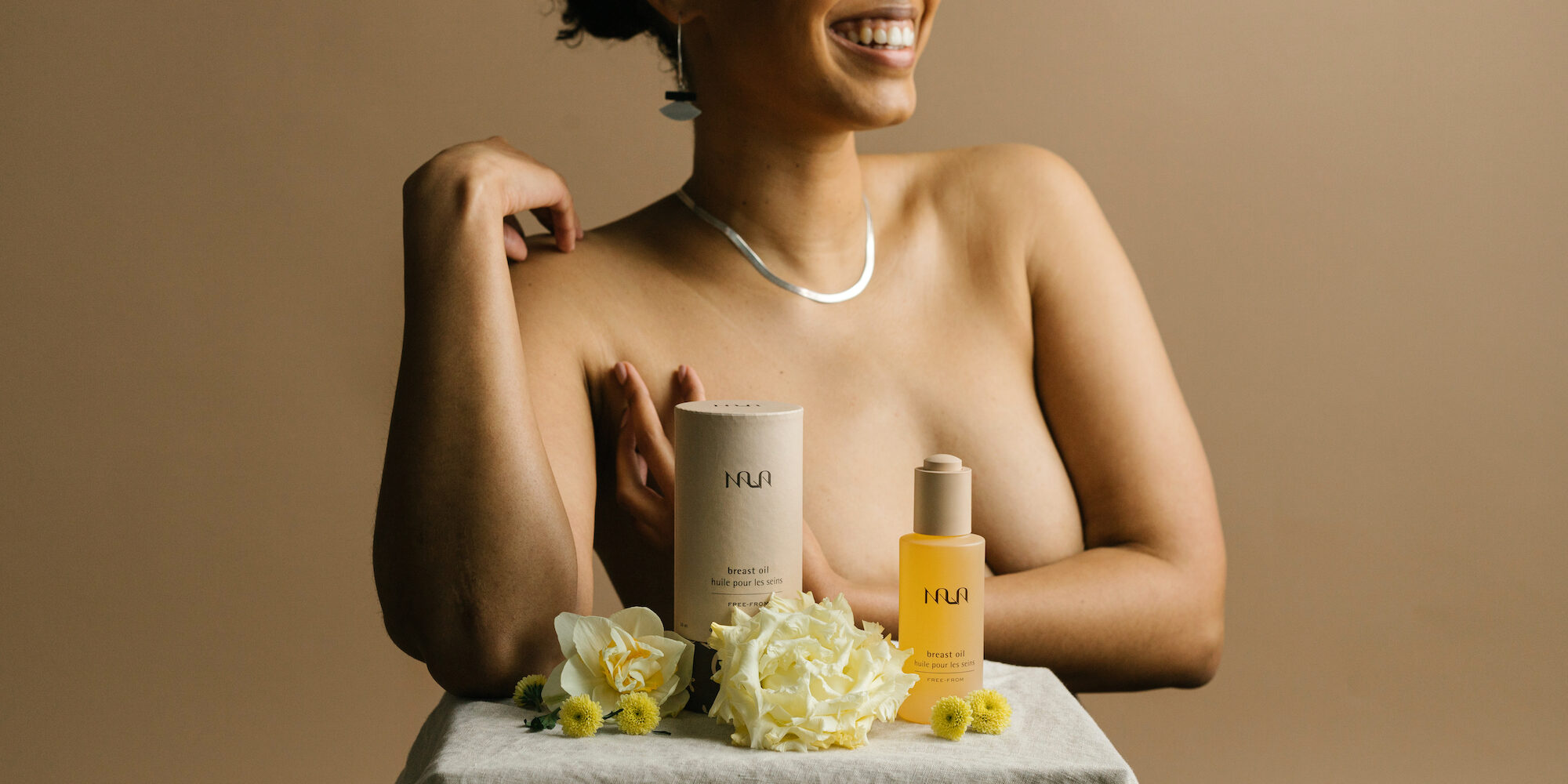 From Boob Jobs To Breast Wellness: A New Generation Of Brands Is Evolving The Beauty Industry's Relationship With Breasts
The beauty industry has long preyed on insecurities about breasts with products and procedures designed to have them fit a narrow societal ideal.
To this day, most of the beauty offerings for breasts aim to achieve cosmetic goals—increased firmness and decreased stretch marks, for example—but there's a groundswell of brands, including Complex Creatures, Nala Care, Foria, Nyssa, Dr. Janine Mahon and Looni, working to evolve breast products beyond optics optimizers. Their products address PMS pain, surgery and chemotherapy recovery, lymphatic drainage, body awareness and more. They're taking breasts back from plastic surgeons and welcoming them into the wellness movement. 
The rise of breast care as a wellness category is occurring as taboos around a wide range of subjects, from menstruation to masturbation, are cratering. While it's definitely a nascent trend, interest appears to be mounting. According to search intelligence firm Spate, the term "boob cream" was involved in 2,200 monthly searches in April, a 25.2% jump from last year. 
For practitioners of traditional Chinese medicine (TCM), the concept of breast care is nothing new. Janine Mahon, a doctor of Chinese medicine, created the formula for her eponymous brand's bestselling $140 Rejuvenating Breast Oil, which is available at Violet Grey and Bluemercury, after suffering from mastitis, an infection of the milk ducts, while nursing her daughter. She explains there are six Chinese medicine meridians that flow through the breast area influencing the health of the breasts. Blockage of their flow can instigate conditions like mastitis.
"The milk is not flowing," states Mahon. "The Breast Oil has all these wonderful herbs that not only break up accumulations that shouldn't be there, but also helps everything flow in the proper way." Mahon mentions Rejuvenating Breast Oil has kickstarted conversations with her daughter, now in her 30s, about breasts. "What do mothers talk about when their daughters are starting to develop? Let's go get a training bra. That's about it," she says. "Let's do a little self-care. This is something that, as you start to menstruate, you can put on your breasts with your period as a celebration, like this is your time to take care of you."
For many of the brands entering the breast wellness space, cancer is a pivotal part of their story. The prevalence of breast cancer has been climbing, as has breast augmentation surgery. The Centers for Disease Control and Prevention estimates there are 255,000 cases of breast cancer diagnosed annually in the United States, and it's the most common cancer among women. According to statistics from The Aesthetics Society, there were 365,000 breast augmentations performed in 2021, up 44% from the previous year.
Many people with breasts will have breast augmentation surgery post-mastectomy, which exposes them to a new host of medical issues, including Breast Implant Illness, or BII. Because of increased awareness around possible complications from breast implants, there's also been a spike in breast implant removal. Specifically, removal surgeries increased 47% from 2020 to 2021. May 24th was recently deemed National Explant Day to raise awareness of BII.
If breast oils and balms encourage women to massage and examine their breasts at home more often, that's a win to founders who advocate for increases body awareness. "We're trying to encourage people to self check. The goal is monthly," says Mia Clarke, co-founder of Nyssa, the woman-focused wellness company that created the hands-free VieVision Mirror designed to allow women to see and examine their vulva. "I think it's a continual conversation of getting people to understand just how important it is to check your breasts, to get a yearly mammogram. From 40, I think 35% of women do that. If you start doing it in your forties, you are way more likely to catch something earlier that can have a tremendous impact on the outcome if you do have cancer. So, let's all make this part of our care. To me, self-care isn't bubble baths and candles. I love those things, but knowledge is power. Getting knowledge about your body, is I think, the greatest part of self-care."
Breast wellness is deeply intertwined with women's efforts to heal from different types of breast trauma. One of the reasons Ervina Wu co-founded the TCM beauty and wellness brand Yina is because of the relief TCM brought her after a battle with breast cancer and several rounds of chemotherapy. The brand offers the $65 Décolletage Treatment Balm formulated with cyperus to promote circulation, golden bell to reduce swelling and milletia vine to heal skin. It's sold on clean beauty e-commerce websites Botanic Affair and Pink Moon.
"I have seven things I put on my face, but why are we not taking care of our breasts?"
Tara Elmore, who founded the breast care brand Complex Creatures with her sister Lisa Lundy, had no history of breast cancer in her family when she was diagnosed with the disease at 37 years old. Her husband discovered the lump. "I hadn't even ever had a mammogram," she says. "He knew my boobs better than I did. We're just disconnected." 
Complex Creatures is intended to connect women with their breasts. It premiered with two products: $78 Deep Reservoir Breast Oil and $60 High Vibe Healing Balm. Lundy paid much closer attention to her breasts after Elmore's diagnosis, and calcifications or hard deposits within her breast tissue were discovered.
She says, "As I started being monitored more closely, I raised my awareness around, 'Why don't we do all this stuff for every other part of our body? I have seven things I put on my face, but why are we not taking care of our breasts?' It felt like the only time we think about our breasts is in the context of detecting or treating breast cancer or nursing, basically. There is so much more than that."
Complex Creatures' High Vibe Healing Balm, featuring Roman chamomile, arnica and evening primrose extract, is for people recovering from surgery or with compromised skin from undergoing radiation therapy. It can be used as a barrier to protect skin or a moisturizing antibacterial treatment that fights inflammation. Formulated for self-massage, Deep Reservoir Breast Oil has castor oil, dandelion root, broccoli seed oil, sambucus nigra fruit extract and sea buckthorn fruit oil.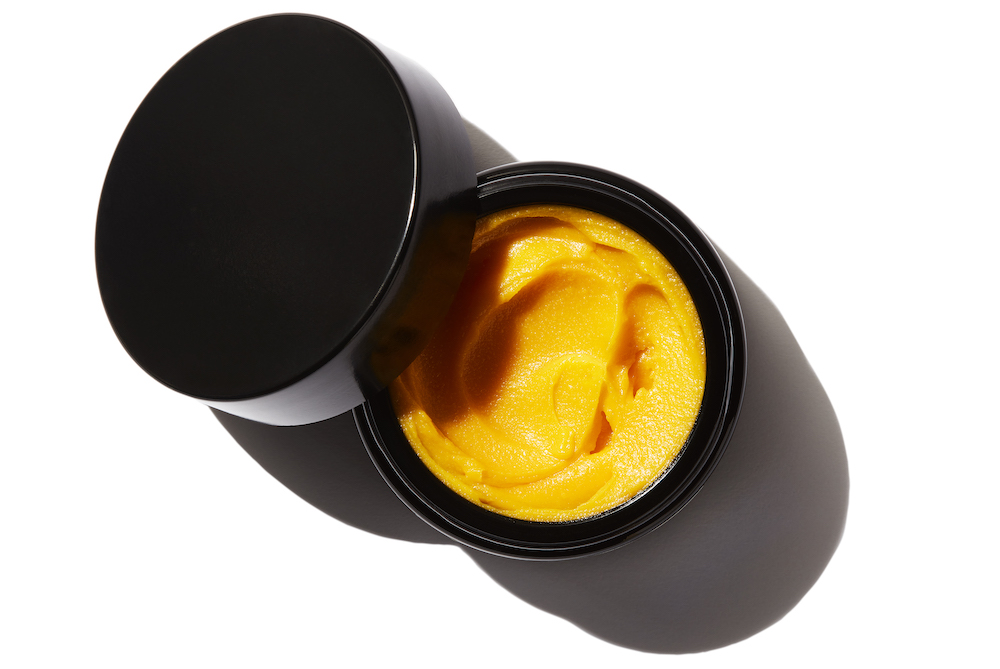 In December, Complex Creatures launched on Alula, an e-commerce site for women with cancer and people getting gifts for them. Alula secured $2.2 million in a seed round led by BBG Ventures, underscoring the growth of breast wellness and the market for breast care products for people with cancer and cancer survivors.
Consumers shopping for products to soothe cancer and cancer treatment symptoms often search for better-for-you solutions. Elmore says, "We just got a message from somebody the other day saying that for weeks they've been using what their oncologist prescribed for them or the radiologist gave them, and in just two or three days of using our product, she's seen great improvement and healing."
Menstrual health company Looni will debut in late June with a breast wellness product in its assortment. Co-founder Chelsea Leyland, a DJ and filmmaker, has the BRCA 1 mutation. The genetic mutation predisposes people to breast or ovarian cancer—or both. "I have to do annual MRIs on my breast as preventative care while also being mindful when using products that contain carcinogenic chemicals around my breasts, i.e., deodorants," she shares. "I think it's incredibly important to raise more awareness for breast health outside of cosmetic-focused products so that women can prevent, detect and treat these fatal cancers early." 
"I have yet to meet a single woman that doesn't have an opinion about her breasts."
Next month, Foria, the brand known for its CBD-infused sexual wellness products, will launch $38 CBD-free Intimacy Breast Oil. It has ingredients like violet leaf and dandelion leaf, calendula, yarrow and coconut MCT oil. The product's purpose is to forge a relationship between users and their breasts, an often neglected erogenous zones. It was inspired by two early champions of Foria who died from breast cancer. 
Colleen Gerson, a wellness educator and botanical formulator at Foria, explains, "In our culture, breast cancer is one of the leading causes of mortality for women, and we don't have proactive care for the breasts or knowledge and awareness around them until we go to the doctor because we felt something is off. This oil is to rekindle your awareness and connection with a different part of your body that's intimate and to tune in daily to your needs."
Brand founders in the breast wellness category emphasize that the shift in the type of breast products sold and discussions around them resonates emotionally as well as physically with consumers. Elmore's observation about how disconnected women are from their breasts is a common refrain from the founders. They're putting out products to encourage women to develop breast care rituals in order to reconnect with their breasts.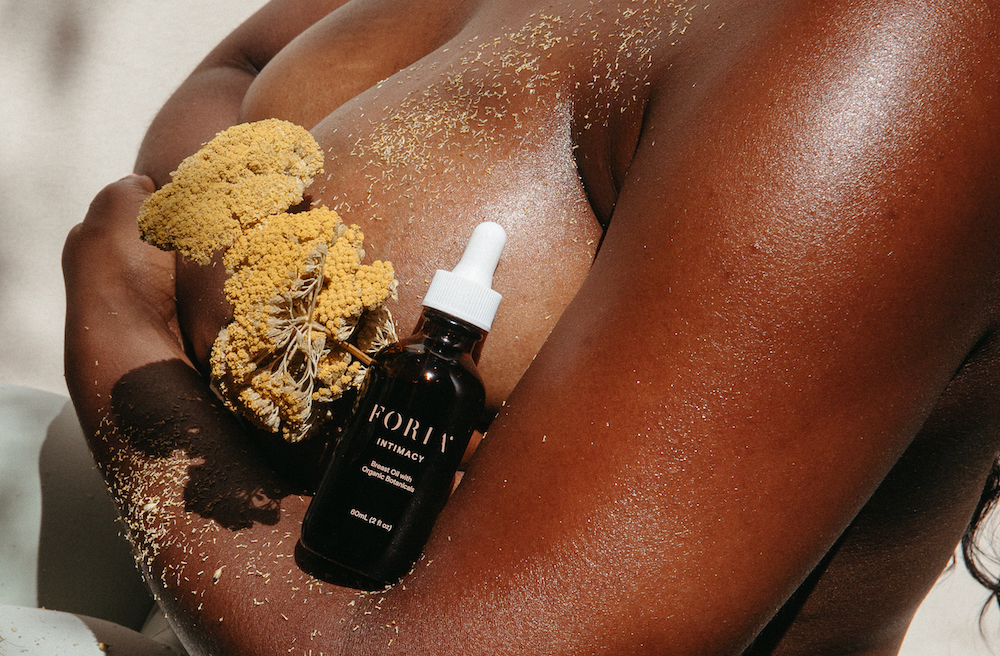 Launched early this month, Nala Care's first product outside of the deodorant category is the $64 Breast Oil. Ada Juristovski, who founded the brand with her biotechnology engineer mother Radmila Juristovski-Bosnic in the wake of her father's death from lung cancer, reports sales have been robust so far. "We're already seeing growth with it week over week," she says. "We project it's going to be a significant part of our business at this point." 
The premium pricing across this new crop of breast wellness products may preclude a large swath of consumers from taking part in the emerging trend. Some more accessible options include Banyan Botanicals Breast Care Balm, $21.99, and True Botanicals Boob Cream, $48, though the latter, launched by the Unilever Ventures-backed clean beauty brand last September, is marketed as a "firming, plumping, toning" solution, not a breast wellness product.
Juristovski suggests Nala's Breast Oil elicits a strong reaction because breasts are an emotional topic for people with them. "I have yet to meet a single woman that doesn't have an opinion about her breasts," she says. "It's such a charged part of our body and yet we neglect it so much. Whether your relationship to your breasts is positive or negative or they're a source of pride or a source of shame, it's never neutral. There's no woman on earth that's going to say, 'Oh, my breasts? I've never thought about them.'"