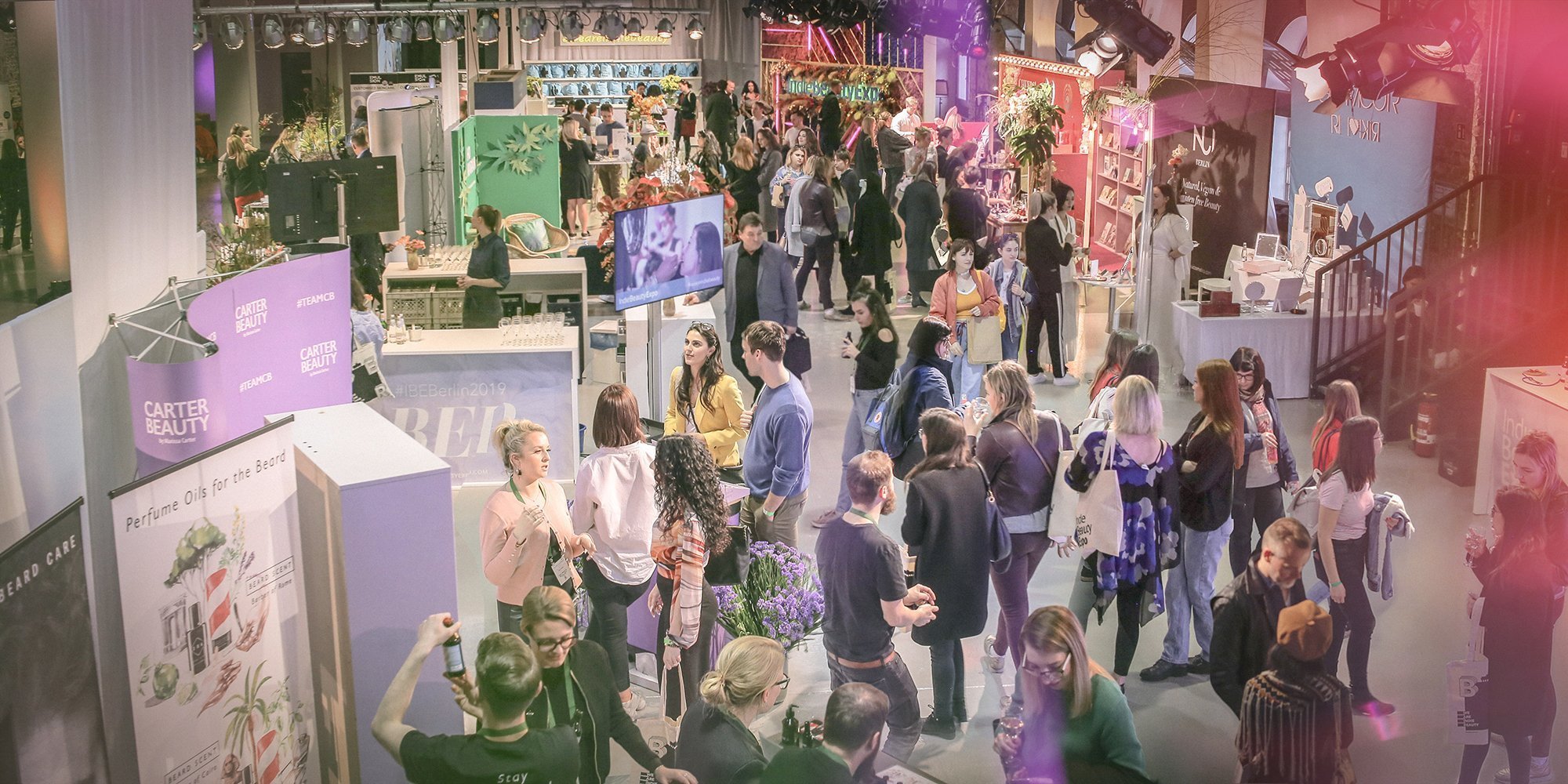 Anthology Of Independent Beauty Reveals Buyers' And Consumers' Favorite Brands From IBE Berlin
If the recent New York Times spotlight on G-Beauty wasn't sufficient evidence that it's on the rise, Indie Beauty Expo Berlin attendees' fascination with Germany's burgeoning beauty business verifies that the country is a hot commodity on the beauty scene.
Post-expo survey results show German brands were the favorite finds of buyers and consumers alike at the first IBE Berlin, which featured more than 63 brands from over a dozen countries at Station Berlin from March 22 to 23. The complete 22-brand roster of leading picks, including German luxury skincare line Muti, nail polish specialist Gitti and clean cosmetics authority Nui, has been revealed in the latest digital edition of Anthology Of Independent Beauty.
"When it came to introducing innovative concepts and products to consumers and retailers, the exhibitors at IBE Berlin sent a resounding message to the beauty market that the future of European beauty will be set by independent brands," says Jillian Wright, co-founder of IBE producer and Beauty Independent owner Indie Beauty Media Group. "Emerging brands are setting the pace worldwide and, as the community grows, the pace quickens. These exhibitors are offering retailers and the consumers they serve an abundance of products and new ideas. The brands that made it to the top of one survey stood out in a crowded field, and the brands that managed to appear on both lists should be doubly proud. Hats off to them for a great show, and we can't wait to support them at the next."
British body-care brand Aeos and French sun-protection brand Mimitika joined Muti, Gitti and Nui as both consumer and buyer favorites. The five brands doubling up honors, and almost all the remaining brands identified by buyer and consumers as darlings of the show lean in the clean beauty direction. Aeos takes its clean positioning a step further by cultivating the organic raw materials that go into its formulas on its own biodynamic farm.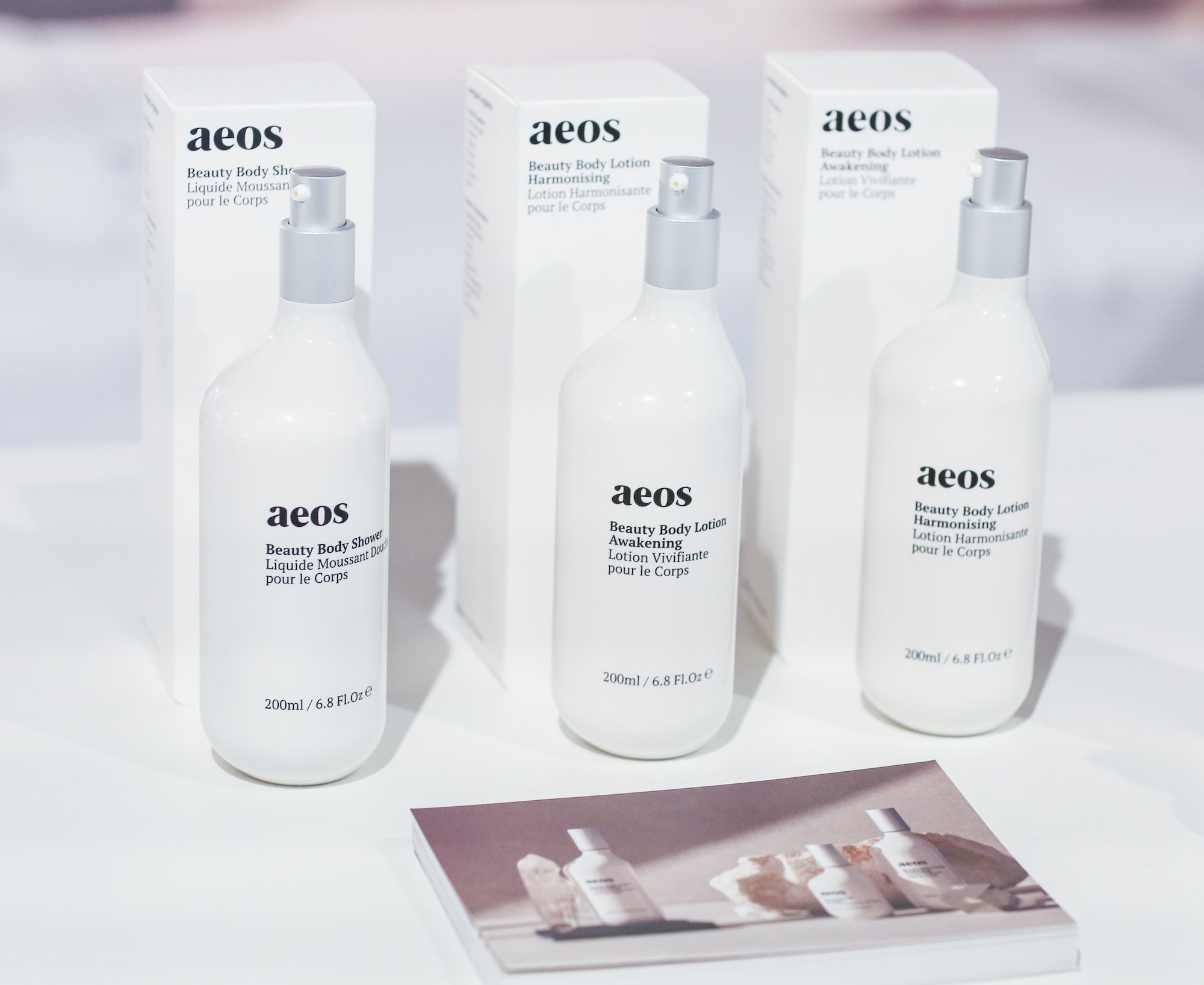 "We were absolutely delighted by the interest Aeos received at Indie Beauty Expo Berlin," says Samantha Sargent, marketing manager for Aeos, which made its IBE debut in January at the Los Angeles show. "From the moment the doors opened, it was nonstop meetings with genuinely interested retailers, distributors and press. Then, to be awarded for both the consumer and buyer favorites at IBE Berlin is more than we could have hoped for." The crystal-infused brand will return to the IBE floor on Oct. 23 and 24 for IBE London.
The German beauty market has long embraced clean formulations. Decades before the clean beauty movement exploded stateside, German legacy brands like Kneipp, Weleda and Dr. Hauschka offered beauty and wellness products with plant-based ingredients, and today, German consumers' interest in clean beauty is swelling. A recent report from Naturkosmetik Konzepte found that the German natural cosmetic market gained more than a million new customers in 2018. Sales reached 1.26 billion euros, a rise of 5.9% from the prior year, and natural cosmetics' overall market share stood at 8.8%.
The top brands named by buyers and consumers in the post-IBE survey skew toward the luxury end of the market, demonstrating that the Berlin crowd didn't mind premium prices for quality products. Muti, which is sold at high-end German department stores Alsterhaus and Oberpollinger, was one of the most expensive brands at IBE Berlin—its bestselling Anti-Age Serum retails for 76.50 euros for 30-ml. size. Nui's lipstick, eyeliner, blush, powder, foundation and concealer products range in price from 25 to just under 40 euros.
"From the moment the doors opened, it was nonstop meetings with genuinely interested retailers, distributors and press."
Gitti launched a base and top coat combo at IBE Berlin as well as three vibrant red nail polish shades for 18 euros per bottle. That price point places the brand in the upper-tier of the clean nail polish brand ranks. Its polishes are steeper than those from Cote, Sundays and Lauren B. Founded by Jenni Baum-Minkus after quitting her job at Coke, Gitti sold out of its first production run. Mimitika is the most accessibly priced double-mentioned  brand. Its five stockkeeping units of face and body SPF products run from 16 euros for a 50-ml. SPF 50 Face Cream to 21.50 euros for a 50-ml. Sun Oil. Beauty Independent's IBE Berlin Trend Report spotlighted Mimitika's colorful retro packaging—a trend several exhibiting brands were hip to.
An array of skin, color cosmetics and multi-category brands from Germany, notably Berlin's organic color cosmetics line Und Gretel, and beyond also resonated with consumers. They classified Norwood, Mass.-based Patchology as a favorite find. Chris Hobson, CEO and president of Patchology, is spearheading an umbrella company for emerging brands called Rare Beauty Brands, which has acquired Plant Apothecary. Both brands exhibited in Berlin. He says, "We wanted to put our best foot forward with Patchology and also have an opportunity to introduce our new brand, Plant Apothecary, to the European market. Mission accomplished on both fronts."
IBE pulled in an impressive roster of buyers for its inaugural German show. Douglas was its official retail partner, and the European specialty retailer had a large booth on the expo floor. The strategic partnership drew independent brands from far and wide to IBE Berlin. "We are already working with Douglas, but having them as a sponsor was a key selling point. [It's] a great retailer doing interesting things in the market," says Hobson. Buyers from Kadewe, Feelunique, Asos, Boots UK, DM, Sephora EU, QVC, Galleries Lafayette Germany and Le Bon Marche attended, too.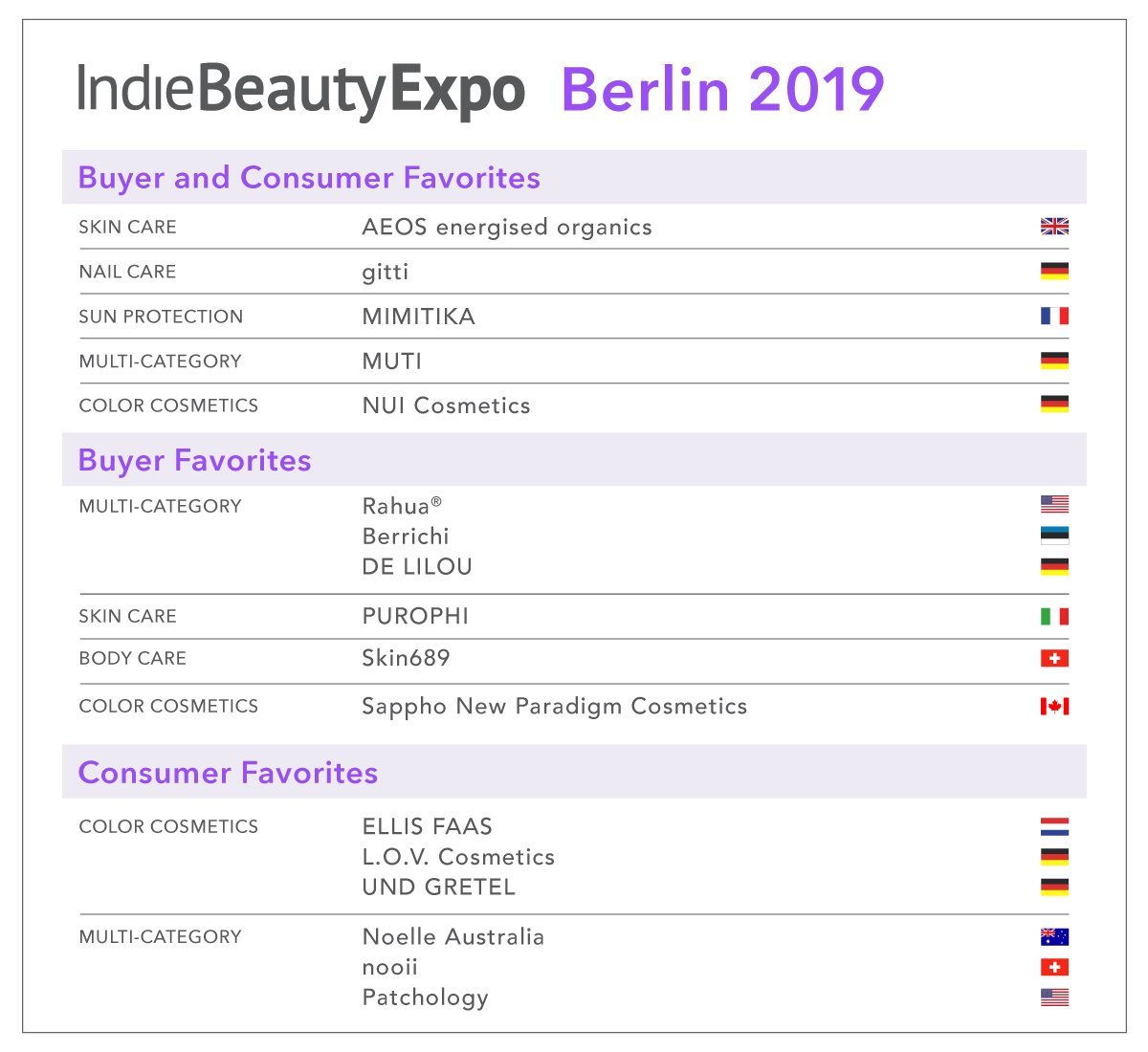 Survey results showed that this discerning group of buyers gravitated to solution-oriented ranges from brands like skin-firming specialist Skin689 and scientific eco-friendly skincare line Purophi. Two North American brands made the buyer favorites list as well: Vancouver, British Columbia-based color cosmetics brand Sappho New Paradigm and New York-based haircare range Rahua, which had a strong presence in Germany prior to IBE Berlin, but had never previously done a trade show in the country.
"Rahua decided to participate in the Berlin Expo as we consider it to be a very important European market for us," says Anna Ayers, co-founder and CEO of Rahua. The brand was happy with the results of its transatlantic trip. "We felt it would be beneficial to attend and make new connections. The show exceeded our expectations," says Ayers. "The Rahua booth was extremely busy on the first day, meeting with buyers and press. It was nonstop. It was also a great opportunity to connect with our existing retail partners. While at the show, we had the opportunity to meet with key buyers."
Independent beauty and wellness brands will get more chances to meet with buyers at IBE Dallas taking place on Wednesday and Thursday next week at Sixty Five Hundred and the fifth IBE New York scheduled for Aug. 21 and 22 at Pier 94. European indie brands will have the opportunity in October, when the Indie Beauty Expo returns to Old Truman Brewery for the second IBE London.