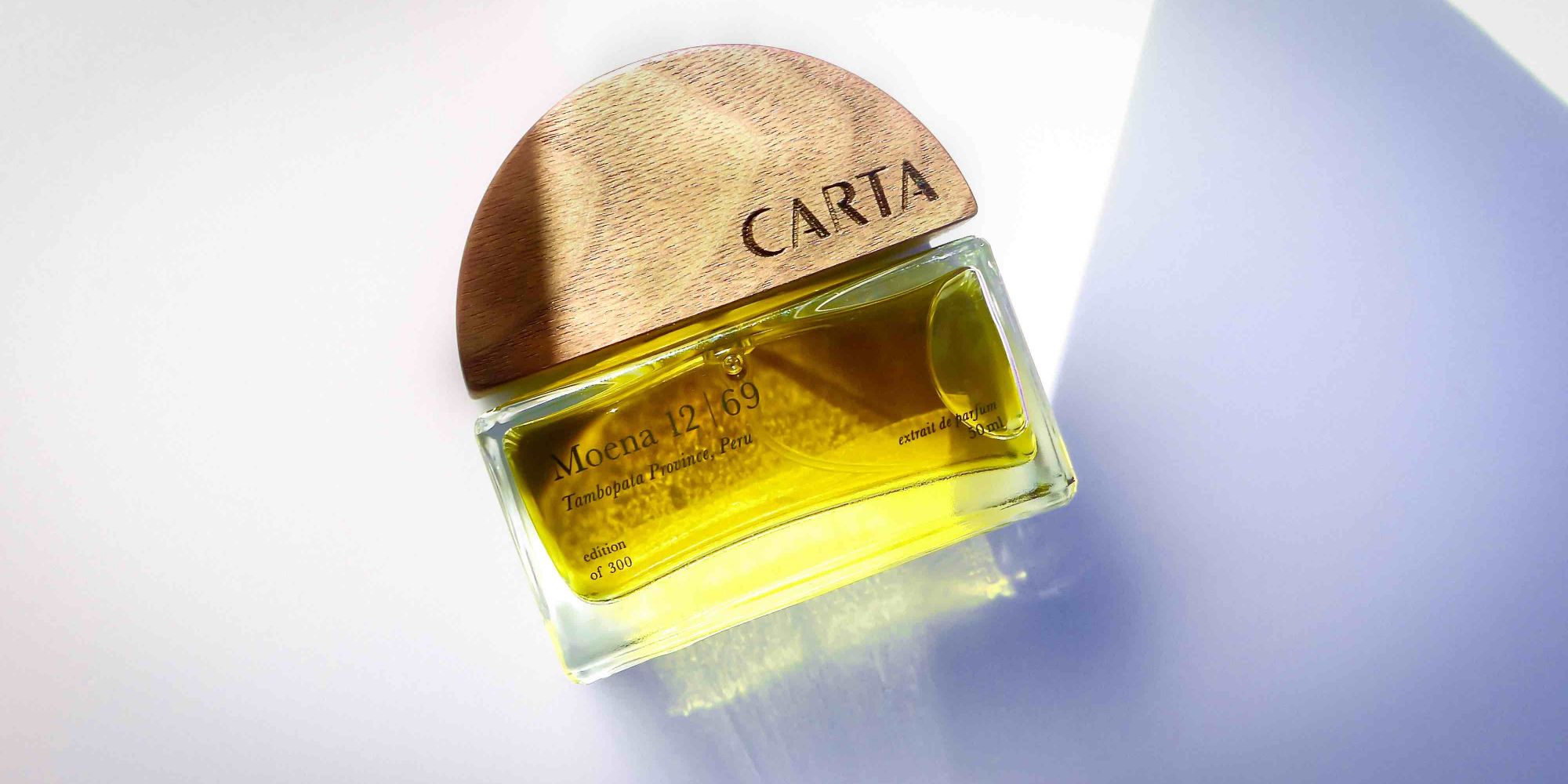 Carta Is On The Map With Limited-Edition Fragrance Moena 12 | 69
Heather D'Angelo of Carta, perhaps the oddest multihyphenate in the beauty business with a background bridging synth rock, tropical ecology and perfumery, is out to deliver fragrances with a multifaceted purpose: to be exceedingly unique and exclusive while helping protect the environment.
Officially launched Saturday with a party at Tigerlily Perfumery in San Francisco, the first fragrance from D'Angelo's brand Carta is Moena 12 | 69, an amalgamation of moss, ginger, brewed tea, tobacco leaves, redolent woods and a moena alcanfor essential oil never previously bottled for a premium scent that benefits Peruvian reforestation organization Camino Verde. Priced at $295 for a 50-ml. extrait de parfum, only 300 bottles have been produced and, once purchasers snap them up, no others will be allowed to buy Moena 12 | 69.
"I've always wanted a fragrance made just for me. It's my pet peeve when other people are wearing my favorite fragrance. I love Le Labo's Santal 33, but, you walk into a party in New York and, literally, everybody is wearing it," says D'Angelo. "Having a custom perfume made can be extremely expensive. It can cost thousands of dollars. Part of the justification for the price point is that, if you're one of the 300 owners of Moena 12 | 69, I will only make it for you. You can reorder, but no one else can."
The price point is also justified by the care that went into crafting Moena 12 | 69. D'Angelo ventured to the Peruvian Amazon to observe the hours-long distillation process that creates moena alcanfor essential oil, the heart of the warm fragrance she describes as capturing rainforest smells. She also tapped Wood Thumb to sculpt the curved cap of Moena 12 | 69 from reclaimed walnut wood after a proposed ceramic topper stumbled, and packaging designer Erica Sanchez to perfect the squat and weighty rectangular glass flacon that reminds D'Angelo of a postage stamp. Moena 12 | 69 is encased in numbered boxes made from dense recycled paper. The numbers in the moniker are geographic coordinates for the location where moena alcanfor essential oil was extracted in Peru.
D'Angelo dedicated around $50,000, partly from her personal stash and partly from investors, to developing Carta. "When I was originally talking to friends, they said, 'You're going to need $200,000 before you can even attempt something like this.' I didn't think that was actually true. If that were true, I don't think you could do anything. There had to be a way to keep this lean, and I did keep everything really lean," says D'Angelo, admitting, "I can't imagine doing it for less than $50,000. There are a lot of luxury elements because I knew I wanted it to be a very high-end luxury brand. You can't do a champagne brand on a beer budget."
Outside of Tigerlily, D'Angelo is sticking to Carta's e-commerce site to sell Moena 12 | 69. To sniff the scent before ponying up for a full size, customers can buy a 2-ml. sample for $15. "Can you offer someone a sample and convert them to a bottle sale? Are people comfortable enough buying perfume online that they'll do it without going to a store?" asks D'Angelo. "That's the one of the biggest experiments I'm undertaking."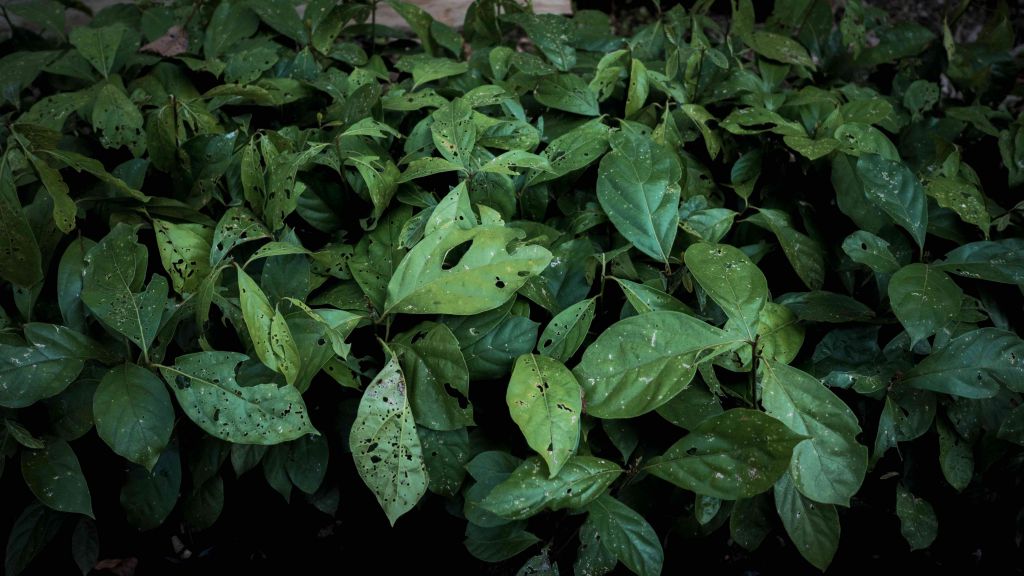 It seems like D'Angelo's entire professional life has been characterized by experimentation. A member of Au Revoir Simone, a Brooklyn-bred band that recently appeared on the reboot of Twin Peaks, she received a second undergraduate degree in tropical ecology from Columbia University during the group's downtime. D'Angelo's perfume endeavors were kicked off by a visit to fragrance label D.S. & Durga's studio. She was mesmerized by  the behind-the-curtain aspects of fragrance making. "It made a huge impression on me," says D'Angelo, who would go on to fill her abode in San Francisco, her home city for the last three years, with essential oils and study perfumery.
D'Angelo originally planned for a fragrance debut with a scent centered on sandalwood essential oil, but she abandoned that idea upon learning that sandalwood can be harvested unsustainably. "I was horrified. I couldn't launch with a fragrance that went against my ethics," she says. "That's when I started looking into sustainable fragrances, and I realized there's not a lot out there. People aren't thinking about sustainability when they think about fragrances. There are a lot of people thinking about synthetics, and that they don't want to use them, but natural ingredients are taking a toll on the environment."
If Moena 12 | 69 does well, D'Angelo expects to release a sophomore Carta fragrance in the spring and anticipates unveiling three annually. Each will be focused on an ingredient sourced from an area she will travel to that's relevant to D'Angelo's conservation mission. Pricy and concentrated extrait de parfums will be limited editions, but there's a possibility that Carta, which means map in Italian, will make less concentrated versions at accessible price points that have longer availability horizons.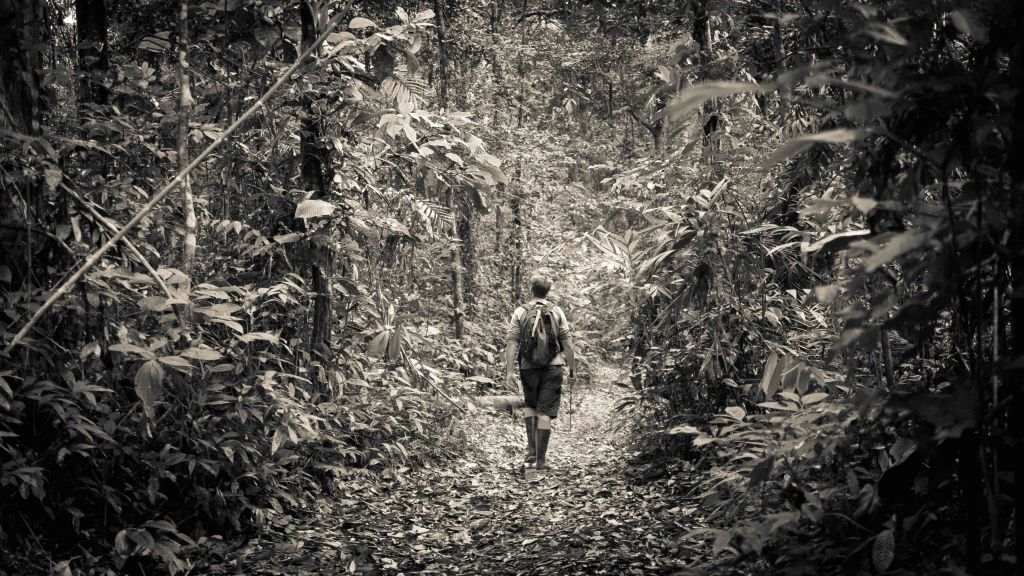 "I did this very differently from my music career. In my music career, we were screen printing the backs of CDs, bundling them up, and bicycling them all over New York to drop them off at record stores. Our growth took a long time and was very grassroots. We started extremely small and never risked that much, certainly financially," says D'Angelo. "This was more balls to the wall, I'm going to risk my savings and make 300 bottles of perfume not knowing if there's a market for it. I will sell it online without even testing the model because online is what people do today. I'm really hoping everything works out, and I can make a second fragrance."