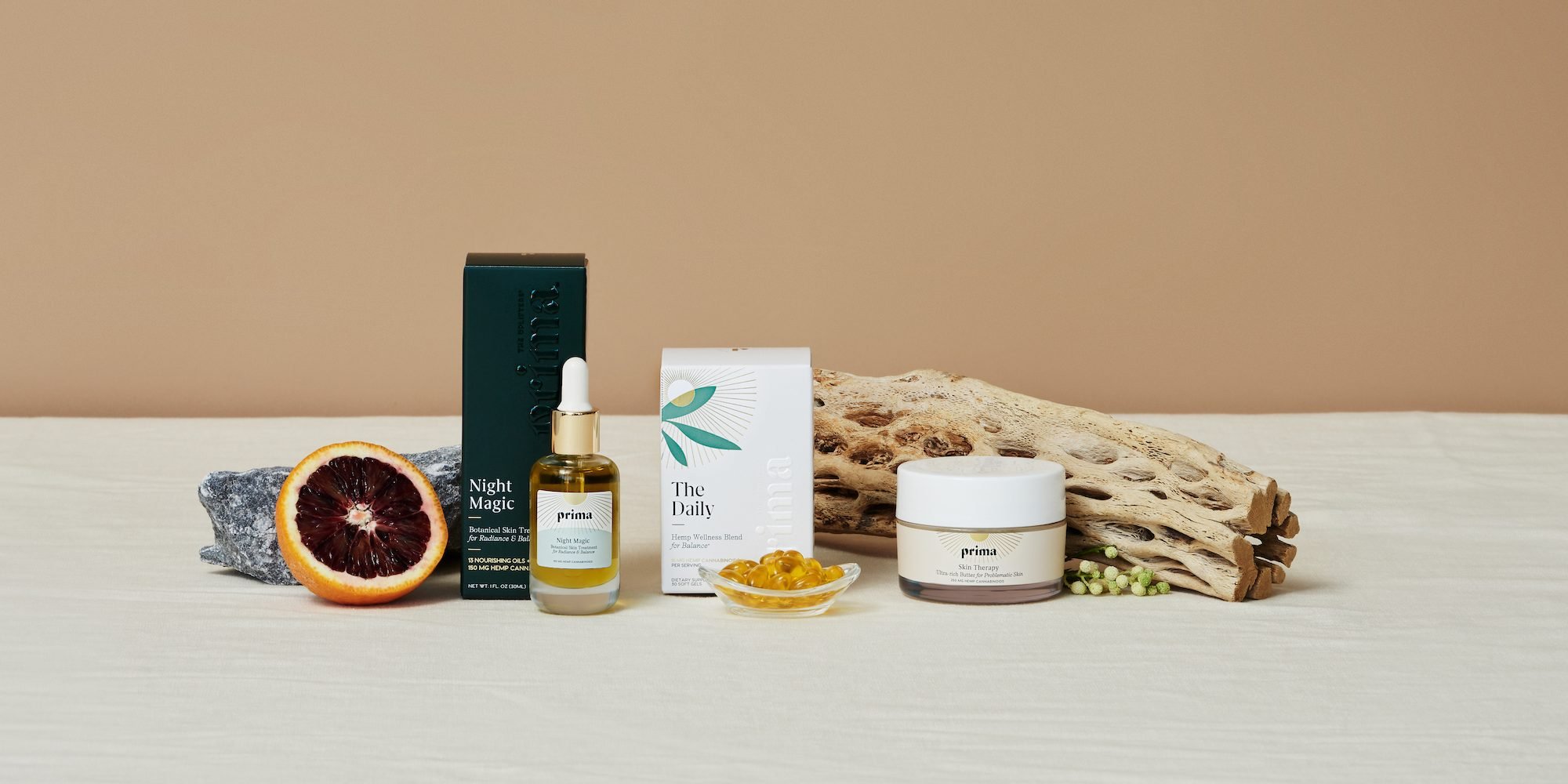 In The Hazy CBD Beauty Category, Prima Aims To Be A Beacon Of Clarity
The transition of cannabidiol, better known as CBD, from cult black market ingredient to legal ubiquity has been quick and messy. The beauty and wellness industry is being flooded with CBD products, many with suspect formulas, while regulatory, banking and social media advertising frameworks for them are in flux as traditional governmental and corporate gatekeepers figure out how to protect their interests as they respond to consumer demand.
Amid the messiness comes Prima, a new brand from Christopher Gavigan and Laurel Angelica Myers, veterans of The Honest Co., and longtime clean beauty and cannabis activist Jessica Assaf, attempting to bring clarity to the hazy field with clean decks and hemp cannabinoids cultivated through regenerative agricultural practices. It's gone live online with three products priced from $38 to $88, the topicals Night Magic and Skin Therapy, and supplement The Daily, demonstrating the inner-outer benefits of CBD (e.g., it's purported to calm external inflammation and emotional anxiety) that are the keys to its ardent following.
Gavigan, Myers and Assaf leveraged their extensive networks to build Prima's supply chain. "We're able to work with supply chain partners that a lot of other brands don't have access to," says Gavigan. "There's been some folks that have only entered the [hemp] space because of our backgrounds and our history. That's something we're really proud of, that we're partnering with best in class, NSF-certified manufacturing facilities to make these products and ensure that what is sitting on the shelves is the purest, safest, best product out there.'"
Prima's initial trio of products are considered daily essentials. Currently, the products are available direct-to-consumer on Prima's website. Out of the gate, Assaf reports The Daily is already a customer favorite. It contains 15 milligrams of CBD per vegan soft-gel capsule, a format Prima's consumer focus groups and surveys showed was accepted by a general beauty and wellness audience. Tinctures remain unfamiliar mechanisms to deliver ingredients.
In a cannabis segment that's still schooling consumers on its central premise, a strange format gives mass appeal a slim chance. "The challenge with the tincture is that a lot of people don't know how to use them," says Gavigan. "People don't realize they're supposed to be sublingual. They put it in their coffee or they put it in their tea, and that's nice and lovely, but you're not really going to get the impact. This leads to another issue, people say CBD doesn't work for me. Well, that's probably because you're not taking enough, and you're not taking it the right way. Those are all reasons why we decided not to go with the tincture."
The Daily's capsule harnesses microencapsulation technology to optimize absorption. Myers says CBD oil supplements "are not particularly bioavailable, meaning your body can't access a lot of the benefits that oil has offer. How do we think about CBD differently so that your body sees it as water-soluble? Your body's going to absorb more of it because your body loves water. Microencapsulating the ingredients maximizes the bioavailability, which means you're going to maximize the efficiency. You're going to get more out of that milligram than through a standard oil."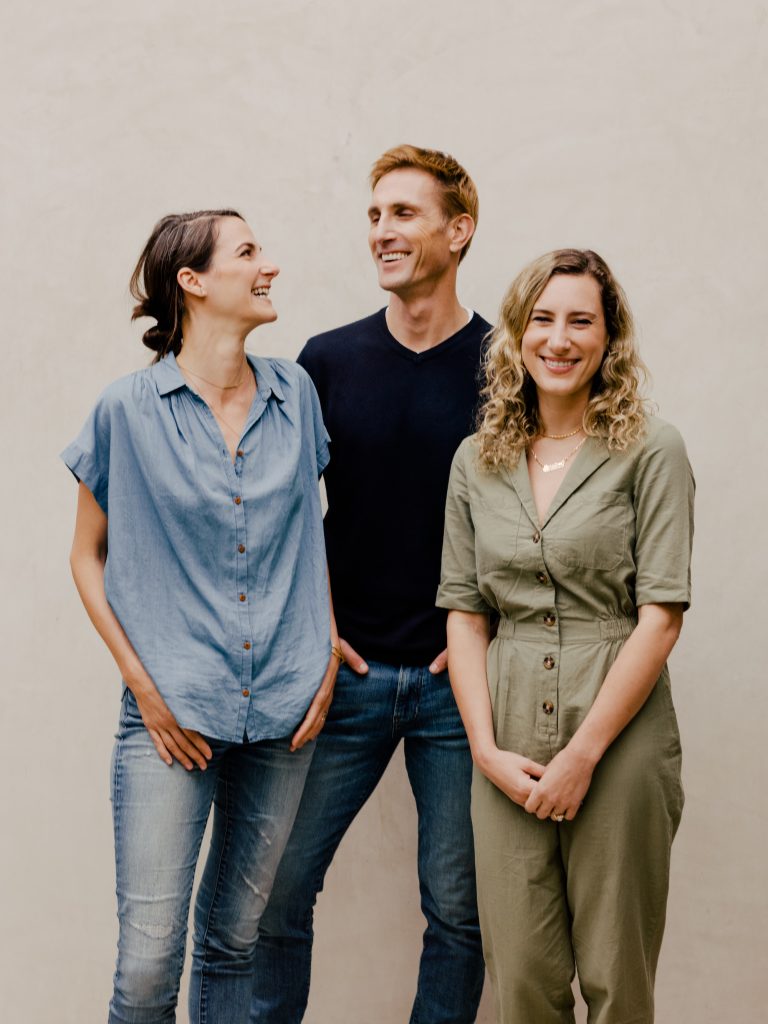 Microencapsulation aids with providing consistent and measurable doses of CBD. The Prima team arrived at 15 milligrams per capsule dose after considerable research. Myers explains the amount is a "fairly universal entry point for most people. When I say entry point, that doesn't necessarily mean it's the beginning. That might be the perfect dose, full stop. But some people may want to build on top of that."
Myers warns consumers to be aware that CBD has a bell-curve effect, so taking more may not lead to the results they're seeking. She laments, "It's frustrating to see a lot of brands play the more game because, at a certain point, what's going to happen is you take more and more and more, you're actually going to get less of a result." Gavigan argues the brands that understand proper dosing will ultimately gain kudos for consistency. He says, "People are going to come to the brands they can depend on, [where] there is a repeatable dose, a repeatable potency. They get a similar result every single time."
Prima's products aren't emblazoned with the abbreviation "CBD." Instead, the brand uses the term "hemp cannabinoids" exclusively. The rationale behind the wording choice is the brand foresees a range of cannabinoids eventually becoming recognized by consumers. In addition to CBD, hemp is a source of CBN, a cannabinoid touted for pain relief and anti-insomnia attributes, and CBG, a compound with anti-fungal and anti-bacterial properties.
"The market will ultimately be about all of the different compounds within the hemp plants, not just CBD," says Assaf. "CBD happens to be an amazing hero. It's the one that we know the most about. It happens to also be in very high concentration in the hemp plant, but existing science and research is just now tapping into CBG and CBN and all these other minor cannabinoids and understanding how those work differently or similarly to CBD."
Prior to the premiere of its products, Prima debuted as a content platform to educate consumers about cannabis, helmed by Assaf, Prima's Chief Education Officer. The organization plans to continue to grow as an informational resource. The brand put up 30 new pieces of original content timed with the release of its products. The content includes several technical pieces supporting them by breaking down how hemp cannabinoids help improve sleep, reduce stress and increase skin health. In the future, Gavigan highlights Prima expects to issue standards for cannabis beauty and wellness product purity, safety and transparency intended to be applicable industrywide.
"People are going to come to the brands they can depend on, [where] there is a repeatable dose, a repeatable potency. They get a similar result every single time."
To assist customers with questions and foster community, Prima has assembled a self-care concierge team that acts as the brand's customer service group. Customers can even speak to the three founders. "We want to be available. we want to be a partner in people's health journey," says Assaf. "I think it's going to be really special, how we grow and scale and develop the brand over time."
Prima is planning two additional merchandise launches over the next three months. "The two other product drops are very functionally-focused because, if you pair these cannabinoids with other functional botanicals, you can really drive an efficacious experience," says Gavigan. "Ultimately, people want to feel something. You want your needs addressed and you want to have a feeling of relief and recovery."
Prima is in discussions with national retailers and boutique beauty shops to carry its products. "People go to those places to see brands that they love and trust, and it's a great validator," says Gavigan, teasing that there will be retail announcements within six months. Previously, he was involved with The Honest Co.'s push into retail at Target.
Gavigan, Myers and Assaf declined to offer a sales projection for Prima. The brand has raised nearly $3.3 million in a seed round led by Lerer Hippeau with participation from Greycroft, Mark VC and other investors. Prima isn't currently fundraising, but another round may be required to propel it to realize its ambitions, according to Gavigan.
"Getting a company to be stable and profitable is something that we're always looking towards," he says. "We're going to be very thoughtful and mindful in how we grow the company and how we build certainly here domestically. Do we have eager global optionality and expansion ideas? Sure. But we want to take care of our initial folks first. We want to make sure we have the products right. We want to make sure we scale correctly and adequately with a mindfulness around building good systems and good product."