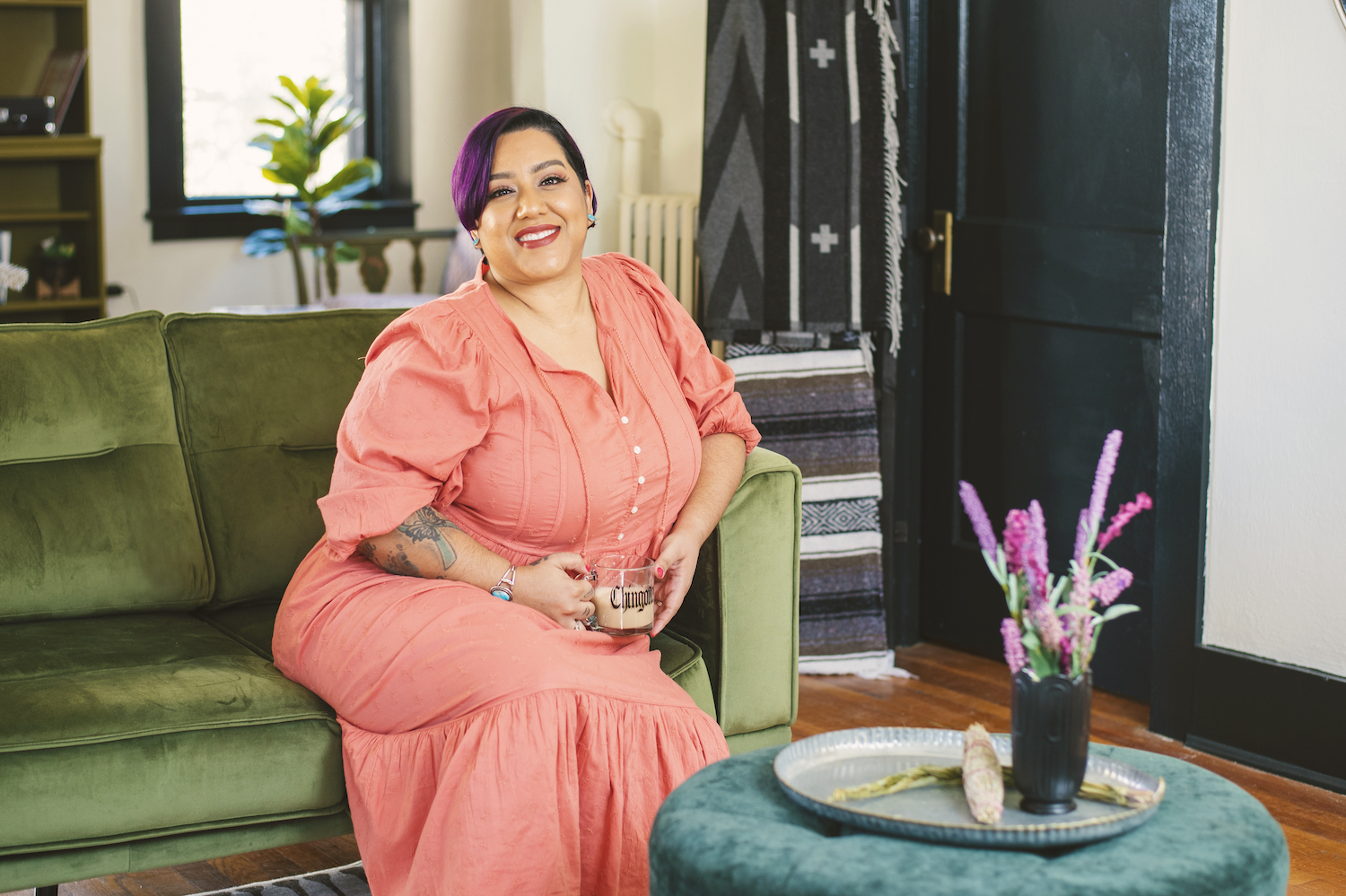 Cece Meadows Started Prados Beauty With Less Than $6,000. Now, It's Reached $1.5M In Sales.
Cece Meadows has a multilayered commitment to underserved communities. An Indigenous woman with Yoeme and Nʉmʉnʉ ancestry, that commitment is seen in the artwork for products from her brand Prados Beauty, efforts by her nonprofit The Prados Life Foundation, and promotion of Indigenous brands and entrepreneurs via social media and a marketplace on Prados Beauty's website.
A cancer and domestic abuse survivor who's experienced homelessness while raising two children, Meadows is a huge proponent of giving back because she knows what it's like to be on the receiving end. With everything she's endured, a makeup line was always a dream Meadows earmarked for a later time in life, but it came true in 2019, when she launched Prados Beauty with brushes and eyelashes. It's since expanded to skincare, eyeshadow, blush, bronzer, lip products, bestselling eco-conscious face pads and most recently mascara.
Four years later, the brand is profitable, thanks in large part to its partnership with Thirteen Lune and J.C. Penney, which helped bump up its sales from around $17,000 in 2019 to $1.5 million last year. Ahead, we chat with Meadows about starting Prados Beauty, struggling to get it funded, breaking into big retail and effective social media strategies.
Where does your love of beauty come from?
When I was 27, I was diagnosed with ovarian cancer, and I lost my hair. That was super traumatic for me because, culturally being Chicana Indigenous, you hold so much value in your hair. I worked in finance, and I would go to the MAC counter, buy MAC products and make friends with the guys and girls there.
When I got sick, we had become really good friends at that point, and they came over one day. Half my eyebrows were gone and my lashes were hanging on for dear life, and they gave me this makeover. I remember vividly thinking to myself, "I look like a completely different person, and I want to spend the rest of my life helping people feel and look beautiful."
Through that journey, I got better. I went into remission, and I started volunteering at children's hospitals, Ronald McDonald Houses. I would go into the oncology ward and sit with people while they were in their chair getting chemo and do their makeup. I had become friends with some of them, so it was kind of a healing project for me to really come to peace with my journey, but then to also help people. That was the foundation of where Prados Beauty started.
What happened next that led to the creation of Prados Beauty?
I went to cosmetology school. I ended up dropping out maybe 300 hours away from graduating because I was also homeless and was in a domestic violence relationship. I had two children at that time and had to work. I was just trying to get myself and my life together.
I met my husband Daniel in Monterey, California in 2015. We moved to the Hudson Valley of New York in 2017. While I was there, I became a stay-at-home mom for the first time. I'd been working since I was like 12 years old. I'd never not had a job, and I thought to myself, "Maybe this is where I can hone my makeup skills and do more makeup." I was already doing that in California for probably 4-plus years.
In 2018, my husband ended up giving me a gift to attend the New York Makeup Academy for one of their masterclass courses that they had with the amazing makeup artist Gilbert Estrada, who's the lead makeup artist for Treslúce Beauty, Becky G and Ana Siguenza. She's very well known in the makeup community. They helped me hone what skills I already had and took it to the next level. That's when I thought, "If I was ever going to start my own line or do something, now would be the time to do it."
I had been making concept makeup brushes that would help people who had very sensitive skin such as chemo patients. A lot of people don't know that makeup brushes on chemo patients faces can be very harsh. They can be very painful. So, I wanted to create something that they could use.
I started out with eyelashes, creating very durable, but lightweight bands. Nine times out of 10 they wouldn't have any eyelashes. It would stay on, and it wouldn't be heavy or harmful for their eyes. That was in 2019 when I launched my first collection of brushes and eyelashes, and it just took off after that.
How long did it take you to develop the brand, and how much money did you put into it?
I started the paperwork myself for copyrights and trademarks in 2018. I didn't have any funding at all. I would just take my tips and what I would make from doing makeup. We were a family of five on one income. I didn't want to take away from my family, so I started with $250 to file my first official copyright and get a business license. I quickly figured out I was going to need a lot more money than that.
I had this 10-year plan for the brand, and I just hustled. I would take on any makeup jobs I could. When we launched in 2019, it cost me about $5,000 for the trademarks and copyrights, and to build my website. There was nothing fancy about it. Look at my website now, it was nothing like that.
What resonated with people was the story behind it. At the time, I was also an influencer, so I would always talk about my journey. I built up a bit of a platform. Anytime we made a sale, I would take that money and put it right back into the brand. That's what we still do to this day. It's still 100% owned by me. We bootstrapped and sold our condo in my hometown of Wellton, Arizona to come up with capital to create more cosmetics lines.
It's really sad when you think about my journey trying to get funding. There were a lot of closed doors. I've gotten 17 nos in one year. I got tired of people telling me no and decided we're going to depend on our supporters and our followers. In the last year, we have taken in some investment from our friends and family. We're kind of the bank, we take in their investment, and we pay them interest on their investment and keep it very close-knit. I'm really proud of us for being able to do that.
When we first started, we were negative. We weren't profitable at all. We weren't profitable in 2019, 2020, 2021. Last year was finally when we became profitable. In 2019, I think we made $17,000 in sales. Then, in 2022, it's just a little bit over $1.5 million.
What contributed to the sales jump?
Our partnership with Thirteen Lune and J.C. Penney. Before then, we were making anywhere from $350,000 to $500,000 in sales just from our DTC. It's been a huge, huge opportunity for us, not just as a small beauty brand, but independently owned. Now, we have an office, we have a brick-and-mortar, and we have a 3,000-square-foot distribution warehouse. We do our own distribution.
It's very much about creating jobs and being able to keep a team small enough that you can do other things for them that normally they wouldn't be able to get if they work for a bigger company, whether it be profit sharing or large bonuses, helping set up financial accounts for them so that they can become homeowners and helping them learn about financial literacy. It's very much been a passion project for me.
Was Thirteen Lune the first wholesale partnership for Prados Beauty?
We've been wholesaling to casinos, Native museums, boutiques. We had quite a few accounts that we wholesale to, and those wholesale accounts have always been something that we appreciated. It was a gift to be able to do business with those wholesalers, and we still do them today. We've expanded our market as far as wholesalers and where you can find Prados Beauty, but J.C. Penney and Thirteen Lune was the first mega retailer that we ever partnered with.
What was the adjustment like?

Lots of stress, lots of sleepless nights, lots of crying on the floor. My staff has these cute little videos of me literally crying on the floor from the first call that we got that they wanted us in J.C. Penney and Thirteen Lune to me staying up until 1, 2 in the morning packaging our first wholesale order that we sent out to them, literal blood, sweat and tears.
When we got that call, we had product on hand already that we could fill the first PO, which was just a little over $29,000. Then, the second PO that came in was a lot. We needed to raise about $250,000 to create the product. It takes three months to have the product created, and then you have to wait for your term for them to pay you. So, you're sitting there with this huge debt of $250,000 for anywhere from four to six months, and you're thinking to yourself, "Man, how am I going to pay all these people back?"
Personal credit cards like Amex have floated Prados Beauty. We're going to make an infomercial for them because they've helped us so much [laughs]. We went to some small banks, we went to some investors, we went to some private equity firms, local small credit unions, and they were just like, "Hey, we're happy for you, this is great, but you don't have any history of showing us how the brand's going to perform, and you haven't been profitable for two years."
Either they couldn't lend to us or they would lend to us with the crappiest terms like we'll give you $250,000 for 30% of the company. So, there were challenges, definitely sleepless nights, but we made it happen. I think that speaks to the resiliency of who we are. When you're determined to make something work, you'll just do anything and everything. No stone will go unturned when you're trying to make it happen.
What made you want to open a brick-and-mortar store? 
If you think about it from a finance perspective, it's a loss. It's not something that was going to open and make millions of dollars. I'm huge on giving back, and I think that a lot of that has to do with the fact that I was raised in a home where we just did for our community. My grandmother was an educator for 45 years, and she really taught us love for people and to give back. That's just something that resonated with me as a kid.
I was in Key Club and student council. I loved being in those things because we would give back to our community, and we would do things during the holidays for kids. As I got older and life happened, I found myself on the receiving end. It wasn't my proudest moment when I'd have to go to the local food bank and get a food box because I didn't have food or being homeless during the holidays and having to depend on places like The Salvation Army or the Boys & Girls Club who were giving out gifts for kids during the holidays because I didn't have the means to buy my children gifts.
So, when we opened the brick-and-mortar in 2021 in New Mexico where I currently live, for me it was like, yes, it's a brick-and-mortar to sell things, but it's also a hub where someone from the community could walk in and say, "Hey, we have a family that's been displaced, do you have any shoes or jackets? Do you have any makeup? Do you have anything that you can donate?" That's something that's happened a lot recently in the last year and a half.
What's Prados Beauty's marketing strategy? What content resonates with your customers? 
Our consumers like to see a lot of the background stuff that we're doing, they like to see the warehouse. There are a lot of day ones who have been following me since 2017. They've watched me grow from my kids' nursery to opening up a 3,000-square-foot warehouse space. They love watching the Prados journey and my journey.
They love to see us when we're traveling and going places like the grand openings for J.C. Penney. The partnership with Thirteen Lune and J.C. Penney has put us in 600 stores by the end of this year all throughout the U.S. We try to go to as many store openings as possible, and we shoot a lot of content. We ask people if we can tag them or they can tag us in videos when they see us. It's very organic.
It's giving a platform to people that you normally wouldn't see on social media. They're what you would call small influencers or micro-influencers, people who are very talented in doing makeup who normally wouldn't be on PR lists. People aren't looking for hashtags of Indigenous makeup artists or Chicana makeup artists. Our social media reach creates relationships with a different community that brings in a huge number of fresh faces.
They bring their support, and they bring their money. We're so grateful for them. We pretty much shoot whatever they want us to. We'll put out quarterly questions: What would you like to see on Prados Beauty's platform? They'll tell us, and we'll do it because they're what makes this brand.
What platform has been the brand's biggest driver?
We've gone viral on TikTok, Instagram and YouTube more than one or two times. We've had support from Trixie Mattel, Bailey Sarian, Robert Welsh and Makeup with Bianca, some of the more well-known influencers that have mentioned our brand or used our products. They also know that we're a small indie brand, and they don't expect us to pay them their $75,000 retainer to create content because we don't have that. They love our mission, they love our cause, especially Trixie.
We do a lot of work with the LGBTQ two-spirit community. We have a big drag following. We love drag artists and makeup artists, and we donate large amounts of money to organizations that support them. It's been really great to watch the things that we've gone viral over and who it benefits because it's not just us.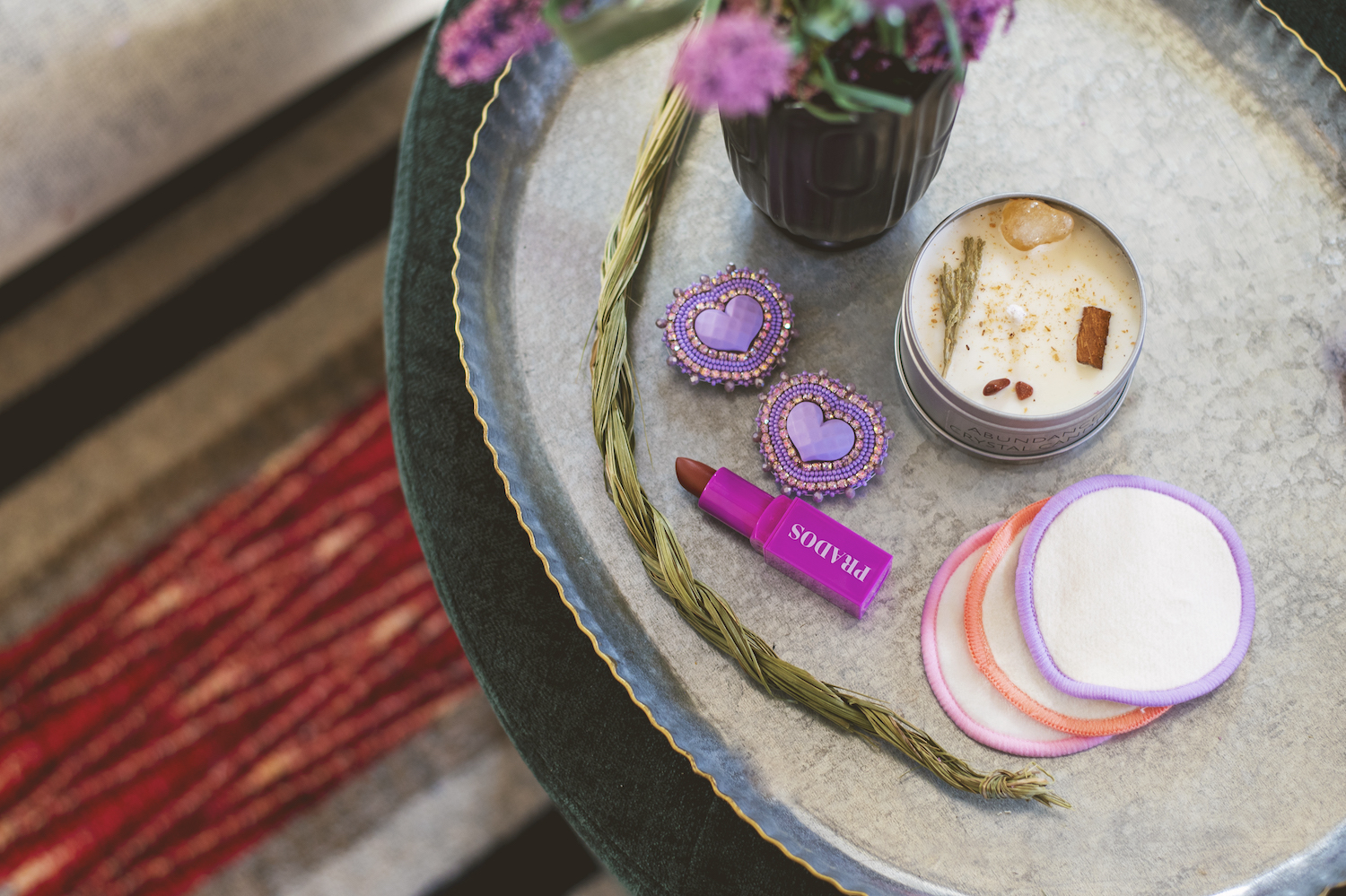 What's your relationship to social media? 
I have been that person that talks about their struggles and has been very open. These days, I have four children, I have a husband, I try to be a little bit more private about my personal life just because, as your platform grows, you get more followers, and sometimes you can find yourself on the dark side of social media.
People sometimes are very unkind, and my first reaction is to always keep my children safe. You don't find me posting very much on my personal Instagram of my husband or my children just because I want them to be safe. If they want privacy, they're allowed to say, "Hey, I want my privacy, I don't want to be on social media."
I love social media, I love the power that it has to bring people together, but I also want to have a space where I can feel safe. So, for the most part, you'll just see me on my personal Instagram. I'll share things about myself and growing the brand. When we do community-type stuff, I love posting about that.
On the Prados social media, they try to get me to shoot as much stuff as possible, but I'm busy trying to grow a brand, but it's so important because people want to see you. They want to know, "Hey, where's Cece? What's she up to?" So, I try to do that as much as possible, but I'm just more cautious these days.
How do you think about expanding your brand's assortment?
As a makeup artist, I consider the things that I need, use and I want that are my favorites and make those top priorities. This year, we'll be coming out with an assortment of beauty tools and the first product in our expanding skincare regimen.
For our hero products, we'll be moving into creating eyebrow products, eyeliners, things that you can use in different colors that you can carry in a kit. We're working on kit cases right now. Even though we're a cosmetics company, I'm very much always going to be a makeup artist, so if I can pack things and de-pot them easily and make them makeup artist-friendly, that's my goal. By 2025, I would love to be a full line of cosmetics.
What are other goals you have?
One of the long-term goals is for us to be in more mega retailers. I would love to be in Ulta, Target, Walmart and stay in my partnership with J.C. Penney, keep growing the brand, stay independently owned and continue with my partnerships with Indigenous and Native artists, continue to educate people on the variety of Indigenous peoples and our cultures, and continue with the Prados promise.
Short-term goals right now for us is just to get verified on Instagram. We're verified on TikTok, but we're not verified on Instagram. The girls are tired of getting the, "Oh, we'll verify you for $30K DMs." There has to be an easier way to do this.
Then, just to have a successful launch this year for our Indigenous People's Day collection and all of the cool things we're dropping this year. A lot of people don't understand that, when they support us and buy from us, they help us give back to so many communities in need.
What's the Prados promise?
The Prados promise is us giving back to our communities where we live and the communities that are all around us. It's our promise to share our platform with smaller artists and artisans who normally wouldn't get visibility. We really use our 112K followers on Instagram and our 40,000 followers on TikTok to amplify other brands and create stories with links of where you can buy their products.
We also have the Indigenous marketplace on the Prados Beauty website, and it's allowing people to purchase their products from us, but also actually putting their links on our website so they can buy from them directly. That helps grow their business, and it helps grow their visibility.
I do that because I know how hard it is. I know how hard it is not to have marketing and advertising dollars. I know how hard it is to build websites. I know how hard it is to ask people to use your product and tag you in it. Our promise is to help and do for others what we wish people would've done for us when we were starting out.