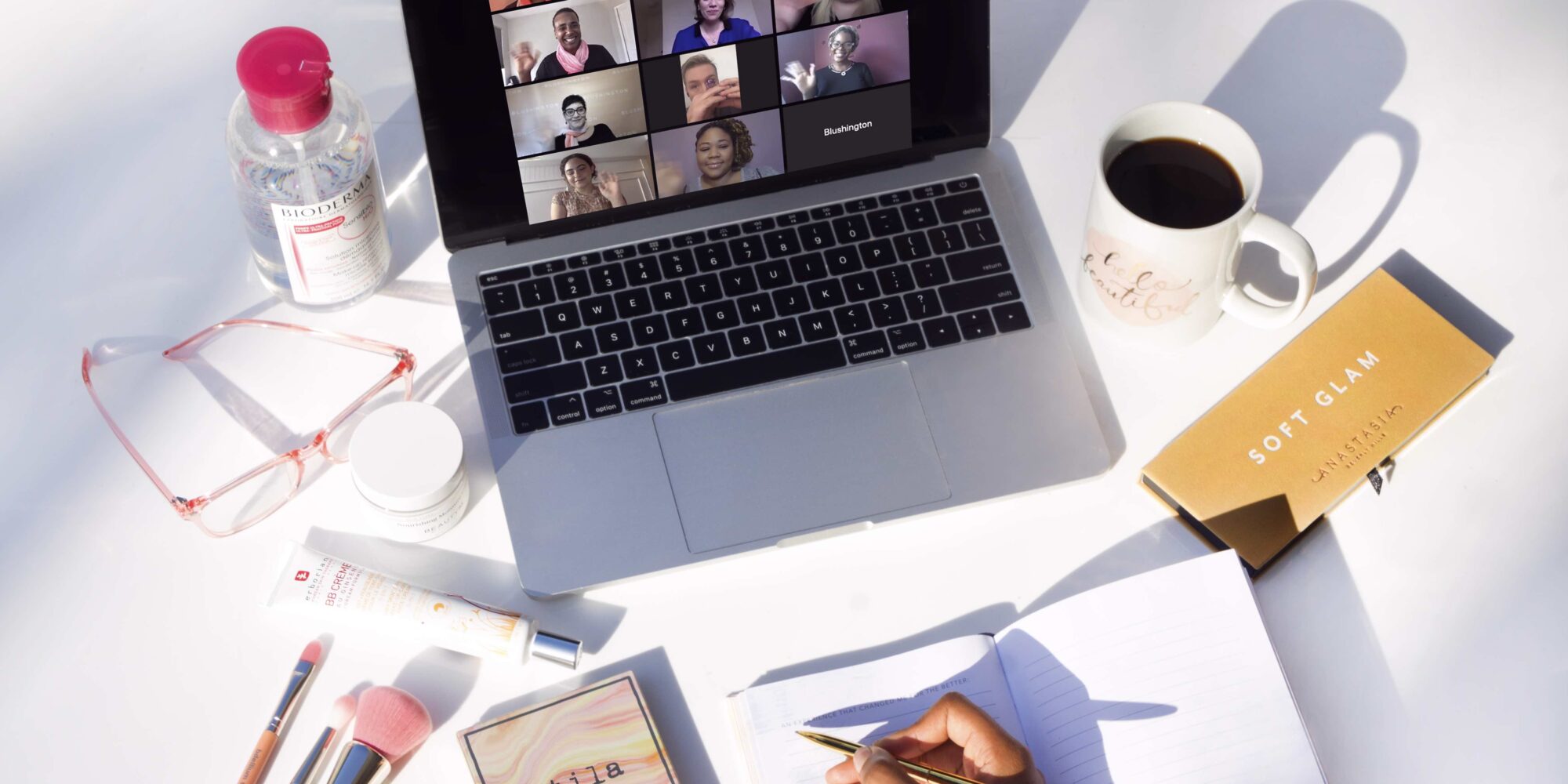 CEO Natasha Cornstein Believes Blushington's Pandemic-Era Changes Have Made It Much Stronger
There are many companies that will look very different coming out of the pandemic than they did going into it. Blushington is one such business. Centered around makeup services at brick-and-mortar locations prior to the coronavirus, it shifted course amid it to ramp up e-commerce capabilities and create an online educational program for makeup artists called Blushington Academy for Artist Advancement. Already, more than 30 makeup artists have gone through the 25-hour program to bolster their entrepreneurial and application skills. "When you look at the history of crises and challenging economic conditions, there has been a trend toward self-investment and education, career pivots and adding a second income," says Blushington CEO Natasha Cornstein, noting the demand for cosmetologists is projected to double by 2025. "That dovetails with the huge growth of the gig economy and being in business for yourself. We see beauty education as a highly desirable offering, particularly in this environment." Beauty Independent talked to her about the changing beauty industry environment, her growth as a leader during a difficult time, strategies that got Blushington through it, and its expanding brand assortment.
What persuaded you to join Blushington?
I joined Blushington in January of 2015. I had walked in as a customer in June of 2014. In my prior position as head of global branding [at Circa], there was this incredible publicist that said to me, "Listen, you are a 40-year-old executive, and you need a headshot. You have to go to this place called Blushington." I walked in and, for me, it was love at first sight. I had never seen anything like it. It was so beautiful and so welcoming. I hadn't loved getting my makeup done in the past. After I'd had it done, I would go home and wash it off because I didn't feel like myself. At Blushington, I had a makeup experience that made me feel two inches taller when I left. I felt so confident and listened to. The next morning, I was at a breakfast meeting talking about careers with a young woman, and it turned out she was the PR representative for Blushington. She introduced me to the Blushington team the next day. I told them we had to bring it to New York and the rest was history.
What was the business like when you joined? What was your vision for it?
What it had in 2015 was a three-store footprint and a singular focus on makeup services. Retail was basically nonexistent and almost frowned upon. We wanted the environment to be an anti-department store and not have pressure to sell. I collaborated with the founder [Stephi Maron] on several key areas. We really focused on developing our own approach to retail. We had an opportunity to sell in a Blushington style. We had these makeup artists sitting with customers. Makeup artists by nature are passionate and knowledgeable about products, and we had an opportunity to educate our customers. That became a significant focus for us. We went from 15 brands to today having over 52 brands. We went from less than 10% of our revenue coming from product sales to a little over 30% of our revenue coming from product sales.
Another focus was adding stores and diversifying geographically. We set our sights on New York. We had two thriving New York City locations when we closed in March and a third flagship that was about to open in the spring of 2020. We were also looking to diversify our service offering while staying true to our core offering of makeup applications. We went from just offering makeup applications to adding lash services, and aesthetic services like brow shaping and brow maintenance. In 2016, we really launched into skincare. We were very intentional about bringing in new services. We would introduce them with a brand partner because another way we wanted to grow was to be a platform for independent brands to break in and be able to have customers know about them, touch and feel their products, and have them be introduced through the expertise of an artist versus a salesperson.
A few examples I can give you is we brought in an incredible mini facial from Angela Caglia and a three-step lip service from Sara Happ. We looked at including services with an eye to accessibility. A glycolic peel offered in the dermatologist's office generally has a price tag of over $200, which makes it largely inaccessible to the majority of customers. We worked closely with BeautyRx by Dr. Shultz to find a way to offer it for $60, and that became a very big part of the business. That was a high-growth category. We had this incredible team, a very loyal customer following and, in listening and marrying the demand of the customer with the skill set of the artist, we were able to expand our offering.
In March, when the pandemic began to disrupt business in the United States, what was your thought process?
In the week that had Friday, March 13, I sent out a note to our team and our customers announcing a temporary two-week closure. I'm an avid reader and started to see this mention of the virus becoming more and more prevalent and, by that week, had a real concern for the safety of our customers and our artists. Our business is face-to-face. So, I felt an acute level of concern. Now, when we think back to that time period, we had such little information. We were working in real time. Our action plan was to replace our tools with all disposables, which I have in great quantity sitting in my stores. We already had a very rigorous cleaning protocol, but I was researching how to take it even a step further and replace our traditional cleaning services with hospital-grade cleaning services, and the gear to bring in to protect our customers and our artists. This was ahead of any stay-at-home order in New York and ahead of any real retail closures. I was very uneasy about the unknowns.
I always read the newsletter from the firm Korn Ferry. The note that came on that Sunday was about leadership in a time of crisis. It dawned on me that the two-week temporary closure was not going to be two weeks, and it was potentially going to be indefinite. As I thought about our customers, our team, our brands, our real estate and our obligations, I thought to myself, "We are all in the same boat in brick-and-mortar services, whether it's healthcare, fitness or wellness and beauty. We are all going to be facing a crisis together." So, my first instinct was to reach out to other CEOs and founders, and say, "Would you be open to tackling these issues together?" So, I created a very informal forum and Slack channel, and put together a series of speakers and meetings. In those early days, we met daily. Then, it became twice a week. We were collectively able to bring on the top people in every field that was of concern to us: crisis communications, labor, real estate and more. The forum was a crucial source of information, support and collaboration.
I made the decision to keep on our team on through the middle of April to give everyone a chance to explore options and have an understanding of the government aid that was coming. I couldn't imagine just letting my team go with no notice. We opted to take a real partnership approach to partner with our landlords and vendors to say, "We are going to do everything we can to meet our commitments, but we need your help right now." That was a very fruitful approach for us.
What happened next?
I see this last year in stages. There was that real crisis period, then there was a hopeful period around June where we were thinking about the future of the business. We were very fortunate to receive a PPP loan and, once we got our financial house in order, we immediately started thinking about how to operate our business in the absence of having stores open. There were so many bad things happening—people were sick and losing their jobs—but, from a business perspective, it was a time of immense creativity and thinking through how to take the heritage of our brand and reinvent it without stores.
So, we turned to creating an online offering. That was the beginning of a major digital pivot. Our e-commerce sales are up 500% over last year. It had never been a significant part of our business before. We were very focused on brick-and-mortar, but we had made it a requisite for any brand that had come into the stores that we could sell them online. However, we had been so invested in driving traffic to the live experiences and were very new to e-commerce. One of the first things we did was to build a new website and transition to the Shopify platform.
We translated our classes, which were incredible popular, to an online format. We have about 10 different classes: Makeup 101, Eyes Only, How To Take 10 Years Off, and we created a makeup for Zoom meetings curriculum. People were all of a sudden on camera for work and that came with a new set of expectations. We started with the classes, then we added bridal, which had been a really special part of the business, and one we weren't sure about when we started the online classes, but we said, "Weddings will still take place, maybe not as they had been planned." So, we are offering bridal trial over Zoom and, on the day of, we are with them every step of the way over Zoom helping them do their makeup. Then, we realized summer camps were shutting down, so we launched a teen beauty bootcamp. We saw teens from all over the country from all different background coming together, having a respite from being isolated and doing something really fun.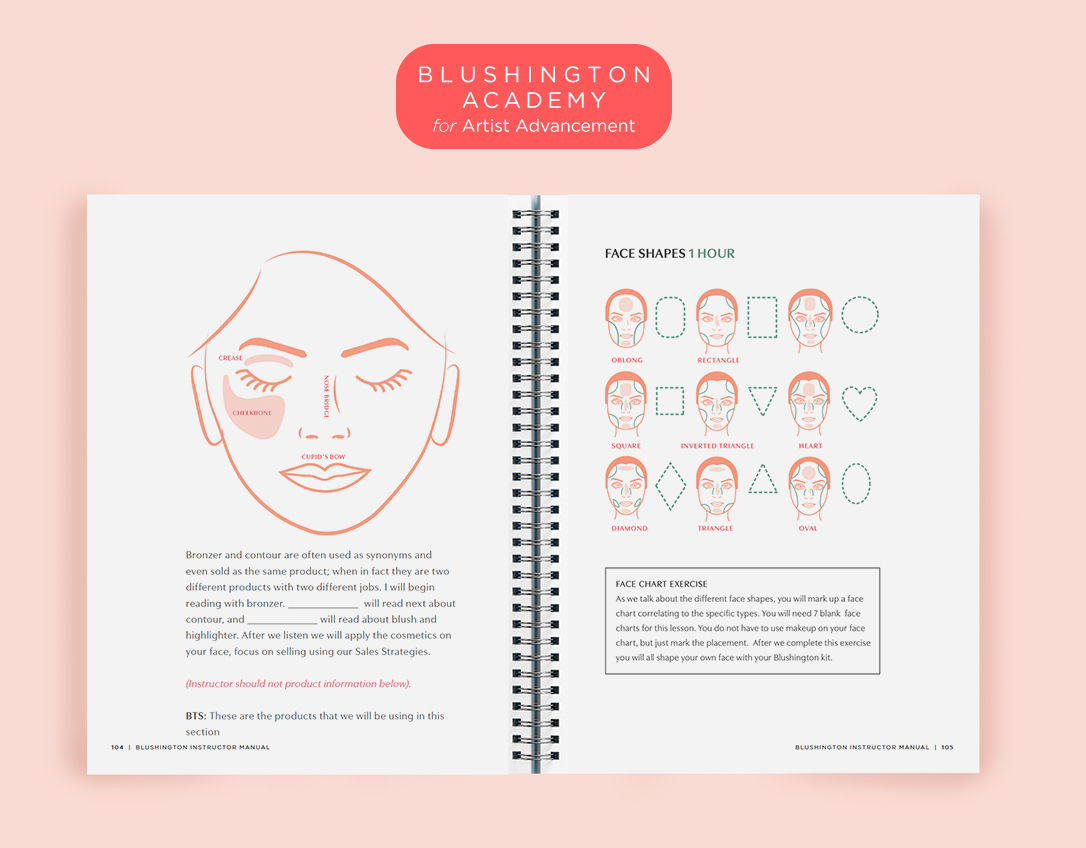 What's Blushington's business like today?
We have really reinvented it to become a digital business. What I am most excited about for our future was this a-ha moment we had early in the summer that there was this gap between the skills you learn in school and how to translate that into a career. For makeup artists that graduated from cosmetology or aesthetics schools, there was very little focus on makeup and, for artists coming out of makeup school, there was a huge focus on special effects, stage makeup, editorial and runway. At Blushington, we have always been focused on the everyday woman. While artists may go to school with aspirations of working on movies, television and the runway, less than 1% of artists working end up with agency representation and those opportunities. The vast majority are working on weddings, bar and bat mitzvahs, sweet sixteens and job interviews, and building up a career of regular women.
We have a 25-hour curriculum that's live online and interactive. The $975 tuition comes with your own makeup kit worth over $1,000. [Brands in the kit include Erborian, Jouer, PYT, Anastasia Beverly Hills, Bioderma and Bdellium.] Besides not having business acumen, another key challenge of coming out of school is the investment to create your own kit. If you want to service women and men of all ages and backgrounds, you have to have a very robust makeup kit. You have to have a wide shade range, and products for customers that want a matte finish and those that want a luminous finish. Our brands immediately saw the value of participating, saying, "Wow, we can get our products in the hands of makeup artists across the country. We don't have to search for them one by one." In today's world, it's not about big splashy campaigns. It's about micro-influencers.
As our participants are graduating, they get their own shop-in-shop on our website that they curate and receive 20% of commission on all sales. For working makeup artists, this is incremental income they are generally giving up. We have created this geo-searchable implementation on our website where you can search for a makeup artist. Every artist that completes the program gets their own profile, so it's their photo, name, contact information and social media handles. We are looking to build their profiles so they gain visibility and customers. If you are a freelance artist starting out, it's not always easy. It can be a very lonely, isolating career. It's not inexpensive to go to cosmetology or aesthetics school, and they are generally leaving with over $20,000 in debt and zero customers. We give them a platform so that they can grow and elevate their careers. Now, we are able to break out of our four walls and offer this across the country.
What tweaks have you made to the Academy program?
We had four classes that we utilized as focus groups. We launch our first public class on Jan. 11. We shortened the course from 30 hours to 25 hours and added in breaks. What we saw immediately was how bonding the experience was. At the end of the week, when we were having a graduation ceremony, it was very emotional for the participants. They had really opened up to one another. So, we built in more time for peer-to-peer interaction. That's done through scenario-based training. The mantra is that, "It's one thing to perfect a winged eyeliner, it's another thing to go eye-to-eye with a challenging client." We have built in different customer situations, so you are prepared. We are arming you with all of the things we learned the hard way. From the feedback, we also added a section on teaching online to give them the keys to how we run and teach virtual sessions.
How different will Blushington be coming out of the pandemic?
I see a complete reinvention of the business. Part of what I love about it is we have been able to take all of our learnings and apply them. We didn't have to become a different business in the sense of having to find a completely new business. We had the incredible joy of taking what we know and finding a different way to apply it. We see the Academy as a major part of the future of the Blushington business and, when we model out the financial model of this business, it puts us on a growth trajectory that would have not been possible at brick-and-mortar.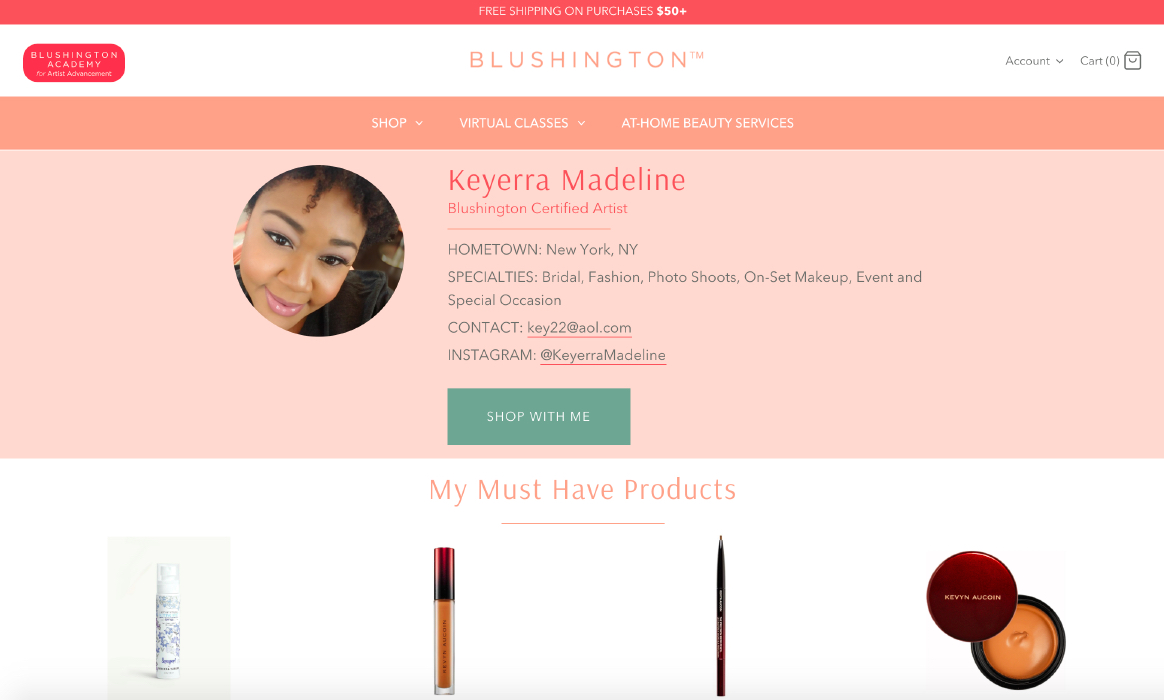 Are you bringing in new brands?
We are always evaluating new brands. Since March, we added mask brands Carolyn Rowan, Hark & Hammer and McKenzie Liataud, haircare brand Virtue and skincare brand One Love Organics. We signed on to the 15 Percent Pledge. I think we really fell short in the inclusiveness of our brand founders. So, that is a big commitment. It's taken us a little bit longer than I had hoped because there was so much demand, which is a good thing, but I think we are on a great trajectory for 2021 to meet and hopefully exceed our plan. We are really looking to expand our hair and skin categories, and have a number of brands coming on for 2021 in those categories.
We brought on Revlon. At Blushington, we look for quality and accessibility. Our artists feel that there are tremendous products in the Revlon line that are staples in their kits. There are brands that have been pigeonholed as drugstore brands that have quality that isn't spoken to. I have great respect for [Revlon CEO] Debbie Perelman. I always remember, when I joined the beauty industry in 2015, who was open to taking a meeting to say hello and had interest in Blushington, and those who just dismissed it or didn't have a willingness to have a conversation. Debbie Perelman, who runs this major global company, was so willing to meet with us.
What beauty industry dynamics are you watching closely?
I am really interested in seeing the diversification of distribution channels. I can tell you that some of the brands we are speaking to now would have never entertained the conversation pre-pandemic. I'm watching closely to see whether the openness to living alongside other brands continues. We are seeing a compression of outlets, so I think we can get really creative together about where brands will be available. We are going to see brands popping up in a lot more places. With the Academy, I was pleasantly surprised about the desire for participation. I don't know if I would have been met with that before.
How has the pandemic changed you as a leader?
I think that this has brought me even closer to my team, and I've become a better leader. I've always tried to be flexible and open, and I think it's taken that to another level. I think it's made me more understanding. If you were to ask my team, they would say I'm a hard-charging leader with big expectations, and maybe I've given more time to bring my team along. We're really in it together. I've learned how important it is to over-communicate. I have written very frequent and candid updates to my team. There hasn't been siloed communication and building upon the trust we have in each other has been crucial to pivoting the business.