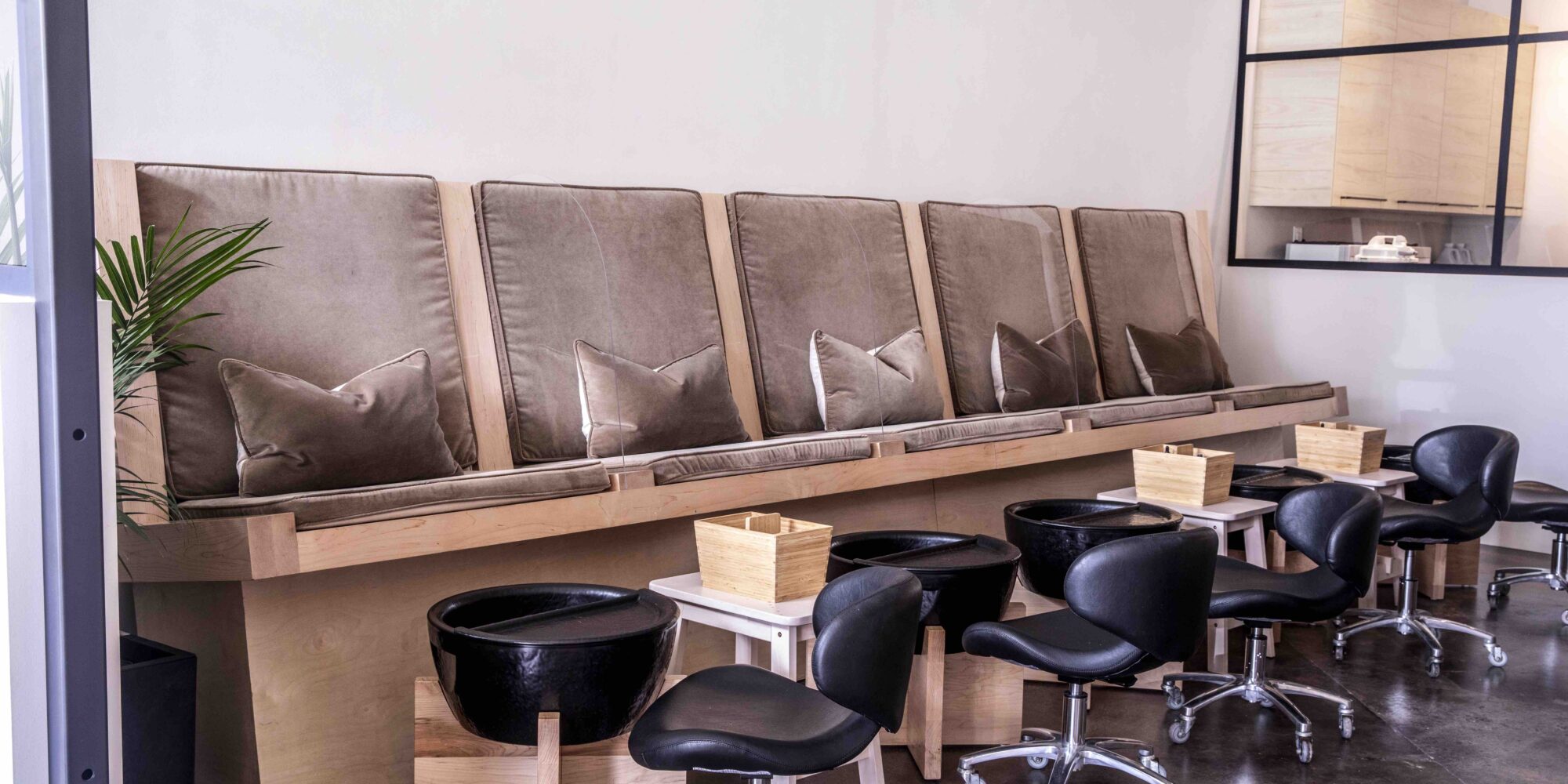 Clean Beauty Nail Salon Concept The Water Room Expands In The Midst Of The Pandemic
For Memorial Day last year, Jessica Morse took a real estate scouting road trip from Charleston to Atlanta, where she and her partner Laura Pelzer were planning to locate a second outpost of their clean nail salon The Water Room. "There is a nail salon on every corner in Atlanta, and all of these nice shopping centers had nail salons already," says Morse. "But we found one without a nail salon and with great neighboring tenants smack dab in the middle of Buckhead. Our customer is already there, we just need to keep her there for another hour."
Immediately, Morse and Pelzer pounced on Buckhead Court, the shopping center with an available spot for a nail salon, where they were excited about opening The Water Room in an almost 1,000-square-foot space near beauty and fitness concepts SkynBar, Icebox Cryotherapy, European Wax Center, Buckhead Lash Studio, Stellar Bodies, Boardroom Salon for Men and Craig Stewart Salon, about a year after its launch in Charleston. The branch was a step toward the nail salon becoming the Tenoverten or Olive & June of the Southeast.
"The Southeast is the next frontier for clean beauty. It's ready. It's time, and Atlanta was always the next location we had in mind, particularly the Buckhead neighborhood," says Morse, the influencer behind the blog Bare Beauty who formerly worked in sales at Vera Wang and Ralph Lauren. "There's a lot of disposable income there, and there are 400 Beautycounter consultants in just the Buckhead neighborhood alone."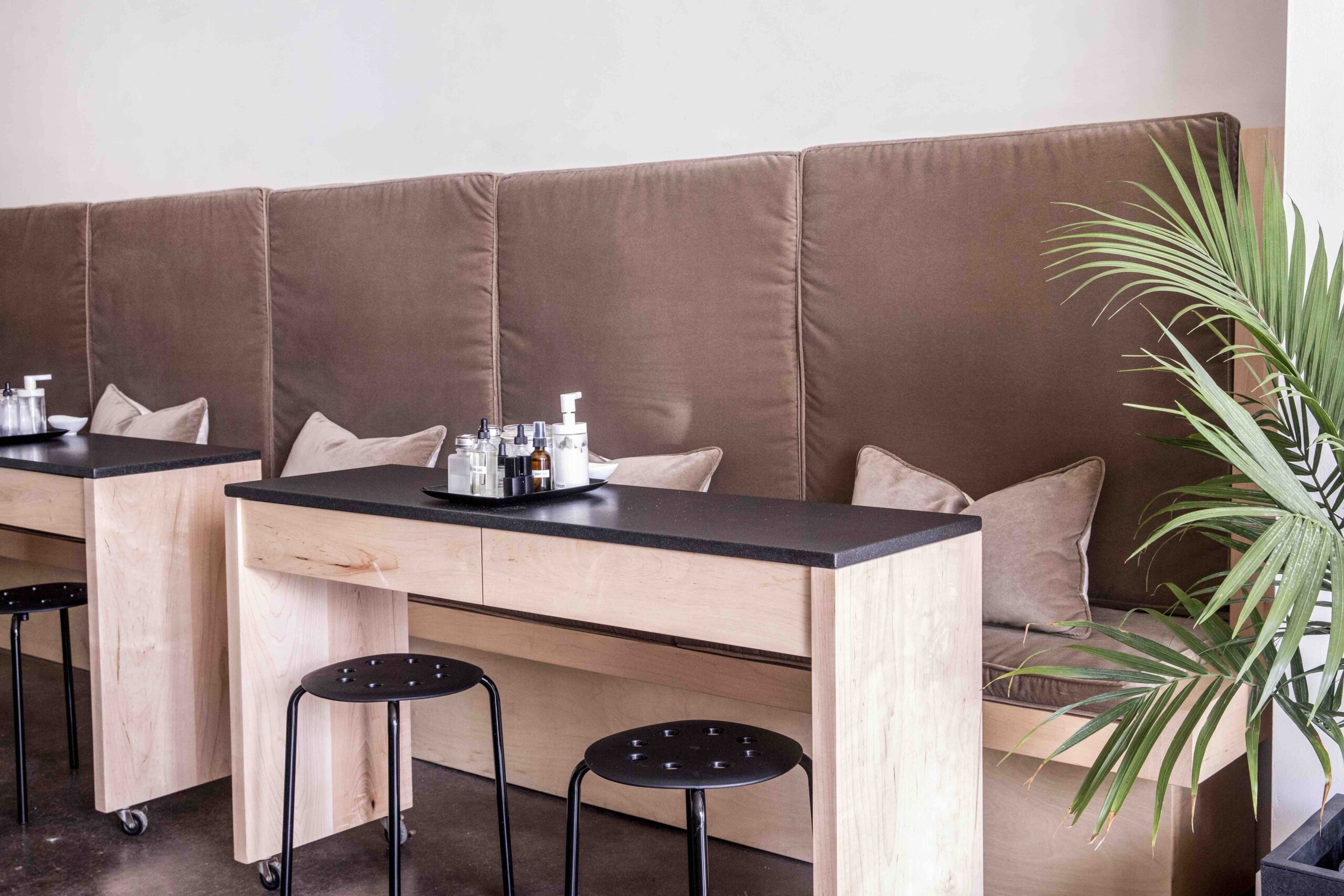 Morse's and Pelzer's excitement for The Water Room's expansion was put the test by the pandemic's interference. It closed the salon's first location from March to May, pushed back the debut of its sophomore location from April to June, and compelled it to enact precautionary measures such as plexiglass dividers between stations. Even prior to the crisis, The Water Room had stringent sanitization standards. For example, it uses an autoclave that kills bacteria and viruses on its stainless-steel clippers, nippers and pushers with steam.
"It was a scary time. We didn't know what was going to happen," says Morse. "I also didn't know what was going to happen to our employees. We gave them one pay period of pay. If we didn't take care of them during that time, then when? Luckily, we got some relief with a PPP loan, but it's been devastating to what we were hoping for year two in Charleston. Now, it's really hard to forecast."
The Water Room roughly broke even its initial year in business. The 1,800-square-foot Charleston location currently has six manicure and seven pedicure stations. It previously had an around 300-square-foot backroom for parties with five manicure and five pedicure stations. The backroom has been converted to an Aillea clean beauty shop-in-shop. The Buckhead location has four manicure and five pedicure stations. On average, Morse estimates "a few dozen" customers patronize each location per day. Both locations have retail sections with 12 to 16 brands, including Grown Alchemist, Vitruvi and Tenoverten.
"The Southeast is the next frontier for clean beauty. It's ready."
The Water Room was designed by Melissa Sutton of Plum Collective to be a zen sanctuary. Its pièce de résistance is a so-called water room that's a glass-enclosed structure housing sanitation equipment making cleansing processes visible to customers. The androgynous look of The Water Room helps it attract men. Morse figures 5% to 10% of its customer base is male. In general, The Water Room's clean positioning as well as its luxurious feel are attractive draws for customers. Often, moms come with their children because they favor its clean beauty approach, and The Water Room has a service tailored to customers 10 years old and younger.
Manicure and pedicure services are largely priced from $25 to $70. The Water Room sticks to nail polish brands like Tenoverten, Londontown and Jinsoon that are at least 8-free or, in other words, don't contain the ingredients formaldehyde, formaldehyde resin, camphor, dibutyl phthalate, ethyl tosylamide, xylene, triphenyl phosphate and toluene. It doesn't offer gen polish. Instead, it offers the alternative Dazzle Dry. Morse says Dazzle Dry manicures last 10 days or more. By the holiday, The Water Room will release its own nail polish line. Morse describes it as a clean version of Essie featuring customers' favorite neutrals. She expects the polishes to be priced at $16. Morse says, "Our customer loves minimal nail art, and loves nudes, classic reds, vampy colors—and maybe a coral in the spring."
The Water Room has a bath and body care collection priced from $38 to $68 with CBD Relief Bath Soak, CBD Aromatherapy Relief Roller Ball, Unscented Body Butter and CBD Relief Balm. Morse was introduced to CBD as a treatment for her son Woody's epilepsy. It's been a huge help to him. She applies The Water Room's topical products to his feet and calves, too. He walks on his toes and wears braces that tend to chafe. "So many other brands that sell CBD put a drop of CBD in there, call it CBD-infused, and it has no therapeutic benefit at all," says Morse. "We put more in per ounce than anybody I know of." The CBD Relief Bath Soak has 500 milligrams of broad-spectrum CBD in a 17-oz. jar.
Morse and Pelzer, a communications executive helming strategy firm In/House and former director of marketing at Polo Ralph Lauren, are joined by CFO Rae Phillips, owner of Level Accounting, atop The Water Room. Michael Meyer, head of global sales and training at Seaport Global, has invested in it. Morse says she'll hunt for additional The Water Room locations in 2021. The nail salon company will continue to populate the Southeast. While the pandemic has certainly been a trying period, Morse remains bullish on nail salons, especially clean nail salons.
"I hope the long-term impact is that people seek out sanitary nail salons, and they are more thoughtful about the businesses they support," she says. "I do think we will come back from this. I think that, no matter how bad things get, pampering yourself is always going to feel good, and rejuvenate you in mind, body and spirit. Obviously, we are going to be impacted, but beauty is just too big a part of everyday life for American women to throw it by the wayside."