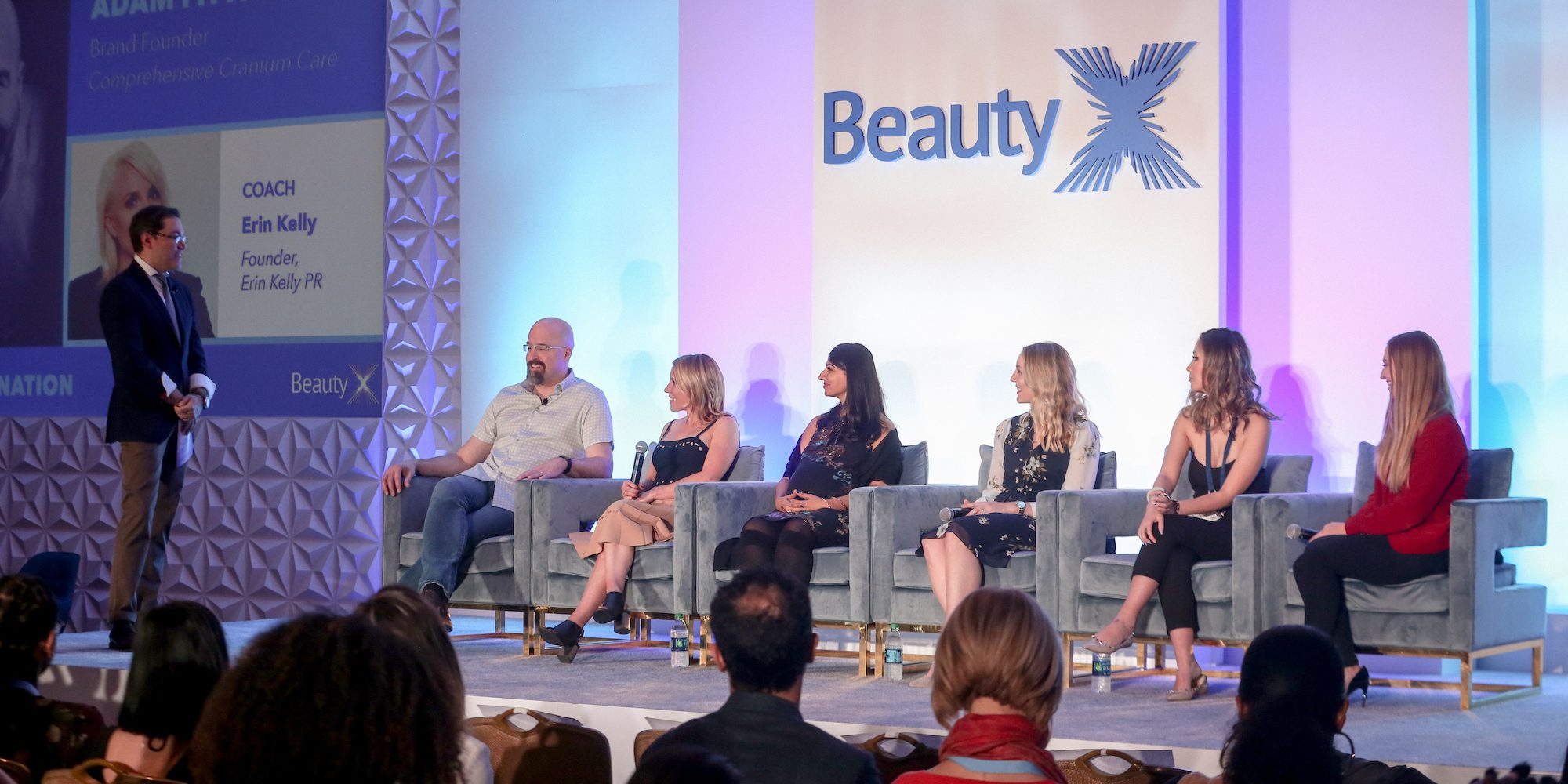 Bald Head Product Specialist Comprehensive Cranium Care Comes Out On Top At This Year's Deskside Domination
A bald man bested the competition at Deskside Domination on Tuesday.
Comprehensive Cranium Care or C3, a line developed by follicly-challenged founder Adam Fitting to care for hairless heads, won two out of the three editorial prizes up for grabs at the second annual press pitch competition, the finale of BeautyX Media & Influencer Summit 2019, a two-day educational conference aimed at beauty entrepreneurs that took place in Los Angeles at The LA Grand Hotel Downtown.
The Deskside Domination competitors were three brands exhibiting at Indie Beauty Expo LA: Ayurvedic skin care specialist Shaffali and steel beauty tool manufacturer Selfkaire as well as C3, which sells Head Wash in unscented, and mint, lavender and bergamot varieties. Shaffali came away with the third editor prize and the audience choice award.
"'Own your dome,' I can run with that. [It's the] idea of being comfortable in the skin you're in. There's so many ways I can take that."
Deskside Domination is among three live learning competitions put on during the BeautyX Summit series. The others are Race For Shelf Space at BeautyX Retail in Dallas and Deal Appeal at BeautyX Capital in New York. Contestants are chosen from the IBE exhibitor lineups in the cities where the competitions are held, and diverse groups of contestants are chosen to represent the range of IBE brands' offerings. C3, Selfkaire and Shaffali will all be exhibiting at IBE LA 2019, happening today and tomorrow at California Market Center in Downtown LA.
At Deskside Domination on Tuesday, the brands pitched to Well+Good co-founder Melisse Gelula, Thoughtfully Magazine founder and creative director Brandie Gilliam, and Self editor-in-chief Carolyn Kylstra in front of the BeautyX audience. All three of the brands are less than a year old, and their founders hadn't encountered such a prestigious array of media personalities before. 
To assuage the founders' fears of fumbling pitches, each brand was assigned a public relations professional to coach it in the weeks leading up to BeautyX. Selfkaire founder Kathy Chou was paired with Leah-Vail Soloff, whose clients include The Detox Market and Odacité. Shaffali Miglani, founder of Shaffali, worked with Alise Edgcomb, vice president of beauty and grooming at PR firm 5W. C3 was paired with Erin Kelly of Erin Kelly PR, advisor to last year's Deskside Domination clean sweep winner Code of Harmony.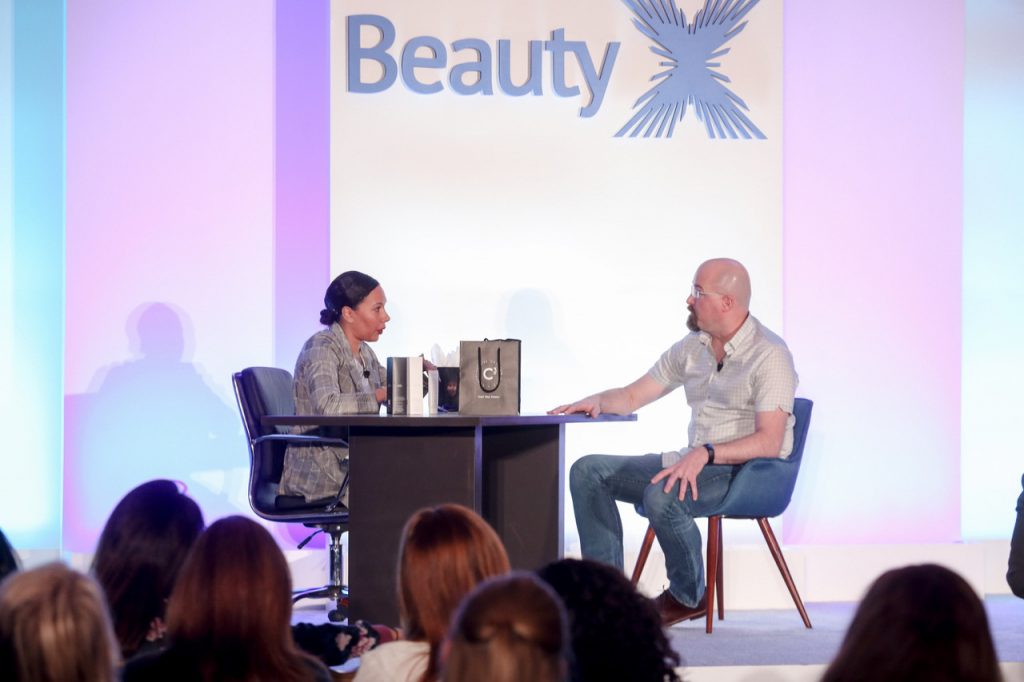 The Deskside Domination judges expressed how close the competition was between the three brands. "This was really, really hard," says Kylstra. "I could see us covering all three of these brands. With C3, it's a white space. That made it much easier for me to see what the story was going to be."
Gilliam says C3's strong pitch led it to prevail. "When you look at it from an editor's perspective, we're looking for a story," she elaborates. "So, make sure in your pitch, you're giving us a story, something we can connect with and latch on to. All three products could fit into all three publications. At the end of the day, I went with, not the most interesting [brand] from a product perspective, but [the one that], from a pitch perspective, gave me the story. 'Own your dome,' I can run with that. [It's the] idea of being comfortable in the skin you're in. There's so many ways I can take that."
"Knowing your point of view and being able to share that concisely is everything."
Well+Good's Gelula went with Shaffali, leaving many to wonder if a clean sweep wasn't squashed by a gaffe Fitting made in his on-stage pitch to the co-founder: When asked by Gelula how he had heard about Well+Good, Fitting said he'd seen the exclusively digital publication "on the shelves." He later admitted to getting Well+Good confused with Thoughtfully, apologizing to Gelula in front of the BeautyX crowd.
Gelula stressed that, to win over editors, a brand founder's prowess at sharing his or her story in a compelling way is key. "I am reminded how important the brand story component is," says Gelula. "I can see an ingredient list. I can see if a brand fits in a white space opportunity in the beauty market, but, then, it's so oversaturated, so knowing your point of view and being able to share that concisely is everything."
For Fitting, two out of three definitely isn't bad. "I'm honored to have been chosen to participate," says the entrepreneur. "It was a great learning experience. Getting to have these conversations and the feedback from the judges gave us a whole new perspective."