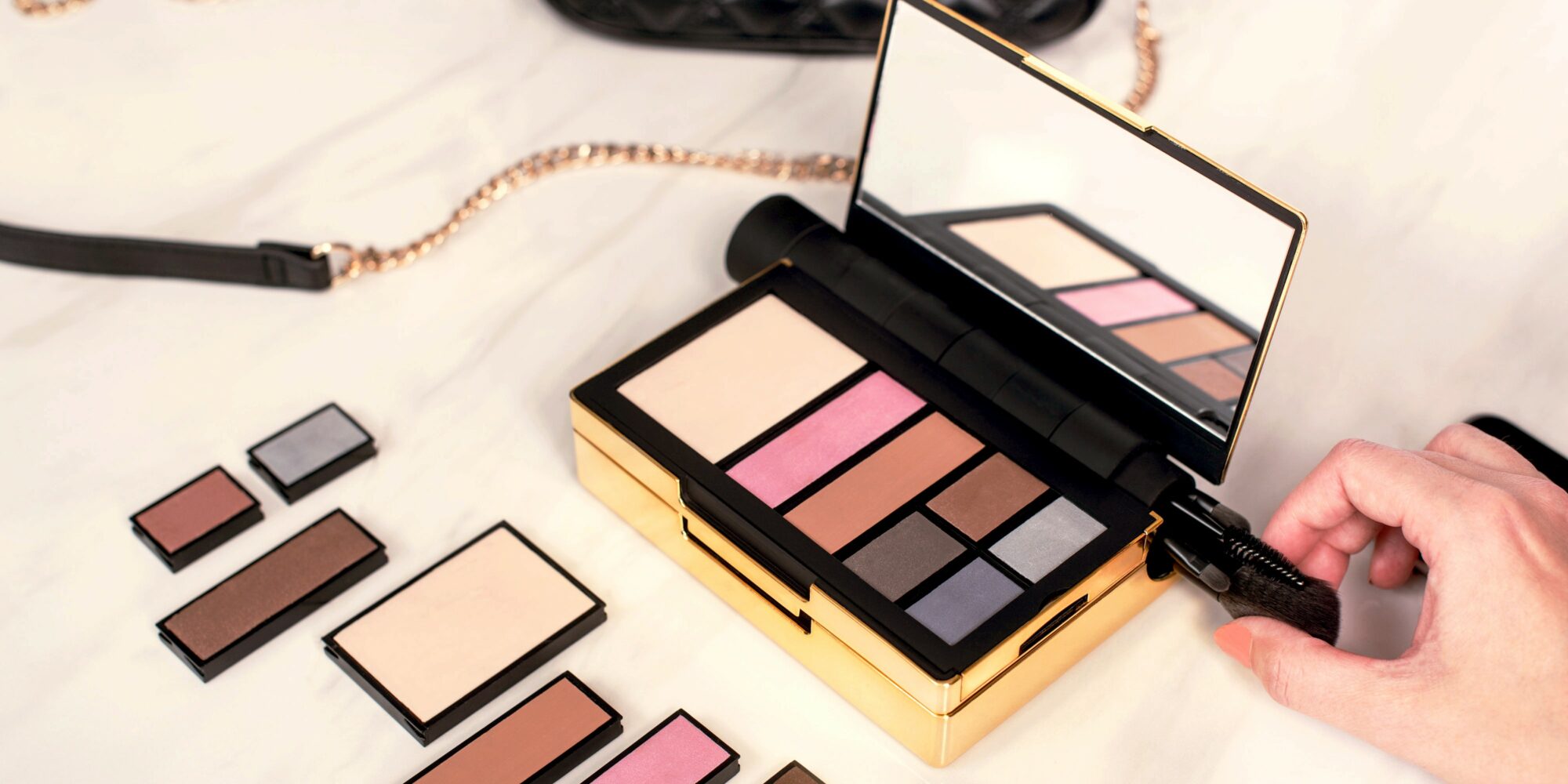 Customizable Palette Concept Renzoe Box Makes Organizing Makeup Easy And Earth-Friendly
Architect René Graham, founder of the design studio LaurelHouse Studio and real estate development company BCSModern, is skilled at figuring out puzzling construction predicaments. So, after she became frustrated at work attempting to locate the right beauty product in her makeup bag to spruce up for a meeting, she put on her thinking cap in an effort to solve the problem of inefficient makeup organization.
"It didn't make sense to me that we can organize all this other stuff, but my makeup bag was a constant mess that I would dump out on my desk and be riffling through," she says. "I wanted something that was convenient that I could whip open to not fumble through this embarrassing mess of stuff and that would allow me to feel comfortable on the go."
Graham tried Z Palette, but found de-potting products for it a pain, and its reliance on magnets didn't stop makeup from flinging around her bag. Next, she tried refillable palettes from the likes of Kjaer Weis. While they performed well, Graham isn't loyal to a single brand, and buying refillable palettes from specific brands didn't do much to cut down her cosmetics clutter.
"Most women today don't have products from one brand. I love Nars blush and Becca highlighter, and mixing and matching. On average, women use six products from five different brands," she says. "I wanted something where you could easily mix and match and also, when you run out of something, it's not a big hassle to be able to test out something new."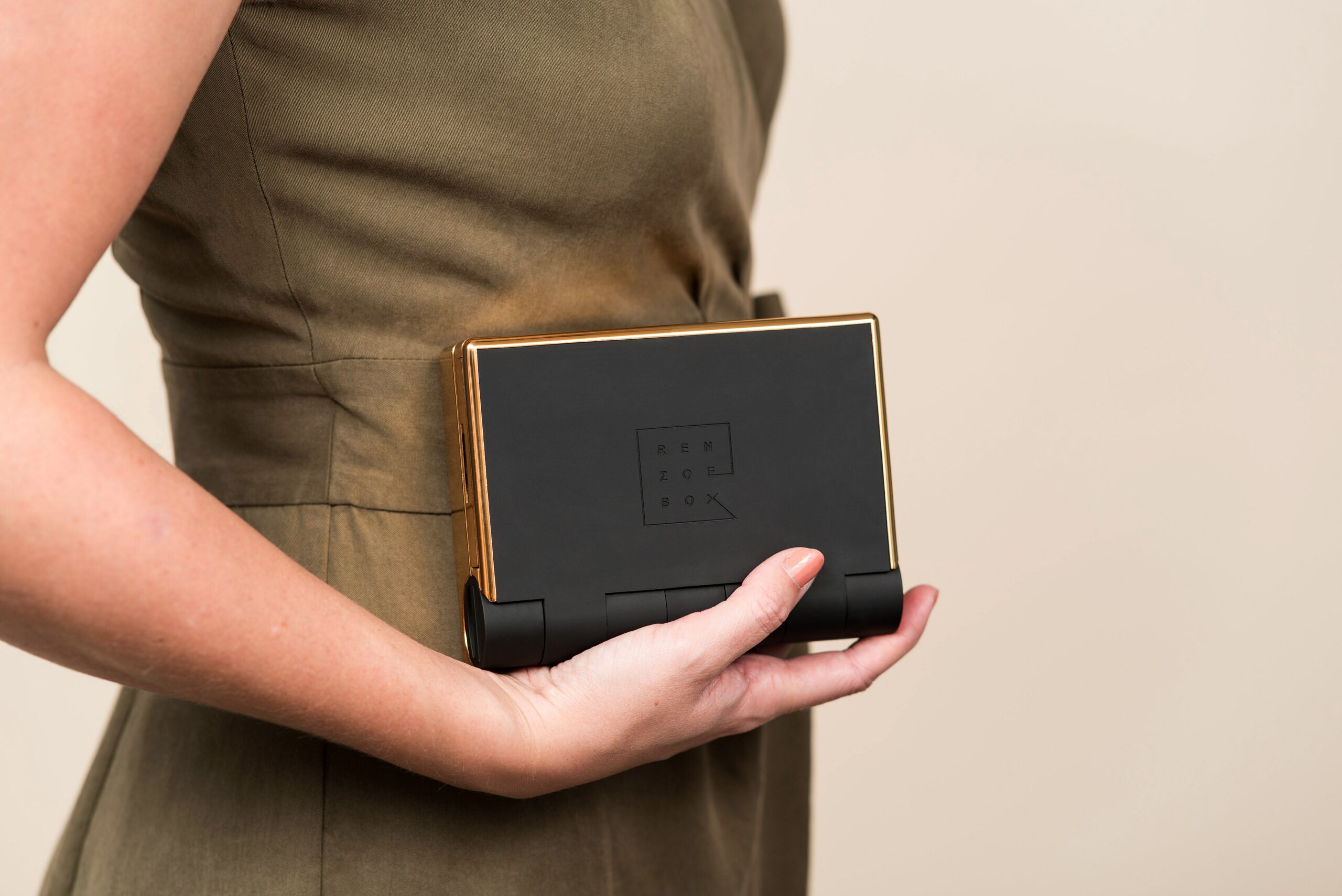 In 2017, Graham took her first stab at creating a makeup case that would enable beauty consumers to house multiple products from different brands. Along with a couple of interns, she visited Beautycon in August of that year to show attendees an early rendering of it and sold a dozen of the cases without even having a prototype. Turning the rendering into a real-life product wasn't easy, though, and Graham spent six months vetting manufacturers before finally pinning down a factory that could handle production.
In late 2018, she raised nearly $15,400 on Indiegogo, outpacing her goal of $5,000 by 307%, to fund her venture and released initial versions of the case to receive feedback. Now, it's officially launched as Renzoe Box, an elegant eco-friendly bento box for beauty products. Graham explains, "Renzoe Box is the best way to combine your beloved makeup products no matter what the brand is in a chic compact."
"It didn't make sense to me that we can organize all this other stuff, but my makeup bag was a constant mess."
Priced at $149, Renzoe Box's starter kit contains three so-called pods of makeup that can include eyeshadows, blushes, powders, bronzers and much more. Modular by design, pods are available in three sizes and a Renzoe Box can have up to 12 unique configurations of them. Pods can be replaced once they're empty or swapped out to change configurations.
The Renzoe Box features a mirror, compartment for makeup that doesn't come in pods like mascara and eyeliner, and a hollow hinge holding four brushes valued at $60. It's made out of durable acrylonitrile butadiene styrene (ABS) plastic to withstand customers throwing it in and out of their handbags. Graham has had hers for two and a half years. About 1.5 inches thick and almost 6 inches long, its proportions are equivalent to a typical wallet, and it's black with gold trim to slip into a luxurious purse without an incongruity.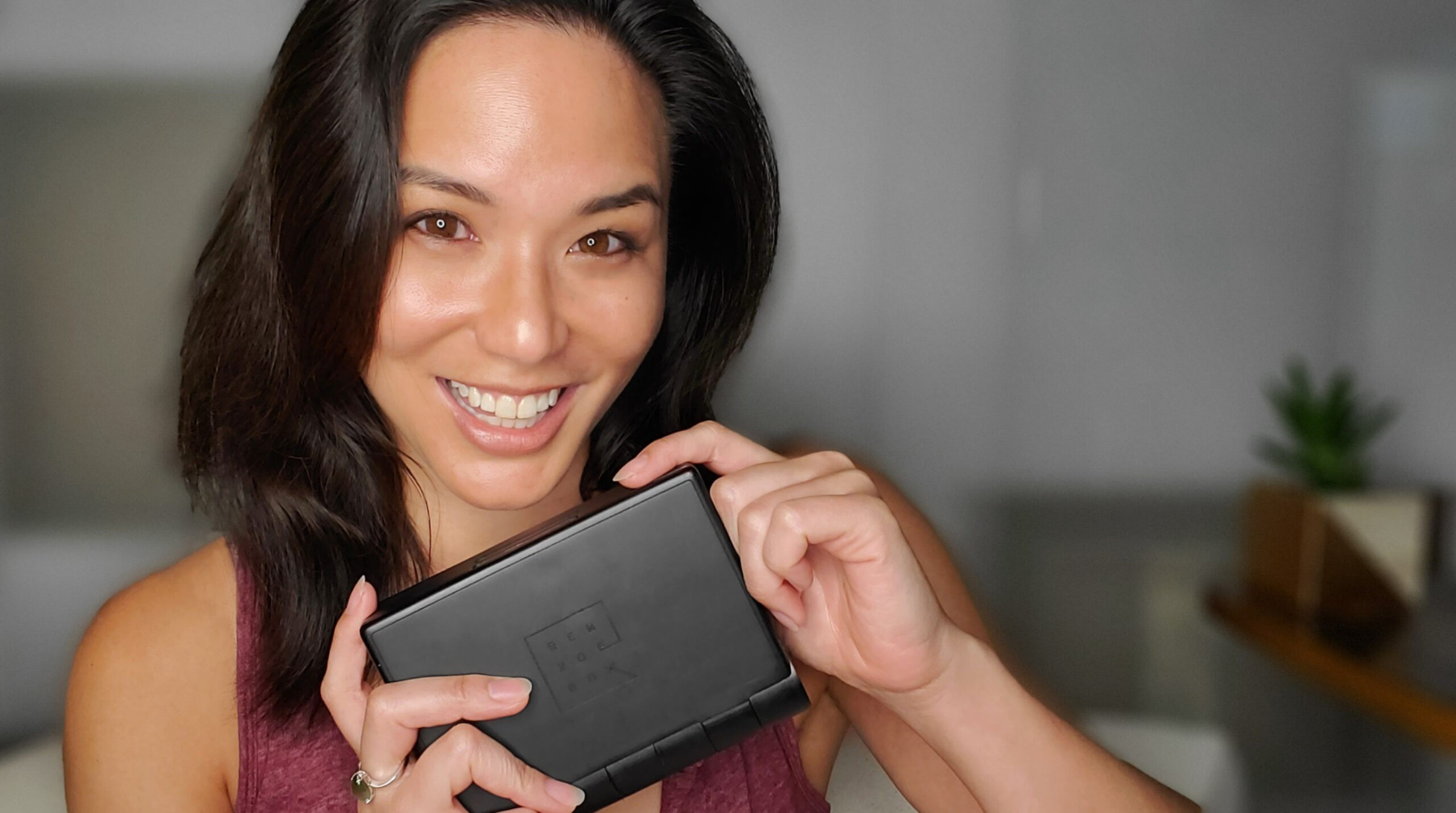 Customers employ Renzoe Box in numerous manners. One regular customer selects a press powder foundation, highlighter and bronzer for her Renzoe Box. Other customers fill the entire thing with eyeshadows. "You can use it how you need it," says Graham. "Everyone is so specific about their makeup routine. Yours will be different from mine based on what we like and what we feel comfortable wearing."
Customers can customize their Renzoe Box with the products they desire. The customization process is about two weeks. Ultimately, Graham's idea is to onboard several beauty brands in order to sell their pods. In Renzoe Box's arrangements with beauty brands, the brands send it bulk material, and Renzoe Box supplies them with a cut of 10% and above on sales. Graham says, "In the future, their customers may want to be able to customize palettes on their websites, so they would have an inventory of Renzoe pods themselves, and the relationship would work that we are manufacturing them, and they would buy from us at cost."
"Renzoe Box is the best way to combine your beloved makeup products no matter what the brand is in a chic compact."
Graham argues Renzoe Box can get brands in front of several audiences. She describes its target customers as busy professionals and moms, sustainability champions and beauty enthusiasts. They're generally 28 to 40 years old and highly educated. Graham estimates Renzoe Box reduces single-use plastic inside a makeup bag by 83%. She says, "Think about it. Your Urban Decay Naked Palette has 12 colors in it, but you might only use two. There are 10 colors you aren't using, and that's all packaging waste. You don't need to carry that around anymore if there's no reason for you to."
Graham acknowledges prestige beauty companies tend to be hesitant to sit alongside competitors in a palette, but encourages them to understand that shoppers are already mingling their products with their competitors' products. "Women like to shop high-low. I have a $40 foundation and a $9 mascara," she says. "One of our goals is to allow women to be able to shop high-low and have the products within the same palette." Renzoe Box can bolster branding by stamping products in the pod with logos, among various branding options.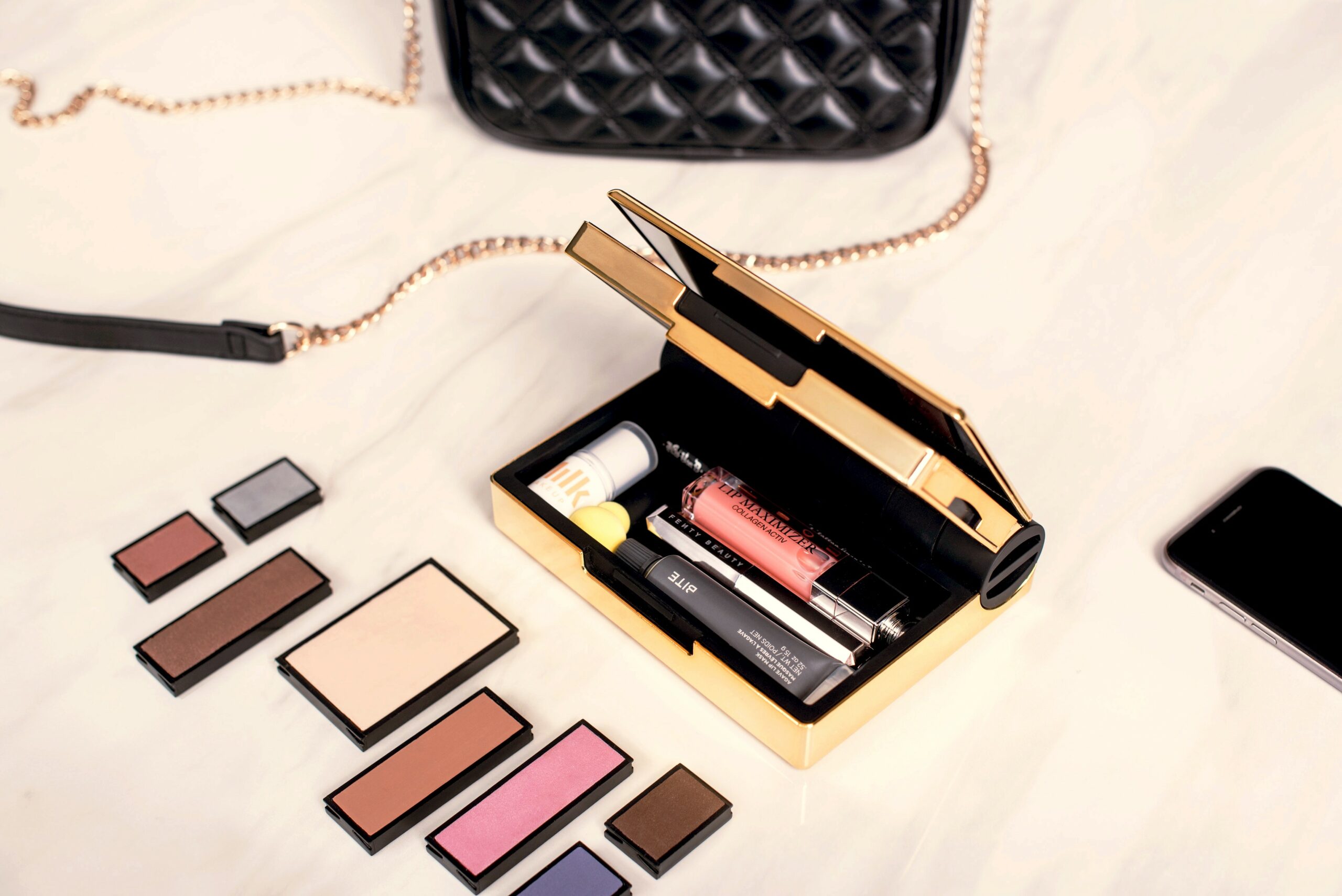 In addition to brand partnerships, Graham is interested in striking retail deals. She envisions Renzoe Box pods from an array of brands in a display at stores similar to how Keurig cups with a myriad of coffees and teas can be stationed in a display. For retailers such as those in the clean beauty field, a Renzoe Box display could signal their commitment to sustainable beauty.
In 2021, Graham's ambition is for Renzoe Box to reach $1 million in revenues. To help it reach that amount, she's engaging mommy bloggers that focus on life hacks, beauty influencers and Marie Kondo-type social media personalities. She's planning to introduce a digital curation tool, too, to facilitate influencers in assembling their favorite makeup products from assorted brands in Renzoe Box cases for their followers.
"When I started talking to longtime beauty industry people about Renzoe Box, they said, 'You are living in a dreamland. You are never going to get brands to work together,'" says Graham. "What I think we have all learned in the past 10 years is that consumers dictate what they want, not legacy brands. Consumers have been turning to Instagram and YouTube, and creating looks from many brands. We are trying to be very democratized about it. It's not about one particular brand or conglomerate. It's about what customers want."