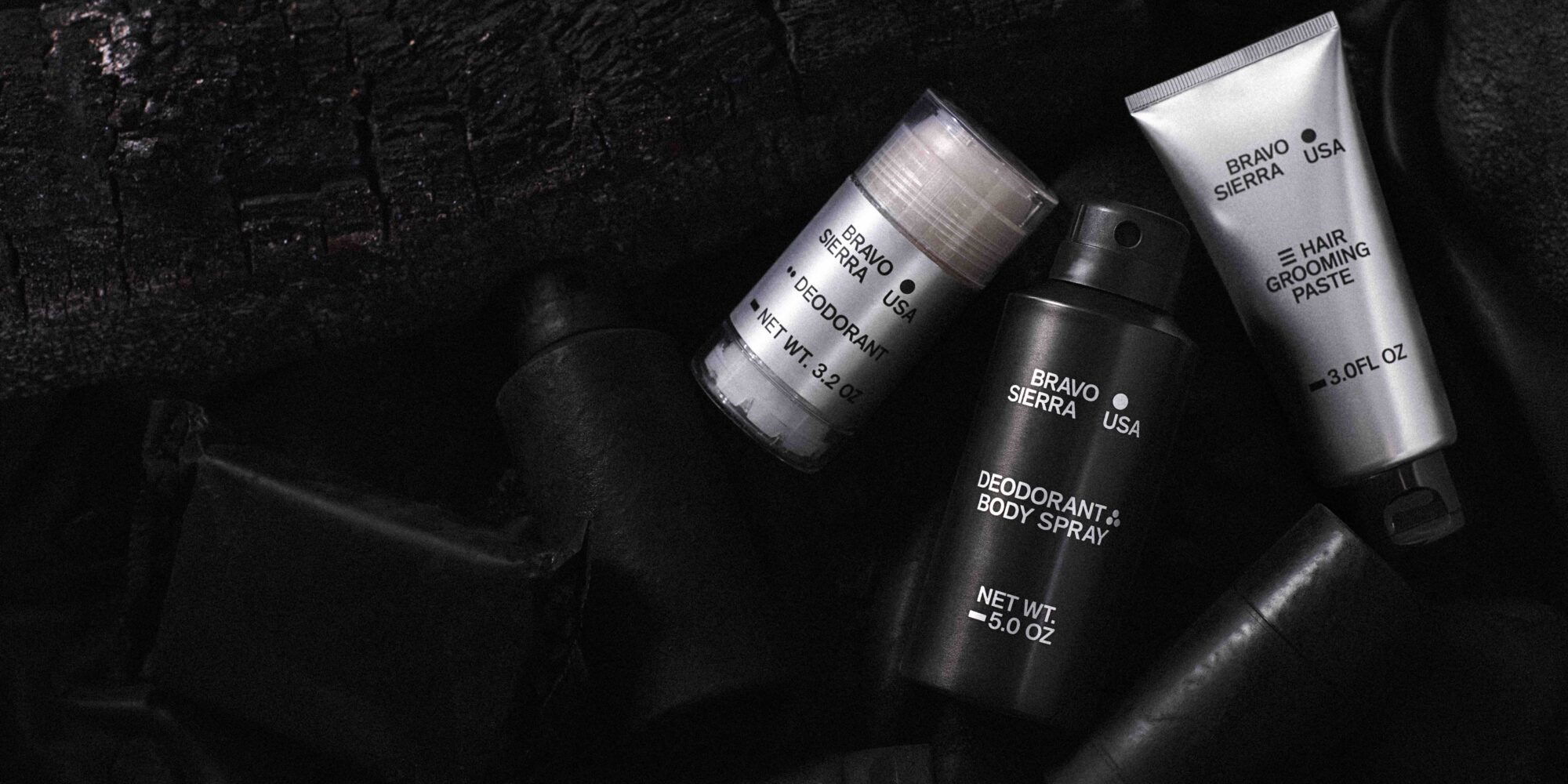 After Securing Distribution At Military Retail, Grooming Brand Bravo Sierra Marches Into Target
Bravo Sierra is expanding civilian distribution.
After debuting in August of 2019 at The Exchange, the retailer serving United States Army, Marine, Navy and Air Force bases, and going live on its website, the grooming brand rolled out to 550 Target doors this month. The retailer is carrying nine of Bravo Sierra's products in its stores and 11 online, including Antibacterial Body Wipes, Face Sunscreen SPF 30, Hair Paste, Face Moisturizer, Deodorant, Deodorant Body Spray and Face Moisturizer. Prices range from $8.99 to $12.99.
Up until its arrival at Target, Bravo Sierra's direct-to-consumer channel accounted for 75% of its sales and The Exchange locations, which the brand doubled within six months of launch, accounted for the rest. Men constitute roughly 70% of its customers. On its site, Bravo Sierra's bestseller is Deodorant followed by Antibacterial Body Wipes. At The Exchange outposts, Antibacterial Body Wipes has edged out Deodorant as the bestselling product. According to recent Forbes article, Bravo Sierra's sales were expected to clock in at around $6 million last year.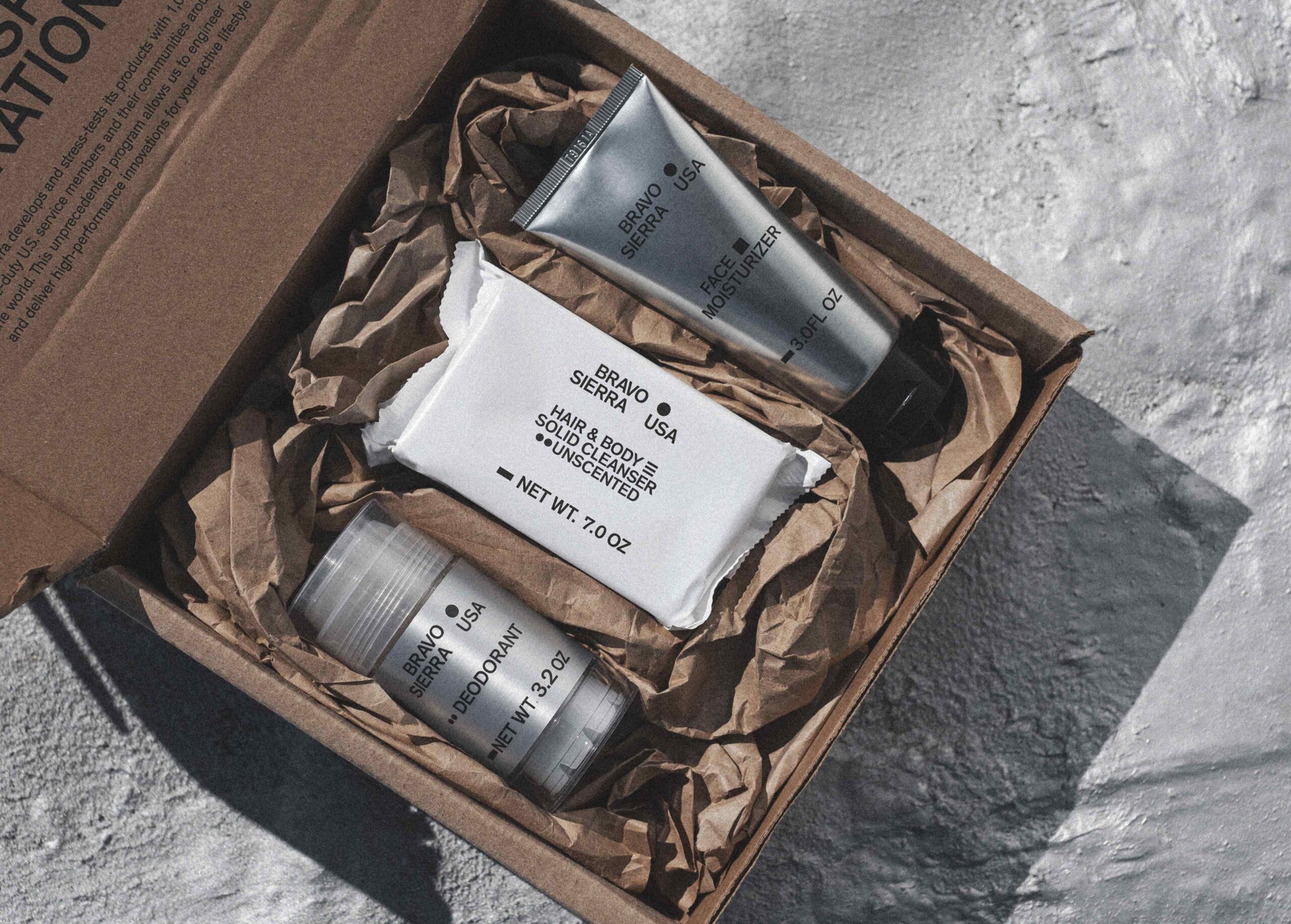 Benjamin Bernet and Justin Guilbert came up with the concept for Bravo Sierra in 2016 and trademarked the name two years later. The co-founders previously worked at L'Oréal: Guilbert in mass (Maybelline, Garnier), and Bernet in class (Kiehl's, Giorgio Armani Beauty, L'Oréal Luxe's European Designer Fragrances division). Recruited out of business school at INSEAD, the two credit what Guilbert calls the "quirky culture" of L'Oréal as an effective—albeit unintended—training ground for entrepreneurs. "The core of the executive program is to rotate," says Guilbert. "You're exposed to everything."
In the beauty industry, there's so much to be exposed to. With Bravo Sierra, Guilbert and Bernet believe they've hit upon a true point of difference that cuts through the clutter. Unlike other beauty and grooming players, the self-described "military-native performance wellness company" started with soldiers as inspiration, product testers and brand ambassadors as well as customers.
"Personal care brands talked about community and crowdsourcing, but their products were still built the old-school way. It was a marketing gimmick," says Bernet. "We decided we could do this for real: from ideation all the way to end product."
"Personal care brands talked about community and crowdsourcing, but their products were still built the old-school way. It was a marketing gimmick."
Bravo Sierra conducts an online product testing program that solicits soldiers' participation and double-checks their military bona fides. The program has over 2,000 active-duty military, reservist and retiree members who are queried about grooming needs and sent product prototypes. If they provide product input, they get a year's supply for free once the product is released. Feedback is taken very seriously. "Sometimes we reformulate, sometimes we cancel," says Bernet. Currently, Bravo Sierra has a dozen products in its pipeline. The brand took its initial step into civilian physical retail in the fourth quarter last year with Urban Outfitters. Beyond Urban Outfitters, Target and The Exchange, it's looking at home improvement, sports and outdoor retailers for retail opportunities.
Bravo Sierra embraces the inclusivity and innovation of the American military. In an example of its innovation, the brand's shaving foam features non-flammable, non-butane propellant. Bravo Sierra's site showcases the diversity of the military, one of the most diverse institutions in the United States. It opens with a super-fit soldier doing push-ups so propulsive that he hurls his huge, muscled body into the air with each thrust. From there, it segues to female soldiers lifting serious weights, an amputee on a trail run, and military personnel of assorted ages, races and sexual preferences performing other feats of athletic derring-do. Military personnel star in its social media posts, too, rather than models or glamorous influencers.
Further distinguishing Bravo Sierra from other beauty and grooming brands is its stripped-down approach to marketing and product positioning. It has no taglines, minimal packaging, straightforward product monikers, and products that are formulated and manufactured in the U.S. to be clean. "Bravo Sierra" means B.S. in military lingo, a tongue-in-cheek nod to the armed forces that makes the brand all the more relevant to soldiers. "So many beauty brands are overblown and over-aspirational," says Guilbert. "We wanted to reflect the military culture where you make it, but you don't talk about it."
Bravo Sierra has zero prestige pretensions even though it incorporates contributions from Li Inc. founder Patrick Li, creative director of The New York Times' T Magazine and also freelancer for Clinique and Cartier, and Reaktor, the digital strategy firm that counts Adidas and HBO among its clients. Five percent of the brand's sales—"for a startup, that's 50 percent of the profits," says Bernet—go to military Morale, Welfare, and Recreation projects such as daycare centers, gyms and counseling. Veterans comprise 30% to 40% of the company's hires.
Case in point: Erik Bartell, who served in the 101st Airborne as an Army captain, has taken Bravo Sierra's Instagram account from 5,000 to close to a quarter of a million followers since signing on as the brand's VP of community in January of last year. Prior to the pandemic, Bravo Sierra co-sponsored competitions like the Marines' High Intensity Tactical Training championship at Quantico. Recently, Bartell dispatched Bravo Sierra wipes and body bars to troops guarding the Capitol for the inauguration.
Bravo Sierra's original eight products were developed with help from Charles Kim, a former Army Ranger in the 101st Airborne and brand co-founder. Bernet and Guilbert weren't in the military. "We're transparent about that," says Bernet. However, Guilbert embarked on Bravo Sierra already attuned to the potential of the military market. His maternal grandfather John Becker served as a navy lieutenant in World War II and founded Eurpac, a thriving military supply specialist now operated by Guilbert's uncle. Guilbert's mother, Sports Illustrated swimsuit model and actress Jamee Becker Guilbert, ran United Service Organizations, better known as the U.S.O., for Western Europe.
"So many beauty brands are overblown and over-aspirational. We wanted to reflect the military culture where you make it, but you don't talk about it."
"We both grew up in Paris and spent the last 20 years in the U.S., so we have an outsider/insider view," says Bernet, talking about himself and Guilbert. "To me, it's inspiring that the idea of the U.S. military is giving the best version of yourself—physically, mentally, and spiritually." Expounding upon the respect that army grunts command, Guilbert says, "These kids are admired. Talk to a famous actor and watch their eyes pop. They'll say, 'Wow, that's badass!'"
After leaving L'Oréal, Guilbert and Bernet became serial entrepreneurs. With another partner, Guilbert established Harmless Harvest in 2010, a coconut-based organic brand that he aimed squarely at Whole Foods in the same way that he would later aim Bravo Sierra at Target because "Target is both cool and accessible." Bernet founded makeup and skincare line DooBop with beauty influencer Jodie Patterson in 2013. Sundial Brands acquired it in 2016. In 2015, Bernet kicked off Say Hello to Sexy Legs!, a line of body makeup that was scooped up by Cosmax.
Guilbert's and Bernet's stacked resumes were invaluable for attracting venture capital. In two rounds of funding, Bravo Sierra has garnered $20 million from investment firms the likes of Global Founders Capital, Mousse Partners, Canaan Partners, Redo Ventures and Grace Beauty Capital. "This was not their first rodeo," says Byron Ling, partner at Canaan. He elaborates he bought into Bravo Sierra because it was "never primarily DTC [and] was always envisioned as a next-generation brand. DTC can be innovative, but it doesn't tend to translate in a breakout brand…DTC is not how the largest brands scale."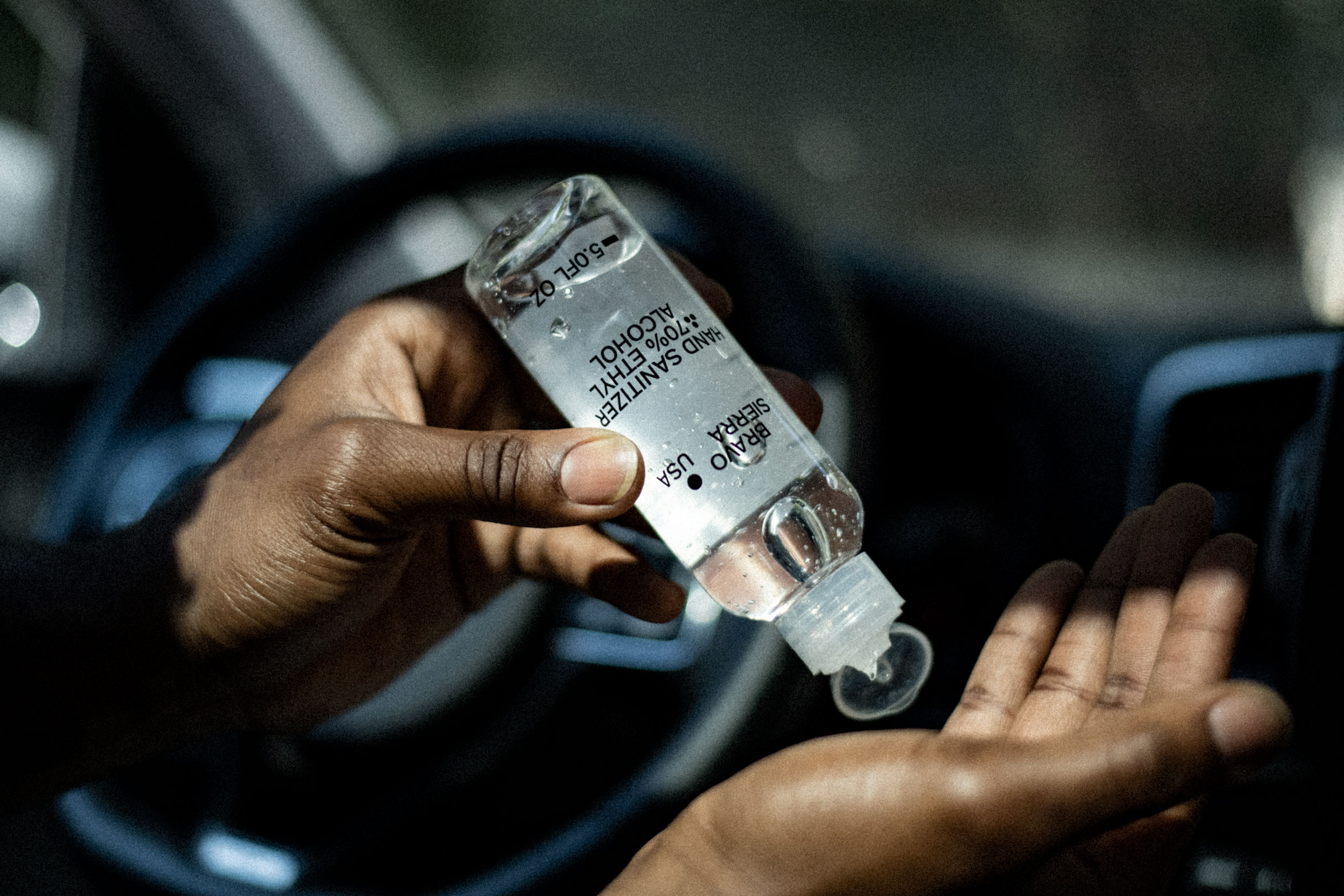 Guilbert and Bernet have formed Rhizome, a holding company for Bravo Sierra and additional ventures SaaS solutions specialist Battalion and nutrition brand Echelon. "A rhizome sends out new shoots. Cut off a piece and it will grow, but all parts retain the same DNA," says Guilbert. "In our case, that's innovation for the sake of performance." He told Forbes he anticipates Rhizome's run rate to reach $50 million this year.
Despite their entrepreneurial success, neither partner glamorizes entrepreneurship. "The odds of succeeding are very low," says Guilbert. "You have to have an underlying idealism to keep you going."