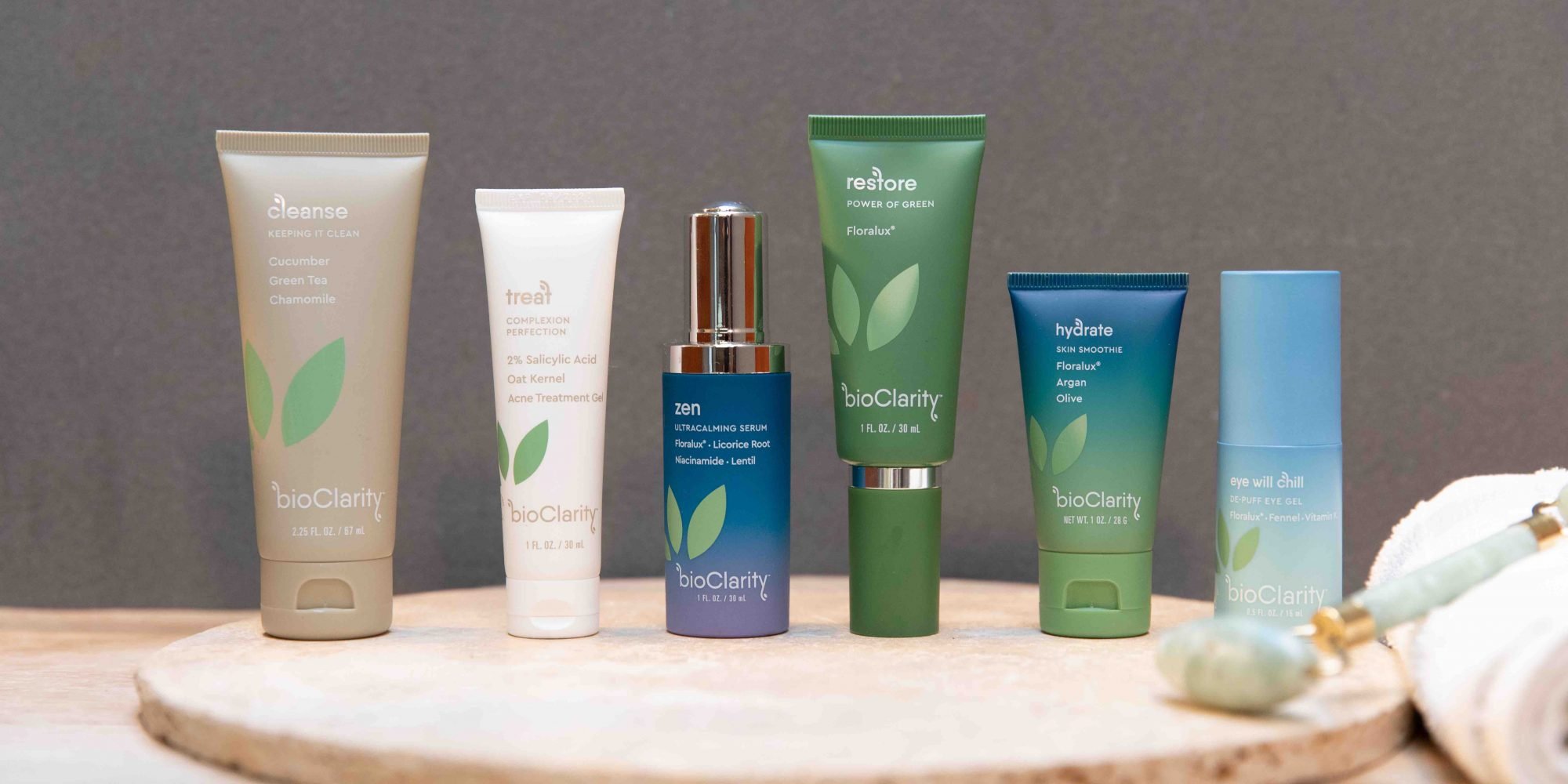 Better-For-You DTC Skincare Brand BioClarity Draws $13M To Fuel Product Development And Marketing
BioClarity, which packs its products with the green chlorophyll ingredient Floralux, has pulled in another kind of green.
The plant-based DTC skincare specialist is $13 million richer with the close of a funding round led by Prolog Ventures, an investment firm concentrating on companies that encourage healthy living such as Zeel, Plum Organics and Revive Kombucha. The money is expected to support marketing and product development.
"We have the opportunity to be at the forefront in green beauty of the convergence between beauty and wellness," says BioClarity CEO Rick Sliter, former chief business officer of Provide Commerce. "We're an up-and-coming brand that really aligns with our target consumers' values in terms of green and better-for-you ingredients instead of dirty or bad ingredients, and innovative products for the face and body. Just as they're thinking carefully about the food they consume, they're thinking carefully about the products they put on their face and body."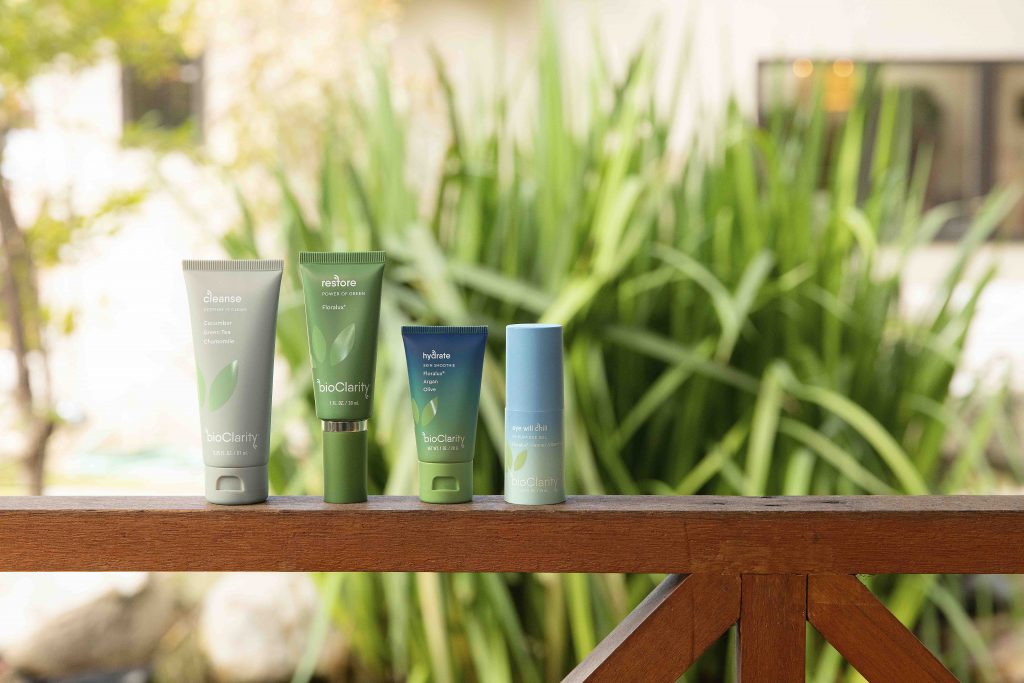 Adigica Health, a San Diego biotech firm established by Sliter and David Hale, previously SkinMedica chairman, introduced BioClarity in August 2016 with acne-fighting products formulated to counter complaints about the side effects, especially itchiness, redness and dryness, of items from the likes of Proactiv. Its hero compound Floralux is encapsulated with a liposomal delivery system and designed to diminish those side effects while balancing the skin. Although BioClarity avoids staple acne product ingredient benzoyl peroxide, it does feature well-known acne combatant salicylic acid.
BioClarity's Clear Skin Routine set consisting of three products—foam cleanser Cleanse, exfoliant Treat and nutrient-rich gel Restore—is at the heart of the brand's business. However, it diversified its selection outside of the acne-oriented trio by building a suite of products currently totaling 10 stocckeeping units. Popular products not in the Clear Skin Routine set include moisturizer Hydrate, under-eye circle de-puffer Eye Will Chill and Clarifying Masque. Individual products are priced from $9.95 for Cleanse to $32.95 for Beauty Boost supplements.
"We have the opportunity to be at the forefront in green beauty of the convergence between beauty and wellness."
By the end of 2020, BioClarity plans to add 10 to 12 products to its assortment. With the expansion of its product range, Sliter says, "We are able to deepen our relationship with the consumer. She purchases more products at different stages depending on her different skincare and wellness needs." He describes BioClarity's core customers as females aged 16 to 29 paying attention to the ethics of the companies they back and their own health. BioClarity's products are vegan and cruelty-free, and free of parabens and sulfates.
In a crowded green beauty field, Sliter emphasizes BioClarity's patented ingredient technology and clinical research separates it from competitors. The brand presents data from a clinical study on its website showing that 90% of 30 study participants noticed a reduction in the number of blemishes on their skin after applying Cleanse, Treat and Restore, and 90% would recommend the products to friends and family members. BioClarity's content expertise also separates it from the beauty brand hoards. It relies heavily on user-generated content and customer testimonials to convey the effectiveness of its products.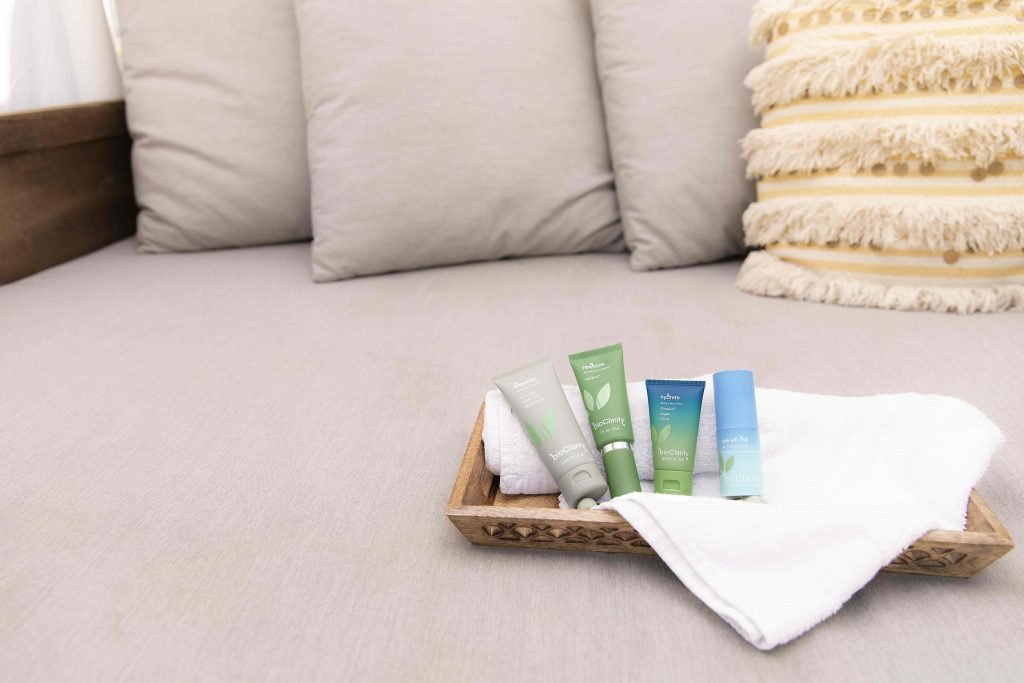 BioClarity's products sell on Amazon and its site. The brand had a brief stint in Urban Outfitters during the holiday season last year, but is no longer available at traditional brick-and-mortar outlets. "What we learned is the importance of a true partnership between retailer and provider," says Sliter, speaking of BioClarity's run with Urban Outfitters. "Retail is going to be an important part of our future, but it's probably not an important part of our 2019 future. We are closely evaluating when is the right time to enter that market and finding the right strategic partners to go into that area."
From 2017 to 2018, BioClarity's topline revenue surged 3.5x, according to Sliter, who anticipates the brand's revenue to more than double this year. "We are excited that our gross profit and our customer lifetime value has seen marked improvement over the last year," he says. "We are not only focused on topline gross, but we are focused on growing in a sustainable way with favorable unit economics."
Ultimately, BioClarity could sit in the portfolio of a bigger company hungry for a clean brand that resonates with millennial and gen Z consumers. "We would entertain the idea of being part of a larger company if we thought that doing so would allow us to expand our story and footprint with capabilities beyond what we have," says Sliter. "Our focus right now is to make sure we can extend the story of BioClarity to as many consumers as possible."