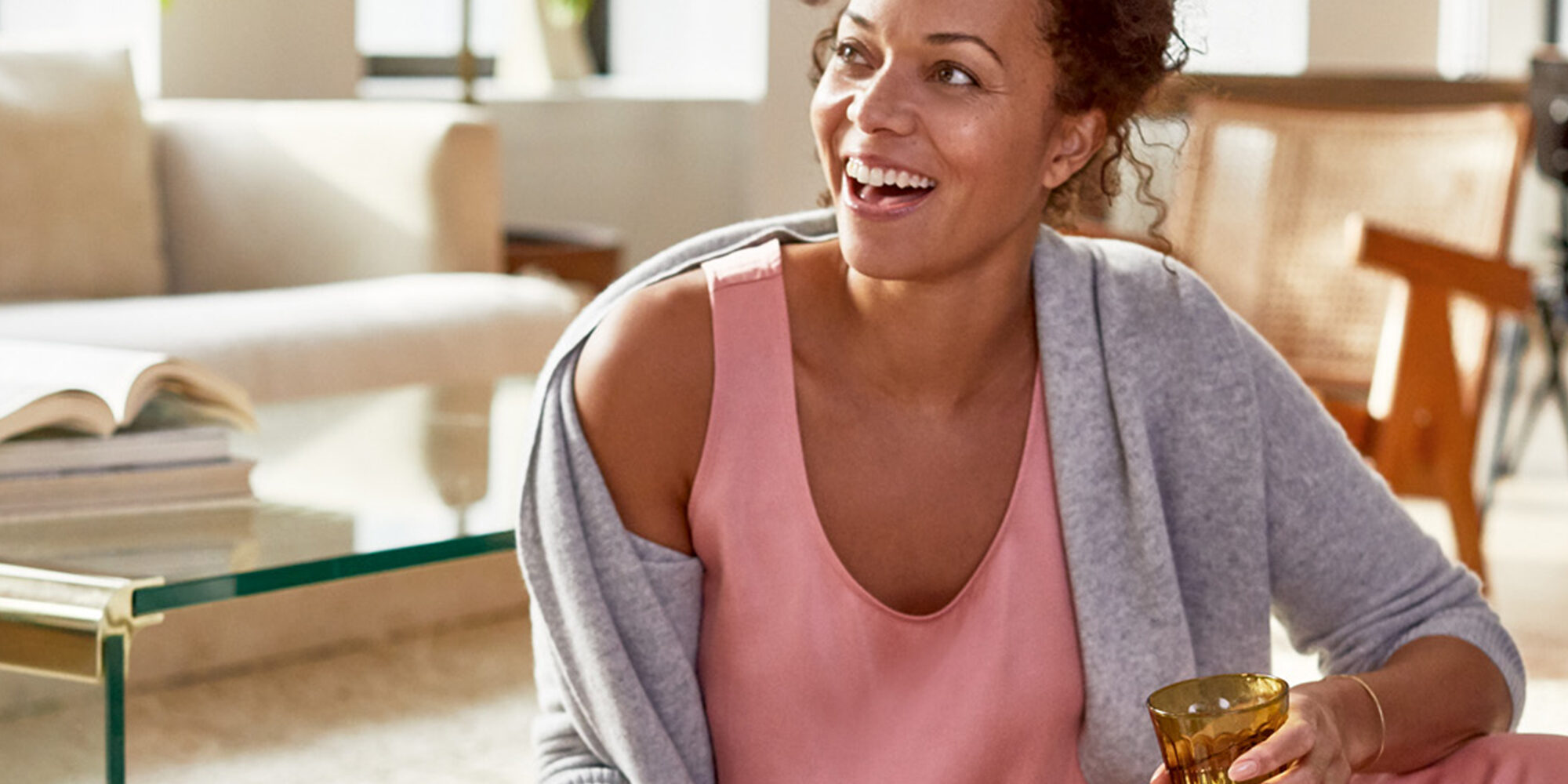 Haven Well Within's Timely Mission To Help Women Turn Their Homes Into Sanctuaries
Before the pandemic, as millennials came of age as powerful consumers, their interest in experiences over things began to shape how companies selling to them oriented their businesses. Sycamore Partners-owned Talbots was one such company. Under the leadership of CEO Lizanne Kindler, it began in 2019 to mold an e-tail concept centered around everyday experiences women have at home. Launched in November, that concept, Haven Well Within, edits merchandise to suit those experiences such as waking up, eating, working out, relaxing and going to bed.
The e-tailer turns to brands, including The Artistry of Essential Oils, RMS Beauty, Palermo Body, Sunday Riley, Marvis, Dr Loretta, Grown Alchemist and Vertly, and experts to animate the experiences, which it calls Awaken, Nourish, Energize, Unwind and Rejuvenate. The goal is to make the home as healthy, cozy and comforting as possible. Speaking to Women's Wear Daily about Haven Well Within last year, Kindler said, "Consumers are meant to embrace their inner homebody, and take moments for themselves as a treat or a spa-like feeling." Beauty Independent chatted with Erin Landon, SVP of merchandising and design for Haven Well Within, about building the assortment to foster that spa-like feeling, establishing fruitful relationships with brands, products customers are scooping up, and how the e-tailer could change if and when the pandemic ends.
What were you doing before Haven Well Within, and how did it come about?
I've had a variety of experiences in the women's specialty market. I started my career at Ann Taylor and worked for White House Black Market for a period of time and, then, moved over to Soma. I've done everything from merchandising to design to sourcing, but, ultimately, I work for the customer.
Haven Well Within was concepted prior to the pandemic. Our CEO worked with her leadership team to ideate it. They thought there was a great opportunity in an underserved portion of the market to create a lifestyle brand with loungewear, sleepwear, intimates, beauty and wellness. Based on how our lives changed in March, it was very prescient.
They had put it on hold for a while until, in May of last year, Lizanne woke up and was like, "Wow, this brand has even more relevancy today than when I first concepted it." She quickly fast-tracked it. So, a very small team of us came together to strategize and bring the brand to life in partnership with an agency [Graj + Gustavsen]. We launched in November and are digital first.
When did you start looking for product?
We started looking for product in June. It's really, really important for us to find brands that we love and believe have a similar philosophy to us—that focus on overall well-being. A really good example is Valencia McClure's brand The Artistry of Essential Oils. We love her and her message of clean, nontoxic, all-natural skincare and body care products. We have over 40 brands at Haven Well Within, including skincare, oral care, makeup, supplements, haircare and tools. We have a wide variety.
Our team is obsessed with product. That's what makes it fun for all of us. When we are looking for brands that we love, it's often based on a personal testimonial, but, the first thing we do is research the brand, the founder and the message. It's not just about the love of the product, we look at the sweet spot of that combination.
What's the process of hunting brands like for you?
Brand discovery comes from a variety of sources. It's everything from looking at brands we personally love to social, articles and competitive marketplace analyses. We have brainstorming meetings every week where we talk about brands. Just to go into more about the way we work in terms of brands, we lay out a path for over the next four to six months of what we want to develop for the customer. We think about the categories of we want to carry, and we think about products we need to bring to life experiences that could open up new worlds of business for us.
There are different ways you can shop at Haven Well Within. There's the traditional shopping by category—lounge, sleep, beauty and wellness, and more—and, underneath the categories, we have subcategories, and you can shop by brand. Then, we have this unique element that creates experiences for customers. We carefully curate products around experiences, and we add community insider inspiration and guidance from experts. Think about your daily routines from the way you wake up to how you go to sleep. For example, we think about how she [the customer] is going to sleep, and we curate products, and tips and tricks around that. We try to lead her through experiences with products that are curated to help her create a routine for them.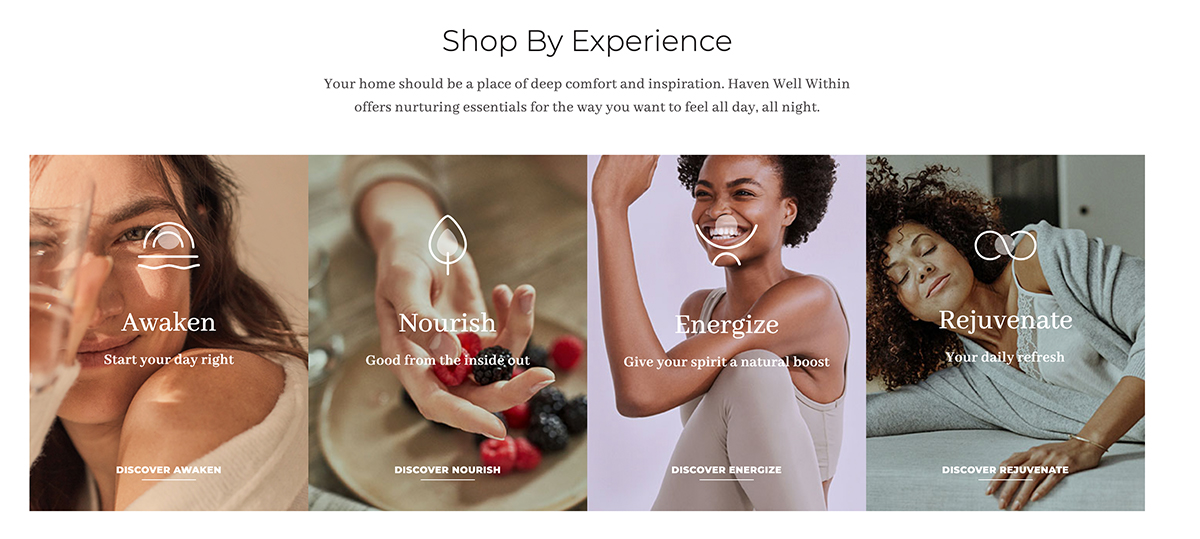 What relationships are you trying to create with brands?
We carry inventory and haven't moved into a consignment. With brands, we think about it like a partnership. We think about how we want to make them successful. With Valencia, for example, we talked to her about how we could bring her brand to life and feature her on our platforms. Could she be an expert for us in the category of aromatherapy? It's not just about the brand, it's about her. Yes, we want to sell a brand's products, but we really think about having the brands be partners with us on content as well as products. In my past life, it was, "Oh, we love your brand, and we want to carry you on our site," but this is about us supporting each other. Also, we approach merchandising in a different way. We are able to talk about the features and benefits of a serum, for example, versus this is just a serum.
Does a brand have to meet certain criteria to be carried by Haven Well Within?
We don't have it in a formal way, but we look at the purpose of a product, and we look for it to be clean. Not every single one of our brands is perfectly clean, but we look at the story of the brand and where the brand originates from. Why are they who they are? We might not carry every product that a brand has. Because of the categories we are in and the experiences, we might just be looking for one small element of a brand as a try to curate a bigger story. We have The Good Patch's CBD oils, but we don't have their patches, for example.
To have effective partnerships with Haven Well Within, what do brands need to do?
It's important that we establish upfront what we are both hoping to get out of the relationship. That can look different for different brands. Some of our brands love the opportunity of being leveraged as an expert or want to be part of creating content, and other brands are interested in other aspects. It's not one size fits all. We work differently based on the objectives. Some of our larger brands want to have biweekly sales touch-bases to see how they are performing and, for some of our smaller brands, it's more about how we can help them be a part of our community. I think it's great to think of untraditional ways for creating partnerships. Some brands have come up with ideas that we hadn't thought of developing with our experiences, and that opens up a whole new level of how we can operate.
Who is the Haven Well Within shopper?
She is a 40-plus-year-old woman living a full life, and that obviously means something a little bit different to every woman, but she has the resources to invest in herself and her well-being. She has discretionary income. She wants brands that speak to her, understand her and guide her. She's looking for a curated experience and an expert point of view. I think that's often because she's stretched for time, and she wants to spend the time she has on herself, so she likes the fact that we take friction out of that. If you want a great morning routine, it might take a long time to figure that out, so we are like, "Let us help you."
What is the customer buying so far?
Sleepwear and loungewear have been fantastic, and we knew that was going to be a slam dunk. She loves cashmere and isn't afraid of higher price points. We are delighted by her love of beauty, wellness and home. In skincare, items for your daily routine, from serums to oils, are doing very well. We have been surprised by oral care. We sell toothpaste—and sell it well. We have seen a huge response from CBD as well as books. We sell a lot of books, anything from meditation journals to wellness books to cookbooks to coffee table books. I think we are a great destination for gifts. We try to make gifting easier for people. We curate gifts for people to pick up under themes like Night Owl and Bathing Beauty.
Are there gaps in the beauty and wellness selection?
We will be exploring haircare more soon. We are going to be going deeper into our Unwind experience, and thinking about meditation and all she would need for that. We are introducing new CBD products. You will see new candles both branded and not. We are going into new bath vendors with soaps, washes, and bath scrubs and salts. We just started. So, all of the categories we are in today, we will continue to introduce more products into. For example, we don't have a lot of tools, and that's a category in beauty and wellness we are looking to expand.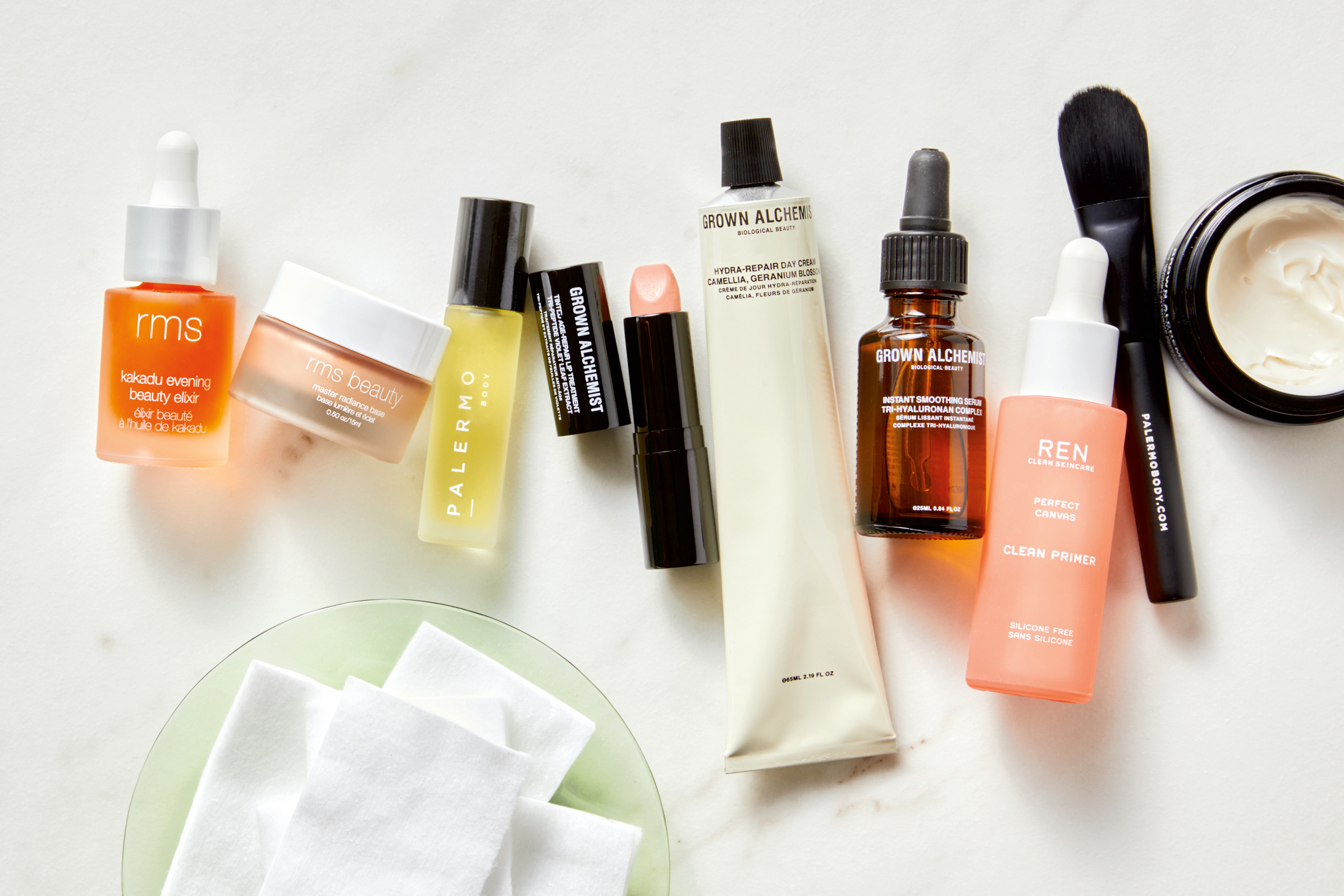 How do you use experts?
How we are using them today and how we will use them in the future might shift slightly. The experts are credible sources that can help our customers, and we use their expertise with our experiences and on social, and in email and direct-mail pieces. When we are trying to tell a story let's say about your AM skincare routine, we pull in our Awaken expert to say, "Here are three suggestions for using sunscreen." We like to pull in Dr. Nerina Ramlakhan when it comes to sleep, and we might have three or four things she recommends you do to prepare for quality sleep. The experts are a really important part of the brand. I think it's going to be a great resource for us, but we are just starting to get an understanding of how and where we can use them.
Haven Well Within has been highly relevant for people's quarantined existence. Have you thought about what could happen after the pandemic?
I'm not going not pretend I can project, but, because we are small we are scrappy and can adjust, the way we merchandise and bring stories together will change to be relevant to our customer. It's on us to make sure the brands stay relevant. Maybe some categories will become less relevant and other categories will be more relevant. We have to curate what makes sense for her. At the end of the day, she still has her haven of home. Maybe she will be spending less time in it, but she'll still have a need for beauty, wellness, intimates, sleepwear and loungewear. We are agile and can bring in brands to tell different stories. I love the fact that there isn't necessarily a playbook that is created that we have to follow.
You've worked for both online and physical stores. How different is it?
There's an impulse element of physical stores versus the ease of digital shopping. Understanding your user experience is really, really important online, whereas, in stores, you can pull her along the footprint by merchandising differently. The importance of filters and product education is so much greater online because she can't touch, feel and smell it, and that creates a friction point that's not super easy to overcome. At the same time, we want to create a serene environment, so we are not pummeling her with information.
Candidly, although for a long time I did stores and digital, it wasn't until the last several years of my career that I understood how different they are and how you have to think through a different lens. It's important to have experts in the digital field to maximize the business. It's fun because you can change it so quickly. So, you don't have to live with mistakes forever. In stores, you have to live with them for so long. The agility of it is remarkable, but it can be a lot.
Are there impactful tweaks Haven Well Within has made so far?
We are testing the order in which we show things to the customer, and we are learning. Our first couple rounds of doing the experiences, we were like, "This isn't working as we expected," and we are in the mix of working through it now. Our templates and galleries weren't really intuitive for content. You couldn't get to the product copy, and it wasn't as clear as it could be. We make a list of enhancements every week that will improve what we do. That work takes a while, but I'm excited to see the results. We are still in launch phase, and we still have a lot to do with our site, including with ratings and reviews, and how we pull experts through. We are really working on building out that functionality. There's so many things yet to come.