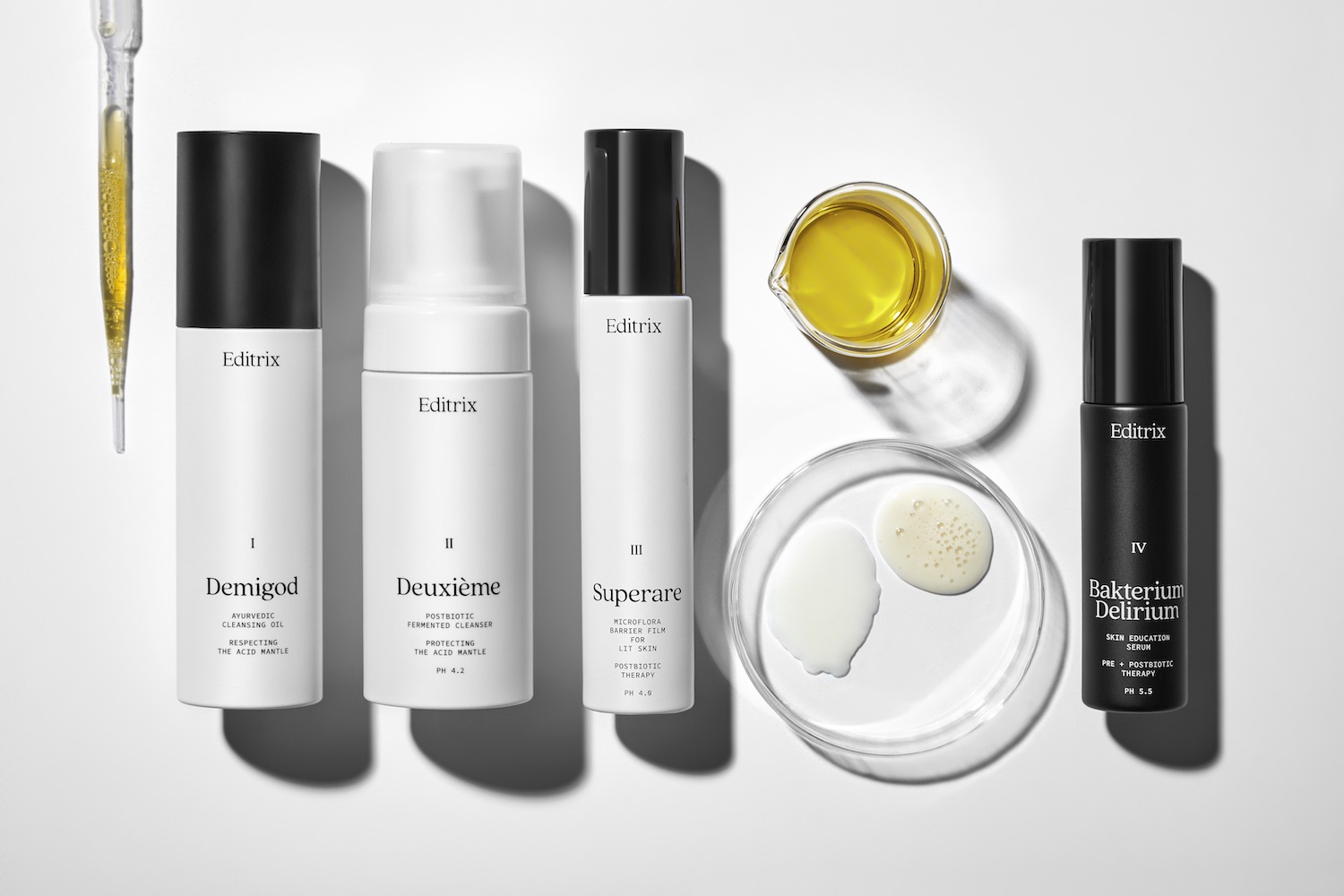 From An Ex-Beauty Editor, New Microbiome Skincare Brand Editrix Skips Probiotics In Favor Of Prebiotics And Postbiotics
It's a good thing Editrix has a writer and editor as its founder and CEO—Dahlia Devkota was formerly beauty editor at the magazines Allure and W—because its products take some explaining.
Launching today, the brand is the latest to delve into skin microbiome protection with its formulas, two of which—those for facial spray Superare and serum Bakterium Delirium—contain a postbiotic filtrate Editrix calls biodiversity broth (postbiotics are non-living microorganisms generated during fermentation) yielded from a patent-pending process. The brimming broth is combined with a proprietary mix of yeast and Ayurvedic plant ingredients the brand has another name for: the liberated botanicals blend.
Devkota created the formulas over two years with her sister Suzanne Devkota, a microbiologist studying the gut microbiome. "I was really watching her research on how the gut determines so much of our health through the pathway of the microbiome," she says. "I started thinking about, 'Well, what does that mean for the skin?'"
Meaning female editor, Editrix is kicking off with a total of four products. Along with Superare and Bakterium Delirium, there are Ayurvedic cleansing oil Demigod and postbiotic fermented cleanser Deuxième. The cleansers are designed to help keep the acid mantle, also known as the skin microbiome, intact. Editrix describes Superare as a "microflora barrier film" intended to repopulate the skin with postbiotics—they constitute a healthy skin microbiome—while the serum includes postbiotics and prebiotics complemented by stalwart skincare ingredients like bakuchiol, and vitamins C and F.
"The focus is on prebiotics feeding what you already have and postbiotics taking all of the byproducts of bacteria and putting it back into the skin," says Devkota, who joins Testament Beauty's Sophia Chabbott, Rile's Kelly Atterton, Ellis Brooklyn's Bee Shapiro, Vertly's Claudia Mata and Starface's Julie Schott among the ranks of editors turned beauty entrepreneurs. She notes her sister equates probiotics in skincare to placing a drop of water in the ocean. Devkota says, "It doesn't affect the ecosystem of the skin whatsoever."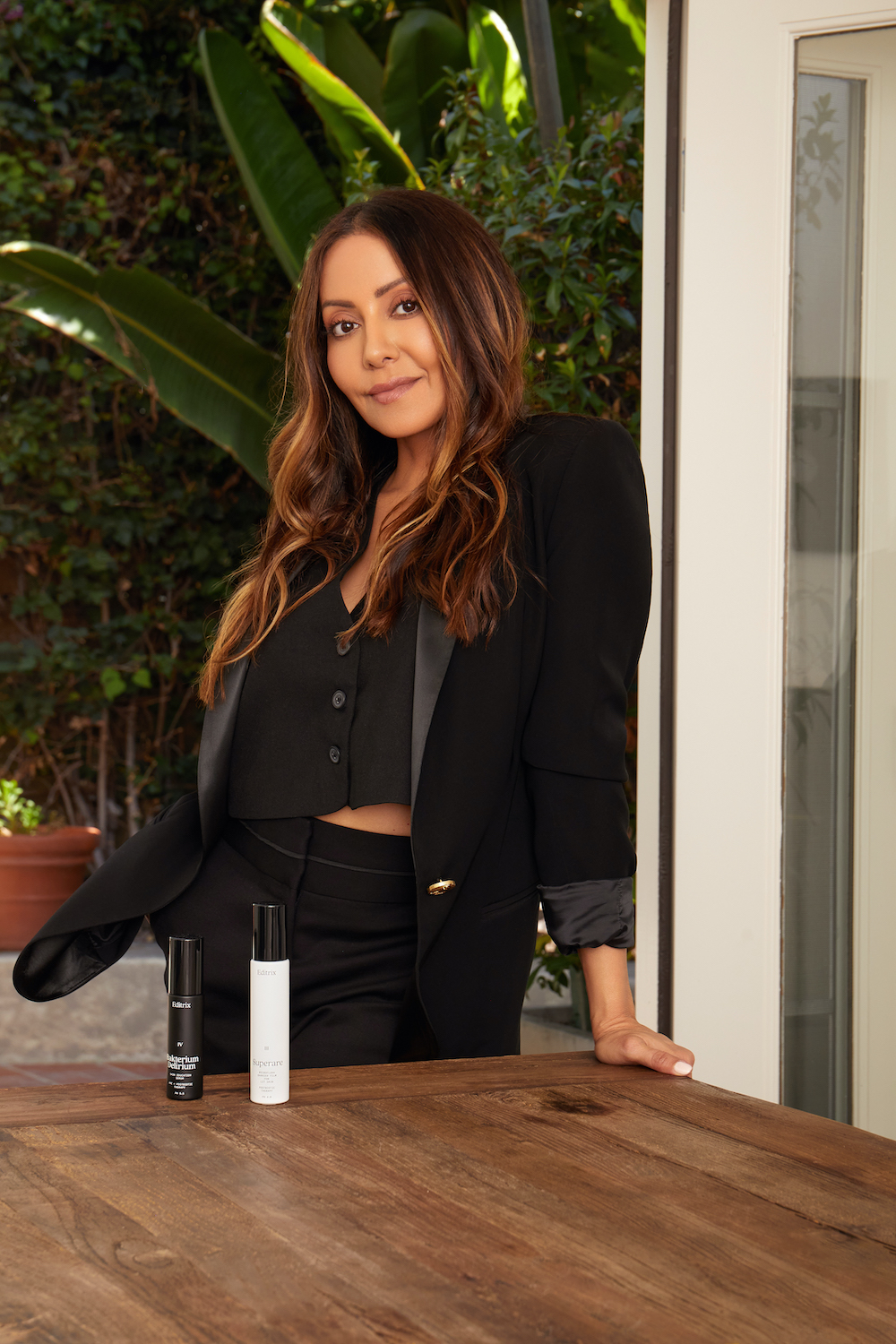 Editrix takes a less-is-more approach to its assortment. "I don't believe in a ton of SKUs because that's harmful to the microbiome," says Devkota. "Your skin doesn't need a lot of interference, so I've taken what it actually needs and whittled it down to the essentials."
The lineup is expected to expand to body and children's products in the coming years. An ingestible product is in the works, too. It's tentatively scheduled for a mid-2022 release. Devkota is a big proponent of ingestibles for skin health. "The gut microbiome and the skin microbiome communicate through microbial language and, if the gut is happy, the skin is," she says. "That's why, when most people have gut issues, they tend to have acne or some sort of disruption of the skin."
Editrix's minimalist black and white packaging reflects its pared-down approach. Each product is housed in secondary packaging that doubles as a booklet featuring a glossary deciphering microbiome terminology. Editrix's website furthers the educational component with "The Edit" blog. The brand is beginning in direct-to-consumer distribution to connect with its customers. Devkota reasons, "There is a lot of education that needs to be had, and I don't want to just plaster my products in the Sephoras of the world, and people won't understand why it's different and what the science is behind it."
Once DTC gets off the ground, Devkota hopes to sell Editrix in luxury retailers. Her husband Shoib Myint is a facial plastic surgeon and owner of an anti-aging center in Spain. Medical offices, particularly in Europe, are a distribution channel Devkota is considering. It cost $350,000 to bring Editrix to market. Previously involved in the brand Saint Skin, Devkota says the brand would have been costlier to build if she didn't have industry connections, from her sister's lab to graphic designers.
Editrix's products are priced at the upper end of the skincare segment. They range from $78 for the cleanser Deuxième Postbiotic to $290 for the serum Bakterium Delirium. Devkota points to patents, custom ferments, local manufacturing in Los Angeles and expensive active ingredients as factors in elevating the brand's prices up. Rob Calcraft, co-founder of Ren and new microbiome-oriented brand Cultured, told Vogue Business that biome technology increases skincare formula expenses by 20% to 30%.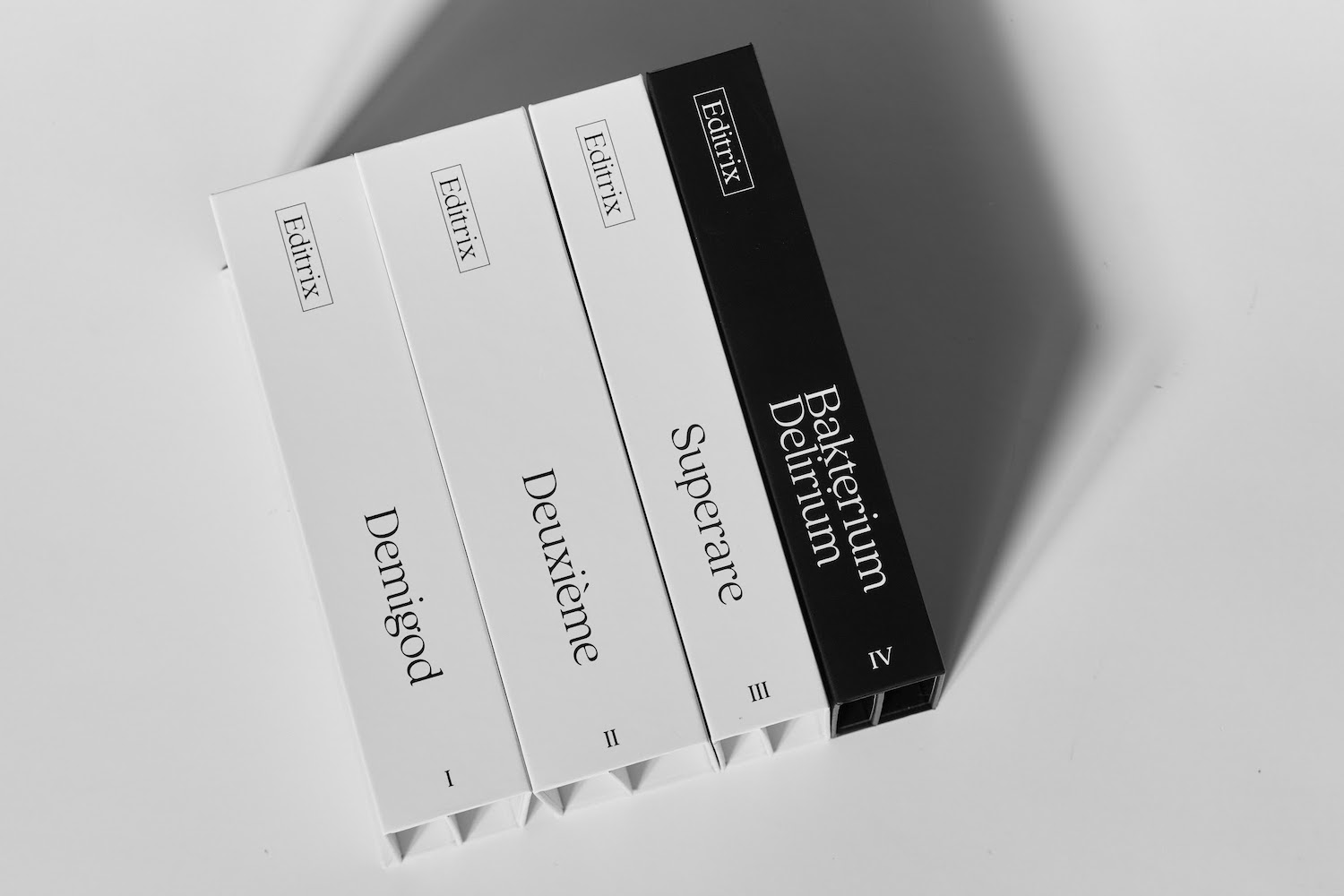 "While our prices sit squarely in the luxury market, our price points don't give us the margins that most skincare makes because so much science and labor-intensive work goes into our custom ingredients," says Devkota, emphasizing the brand opted for local manufacturing to oversee quality control. She adds, "I like to call Editrix couture skincare because, from start to finish, the procedures to make our products are so customized, made by scientific artisans and quite rare in the industry."
Devkota's close attention to procedures is evident in the care she took transporting Editrix's ingredients from an East Coast to West Coast lab. Rather than sticking them on a FedEx truck where the temperature could possibly degrade them, she tapped art industry friends to connect her to Codogen Tate, a fine arts logistics company that handles Damien Hirst paintings and was in charge of moving the Obama family out of the White House, to transport them in climate-controlled environs. "I spent multiple thousands of dollars to get [the ingredients] here versus a few hundred dollars," says Devkota. "From A to Z, those are the steps I take to make sure that the quality is always as high as it can be."