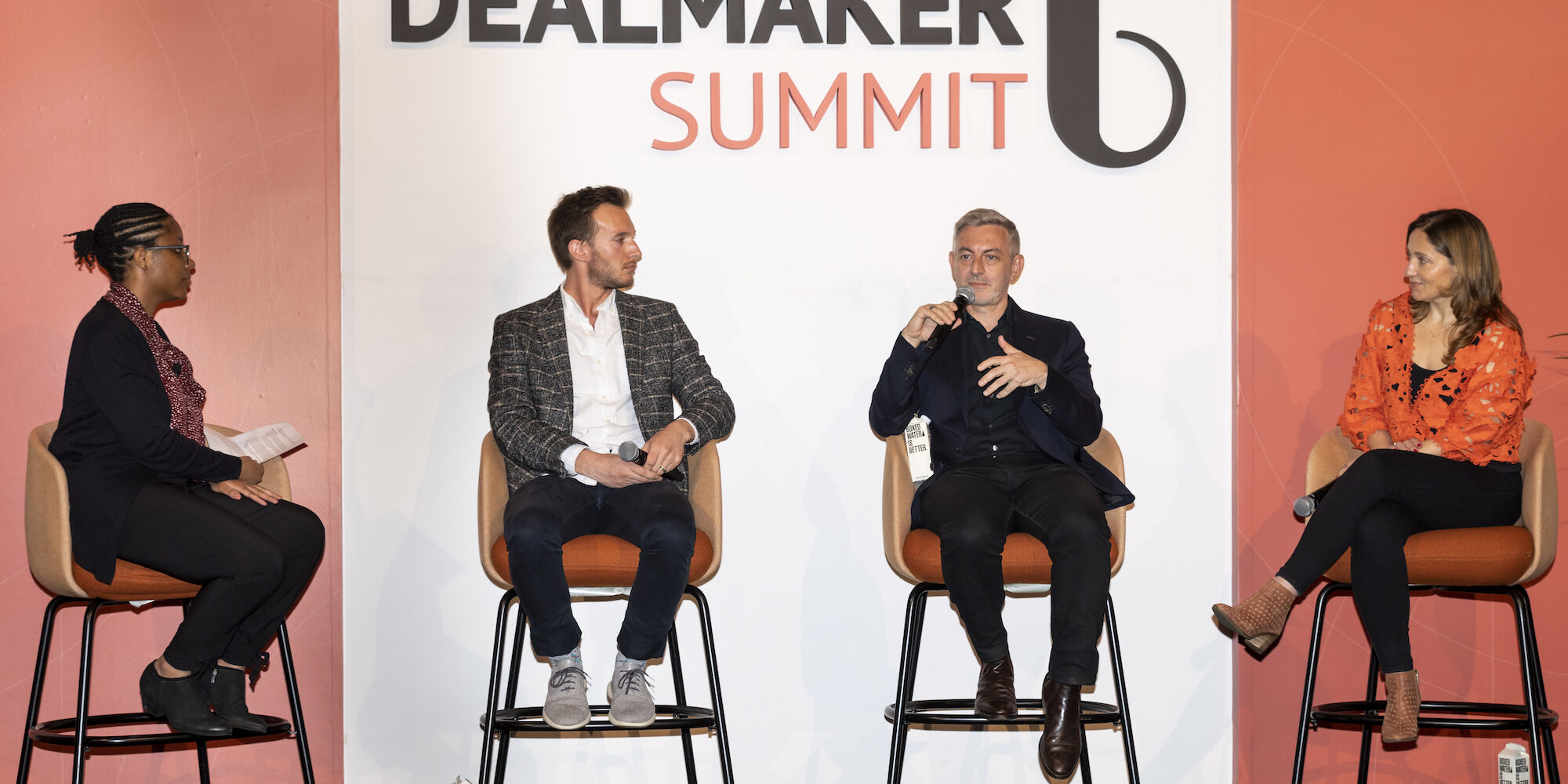 Experts Believe AI Will Fundamentally Change The Beauty Industry In A Few Years
Despite warnings from artificial intelligence leaders at OpenAI, Google DeepMind, Anthropic and other emerging platforms about the threats of AI wresting control of the world from humans, not to mention annihilating jobs, the technology doesn't appear to be going away anytime soon.
LJ LuBow, co-founder and CEO at Thrivo Technologies, a provider of AI solutions for salon operations, points out that OpenAI's chatbot ChatGPT is the fastest growing app of all time, reaching an estimated 123 million monthly active users less than three months after its launch in November. Still, there are a lot of questions around if and how founders can or should utilize AI to improve efficiency at their brands.
LuBow was joined by Jason Schultz, director of New York University's Technology Law & Policy Clinic, and Iva Teixeira, co-founder and CEO at The Good Face Project, a formulation, transparency and regulatory guidance platform, for a panel discussion on AI at Beauty Independent's Dealmaker Summit in New York City venue Convene on May 23. During the discussion, they explored the powers of AI that beauty brands should know about, possible business applications and legal implications.
AI's countless capabilities for beauty brands span ingredient trend analysis, supply chain optimization, imagery production and media outreach streamlining. In the past, technological advancement undercut blue-collar jobs, but LuBow specifies that AI's capabilities put white-collar jobs at risk. For now, though, he caveats that people are integral in directing AI. "The best way to deploy AI today is in a really assistive role with humans," he says. "And these models are getting better because humans are giving feedback to the model."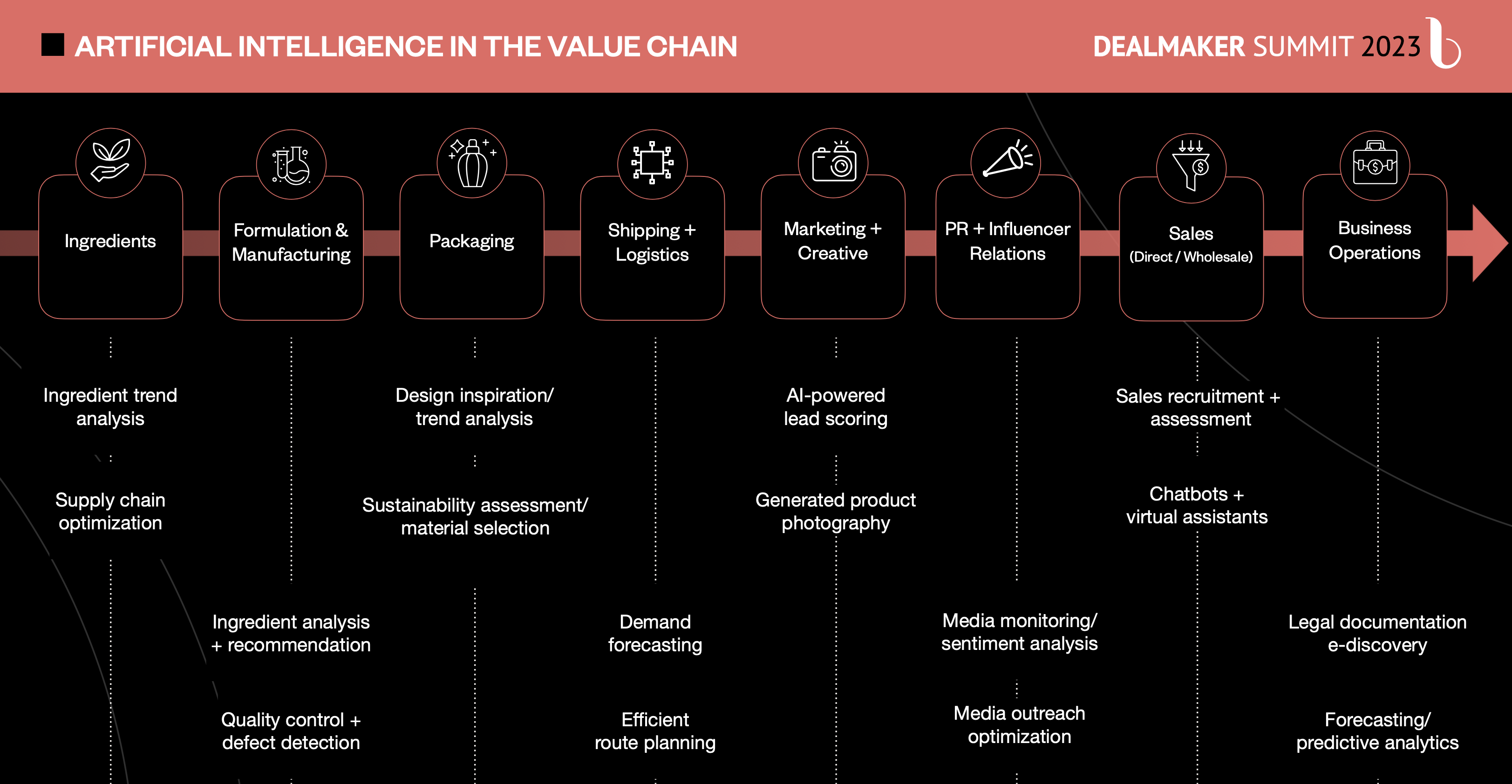 Teixeira agrees that a human component is still needed for AI to perform. The Good Face Project turns to an AI platform it calls Cara to formulate products and predict consumer sentiment. Teixeira explains, "[Cara] can tell you how many stars this formula will garner on Sephora, she actually can even tell you whether the people who will love the formula will have more of normal skin or oily or combination skin."
Where Cara falls short is the important stability testing step. "Stability testing is very, very driven off of molecule structure, polarity and exactly what concentrations there will be of the ingredients, and that big data set in on stability actually doesn't exist in any particular place today," says Teixeira. "So, all of you who are formulating, your jobs are secure."
At least those jobs are secure for the moment. Over time, Teixeira believes AI will crack the stability testing piece and be able to create products along with compelling stories, but AI won't grasp the human element of connecting with consumers. Talking about AI generally, Teixeira says, "It's extremely nuanced, and it's very fun to think about, and I don't believe that we should be viewing it with fear."
Maybe not with fear, but brand founders should be viewing AI-related copyright issues with caution. Schultz highlights a court case involving Chris Cassanova who wrote a graphic novel with AI-produced graphics. She submitted it to the United States Copyright Office, which rejected a copyright for it and reasoned that only the human-produced parts of the book could be copyrighted. The decision poses challenges for creative industries such as beauty.
If a brand is tapping AI, Schultz suggests dutifully recording the AI-produced parts along with the human-produced parts to determine what can be protected as intellectual property. "This applies to collateral like ad content, logos, brands, packaging, anything," he says.
"I truly believe that the beauty industry is going to be fundamentally different in the next five to 10 years."
The careful tracking is especially critical for brands particularly concerned about fending off imitators. "Anyone out there can probably copy what you make and then reuse it or just modify it slightly in a minute. If you're OK with that, I think that's fine," says Schultz. "So, if you're in an industry that's fast moving enough and you're creating enough stuff that you don't care who copies your style, your look, your logo, anything else, that's great. If you need to protect things, though or have the ability to tell a competitor, you can't use that, that's mine, you really need to take a hard look at what you create with these tools."
Currently, LuBow argues that the beauty industry is lagging behind other industries in AI integration. He encourages founders to carefully examine existing AI capacities to incorporate into their businesses and consider what's next for AI. Detailing what's available already, he outlines virtual hairstylists aiding human hairstylists and influencers developing AI personas of themselves to charge people for interacting with the AI personas. (One of which went awry.) LuBow notes there are beauty companies replacing natural fragrance ingredients with AI-crafted fragrance ingredients, and he anticipates AI will soon be able to recreate any scent on the market.
"What does the customer want, and how can we get there before they are even asking for it?" he says. "Culture shapes technology, and technology shapes culture, and I truly believe that the beauty industry is going to be fundamentally different in the next five to 10 years."