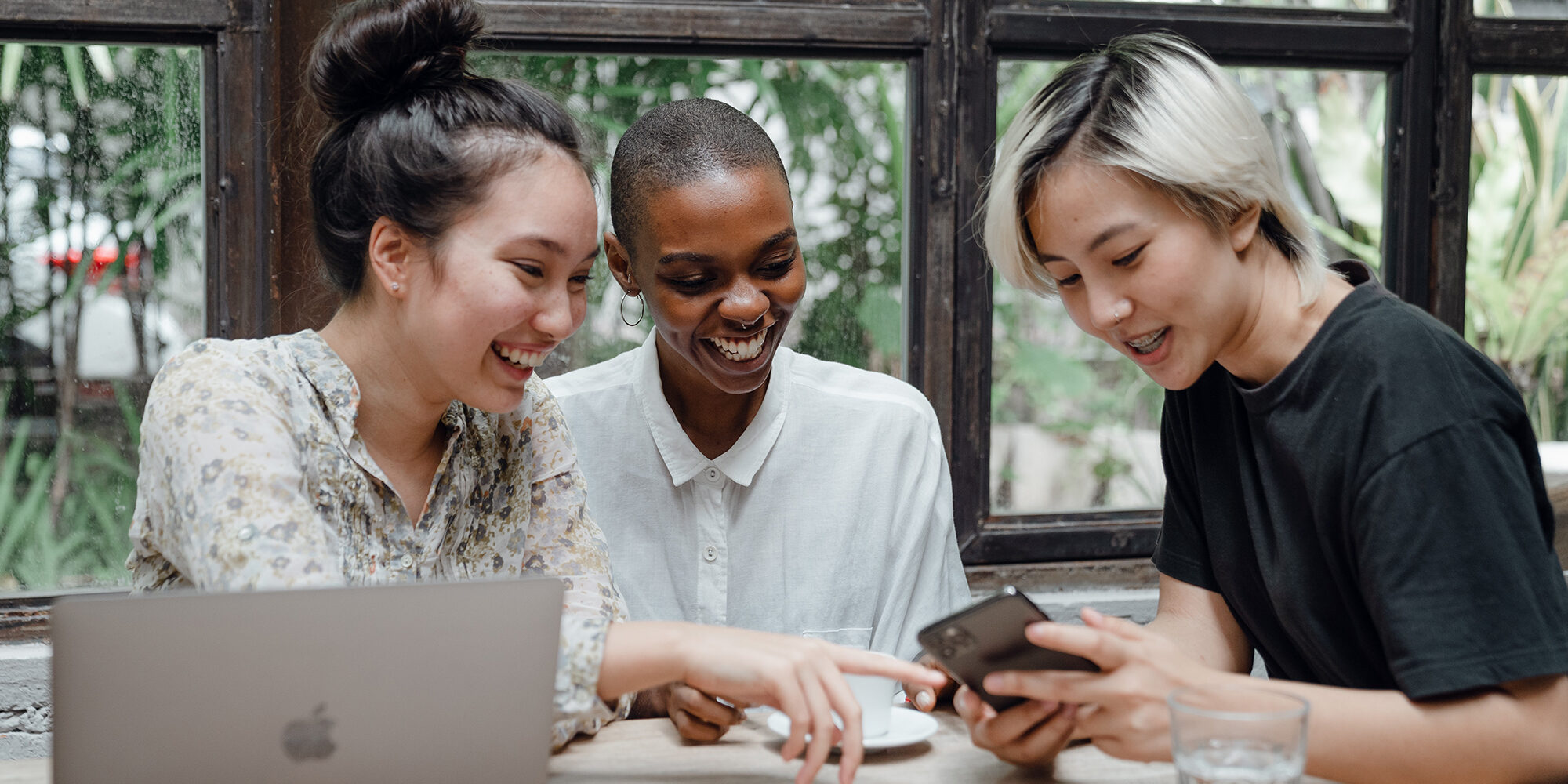 As Facebook Tries To Rein In Misinformation, A Congressional Report Slams It And Other Big Tech Giants As Monopolies
The United States vice presidential debate Wednesday created a buzz on social media after a fly stole the spotlight by resting atop Vice President Mike Pence's head for more than two minutes. The memes inspired by the insect incident quickly went viral, including Democratic presidential candidate Joe Biden's fly swatter Twitter post. It wasn't the only buzzworthy development this week, though. Here are six other flaps and feats that made social media news this week.
1. WILL BIG TECH BE Broken UP? 
On Tuesday, the House Judiciary antitrust subcommittee issued a nearly 450-page report slamming Amazon, Apple, Facebook and Google for monopolistic practices undermining smaller companies. Rep. Val Demings, a Democratic member of the subcommittee, said the practices "degrade competition and stifle innovation. Competition must reward the best idea, not the biggest corporate account. We will take steps necessary to hold rulebreakers accountable." Comparing the massive tech companies to oil barons, the report lays out a number of policy recommendations, including prohibiting the companies from entering adjacent businesses and having preferences for their own services. CNBC has a rundown of the report and its conclusions that can be read here.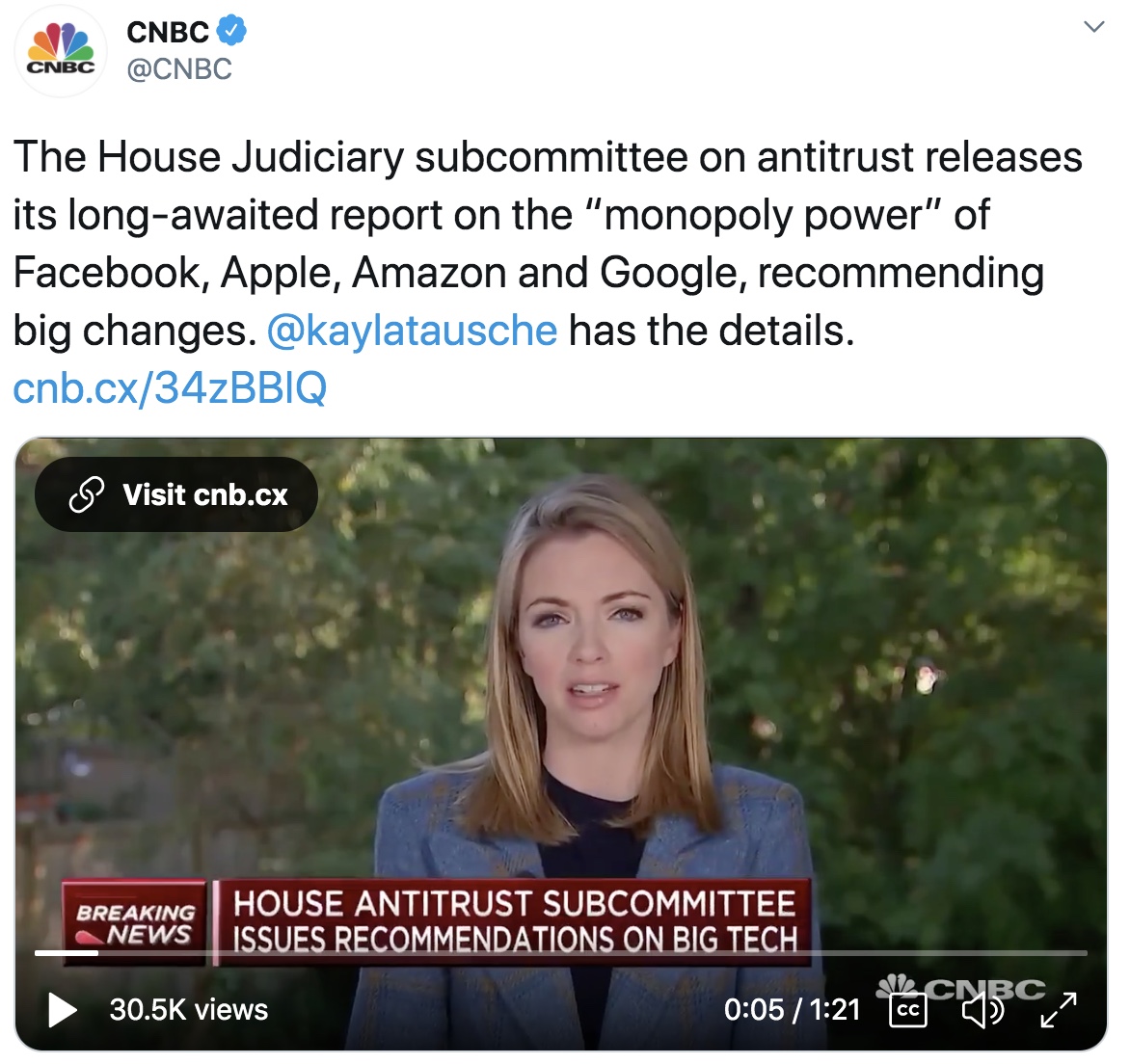 2. Facebook GOES AFTER MISINFORMATION SPREADERS 
Facebook is running campaign misinformation interference. This week, the social media company revealed it removed 200 Facebook accounts, 55 pages and 76 Instagram accounts tied to Rally Forge, an American marketing firm that employed people to run a deceptive political campaign using fake names and profile pictures. Facebook extended its crackdown on misinformation by banning Pages, Groups and Instagram accounts representing the conspiracy group QAnon. Political advertisements also took a hit as Facebook revealed it will be implementing an indefinite ban on political advertising after Election Day.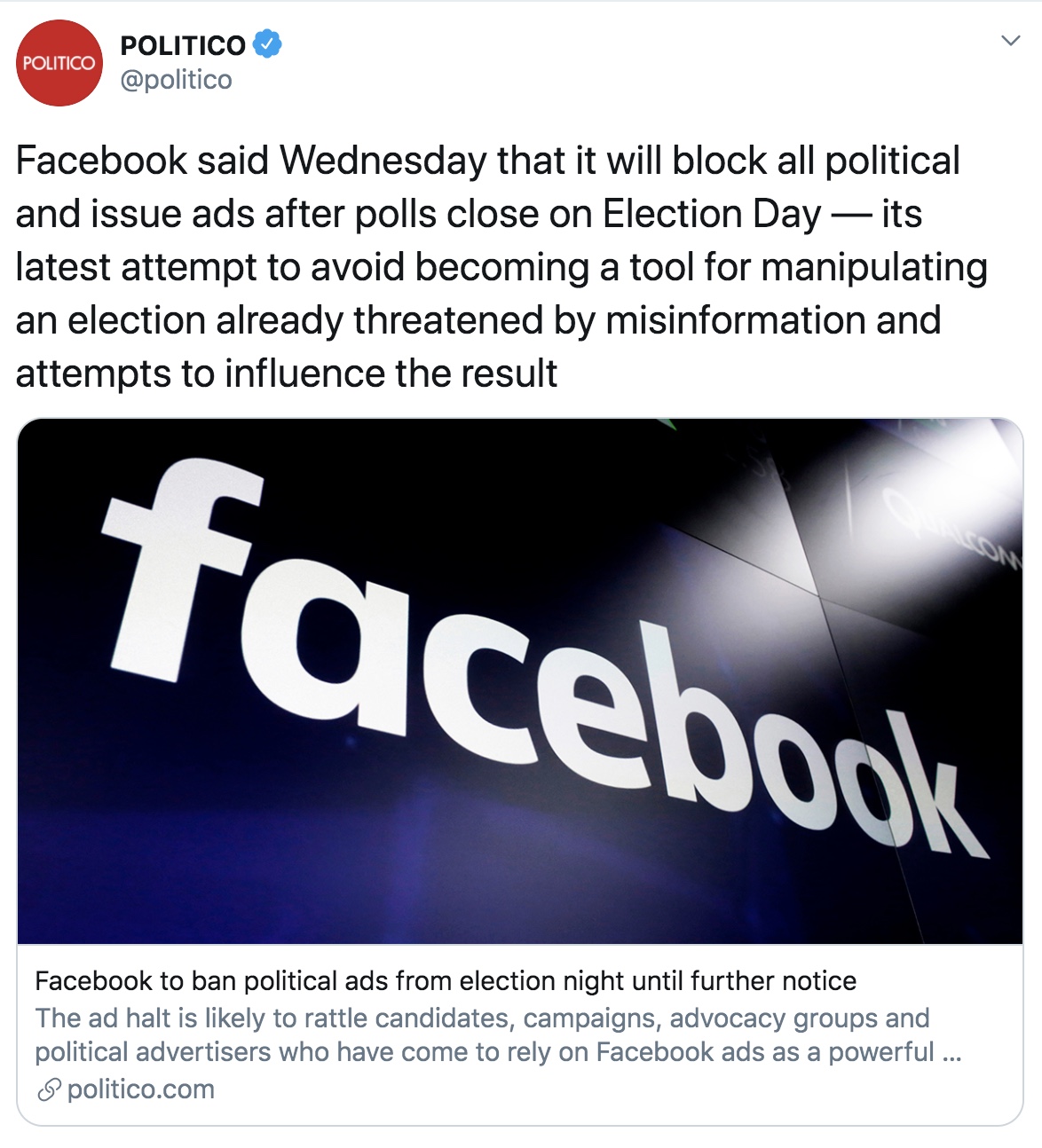 3. Instagram Takes Action As It Turns 10 Years Old
Instagram celebrated its 10th birthday this week by kicking off National Bully Prevention Month with new anti-bullying features. At The Verge, writer Jon Porter explains the features "automatically hide potentially abusive comments while discouraging users from posting them in the first place." More specifically, they hide inappropriate comments by placing them behind a View Hidden Comments label. Instagram also expanded nudge warnings to ramp up the warnings when users repeatedly try to post offensive remarks. Additionally, the busy platform introduced a private Stories Map feature allowing people to provide retrospectives of Stories posts, a limited-time option to customize app icons and in-streaming shopping for IGTV. Watch out for shopping coming to Reels. Learn more here.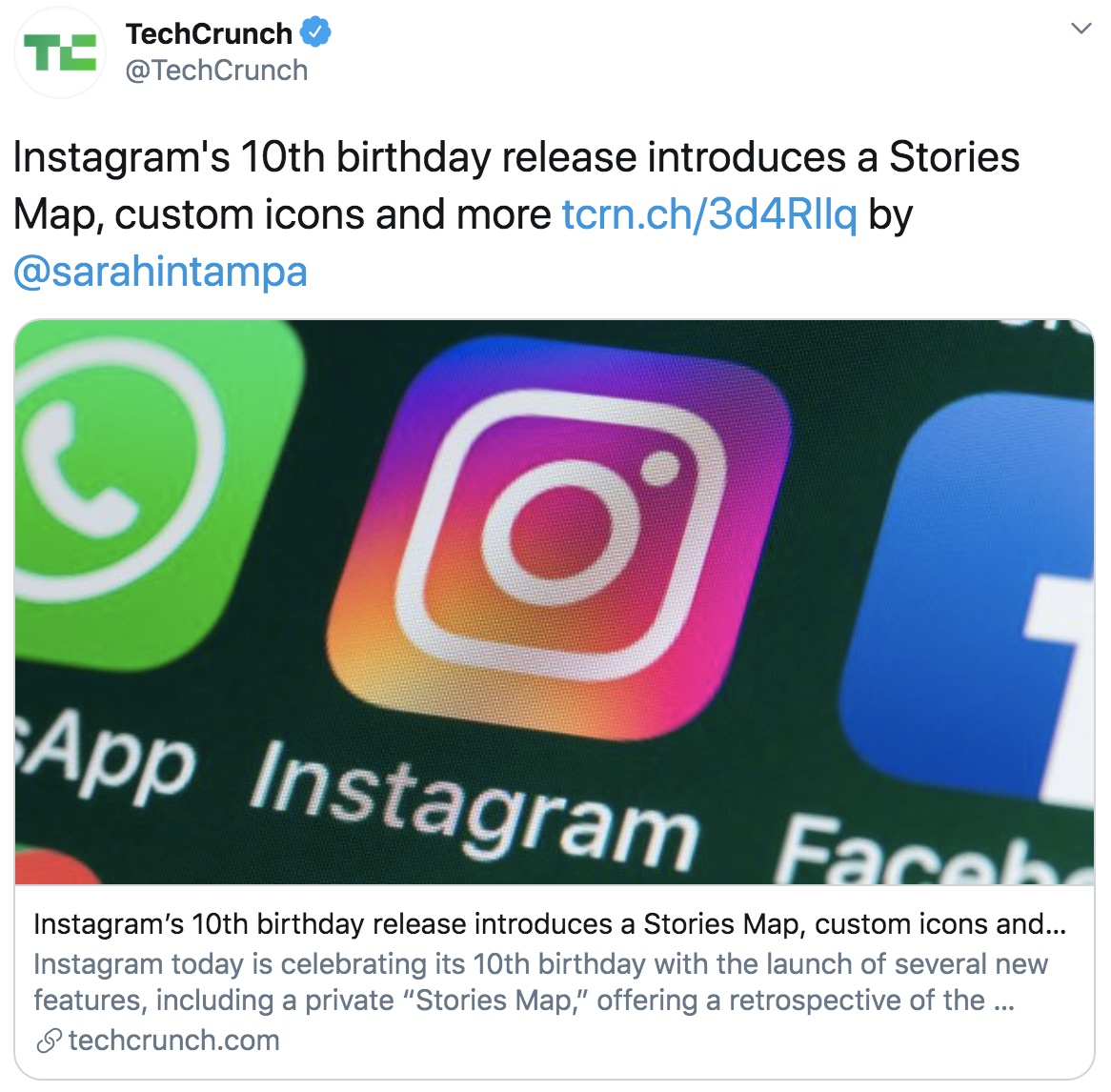 After positive results from an initial test, Snap is making video takeover offering First Commercial available widely to advertisers in the U.S. and United Kingdom. In SocialMediaDaily, writer Andrew Hutchinson says the offering "would enable advertisers to ensure that their ad is the first shown when each user tunes into any of Snap's original Discover shows on any given day." Snap asserts that "as the average number of Snapchatters watching Shows in Discover every day has increased 45% year over year, the opportunity to reach this expanding audience is all the more critical for brand building." The company also announced new editions of its docuseries Snap Originals will premiere later this year and in 2021. Learn more about Snap's updates here.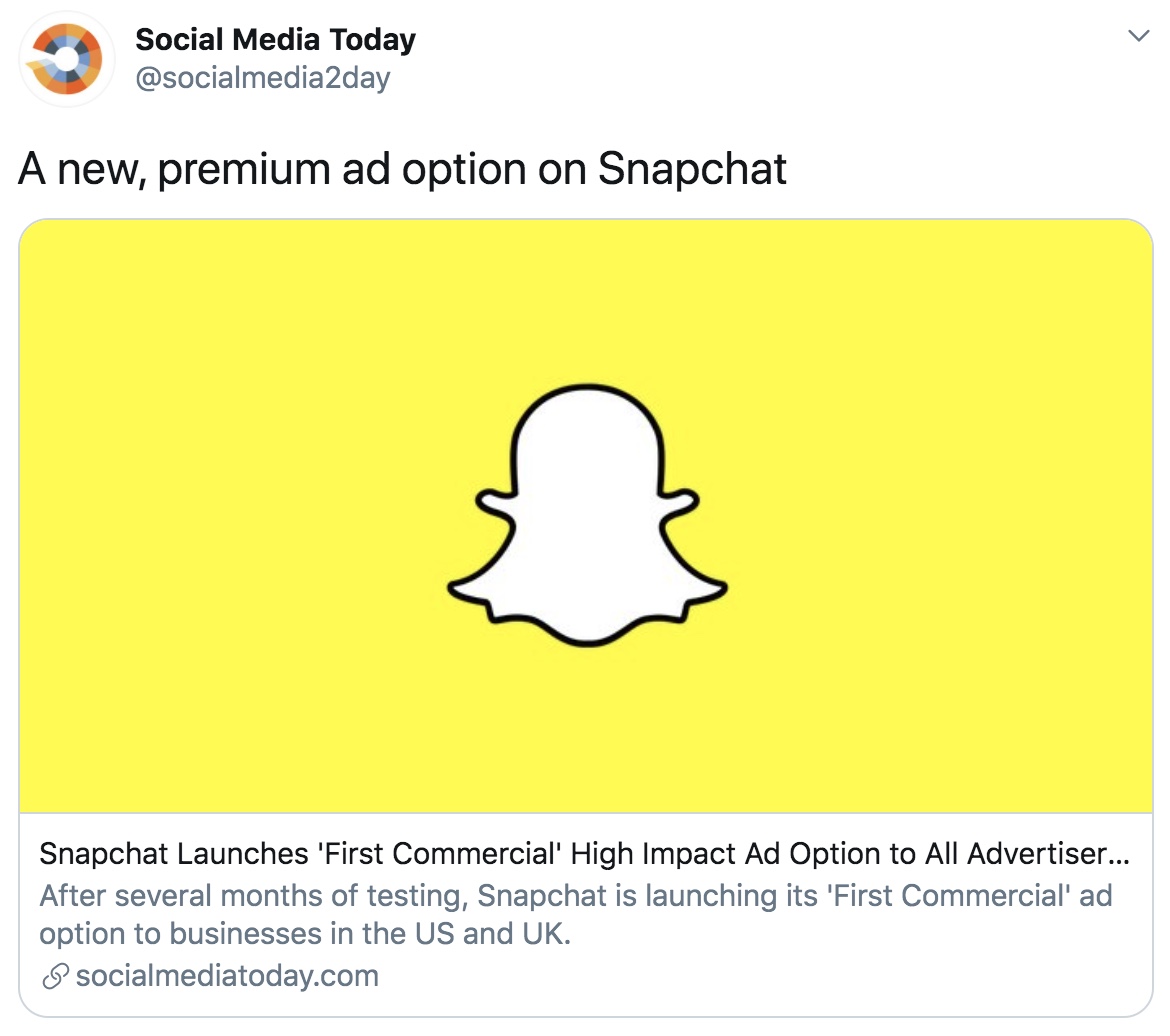 5. THE NBA SCORES WITH User-Generated Content
When the NBA suspended games in March, it harnessed the power of user-generated content to stay top of mind with fans. Social media software company Sprout Social shares a case study on the NBA's use of its players to reach niche audiences, many of which aren't usually obsessed with basketball. The players kept fans engaged from the league's bubble while there were no games on the air. Read more here to learn about how the NBA stoked interest with off-court content.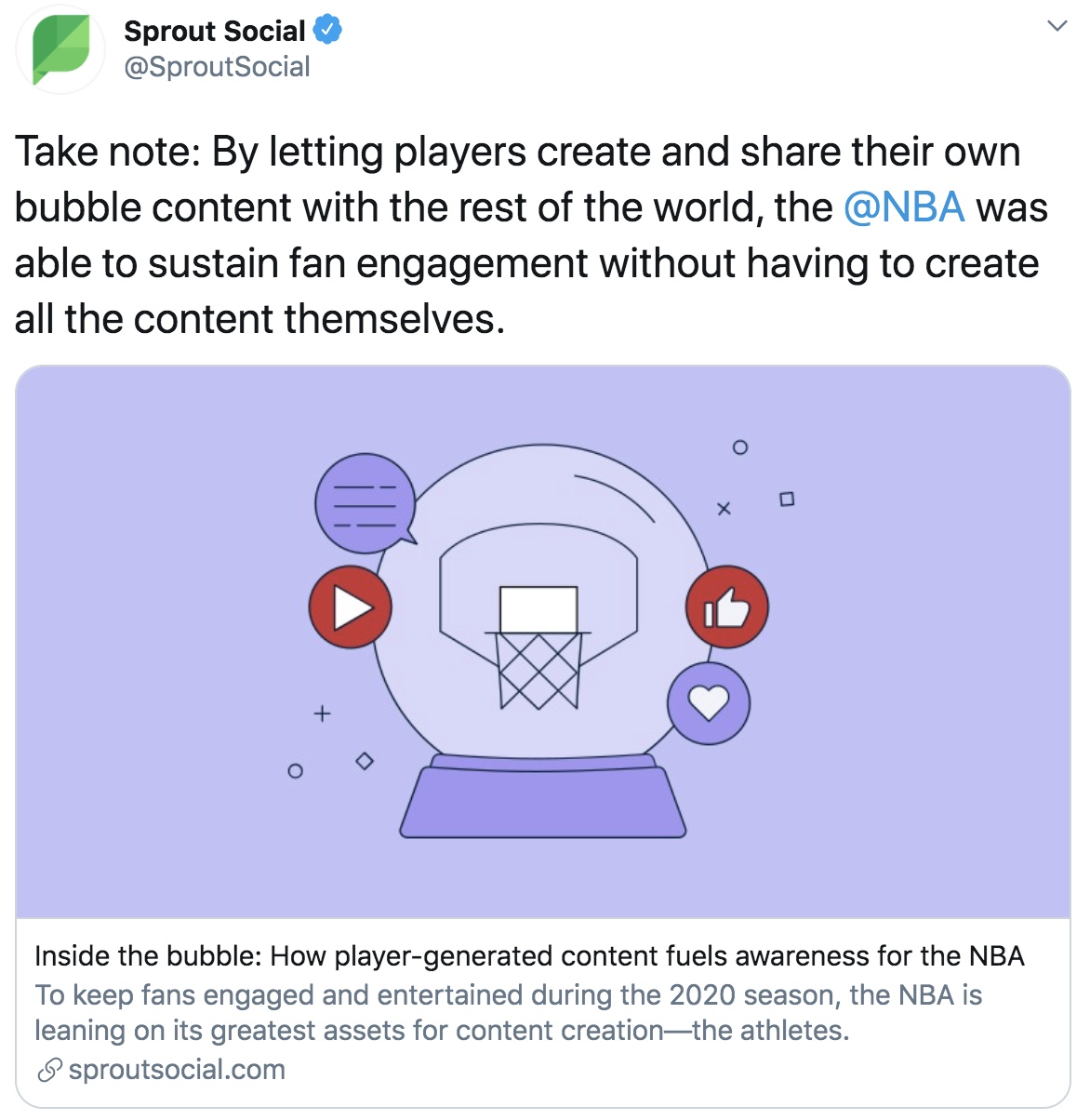 6. October IS ALL ABOUT Awareness
October marks Breast Cancer Awareness Month and National Domestic Violence Awareness Month in the U.S. Dating back to 1985, Breast Cancer Awareness Month is a chance to take time and acknowledge the countless lives that have been affected by breast cancer. To get involved, explore this list of highly-rated charities that support breast cancer advocacy, education and research. The National Coalition Against Domestic Violence created National Domestic Violence Awareness Month in 1981 to connect battered women's advocates across the country. To support the important issue it spotlights, organization Charity Navigator singles out three domestic violence prevention-focused charities that are raising awareness, empowering victims and helping advocates. Click here to learn more.