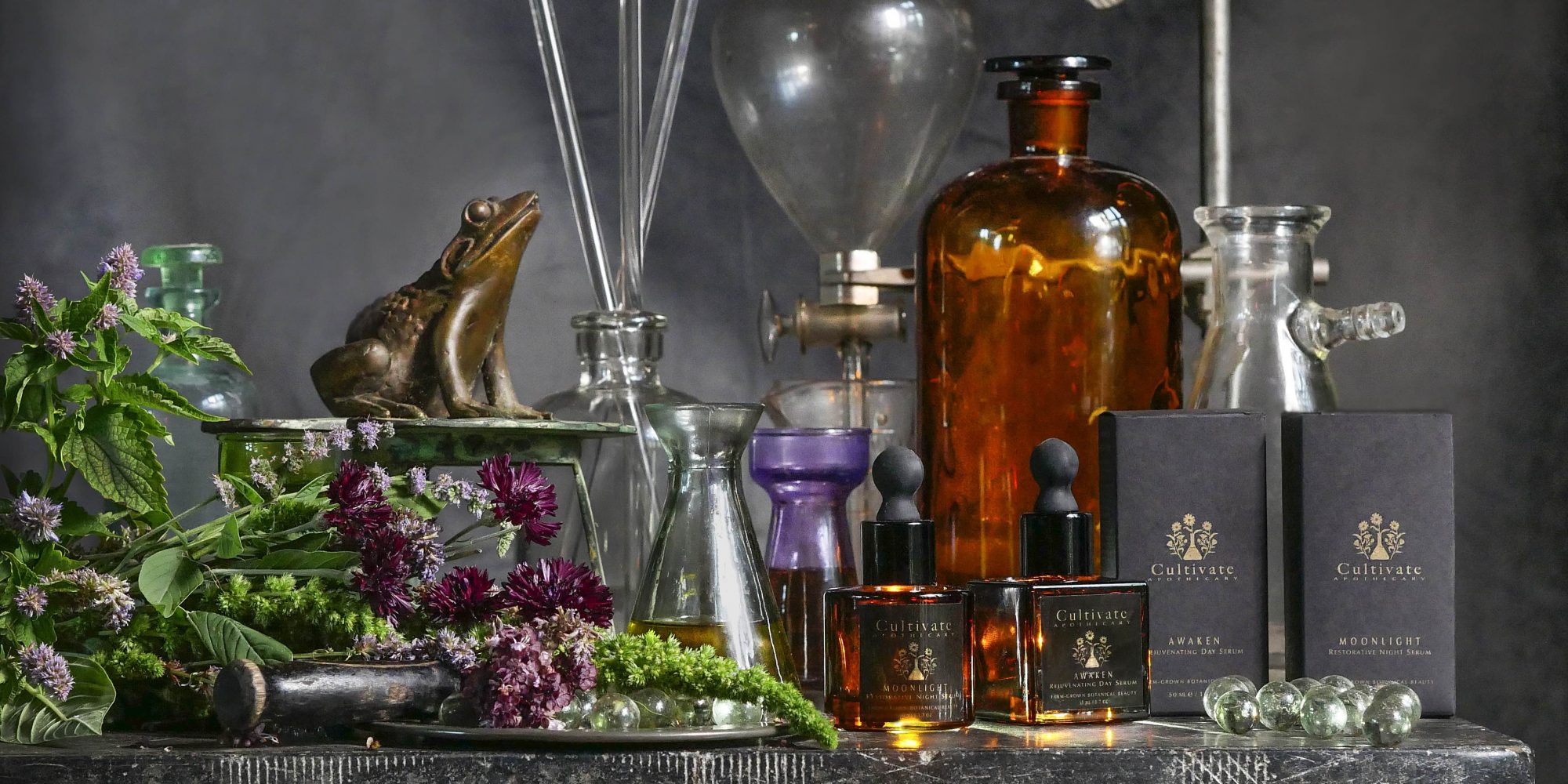 Farm-To-Face Skincare Brand Cultivate Apothecary Brings A New Level Of Luxury To Clean Beauty
In the late mornings during harvest season, Jill Rowe and Matthew Benson inspect herbs such as calendula, lemon balm, helichrysum and chamomile they grow organically at the 19th century estate Stonegate Farm in New York's Hudson Valley to determine if they're ready to be picked.
"You want them to have time to open up. It's like waiting for water to boil," says Rowe, explaining one painstaking step in a multistep, season-long process that takes ingredients from seedlings to serums for her and Benson's new luxury beauty and wellness brand Cultivate Apothecary. After they're harvested, the ingredients are dried for up to a week and a half, and steeped in cold-pressed sunflower oil for eight weeks before they're meted out in precise ratios for the serums.
"Cultivate is an important concept for us because we literally cultivate this brand here. It's an aspirational, lifestyle brand. We want people to cultivate a beautiful life for themselves whatever that is for them," says Rowe. "Don't think of your skincare as something that you just grab off the shelf. Really take time to ritualize those moments, and have the products look good and be beautiful."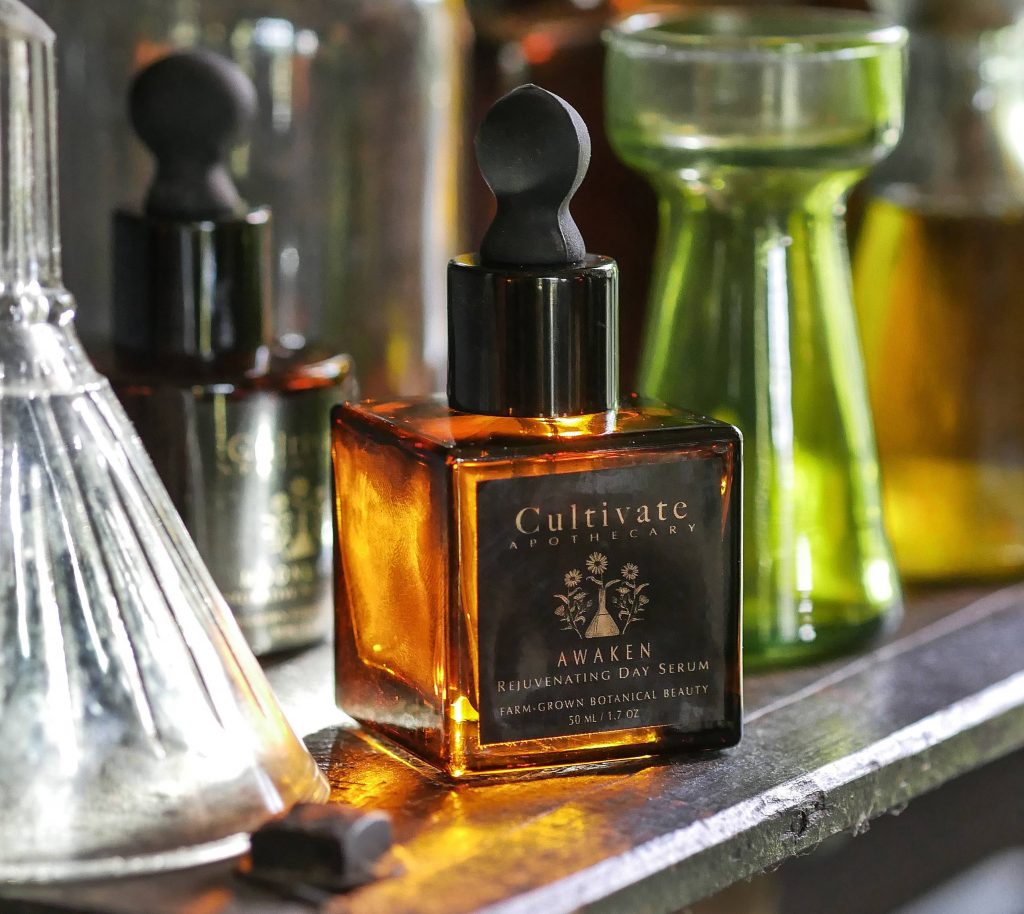 The result of Cultivate Apothecary's slow, careful methods is nutrient-filled skincare that's simultaneously simple and sophisticated. The brand is starting with two products priced at $135 each: Awaken Rejuvenating Day Serum and Moonlight Restorative Night Serum. The serums come in varieties for normal/dry skin, combination/problem skin and mature/sensitive skin.
Rowe and Benson, personal and professional partners, began exploring developing a skincare line about two years ago. Rowe describes herself as a person of many passions, constantly pursuing another endeavor. Prior to Cultivate Apothecary, she was a fashion model, indie film producer, art gallerist, owner of restaurant The Kitchen and assistant general manager of Danny Meyer's Union Square Café. Benson is a photographer, writer and sustainable agriculture expert.
"Cultivate is an important concept for us because we literally cultivate this brand."
To begin Cultivate Apothecary, they identified botanicals beneficial for the skin that they could raise at their property. Once they crafted formulas with the botanicals, they shared them with a group of 140 volunteer testers in their 20s to 70s from across the country. The testers raved about the products. Rowe reports, "They didn't have to wear as much makeup because their skin felt so good."
The testers also gave helpful insights to Rowe and Benson for improving their brand's communications. They suggested fonts should be larger on its labels and education around the purposes of oil-based serums for balancing the skin was necessary, particularly for customers accustomed to cream formulas. Cultivate Apothecary has a skin quiz on its website to lead them to the right product for their skin.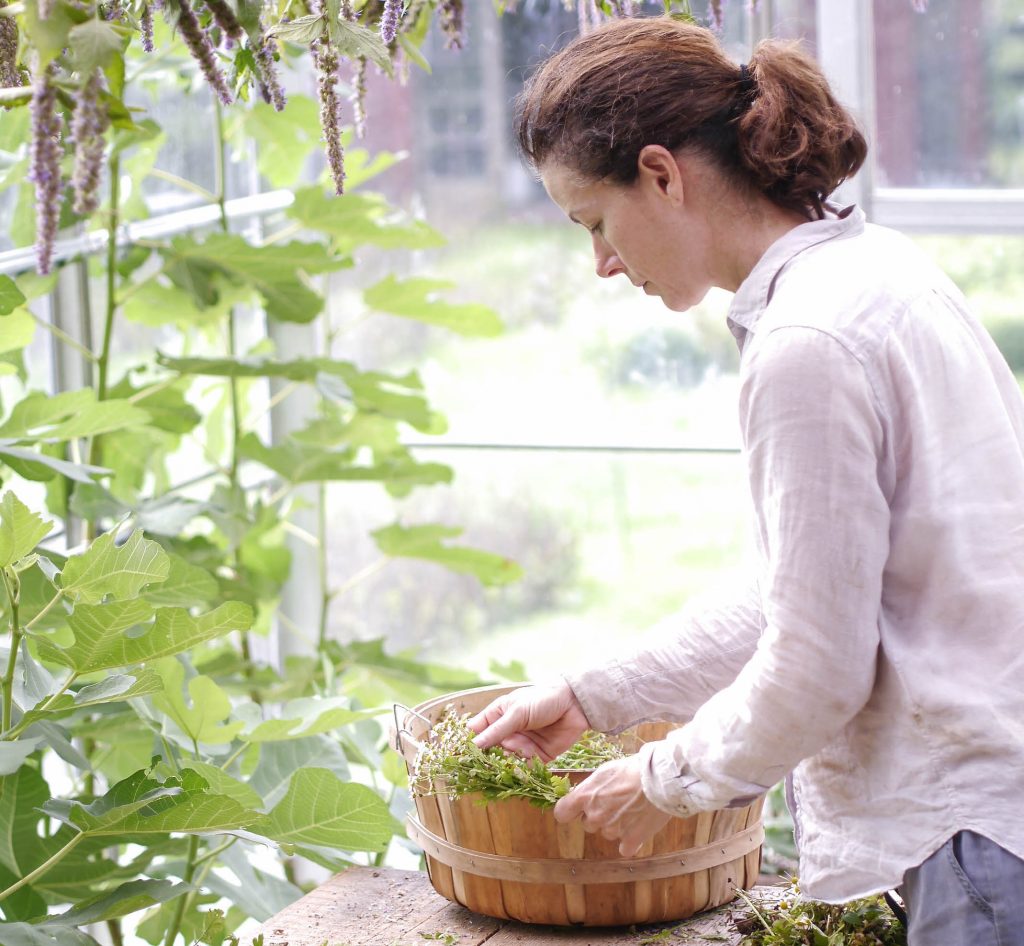 It took Benson and Rowe almost as long to settle on packaging for Cultivate Apothecary as it did to perfect the brand's formulas. They spent eight months vetting bottles and ultimately decided on amber flint-glass apothecary bottles that, at 50 milliliters, are larger than most bottles of serum. The boxes housing them are black and gold, and feature Cultivate Apothecary's logo of three calendula flowers with a single bloom ascending out of a beaker. Rowe and Benson spent roughly $50,000 to complete the brand.
Discussing the bottles, Rowe elaborates, "We wanted a different shape for day and night, so they could beautifully sit together on your vanity. We didn't want to go totally old school, but we wanted them to be classic and timeless. When you lift them up, they are weighty. They look like little gems. They're not traditional for skincare, and I don't think they're overly produced"
"We want people to feel that they can deeply take care of their skin in a way that's pure, safe and beautiful."
Rowe, a student of marketing along with practically everything else, has outlined a prototype of Cultivate Apothecary's target customer. Named Maryelle, the fictional prototype is a 34-year-old Los Angeles resident. She's outdoorsy and feels connected to nature, but is a career-driven urbanite that adores traveling and learning about global cultures. She's tuned in to fashion trends, but is drawn to lasting designs. She's trying to take better care of herself and invest in brands allowing her to do that while appealing to her refined aesthetic sensibilities.
Tata Harper, May Lindstrom and True Botanicals are among the brands that Rowe pegs as in Cultivate Apothecary's competitive set, and the brand is priced accordingly. At the outset, it will primarily attempt to reach customers through direct-to-consumer means. Its goal is to foster a close relationship with them. Rowe is willing to consider retailers, but isn't thrilled with the idea of her brand's products sitting in an assortment unexplained. If Cultivate Apothecary goes into retailers, she envisions possibly holding regular pop-ups at them to be present to convey the brand's story to shoppers. Rowe says, "Nobody is going to speak to our brand the way we speak to the brand."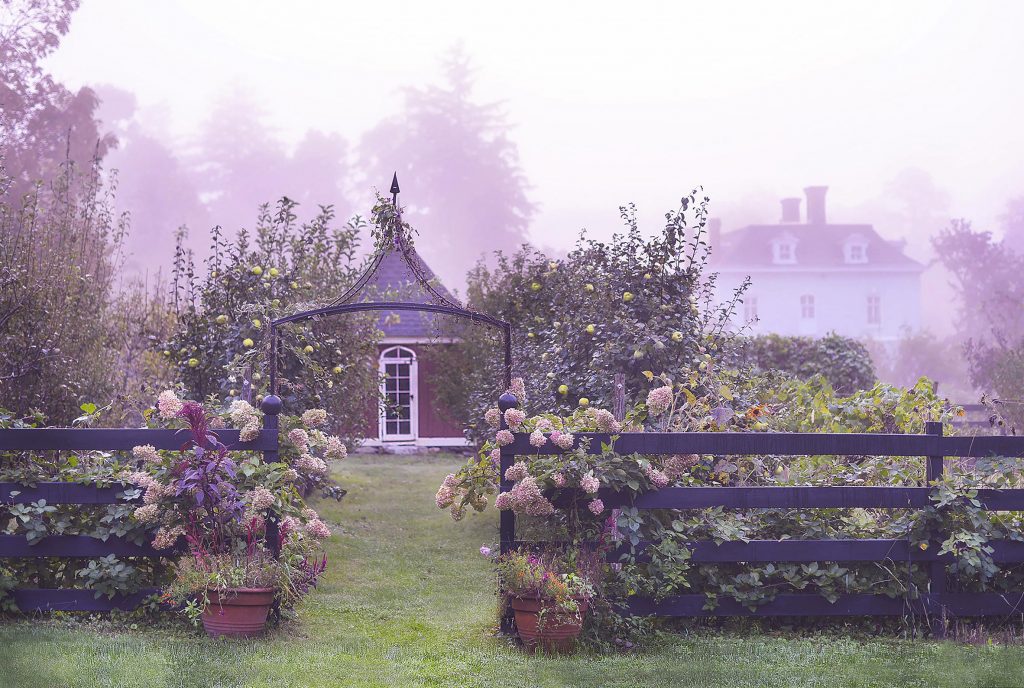 Rowe and Benson plan to expand Cultivate Apothecary's merchandise selection soon. Next up will be day and night cleansers. In 2020, they're hoping to introduce quarterly beauty boxes with three or so products per box centered on in-season ingredients. The boxes will be extremely limited. For example, Rowe estimates they could be available to perhaps 100 subscribers. In 2021, Cultivate Apothecary expects to enter the ingestible category with ingestibles containing ingredients from Stonegate and farms local to it. Rowe emphasizes, "We want people to feel that they can deeply take care of their skin in a way that's pure, safe and beautiful."