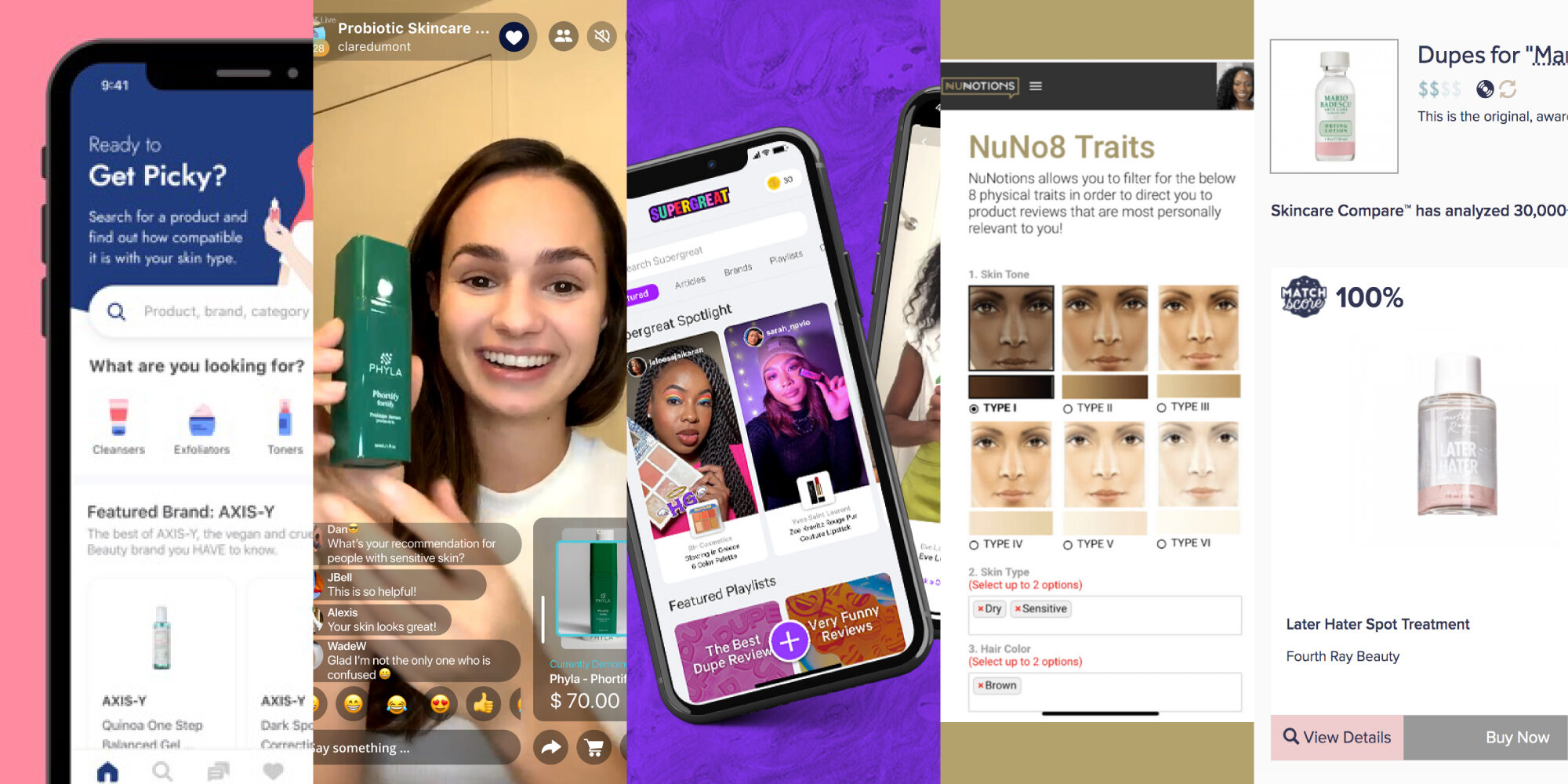 Five Digital Beauty Platforms Helping Consumers Sift Through The Crowded Market
As customers seek easier and more personalized ways to discover, evaluate and purchase beauty products, digital beauty platforms are multiplying with solutions for frugal, sensitive-skinned and ingredient-informed consumers, among every subgroup imaginable. The platforms are curating product suggestions at the tap of a finger, inviting real-time interactions amid livestreaming and instantaneously comparing thousands of beauty offerings. If there's a consumer subgroup or function a beauty platform doesn't address yet, it's likely another one will be on the horizon to focus on it. For now, here are five up-and-coming beauty platforms that have caught our eye.
A decade ago, Marjai Roberts was right out of college and working at Google. She quickly realized that Silicon Valley wasn't nearly as diverse as Atlanta, the city she grew up in. "Salons I went into shoo'ed me away because they didn't know how to deal with Black textured hair," says Roberts. "I turned to online reviews on places like Amazon, but it was frustrating because I didn't have any understanding of who was writing them or what they looked like, so I couldn't value them."
The problem Roberts encountered with reviews sparked the idea for NuNotions. In spring 2020, the open beta version of the platform she describes as a "Yelp for inclusive beauty product reviews" went live. Users create personalized profiles and filter reviews by up to eight physical traits called "NuNo8 Traits", including skin tone, skin concerns, hair color and hair type, to find relevant reviews for them.
The Black-owned indie beauty brands Zani Cosmetics and Kojo Beauty have partnered with NuNotions to bring their products to its database and encourage their customers to populate the nascent platform with reviews. Additional partnerships are to come. NuNotions' network currently has 500 users and reviewers testing out its interface. Roberts built the platform as a web app using Bubble, the no-code development platform for startups, to save on overhead as NuNotions is completely bootstrapped.
Roberts plans to launch NuNotions of beta by late summer or early fall of this year. "By 2026, I want to make inclusive beauty reviews accessible for over half of the BIPOC around the world," she says. "It's about creating a seamless experience that allows us to connect together over beauty by making smarter purchasing decisions."
Toby Zhang, a former partner at CRCM Ventures and investor in Musical.ly, which rebranded to TikTok, introduced the mobile livestreaming platform Shop LIT Live in September 2020 in response to what he saw as "a general market shift" happening with customers and the companies they buy from. "Customers care now about making interpersonal connections," he says. "We saw this as an opportunity to make something more personalized with our platform and to give a higher degree of attention to customers who are looking for real-time information."
Like other livestreaming platforms, Shop LIT Live couples interactivity with e-commerce to enable viewers to shop directly through its app. It's a model that investors are betting big. Zhang's former firm led a $6 million seed round in late April 2021 that will help scale Shop LIT Live's content and tools for brands. To date, it's partenered with over 200 brands across various sectors, with a quarter in the beauty industry, including Remilia Hair, Phyla, Doppeltree, and Busy Co.
Beauty is the platform's top-performing category, according to Zhang, with viewers typically converting at a rate of between 10% to 15% during live sessions. He says, "When a brand goes live to demo products and respond to questions and concerns on the spot, customers can be more confident that the brand cares about them and how their products will affect them."
A robust network of hundreds of livestream hosts and creators has contributed to Shop LIT Live's early success. "Our creators are very knowledgeable on a particular vertical like beauty for example," says Zhang. "We help pair a brand with the right creator in our network who will go live on their behalf and engage in very personal conversations with the audience. Brands have really loved this so far. Nearly everyone who has come on board with us has tapped into this network."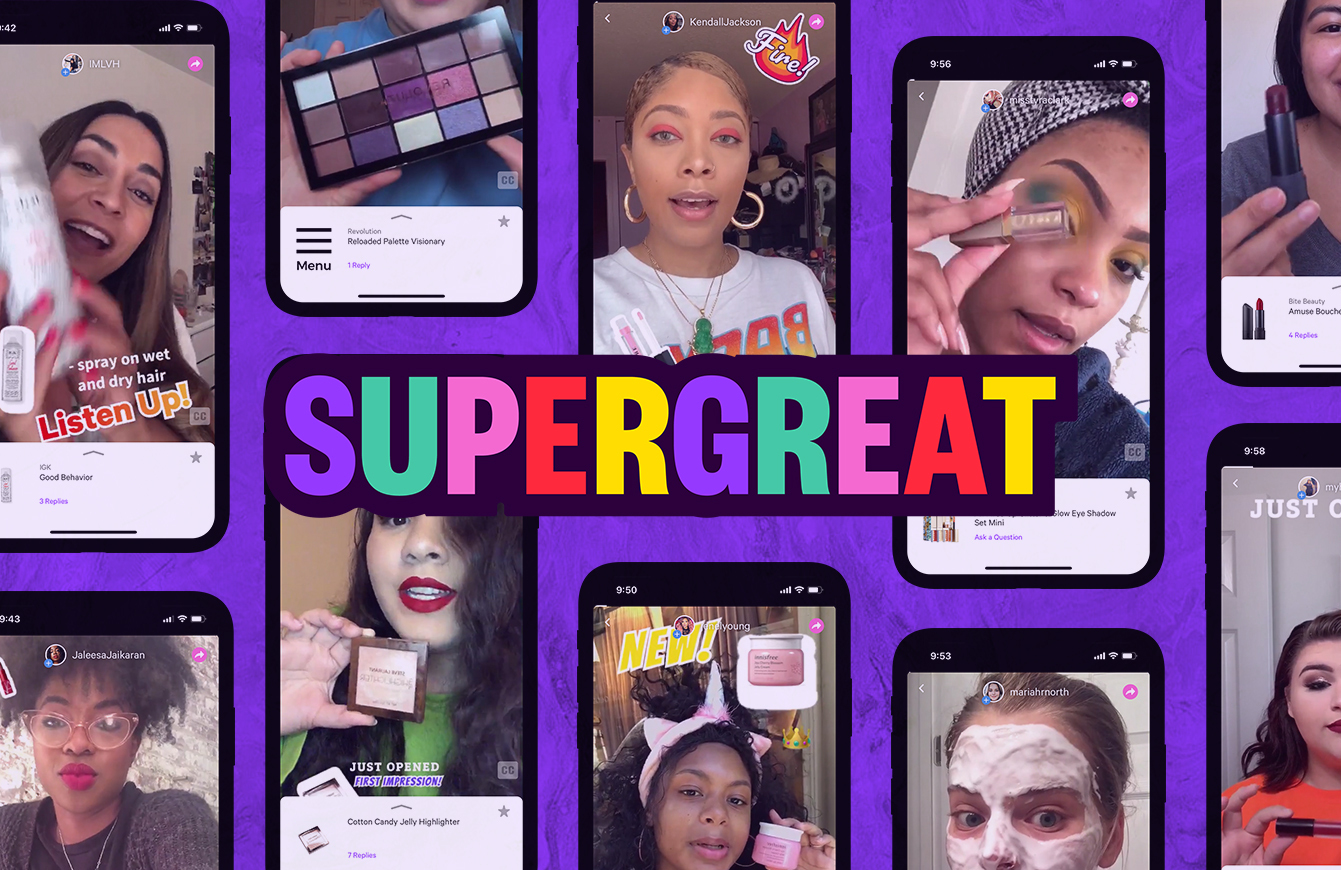 Video beauty review platform Supergreat, which secured $6.5 million in series A funding last year and has just compounded that among with a $10 million round led by Benchmark, has become the go-to networking community for under-25 beauty enthusiasts since it launched in 2018. Creators upload 60-second product review videos and are incentivized to share, comment and engage through Supercoins, an in-app currency that can be redeemed during giveaways and live sales. Creators on the platform have built up an archive with 250,000 review videos covering over 40,000 stockkeeping units.
Supergreat unveiled livestreaming last year in response to increased traffic brought on by the pandemic and added its Live sale program early this year. "Supergreat has always been a video-first community empowering people to share reviews and help others make informed decisions. Live is a real-time, interactive extension of that experience where the community gets to see products in action, get inspired by hosts and guests, and have conversations with each other," explains CEO Tyler Faux, who co-founded the platform with his former Tumblr and Tictail colleague Dan Blackman. "Our shows are fun, informative, communal, and all unscripted and unfiltered—and we believe that's the long-term future for shopping online."
Brands like WLDKAT, 19/99 Beauty, Wander Beauty, Kaja, Blume, PYT, and Alterna have partnered with Supergreat on Live sales, and joined hosts in real-time for conversations, demos, exclusive offers and "product drops" (i.e., giveaways). Supergreat has recently quadrupled the hours of Live broadcasting per week following the expansion of what it calls its Superhost program, a roster of livestream hosts made up of dedicated and well-respected creators who are hand-picked to lead their own weekly beauty shows.
Faux says, "We're excited to not only empower more of our creators to be able to go Live and start a show of their own, but also continue to increase the connections between them, the community, and brands as our hosts do even more live product drops, sales, and innovative giveaways and games with their fans."
Year-old South Korea-based mobile skincare platform Picky has amassed a community of 120,000 global users flooding the platform with tens of thousands of written reviews on products from 6,200 global brands in both the East (e.g., South Korean brands Isntree and Rovectin) and the West (e.g., gen Z favorites CeraVe and The Ordinary). Some 50,000 products can be searched in Picky's database through a series of personalized filters that help users navigate the often-overwhelming world of skincare marketing claims.
"We're much more of a learning-focused discovery and education platform rather than, 'Picky is going to find the perfect product to solve all your skin problems.' It's more like, 'Picky wants to help you learn about skincare so you can find products that are more likely to work for you,'" says VP Michael He, who co-founded the platform with CEO Jihong Lee in April 2020.
He describes its users as primarily skincare enthusiasts, skinfluencers and dermatologists. The platform asks them answer a 14-question quiz on skin type and concerns. Then, its algorithm works its magic. Picky's broad database is filtered to show the products, ingredients, reviews and discussion forums most likely to bring value to users. Driven by their profile information, it further steers users by categorizing certain products and ingredients as "Holy Grail," "Worth A Try" or "Risky." Users can't purchase via Picky, which He views as one of its key differentiators.
"We want to provide people with honest, authentic reviews and discussions from other users. There are no sales made through the app, so we're not trying to promote or sell certain products over others," says He. "We want people to discover on their own with the help of other community members."
To its hordes of passionate fans, Skinskool, which is visited by roughly a quarter of a million unique users monthly, is an incomparable skincare and haircare product comparison resource. "We get lovely notes every day," says Moneika Bos, who founded Skinskool with Terry Chan. "Some people even tell us we're doing God's work!"
Attorneys Bos and Chan met while working at a London law firm, and launched Skinskool in January 2020 after a trip to her local Douglas store in Amsterdam left Chan disappointed. "I asked a sales associate to tell me the difference between a few skincare products, and the first thing she asked me was about budget. That really irritated me because budget for me is dependent on what a product is and what it can do. I got the impression that she was telling me everything was the same, regardless of price," recounts Chan. "I spoke to Monieka and the idea for a comparison tool started to form. Beauty, especially skincare, is all about the formula, so it's something you can make a pretty objective comparison on."
Skinskool's strength is its Dupe Finder, a comparison engine fueled by an algorithm that took two years, and the expertise of a software engineer and cosmetic chemist to create. It works to analyze and contrast over 30,000 SKUs based on ingredient lists rather than prices and marketing claims. Each match is given a score based on how close it is in formulation to the original search. Put in the Chanel Hydra Crème and a 89% match to Chantecaille Biodynamic Lifting Oil Free Fluid will turn up. A search on the iconic Clinique Dramatically Different Moisturizing Lotion yields a 90% match in the Darphin Exquisage Beauty Revealing Cream.
In a year, Dupe Finder has generated 3 million unique searches. Bos reports new products and brands are added to the platform almost on a daily basis. "People aren't always searching for the lowest-cost dupe when they come to Skinskool. We're working to give more context to the market and, by extension, provide a more pleasurable buying experience," says Bos. "It's about giving people choices. We don't know what someone's skin concerns are or if they're vegan or what their income is. All we can do is provide a logical, objective tool to help people navigate marketing claims." Bos and Chan are preparing to raise a round of funding to help grow Skinskool's team and further fine-tune Dupe Finder.