Five New Beauty Brands To Put On Your Radar
There's been much hand-wringing about the future of the beauty industry, beauty retail and prestige beauty, which experienced a 36% sales decline in the second quarter this year and a slightly less precipitous 17% drop in the third quarter. The sales drops haven't
stopped intrepid entrepreneurs from launching beauty and wellness brands. Beauty Independent rounded up 10 notable recent beauty and wellness brand launches. Here are the first five.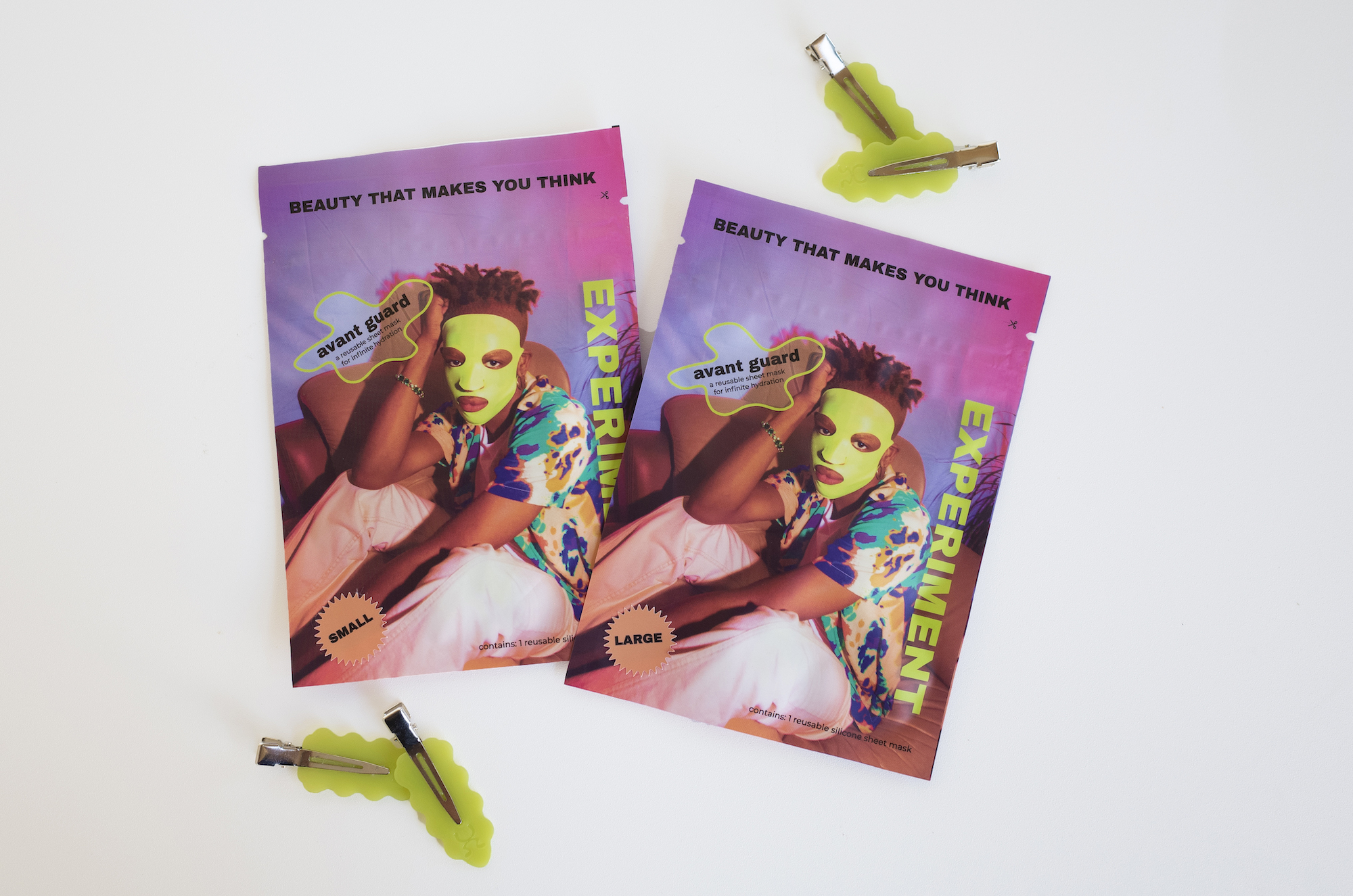 Experiment Beauty: Chemist and entrepreneur Lisa Guerrera has been busy since graduating college in 2017. First, she founded beauty tech startup See Thru, a platform designed to decipher ingredient lists for consumers. Then, she became a Sephora Accelerate fellow and has used what she learned during the program to launch Experiment, a gen Z-focused personal care brand that debuted last week with Avant Guard, a reusable silicone sheet mask that, when paired with a hydrating skincare product, acts as an occlusive for deep hydration. In an advancement for sustainability, the product expressly isn't a single-use sheet mask.
"Looking at the beauty landscape with my background in science and brand management, I saw so many issues: too many rules, too many products, too much consumption, too much problematic marketing," says Guerrera. "I saw beauty become too complicated and no longer fun. I wished for the best of both worlds, a brand that didn't take itself too seriously while having top notch formulas that were unexpected essentials."
Guerrera developed Experiment for gen Z consumers to be earthy-friendly, effective and playful. She elaborates, "Experiment marries the idea of sustainable thinking, elegant formulation, and fun aesthetics to create a brand that looks towards the future beauty consumer." For the launch of Avant Guard, Experiment collaborated with fellow gen Z skin brand Topicals to create Butter N' Bake, a bundle featuring Avant Guard and Topicals' Like Butter hydrating mask. The $45 set sold out in less than 12 hours on launch day.
Experiment is launching in direct-to-consumer distribution, but Guerrera plans to bring it to retail shelves. She cites Urban Outfitters and the Ulta in-store shops rolling out to Target next year as ideal retail placements.
Kūlia: Kūlia founder Jasmine Keeney was born and raised on her family's banana farm on the Big Island of Hawaii. She was exposed to toxic chemical fertilizers and pesticides from the banana farm and, as a young adult, began to experience negative health effects from the toxins, and suffered from chronic lethargy, depression and pain. 
As she took her health into her own hands, Keeney realized the supposedly clean skincare she was slathering on was anything but. She started creating her own products, and the plant-based formulations became luxury skincare range Kūlia. Kūlia launched in direct-to-consumer distribution this month with two products: $165 Regenerative Face Serum and $145 Revitalizing Eye Serum. The serums feature blends of organic and wild-harvested oils, including royal Hawaiian sandalwood, amaranth seed, neroli flower and geranium leaf, and are infused with amethyst and rose quartz crystals. Additional offerings are forthcoming, but Keeney is in no hurry. 
"I create a lot of different skin and body care products for myself and everyone around me. So, there's no shortage of things we could produce," says Keeney. "[But] I do want to create products that are quality, thoughtful and superior, which takes time. So, there's no real idea of how many products will be available in the near future, but I have a lot of things brewing."
Kūlia incorporates Matter in its packaging. Matter is an invisible coating that uses antimicrobial technology to provide protection against 99.9% of microbes. It can be applied to paper, plastic, glass, metal and textiles.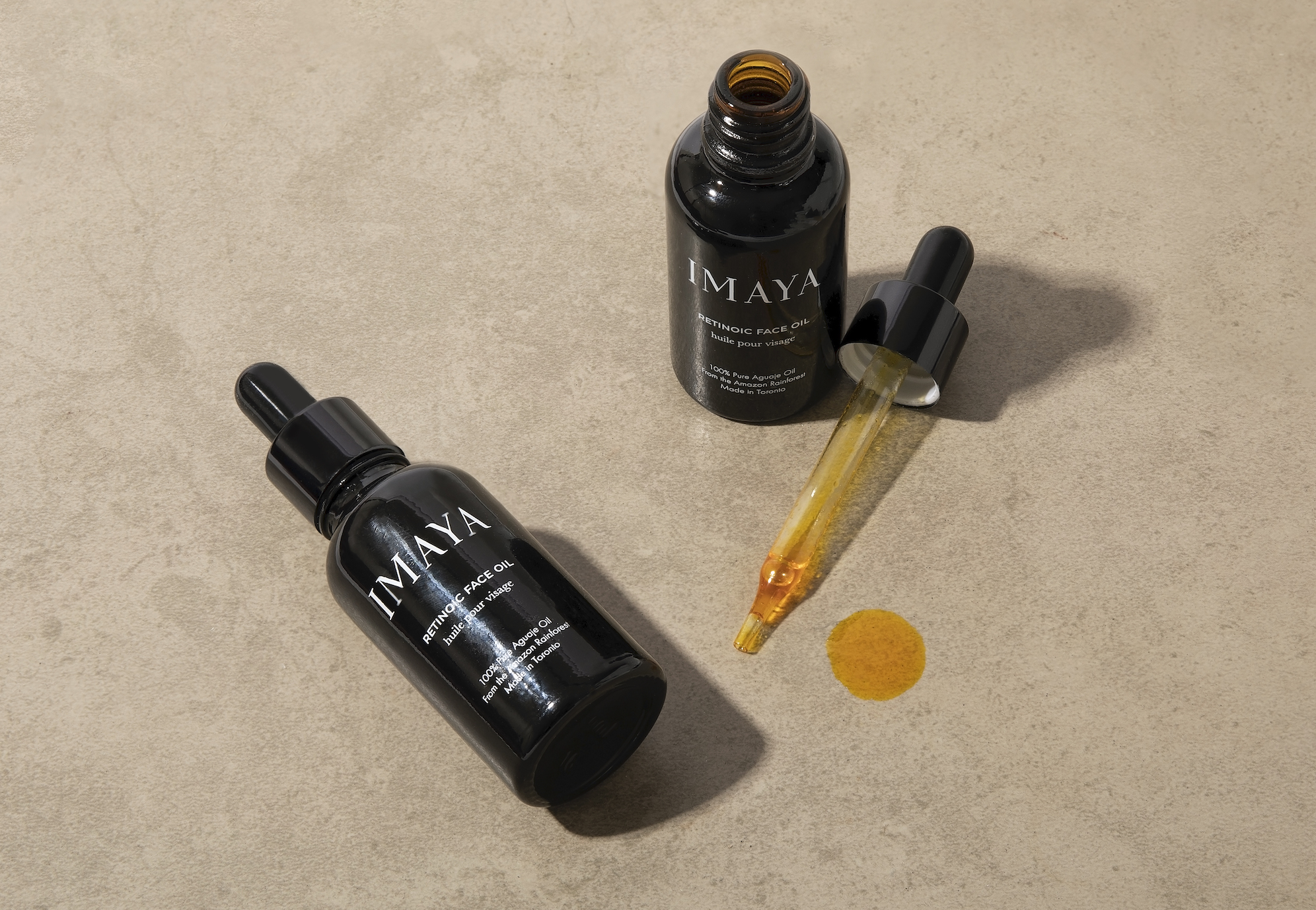 Imaya Beauty: While studying cosmetic formulation a year and a half ago, Angie Vlahovich discovered the Amazonian fruit aguaje and its beneficial properties for the skin. Nutrient-dense aguaje oil is a natural retinol alternative and one of the richest sources of vitamin A in the world. It has been used by Amazonian peoples for centuries. Now, after experiencing pandemic-related delays, Imaya Beauty and its single product, Retinoic Face Oil, which retails for $60 for a 30-ml. bottle, has launched. Vlahovich invested about $15,000 into the launch. "Our face oil is sustainably wildcrafted and hand-pressed by local women," she says. Imaya Beauty is certified cruelty-free by Leaping Bunny and will donate 10% of its profits to Aguaje palm tree reforestation in the Amazon.
Aguaje palm trees play an important ecological role in the rainforest as they store three to five times more carbon than other tropical ecosystems in the Amazon. The trees are currently being threatened by destructive harvesting. Over 24,000 Aguaje palm trees are cut down each year around the city of Iquitos, Peru to harvest their fruit. Imaya Beauty's partners in Peru rely on specialized climbing equipment to safely climb the trees and harvest the fruit. They also employ local women to provide sustainable income for people living in remote Amazonian communities.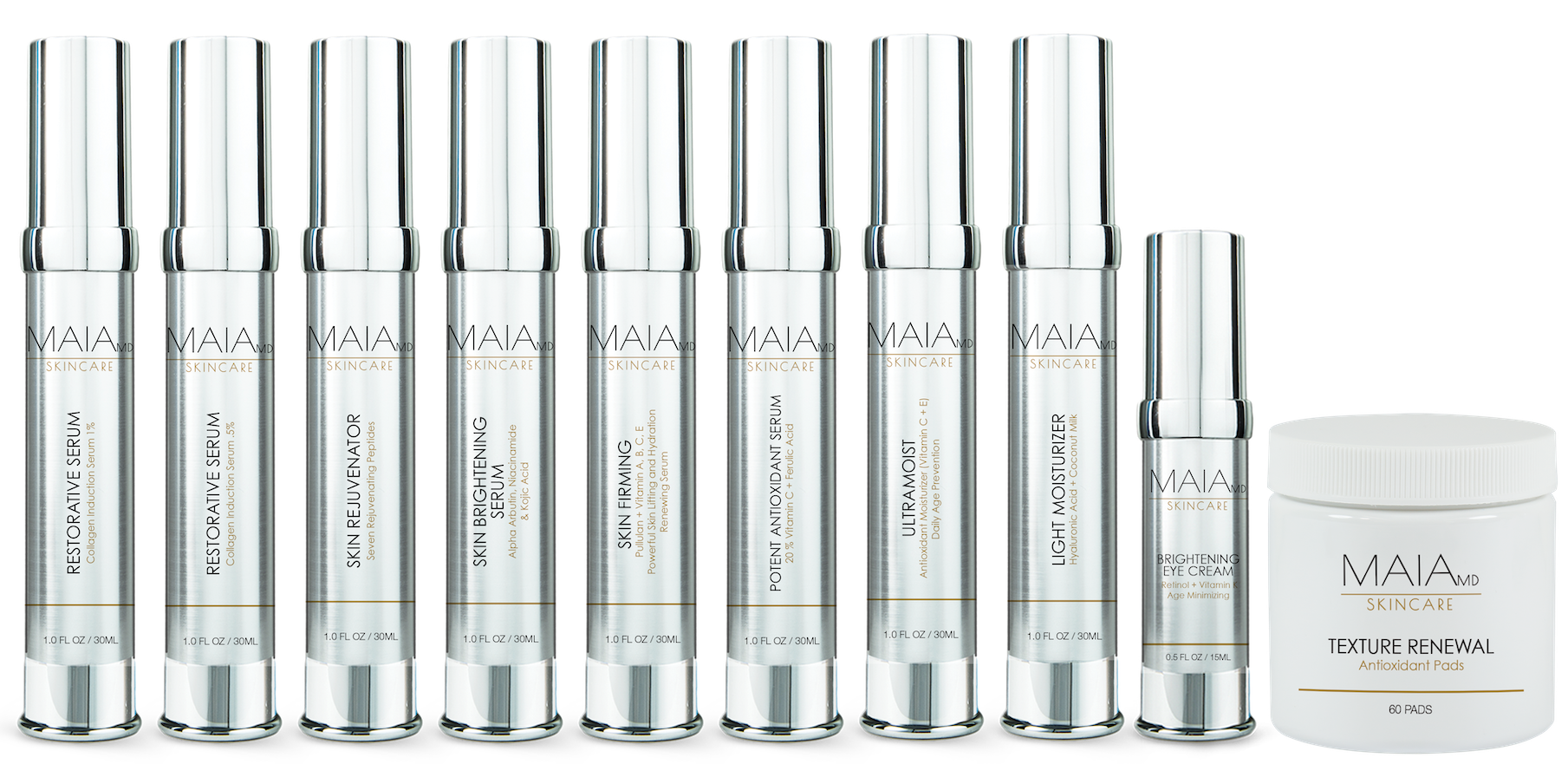 Maia MD Skincare: Washington, D.C.-based plastic surgeon Munique Maia has launched a comprehensive medical-grade skincare line packed with active ingredients scientifically proven to reduce signs of aging, improve skin texture and hydration, prevent acne and tackle hyperpigmentation. The 11-product line, which ranges in price from $30 for the Exfoliant Cleanser to $135 for the Skin Rejuvenator Seven Rejuvenating Peptides, is vegan, paraben-free, fragrance-free, cruelty-free, gluten-free and noncomedogenic. Maia's favorite product is the Potent Antioxidant Serum. It has vitamins B, C and E, and ferulic acid. 
"Vitamin C has many benefits for the skin. It protects from UV damage and collagen degradation, promotes collagen production and suppresses pigmentation," says Maia, warning that not all vitamin C skincare products are the same. "Vitamin C is very unstable and oxidizes when exposed to light, air or water. Our Maia MD Potent Antioxidant Serum was carefully formulated with an anhydrous formula, airless bottles and additional antioxidants for optimal antioxidant protection. Ferulic acid is an antioxidant that stabilizes vitamin C. Our ferulic acid is double the concentration of other popular products. Vitamin E and ferulic acid can increase the efficacy of vitamin C eight-fold." 
Myth/magick Skincare: On Oct. 30, the eve of the full moon, best friends Ariana Jones and Denyse Walls launched Myth/magick Skincare following professional and personal turmoil. The brand aims to encourage intentional self-care to enhance mental and physical health. Its debut assortment consists of gentle cleanser Moon Water, Glow Worthy Ultra-Rich Moisturizer and Earth Oil, a 1,000-mg. CBD face oil. The products are priced at $26, $39 and $90, respectively. Available on Myth/magick's website, they are vegan, paraben-free, sulfate-free and silicone-free. With every order, customers get access to a guided meditation playlist.
"After experiencing the toll that non-stop work culture can take on people and witnessing first-hand the impacts of stress and anxiety on my generation, I sought out ways to find calm and contentment naturally," says Jones. "I'm still on my wellness journey now."