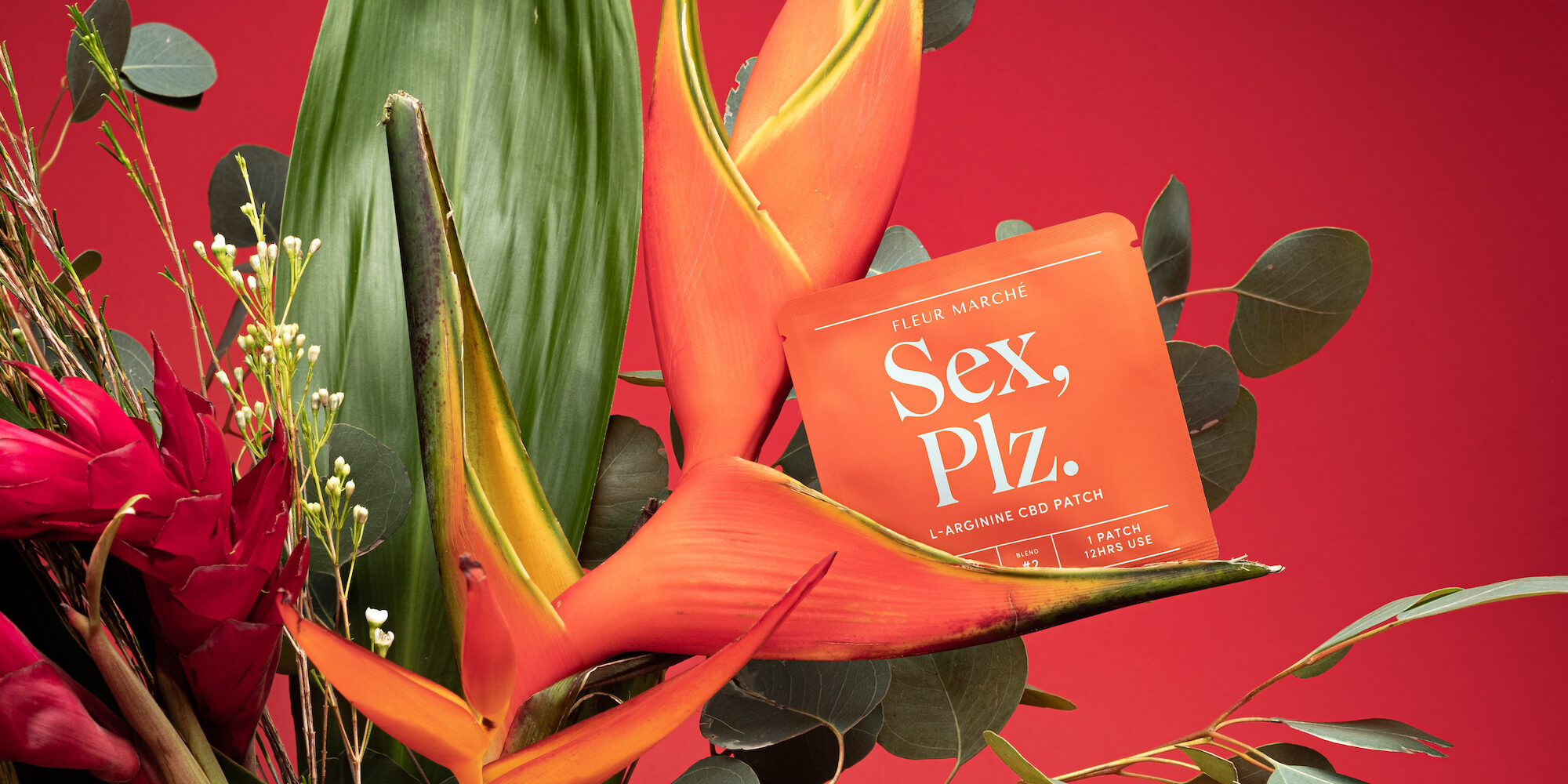 Five Sexual Wellness Launches We're Really Excited About
In 2021, sexual wellness sells. 
As sexual health and pleasure taboos are further shed, established brands are moving into the huge market, estimated to be worth $100 billion globally, with an ever-expanding array of products, including
toys, personal lubricants and prophylactics. Even companies that have built loyal customer bases in
adjacent categories like skincare and CBD are entering the sex care space with premium, stylish products created to solve problems or optimize personal care protocols.
Holistic skincare brand Urja has partnered with celebrity OB-GYN Sherry Ross on Urja Intimates by Dr. Sherry, a collection of luxe vulva care products. "I have always told my patients we need to take care of our vulva and vagina like we do our face, using special cleaning, hydrating and moisturizing products for this sensitive and temperamental area of our body," says Ross. "Just like any other part of your body with skin, glands and hair follicles, the appearance of the vulva and vagina is affected by the aging process and how well we take care of it."
Beauty Independent sifted through scores of the latest sexual wellness launches, often from companies making their first foray into the category, to identify products worthy of consumers' sexy time. From an antioxidant-infused lube to a transdermal patch designed to boost libido, here are five debuts to get excited about.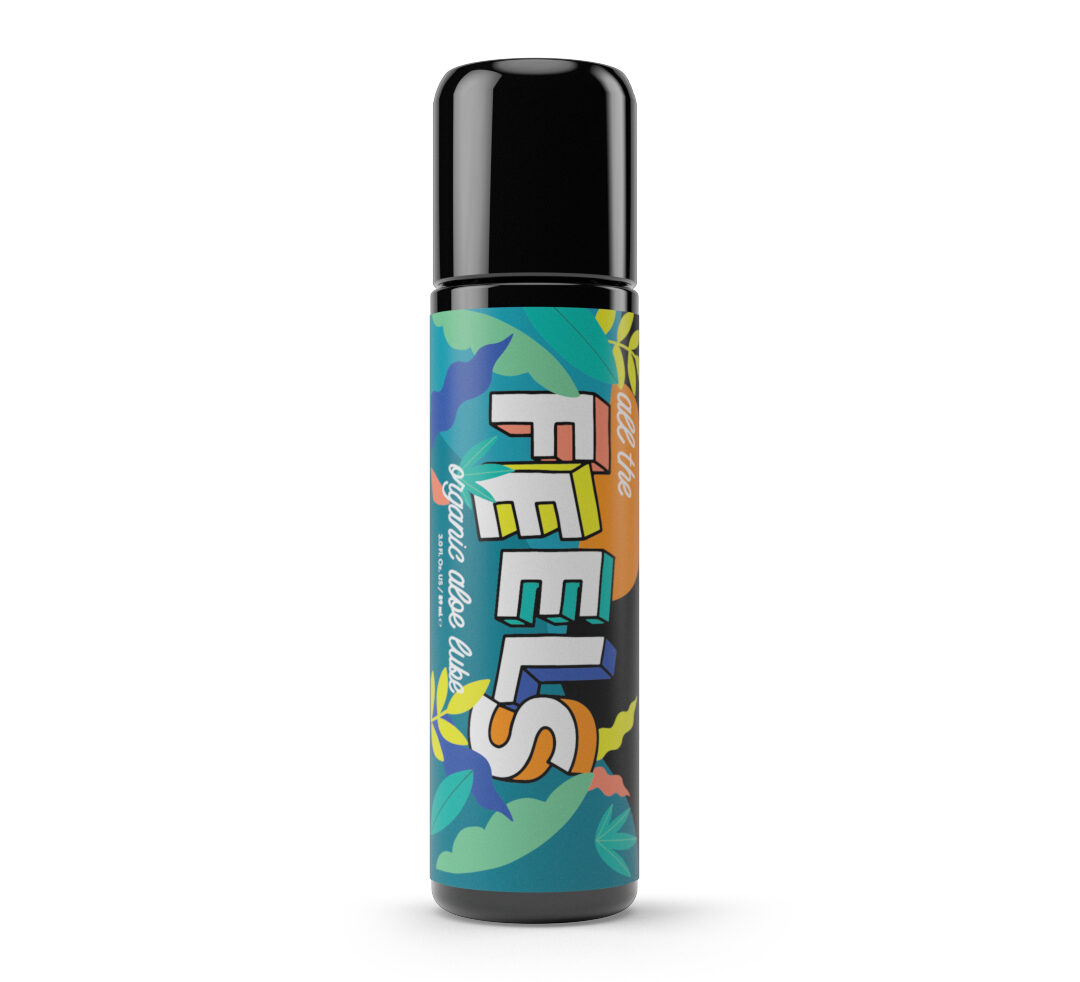 Ballsy All The Feels Lubricant: Adam Hendle was inspired to create Ballsy where many people do their best thinking, in the shower. "I was looking at all the different products my wife had for every area of her body," he recalls. "Why, as guys, have we been relegated to four-in-one value washes? Guys have different needs and challenges with specific areas of our body, so why hasn't someone had the balls to tackle those areas head-on?"
With product names like Sack Spray, an odor neutralizer, Ballsy lives up to its moniker not only in the body parts its product assortment targets, but also in its fun and frisky branding. Nut Rub, an oil and beeswax-based solid cologne for nuts and the rest of the male anatomy, and Ballwash, an activated charcoal ball and body wash, are two of the brand's bestsellers. Ballsy's products are free of sulfates, parabens, phthalates and synthetic dyes. They are priced from $10 to $25.
Ballsy's latest launch All The Feels is its first lubricant. The lube's organic and vegan formula is enriched with extracts of aloe, quinoa, hemp, flax and oat. "We've felt that most sexual wellness products look like they were designed to be hidden away in a cabinet or drawer, and we wanted to change that with a fun, approachable, bright design," says Hendle. He adds, "The colorful and graphic packaging make it clear this isn't your parent's K-Y Jelly."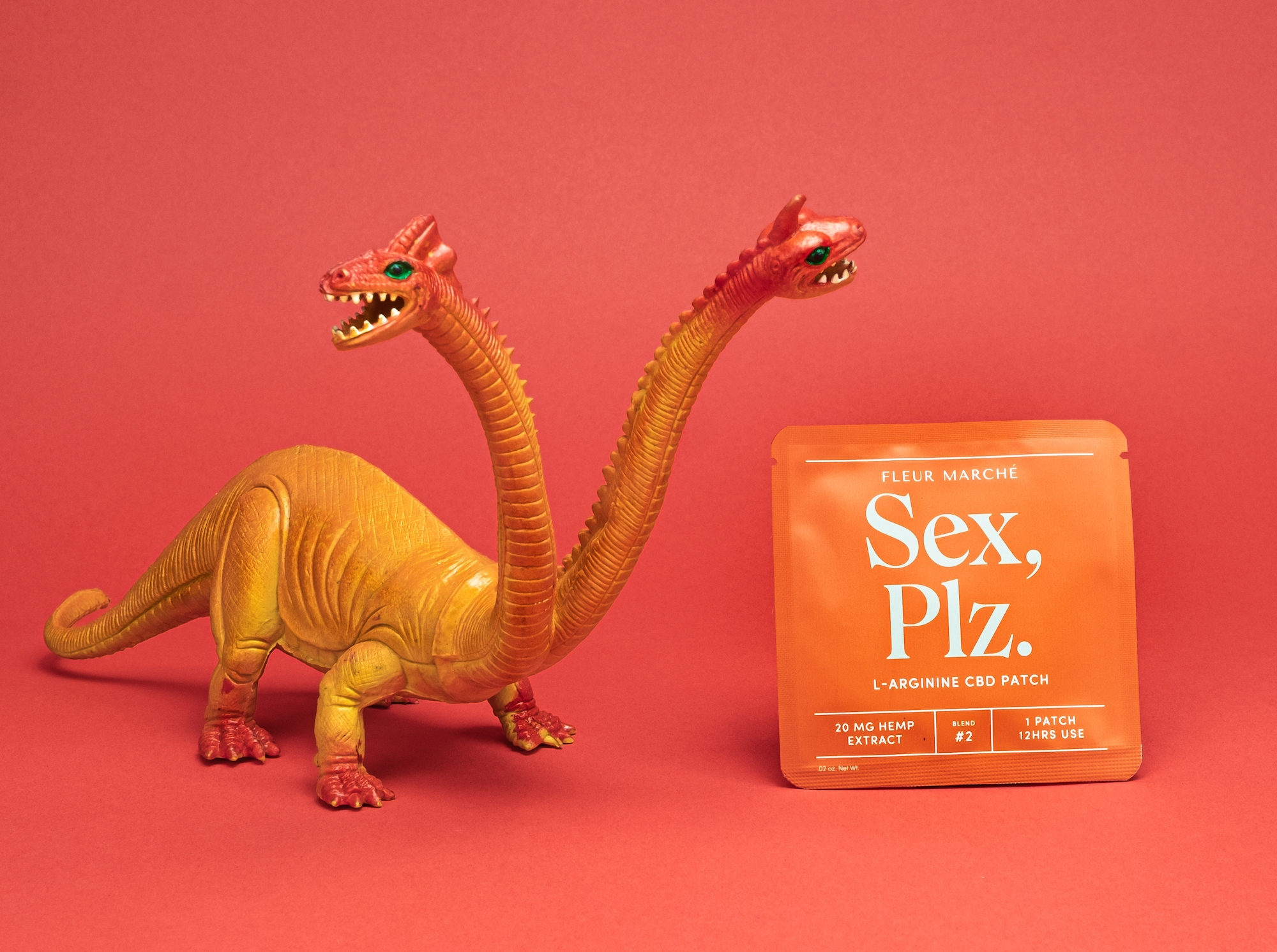 Fleur Marché Sex, Plz: As CBD-tailers like Poplar and Standard Dose are expanding beyond the hemp plant-derived compound, Fleur Marché is doubling down on the ubiquitous beauty and wellness ingredient with the introduction of four wellness patches—Energy, Plz., Relief, Plz., Sleep, Plz. and Sex, Plz.—pairing CBD with other natural ingredients. "From the onset of our business, we knew we really wanted to launch product," says Ashley Lewis, who founded Fleur Marché with fellow former Goop'er Meredith Schroeder. "It was a playbook that we helped build and execute while we were at Goop. We saw the value of first of all being the marketplace, getting to know your customer, understanding consumer behaviors, trends, what people are buying and gravitating towards, and what is not working for them."
Many Fleur Marché shoppers are seeking to boost their energy and sleep better. While the patches oriented to those needs are expected to be bestsellers, Sex, Plz. could be a dark horse. "There is a real excitement right now about sexual health," emphasizes Lewis. Schroeder chimes in, "From a marketing standpoint, who doesn't want to try it? It sounds fun. From an emotional, very retail friendly angle, that's a winner just in how fun and novel it is."
Sex, Plz.'s blend of L-arginine, maca, tribulus and 20 milligrams of CBD isolate was chosen to support good sex. Its transdermal delivery system is intended to enable the ingredients to enter the body quickly and effectively. "Patches are one of the most bioavailable ways to get CBD into your body," reports Lewis. She details Fleur Marché worked with a patch manufacturer approved by the U.S. Food and Drug Administration that recently decided to start putting CBD in patches. "They know where to find the right kinds of ingredients that will fit into the patches," says Lewis. "It's all about the molecule size getting in the skin." Fleur Marché's Sex, Plz. patches are $6 each. Customers can purchase a pack of all four patches for $24.
Flower by Edie Parker Sleepover Spray: Designer Brett Heyman made a name for herself in the fashion world since launching her line of technicolor accessories, Edie Parker, in 2010. In 2019, Heyman expanded the line's home accessories collection to include cannabis accessories such as trays, lighters, pipes, bongs and more in Edie Parker's signature quirky aesthetic. "We're a group of people for whom cannabis is a part of our lives and it's a part of our entertaining," says Heyman. "We started thinking we'll make some beautiful cannabis accessories for people in the way that we make our regular accessories. That started the journey."
Pre-rolled joints and vape pens followed, and the positive reception of those products sparked Heyman's interested in other cannabis items Flower by Edie Parker could bring to the market. "We understand CBD is a very saturated market, so the products that we've been developing have to have intention. We love the health and wellness benefits of cannabis, but we also just like to get high, and we like want her to be no shame around that," says Heyman. "We want people to engage with cannabis in the way that they engage with any other consumer brand in their life that spark joy for you." Last month, Edie Parker premiered an intimacy spray, body salve,and flavorless tincture with hemp-derived CBD. The products retail for $48, $40 and $98, respectively. 
Called Sleepover Spray, the intimacy spray can be used by consumers on themselves or their partners can use it on them. The 1-oz. product is powered with 250 milligrams of broad-spectrum CBD, ginkgo biloba to aid in stimulation, and hyaluronic acid to help with moisture retention. It's the product from the new trio that Heyman is most enthusiastic about. "It definitely provides some moisture, but it's not so much a lube as it is a vasodilator," she says. "It increases blood flow for enhanced stimulation. It makes you feel a little tingling, and it smells delicious."
Like the Edie Parker product that preceded them, Sleepover Spray, Hot Pot Body Salve and Superbloom Flavorless Tincture were created to occupy a place of pride in consumers' home. "I want you to display all these products on your nightstand. We don't want you to hide them in a drawer," says Heyman. "We want you to gift them just like our cannabis accessories, just like our cannabis." The Flower By Edie Parker CBD topicals merchandise is available on the brand's website as well as at Fleur Marché.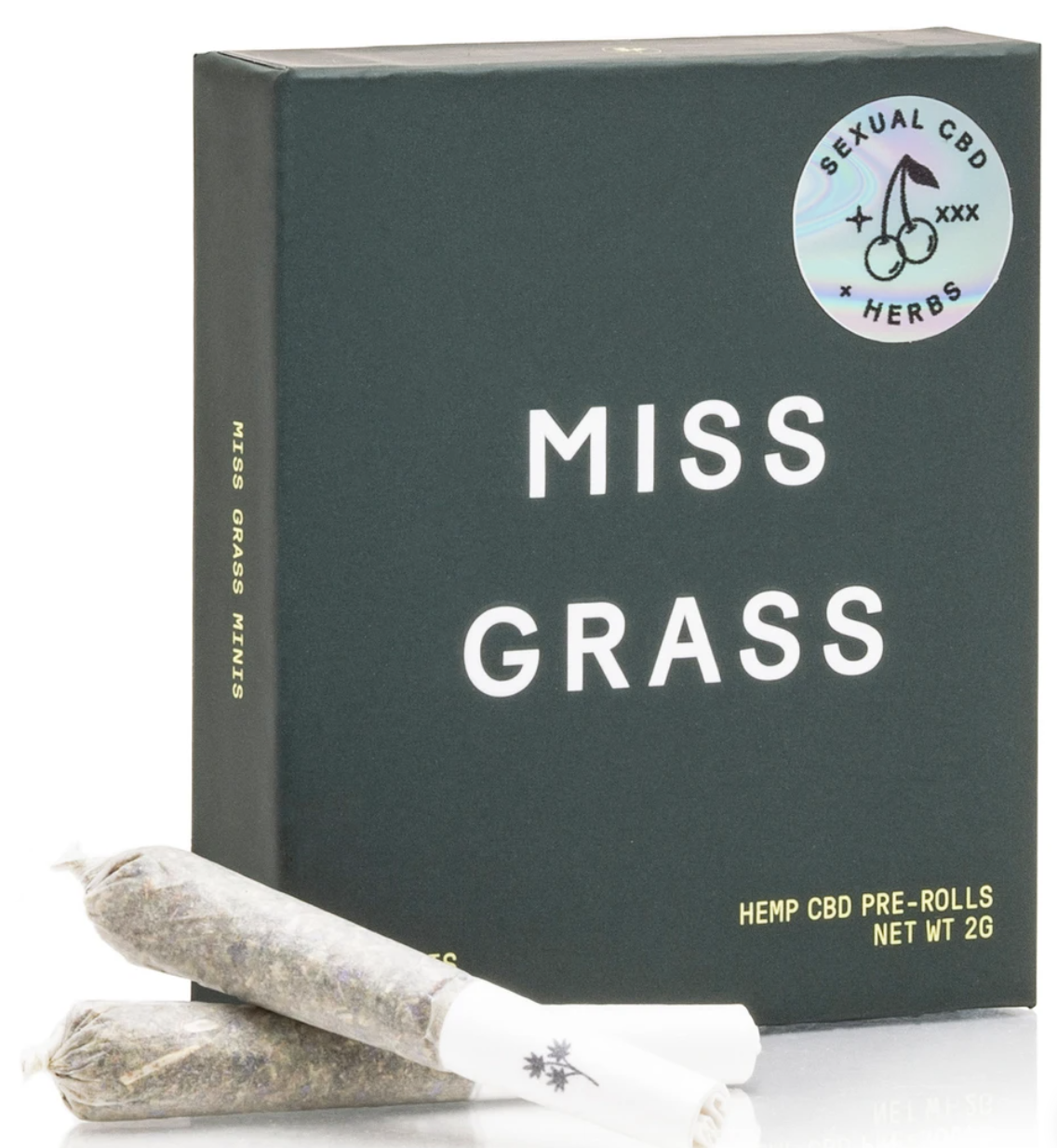 Miss Grass XXX Hemp + Herbs Minis For Sex: Similar to competitor Fleur Marché, Miss Grass is a cannabis e-tailer that recently expanded from third-party products to its own line. Miss Grass's in-house line consists of a series of three THC and three CBD-only Hemp + Herb Minis pre-rolled joints. The latter is available in three blends: OOO Hemp + Herb Minis for Balance, ZZZ  Hemp + Herb Minis for Sleep and XXX Hemp + Herb Minis for Sex. "Our pre-rolls were inspired by our community, ourselves and the various needs that cannabis can help satisfy, soothing stress, inducing calm, stimulating creativity, enhancing sex and facilitating deeper connections," says Miss Grass co-founder and CEO Kate Miller. "We're passionate about using cannabis for these needs and more, and they're regularly hot topics of conservation among our community."
XXX Hemp + Herb Minis for Sex retail for $26 for a box of five. Miss Grass relays that the effects can be felt immediately upon smoking, with full effects coming on within 10 to 15 minutes. Miller shares that the XXX products were created "to provide an uplifting experience that inspires connection and creativity without inducing an intoxicating THC high. Our XXX pre-rolls are made from organic, full-spectrum hemp flower that has a high percentage of non-intoxicating, system-regulating cannabinoids like CBD and CBG, and less than the federally legal limit of .03% THC as well as terpenes which are known for their therapeutic effects."
The hemp base of the XXX pre-rolls is blended with organic herbs, including damiana, hibiscus, rose, jasmine, and holy basil, selected for their mood- enhancing, adaptogenic and aphrodisiac benefits. Miss Grass's Hemp + Herb pre-roll varieties also contain mullein, an herb purported to have lung-soothing and respiratory-clearing qualities. "Combined, this all creates a super smooth, highly enjoyable smoke that elicits full-body relaxation and a nice feeling of euphoria," says Miller. "Some users also report feeling a warm, tingly body buzz all without the usual head high of classic THC joints." Customers are buying in. Miss Grass sold out of its first batch of Hemp + Herb Minis within their first week of availability, much quicker than it expected.
Urja Intimates by Dr. Sherry Vibrant V Moisturizing Silky-Serum: Priced from $36 to $75, the three-product Urja Intimates premium vulva and vagina care range consists of Vibrant V pH Balanced Personal Wash, Intense Hydrating Lubricant and Vibrant V Moisturizing Silky-Serum. Ross formulated the Vibrant V Moisturizing Silky-Serum with hyaluronic acid, 500 milligrams of broad-spectrum CBD, bakuchiol and vitamin C to prevent premature aging, improve dryness and irritation, and tackle other skin issues like razor burn and ingrown hairs that can strike the intimate area. 
Beauty industry veteran Liz Bishop, who previously held positions at Johnson & Johnson, GlaxoSmithKline and Valeant, and her niece Molly Argue, the marketing brain behind the brand, launched skincare brand Urja in 2019. Argue became acquainted with Ross as one of the doctor's patients. Ross points out Urja has "all the important principles I look for in healthy, safe and effective feminine wellness." Discussing where she gets her ideas for Urja Intimates products, she says, "My most compelling conversations happen with a woman's legs in stirrups." 
Urja is a member of a burgeoning group of brands—Love Wellness and Queen V among them—formulating products to restore or, at the very least, not disturb vaginal pH. "The vagina is normally acidic which protects it from infections and inflammation," instructs Ross. "An acidic pH between 3.8 and 4.5 is the ideal environment for the many protective organisms which all live happily together in the vagina. Anything that disrupts this delicate balance could lead to infection, dryness, itching or burning. If the pH becomes less acidic and more alkaline, unhealthy bacteria and yeast grow uncontrollably causing unwanted symptoms." 
Everyday factors like diet, medication, sex and stress can disturb vaginal pH. Added fragrance and colors commonly found in personal, period and sexual care products can be culprits, too. Urja Intimates by Dr. Sherry's products are free of those compounds. "This is really what I love about our Urja Intimates product line," says Ross. "We've made a vulva- and vagina-friendly soap, a moisturizer and lubricant that will not disrupt the pH balance. Our team understands how to protect the delicate nature of the vulva and vagina, and we will be a trusted resource for the daily health and wellness of this sensitive area."