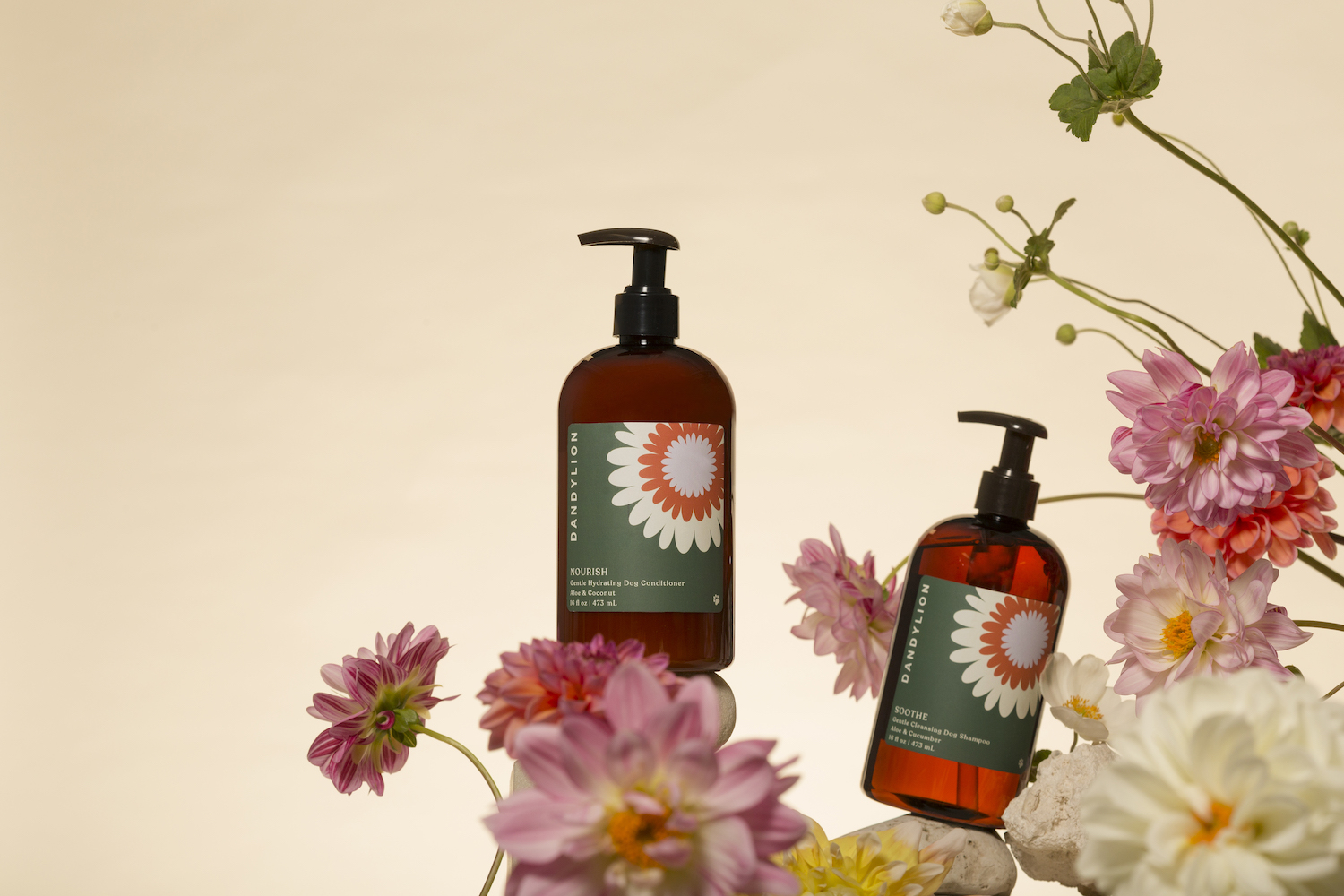 Former Beauty Brand Creator Carolyn Chen Turns Her Attention To Dogs With New Brand Dandylion
Beauty has a burgeoning pet care category thanks in part to the rise of pet adoption during the pandemic.
Luxury brand Pride+Groom launched last year, and Ouai placed its pet shampoo on Sephora's and Ulta's websites. Aesop, Kiehl's, and Burt's Bees also offer dog-dedicated products. The principle behind the new pack of pet products is that pet parents should care about what they use on their animal companions as much as they care about what they use on their own skin or the skin of their human kids.
Carolyn Chen, who previously launched the beauty brands Orosa Beauty and Vesca Beauty in 2019, is a big proponent of superior pet products, and she's putting bite behind her bark with her new brand Dandylion. "Although there's been a movement in the beauty and personal care industry with formulating with better-for-you ingredients and consumers being smarter about what they're putting on their own skin, that same level of care hasn't been devoted to developing better dog care product for our fur babies," she says.
Chen got a lesson in the inferiority of the pet care market when searching for a solution to her 10-year-old cockapoo Mocha's consistently itchy skin. The search prompted her to do a deep dive into the ingredients in dog products. "I was pretty shocked to discover how unregulated the dog care industry really is," she says. "There are no product testing standards. There's a lack of ingredient transparency and also really misleading ingredient lists. Some companies don't even publish their ingredient lists on the products that they're releasing out into the world.."
Dandylion is kicking off with two products priced at $18 each—Gentle Cleansing Shampoo and Gentle Hydrating Conditioner—formulated with 98.8% plant-derived ingredients, including aloe and cucumber. The ingredients are listed clearly according to International Nomenclature of Cosmetic Ingredients (INCI) identifiers. The products avoid sulfates, drying alcohols and dyes. Unlike some pet grooming brands, they skip artificial fragrances and essential oils, too.
"A lot of the time dog products are pretty heavily fragranced, which benefits the humans more than they do the dogs," says Chen. "It can be highly irritating to their skin as well as their noses." She points out that the pH level of  Dandylion's products sits at between 6.5 and 7.5—human products typically hover around the 5.5 mark—to be more suitable to dogs than people.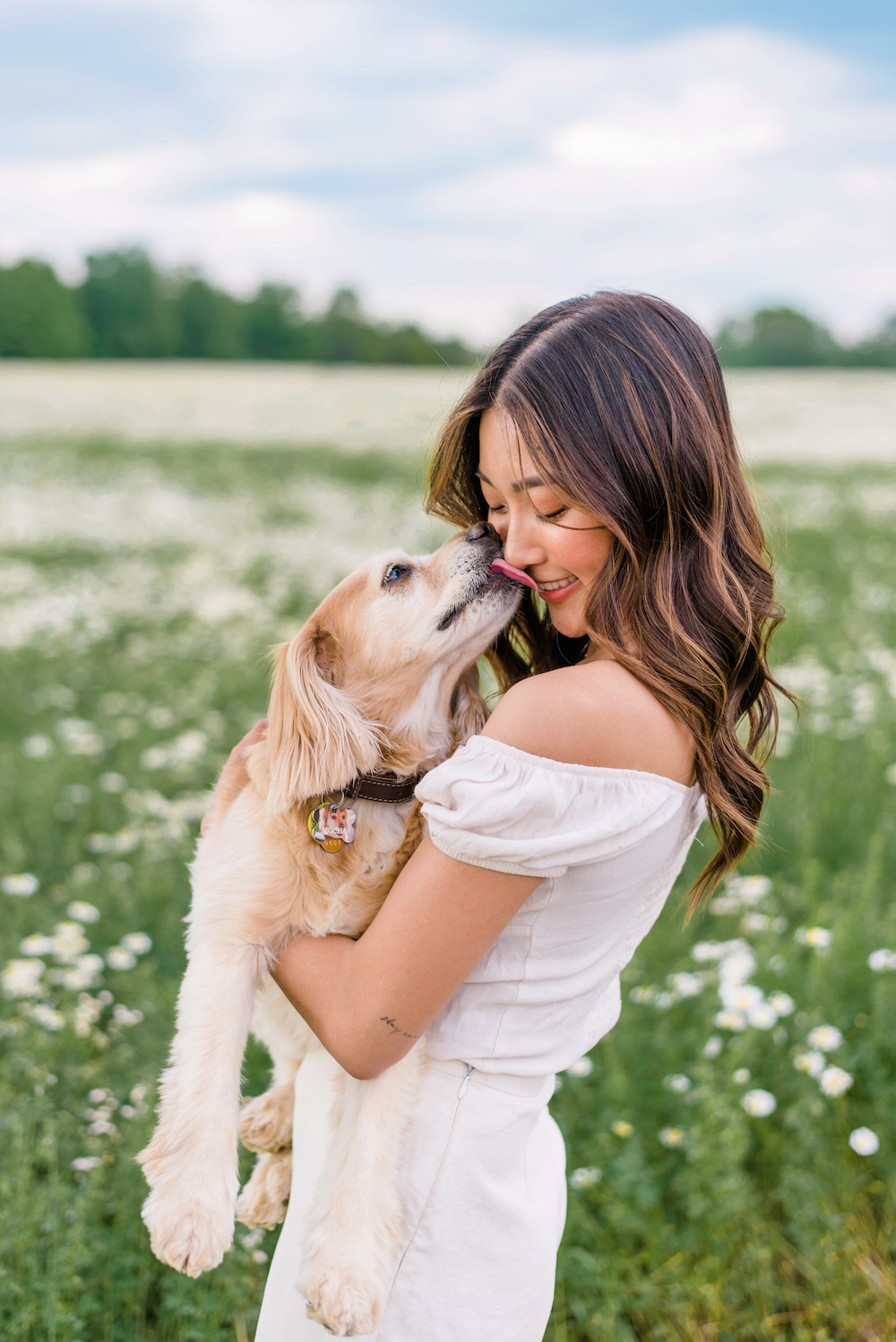 Chen consulted with veterinary dermatologists, groomers and over 100 dog owners to inform product development. She asked them questions to drill down on their preferences for dog products, skincare issues their dogs have and considerations they weigh when choosing products. Once she had product samples in hand, she sent them to the people she consulted with for further feedback. The products also underwent stability, compatibility and preservative efficacy testing.
"I wanted to make sure that the product performed well across a range of breeds, different coat lengths and also different skin issues," says Chen, sharing that research and development accounted for a majority of the $30,000 she poured into starting Dandylion. She emphasizes, "I wanted to formulate to human personal care standards."
Dandylion's products are intended to perform well enough and look good enough to sit out on the bathroom counter. Its recyclable amber bottles feature a colorful flower illustration that plays off of the dandelion plant. "I wanted something that looked elevated, but still felt whimsical and playful, especially because dogs bring up so much joy," says Chen.
Dogs are notoriously squirmy, particularly around wash time. In addition to being beautiful, Dandylion's packaging was selected to be as functional as possible for dog parents. "With a lot of the bottles, you actually have to use two hands to use the product," explains Chen. "You have to use one hand to hold the bottle, one hand to flip the cap in, and then spread the product out on the fur when you're bathing or showering them, but I wanted my product to be really easy where you can just pump out the product with one hand."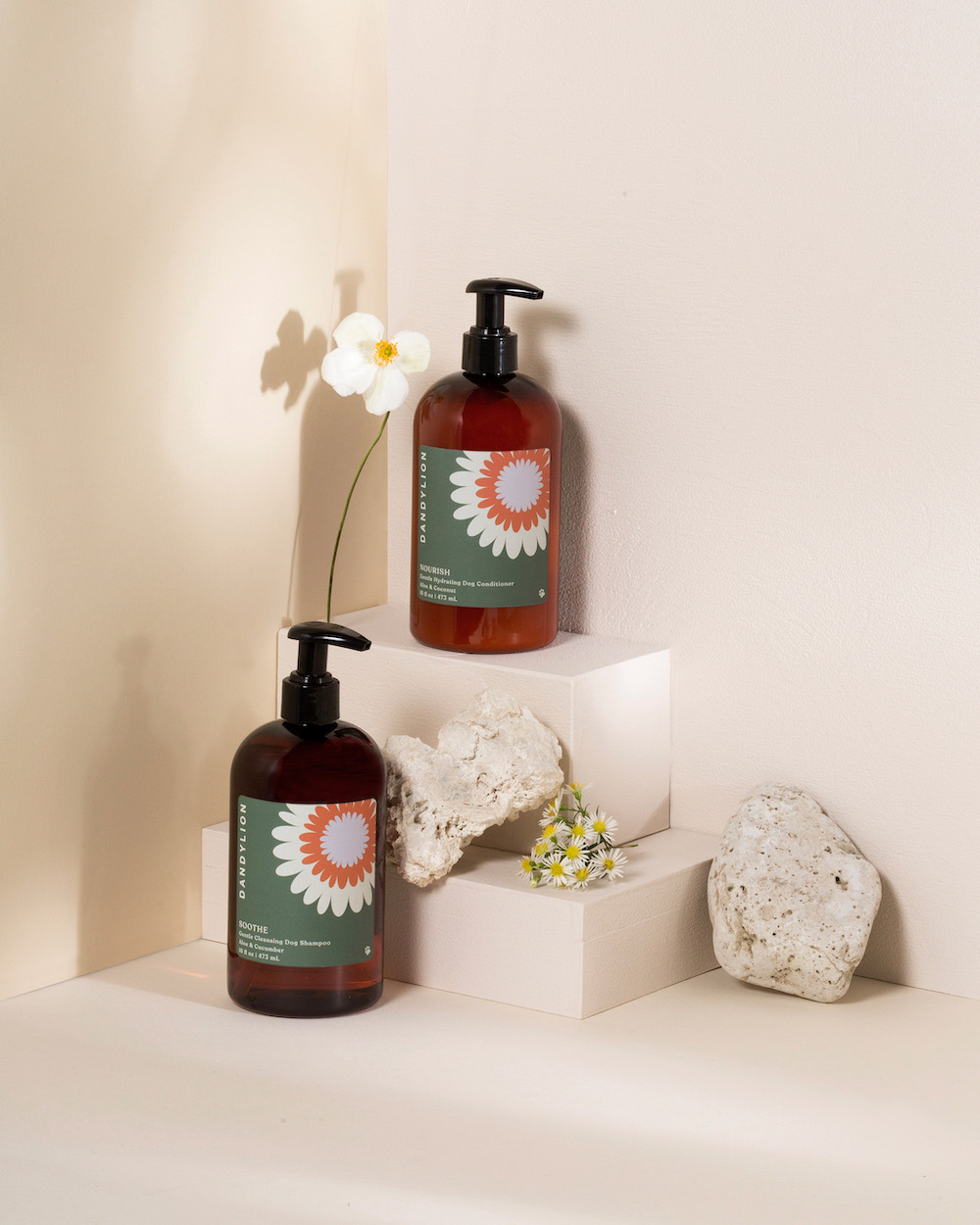 Chen's already tapped dog influencers to help spread the word. She managed to snag Boobie Billie, a greyhound-Chihuahua mix with over 250,ooo followers and his own fashion line, for a Dandylion photo shoot. Doug the Pug, who has 3.8 million followers, and influencers, including members of the D'Amelio family and Jeanne Gray with social media-facing dogs along with millions of followers, have been gifted the products a well.
In the future, Chen aims to create more products focused on paw care, ear care and outdoor care, and build a community of millennial dog parents both online and IRL in Toronto, where Dandylion is headquartered. She says, "We'll hopefully be hosting some dog events in the summer where dogs can connect with each other, but also where humans can find dog parents that they can go on walks with or set up doggy playdates with."