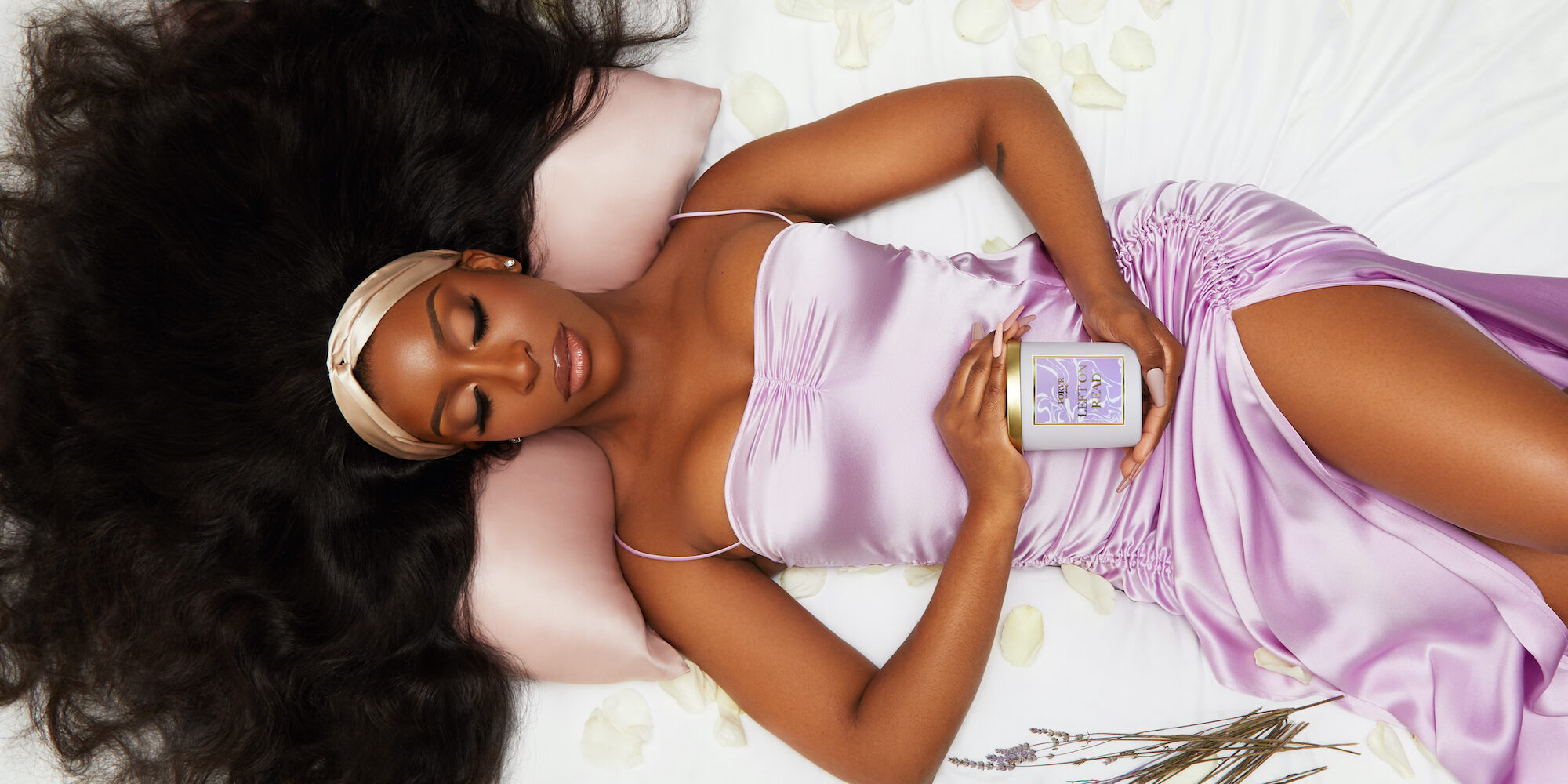 Forvr Mogul: Jackie Aina Is Building A Beauty Empire Her Way
We had a very different introduction written for this interview with Jackie Aina, her 
Forvr Mood
cofounder and fiancé Denis Asamoah, and Forvr Mood president Asha Talwar Coco as we prepared to publish it this Monday.
Then, last Friday, following the launch of Forvr Mood's latest collection, Owambe, hundreds of people took to social media to express their upset, disappointment and anger about the name of one of the candles, Sóró Sóké. The Yoruba phrase sóró sóké translates roughly to "speak up," but as several Nigerians and people of Nigerian descent pointed out, during the #EndSARS social movement in 2020—SARS being an acronym for Special Anti-Robbery Squad, a unit of the Nigerian police—the phrase took on a deeper meaning. Sóró sóké became a battle cry of the movement, protests during which at least 56 people died in Nigeria. 
There are several posts across Twitter, Instagram and TikTok that explain in-depth why naming a candle sold for profit sóró sóké is offensive, but, as one tweet plainly put it, "A lot of people died chanting 'sóró sóké.'" On Friday, Aina posted an apology on her personal and Forvr Mood's Instagram accounts and had the candle immediately pulled from Sephora and Sephora.com.
Beauty Independent held off publishing the interview and went back to Aina for comment on the situation. She said, "The entire Owambe collection came to life as a celebration of my Nigerian heritage. Across the four candles, one in particular, Sóró Sóké, was inspired by its Yoruba translation "speak up", a phrase that also rose to prominence during the #EndSARS movement in Nigeria to raise awareness against police brutality. Our intentions were to empower, however, the use of the name has since been a mistake I take full accountability for. Moving forward, I am dedicated to empowering my Nigerian community in more appropriate and positive ways."
Social media is unrecognizable from 10 years ago when you started your YouTube channel. What do you think of the landscape today?
Aina: Social media has changed tremendously. I think what's going to separate the first generation from the second and third wave of social media influencers, what's really going to allow us to grow and be in it for the long haul, if that's what you want, is just being open to it. I've seen it time and time again, the longer you've been a creator, usually the least receptive you are to change. There are some people that still have no clue how to use TikTok and aren't at all interested. But this industry is still fairly new and the fact that in just over a decade it's made so many people so much money, I'm very much like, get in where you fit in and enjoy it while it lasts because we don't know if that's even guaranteed.
I'd rather do that instead of spending time on nostalgia because it's probably not going to come back. That's just the reality. I think what's also important, not only as a content creator but as a brand founder, is finding balance and not getting lost or caught up. There are things about the modern wave of social media I love and things I don't care for, and those are things I don't participate in. But there are other ways that I take it and I make it my own. 
Having safe, healthy boundaries is very important to me. As it relates to Forvr Mood, the brand isn't a reflection of just me, or an extension of me. It's also an extension of the community that we built. Being thoughtful and mindful of that and knowing, okay, this probably isn't something as a brand we need to partake in. I'll give as an example the recent Johnny Depp and Amber Heard trial. This is just my opinion, but it's not the place for brands to be making memes. It's just not funny. If you want to talk about it on a personal page, by all means, but there are things that, as brands, we don't touch.
With the wave of plastic surgery on social media, there's stuff that I'm just like, we have lost the plot, what is going on? You're still a professional and you still have a job, so put the phone down. The line gets blurred about what the brand is because influencers are becoming the brand and the brands are becoming the personalities. For my brand, I have very specific goals, I have very specific things that I don't want, so finding that balance is so important because I don't want it to get misconstrued or get lost in the sauce.
Do you really steam your sheets every day?
Every day. I'm very serious, honey. While I can, I'm going to do it. I have the time now, one day I'm not going to have as much time and I got to do it while I could. I actually enjoy it. If it's a chore, then why am I doing it? As people, we put a lot of unnecessary stress on ourselves. For example, if you don't like to clean and if tidying up your home is the bane of your existence, you probably don't want to have all white furniture. You're going to be cleaning every minute. If you love cleaning or maybe cleaning is therapeutic for you, like me, create an environment where you can do it more than the average person. One day maybe I'll get sick of it and I'll be like, 'All right, I'm not enjoying it anymore.' But I think it's just what comes authentic to you and whatever you enjoy. 
A big reason why Forvr Mood is called Forvr Mood and not Jackie Aina Candles or Jackie Aina Home is that the brand isn't just me. It's not just about my personality, it's a community. When I started the brand, I had an idea of it being a community, and it was Denis [Asamoah] as my co-founder that really has done the brand building. I've led the creative vision.
We've come together and we've done that really efficiently, but I was very intentional. I'm not the brand. I didn't want to go down the steps of what some other brand founders have done. I've seen how it plays out. And I was like, no, no, no, these are two different things. Also, I want my own thing. I don't want my name on everything. Forvr Mood is an extension of me, obviously, because people know it's my brand, but I don't want to be stretched so thin that I'm the face of literally everything all the time. I think it would probably become a lot to maintain. So, I wanted the brand to have its own identity.
"The line gets blurred about what the brand is because influencers are becoming the brand and the brands are becoming the personalities."
Do you feel pressure from anyone to be the name and face of everything?
Aina: Not internally, but as a content creator, as someone who's highly visible, I've come to realize, because this space is so commodified now, I could literally post a cleaning haul and I'll get comments, 'You should start a cleaning company.' And I'm just like, 'How did we get here?' I'm telling you, it's with everything. Creating a brand probably looks shinier, prettier, easier than it actually is. People don't really realize what labor they're asking the person to sign up for when they make those suggestions. 
Publicly I feel that pressure, but I draw the line. [People will] suggest something and I'm like, 'I'm just chilling. I don't have to have my hand in everything.' And they're like, 'Oh, I never thought of it that way.' Internally, no. The team is very much on the same page about it being a balance. Even our retail partner Sephora is very much on the same page about, like, 'Jackie wants to be placed in certain areas. We don't necessarily need her in every campaign.'
Speaking of Sephora, how has it been to have them as a retail partner? 
Aina: I was surprised at how hands on they are, in a good way. What is great about Sephora is they will lead as much as you allow them to. It's very collaborative. It's not like, 'Whoa, I'm losing control of my brand or my voice' at all. They want you to succeed. You're occupying their shelf space so it's got to be mutually beneficial. And I love that they don't sugar coat that. They give you everything in order to be the shiniest, the best and to set you up for success. 
They are great brand builders.
Coco: We've gone in with lab samples. They welcome it. They're so excited.
Aina: They love it. The meeting invite list was so long when we went in with lab samples. I was like, 'Everybody and their mother's coming to this meeting.' They're so excited. They use the phrase 'in the kitchen' and it's really about creating together because it's mutual success. If we're successful in their doors, they're successful and vice versa. We all want to win together. 
Can you share anything about future plans for the brand? 
Aina: What I'm most excited about, and we're definitely going to be speaking to this publicly when the time comes, is we're making a lot of changes internally that will reflect how much we've evolved. We started the brand in the pandemic and it was honestly a passion project. At least it was for me. I think Denis was more forward-thinking as far as what his idea was five, 10 years from now. I knew exactly the void the brand was filling. I knew exactly what I wanted and what I did not want the brand to represent. I wasn't thinking as big as Denis was.
Because of the current state of the world, logistics are a hot mess for a lot of brands. We've run into a lot of hiccups, but we've made changes that will reflect how we're going to give better quality products than we already have, which I think says a lot, because when we first built the brand, our customers and our followers were like, 'This is noticeably different from anything else I've ever tried.' Candle lovers know what's out there, what the landscape is. We already had our own finish point at the time, but now more than ever, I'm so excited to talk about how we're improving internally.
Asamoah: As a startup, you learn on the job, you make mistakes, it's all part of the process. Some of the things that we've taken on in terms of feedback from customers is offering quicker shipping times and being able to expand international shipping. We are trying to improve that, and those are the things that we're really excited about doing. Also improving the product, hence why Asha is on the team. She's been a great addition. We want to keep on expanding the team and have great experts doing things that are going to help and grow the company. We want to have more consistent and enhanced products and work with the very best fragrance houses so that our consumers can have the best experience.
Coco: Jackie and Dennis's involvement is incredible. In my career, I've worked with a lot of founders, creators, celebrities, and I've seen all those models that you referenced of creating and slapping your name on something. It's so refreshing to have a team with you side by side in the day to day with a very decisive, visionary point of view. I feel so blessed. I get to help them make it become a reality. 
The newest collection is really amazing how we were able to celebrate Jackie and her heritage. We brought in some new fragrance partners for the brand from Firmenich and IFF. To the point around the quality and how we're partnering and thinking about product development, Jackie and Denis have approached all of these concepts so thoughtfully. It's about pulling in the right partners to help make the vision come to life. I think this is a great manifestation of that first step towards our future in terms of how we're going to be creating next level products.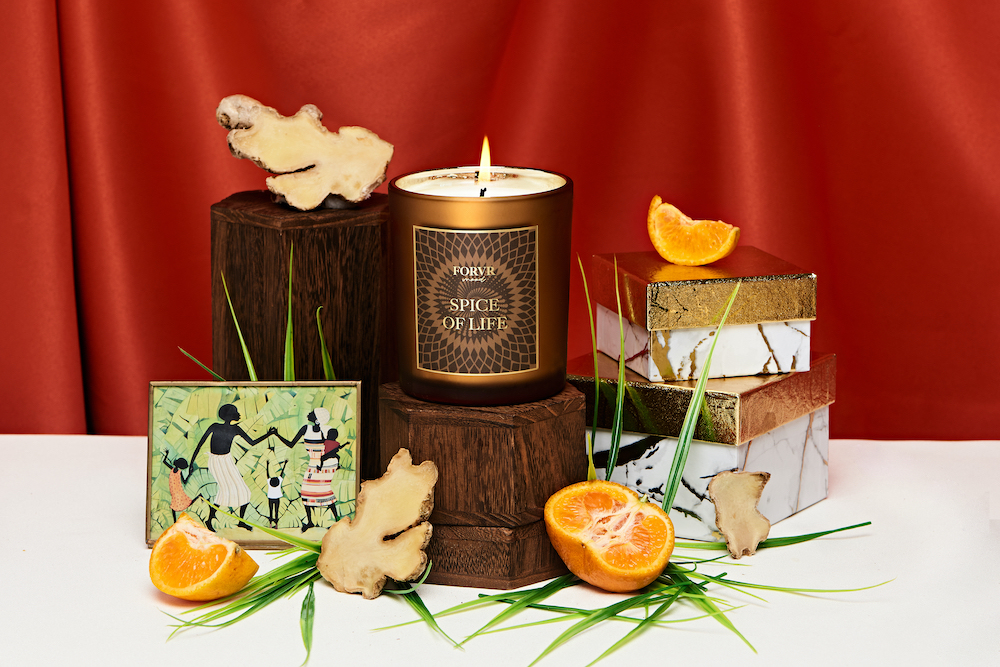 How did you create the scents for the new collection?
Aina: This is the Owambe collection. Owambe is a word that we use in Nigeria that's basically a huge celebration or party, very lavish, very decadent. It's our fall launch because most candle brands will, in early to late August, start bringing the fall rollout. It's also a collection to celebrate the anniversary of Forvr Mood and my birthday. So we're celebrating a lot, which is in the name. What was really unique about this collection, which may not seem big, but really was night and day as far as the developmental process, we got to work with IFF and Firmenich for the first time. When I started the brand, I was really thoughtful about how scents make you feel because that is a big part of why I fell in love with fragrance and home fragrance in general.
This was the first time I got to tell them, as opposed to previously I would be presented scents and I would have to choose from them through the process of elimination. When you go to these huge perfume houses, you tell them what you want the scent to feel like or remind you of or what you want to channel. Where do you want the scent to physically take you? That's something I've always wanted to be able to do with the brand, but I've never really got to do from the ground up. That's exactly what we did. I gave them background about what the collection is inspired by, which was my Nigerian background. My mom is African American and my dad is Nigerian, so I embrace and celebrate both cultures, Black American and Nigerian.
The brand is obviously so pro-Black, but this was the first time I launched something that was an homage to Nigeria. I gave them a full background about what I was looking for, what I wanted the collection to feel and remind me of. Also, again, it's a fall launch and there's very specific things that collectively we want to smell and channel during that season. It's complicated, but they nailed it. It's the most luxe, elevated collection of scents. I'm not gonna lie, the scents are fire. I've already burned through the equivalent of four boxes and that doesn't count the samples that I was burning before. As soon as one runs out, I replace this exact same one in the exact same spot. I've got a little bit of the core collection in one room, a little bit of spring season in the kitchen. My house is a whole experience.
"You have instances like Elizabeth Holmes, people bet on her potential, but with Black-owned brands, they will bet on your proof."
Where in the industry is the most help still needed to support Black-owned beauty brands?
Aina: I would still love to see VCs putting their money where their mouth is as far as investing and helping brands grow. I've noticed that two very different things happen depending on what you look like in this industry. You have instances like Elizabeth Holmes, people bet on her potential, but with Black-owned brands, they will bet on your proof, and these are two extremely different things. Another example is Fyre Festival. People invested in the potential of what the festival could have been, but a lot of Black-owned businesses and brand founders don't get that same grace. That's essentially what it is, you're giving that grace, you're giving them the benefit of the doubt. You're giving them a chance. 
We're making a lot of improvements, and I think there's never been a better time historically to be a Black-owned business or a Black brand founder, but I'm still seeing, as far as getting past the startup phase and being able to really expand, and I'm not even just speaking for myself, it's still very much like, 'We still need to see.' And it's just like, what else do you need? They want more than just your potential. They want to see proof. And I would definitely like to see that improve for sure. Absolutely
What's your favorite social media platform?
Aina: I can definitely say TikTok. It's such untapped territory still. It reminds me of every new app when we haven't really defined what it is and what it isn't yet, and that's what makes it fun. 
As a brand, we've been having a really great week on Reels. We love all of the platforms, but we have a piece of content that came out of our launch event that was completely unplanned. It was really authentic and today it has 15.4 million views and is almost at a million likes. So, we've been having this amazing moment as a brand and a team. 
Were you all trying to figure out what made it go viral? 
Aina: I know exactly what it is, it's that it's everything that the brand represents.