Four Keys To Conducting A Market Analysis In The Beauty Sector
When Elana Drell-Szyfer, now CEO of RéVive, was running makeup artist-founded cosmetics brand Laura Geller, she came to a critical crossroads. "One of the key points of differentiation for Laura was that her products were made in Italy and that her eyeshadows were baked, which was a specific process and that made her a category leader," recounted Drell-Szyfer in Beauty Independent's In Conversation Market Analysis webinar last month. "She sold all of her eyeshadows as singles." However, consumer behavior and competition was changing. "We entered a palette market and the question was, how do you stay true?" asked Drell-Szyfer. "Do you play in the palette market or do you not play at all?"
Drell-Szyfer turned to a formidable market analysis to answer the question. During the webinar, she and fellow participants—investor Cristina Nuñez, co-founder and partner of True Beauty Ventures, and Mark Wuttke, chief growth officer of Cosmetic Solutions, sponsor of a five-part series on product development and commercialization—delved into their approaches to existing brands expanding their product lines.
"If you don't have a rough idea of what [your product] looks like when it's finally done, how do you know if you're making the right decisions along the way?" queried Wuttke. He suggested the biggest mistake entrepreneurs make is not anticipating the production and branding requirements necessary in launching a product. The failure to conduct a proper market analysis can result in restarts and reductions in margins that stall growth.
Getting the cost of goods right is the main predicament, according to Wuttke. Without a market analysis, a brand will invest in product development and then set a price based on what it costs them. Market analysis, on the other hand, can help in engineering the product based on the price the market can bear and the amount consumers will be willing to spend. A brand that spells out its positioning, messaging, claims, pricing and distribution plans along with ingredient and certification stipulations before connecting with a manufacturer is, in Wuttke's eyes, "a dream client."
The major question is: How to get there? Each of the three experts shared their experiences and perspectives as brand operator, investor and manufacturer on the process of engaging in a systematic, yet highly variable, market analysis.
STEP ONE: SURVEY THE MARKET
Identify consumer awareness, needs and sentiment.
Movements: In surveying the market, look for societal indicators or larger concepts influencing consumer habits and behaviors. Can a brand seize upon a palpable shift in consumer behavior? Drell-Szyfer highlighted the macro level signifier of movements. She explained, "Movements are things that reflect the values. They are not short term. They're not lasting a week or a month. They're very meaningful." For the panelists, current movements to watch include sustainability, self-care and inclusivity. "For a product, concept or idea to be more long lasting, it should be anchored in something that is going to be in the market for a longer period of time," asserted Drell-Szyfer. "That may be more universal, but it can have elements of trends."
Trends: Trends, Drell-Szyfer said, are micro-level considerations driven by larger movements. Being on-trend is imperative in speaking to consumers. She pointed to the popularity of the color millennial pink as a contemporary example. To unearth current trends, she advised talking to experts, reading relevant publications, attending trade shows and studying trend reports. "Trend reports can be both micro and macro. It's a constant observation," says Drell Szyfer. "I think you execute against the trend, but you have to anchor your concept in the movement, the thing that is more long lasting."
Pro Tip: Beauty entrepreneurs don't have access to the deep consumer and category dives performed by huge corporations, but there are plenty of resources for founders if they know where to look. "The fact that we all now have access to Google and all kinds of free, easily searchable opportunities online, provides plenty of opportunity to research," said Drell-Szyfer. She also advocated using available networks and communities in beauty. She said, "It's very easy to ask people that you know, suppliers or retailers, to talk to them about an idea."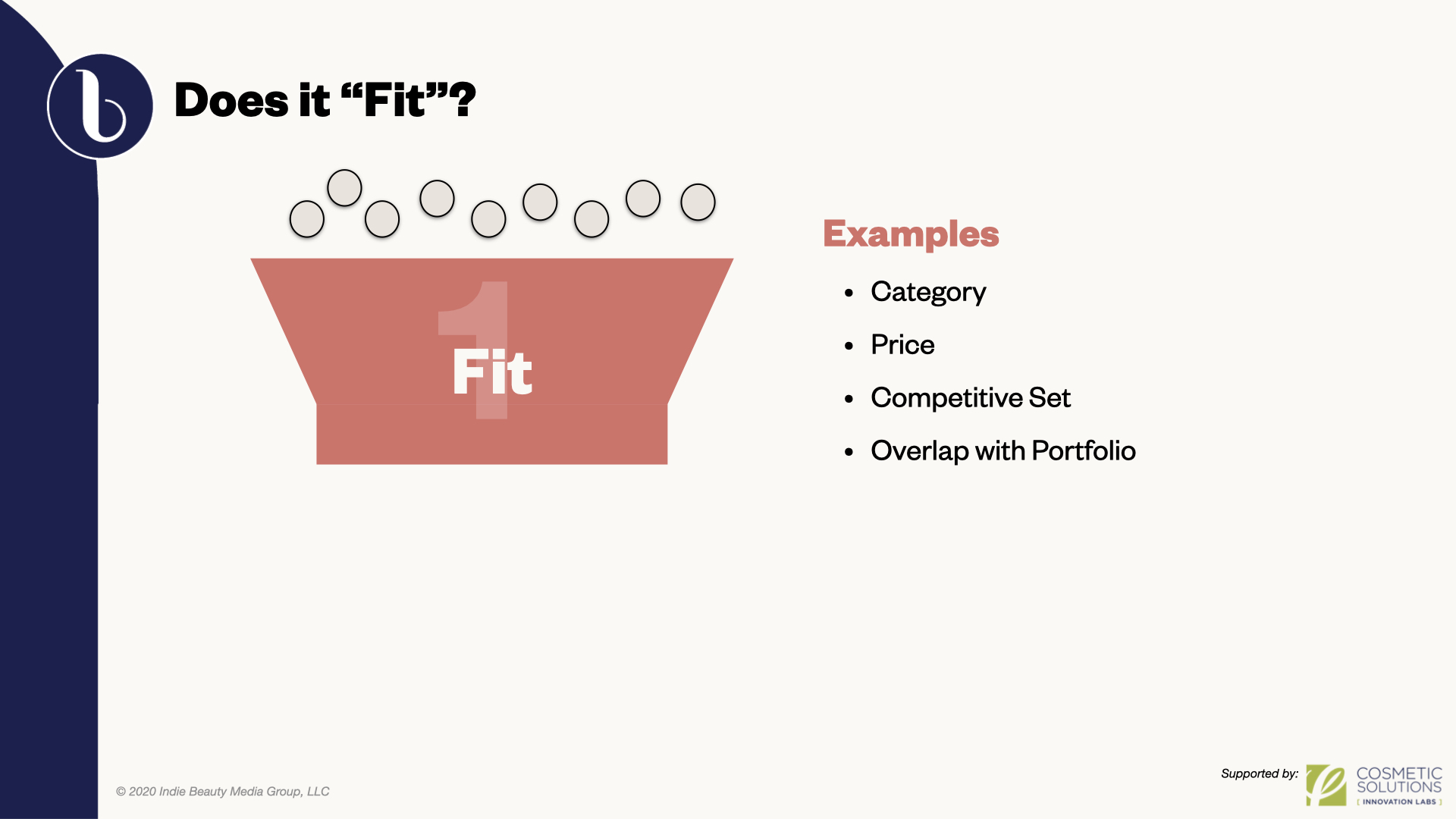 STEP TWO: ASSESS THE CONCEPT
Is the new product on-brand? Does the brand have the means and positioning to launch it successfully?
Fit: Fit is an important consideration when weighing a new brand or product. A true assessment of a concept will determine if the new product fits with a company's expertise and a price point its consumers are willing to pay. It can also show there's a product already on the market by a rival brand that's doing it really well.
Win: Once the fit assessment is complete, another consideration is whether a brand can win with its offering. Is no one else providing what the brand intends to provide, and does the brand have the means and message to capture consumer attention? The ability to establish differentiation and bring a sense of newness greatly increases the odds of success, said Drell-Szyfer. She elaborated, "Maybe it exists in the market, but, if you have a different way to tell that story or a different positioning that makes it more interesting to somebody, that's what we call filtering for the win."
Pro Tip: Be brutally honest. "If you are asking yourself these questions, you can't flub the answers," said Drell-Szyfer. "You need to be disciplined about your answers, and you need to be consistent, which means you really need to know your company: its positioning, its values, and its capabilities."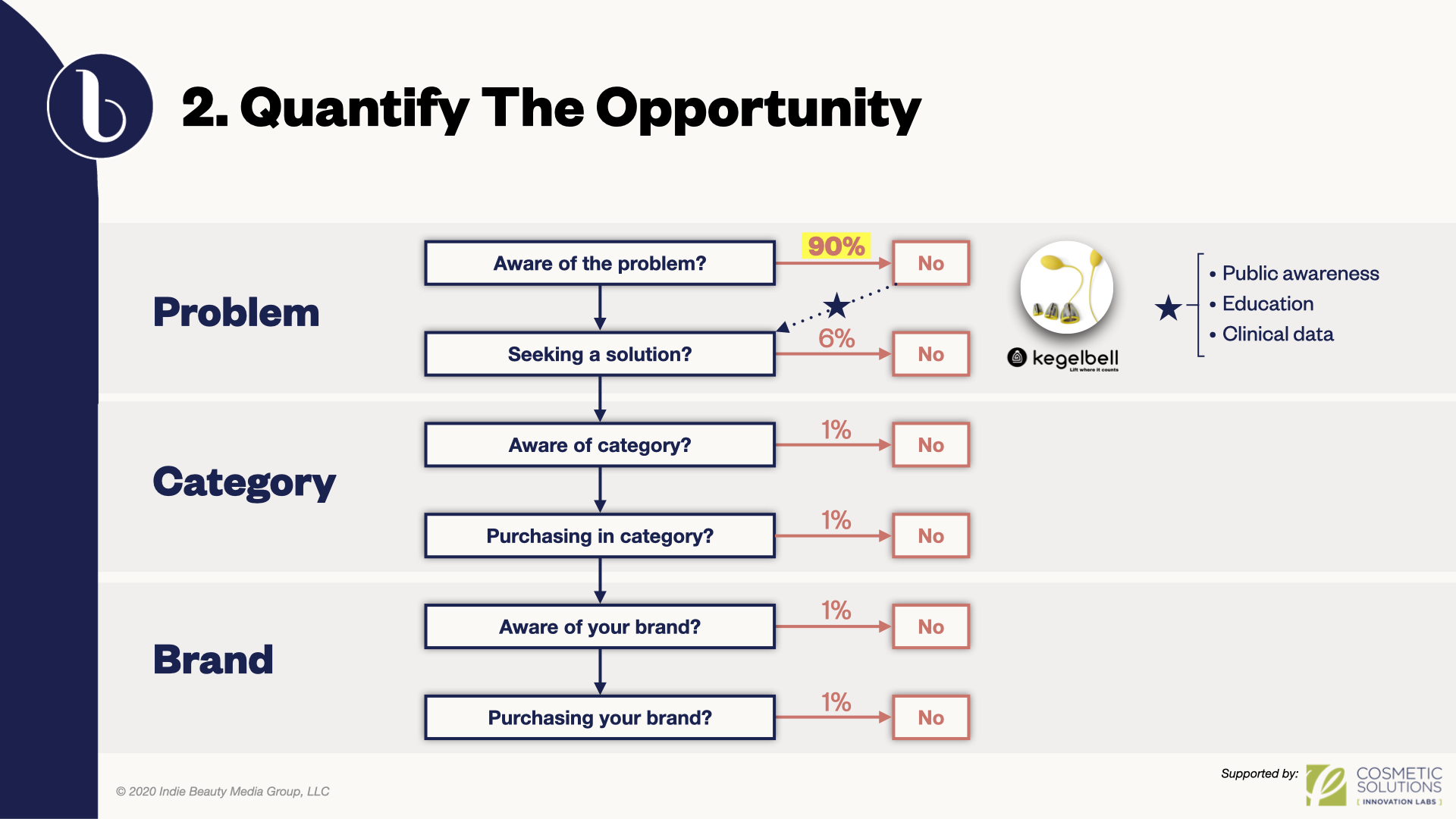 STEP THREE: DEFINE THE OPPORTUNITY
Where is the opportunity? What barriers need to be overcome to reach consumers?
Market: True Beauty's Cristina Nuñez described a market-building scenario as an opportunity to create a segment that doesn't yet exist. In doing so, a brand with a revolutionary slant or product acknowledges it has to educate consumers on a topic or product that they didn't even realize existed. Nuñez used indie brand Kegelbell as an example. "It recognized that it actually had to start the conversation, make this product, find the consumer, and talk about education around the need that women have [to strengthen their pelvic floors]. Essentially, the brand wanted to bring awareness of the problem and get women to recognize that there's a solution."
Category: Tackling a specific category is another route for brands. A brand can recognize that people are aware of a certain problem or lack of effective solutions for it. In this situation, less conversation and education is required than would be required for establishing a segment, and the emphasis should be placed on delivering a solution. Nunez recommended looking for categories that are around, but don't have much merchandise differentiation. She cited Klorane's introduction of dry shampoo as an example of a product that redefines a category.
Brand: Similarly, optimizing a brand opportunity in an existing category requires an emphasis on differentiation, particularly within a category that has a dearth of innovation. For relatively unknown brands, the bottom-up strategy demands resources for stoking awareness and introducing new ingredients or technologies as sales drivers to outpace an established set of brands in the marketplace. As an example, Nunez applauded Supergoop for its branding and messaging around sunscreen application throughout the year.
Pro Tip: Nuñez counselled brands to consider obstacles, product requirements and cost to prepare resources for launch. She said, "In order for you to achieve that level of commercial success that you're striving for, identify the tactics that are necessary to ensure that both your product and your market strategy are the right fit to get your brand to the highest potential."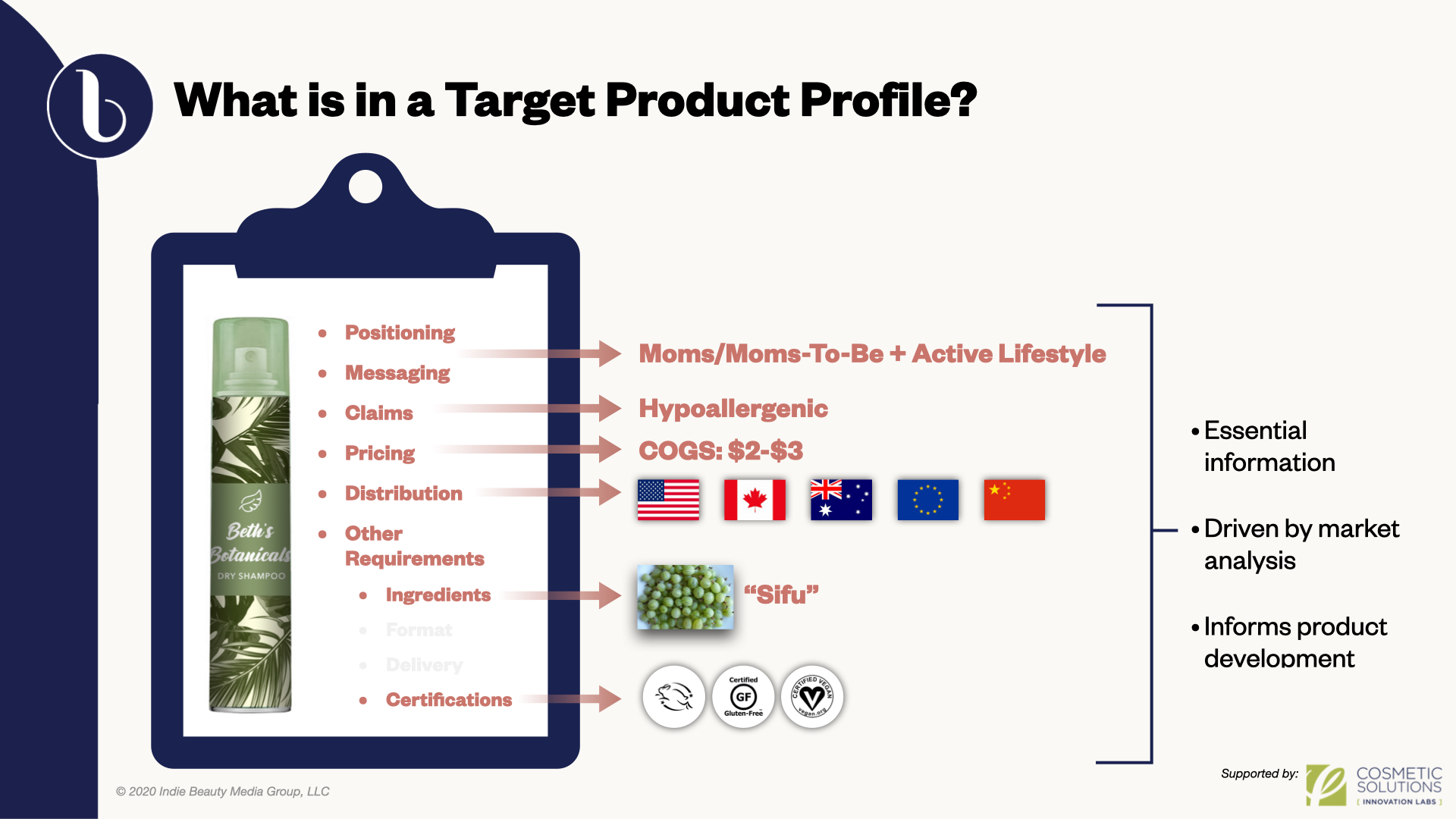 STEP FOUR: GENERATE A TARGET PRODUCT PROFILE 
Establish product requirements before approaching a manufacturer.
Brand Strategy: Many indie brands develop a product and then look for strategies to sell it, but Wuttke stressed that tactic involves many costly do-overs. Backing up a claim, for example, may require certification which, in turn, could require reformulation. It's an expensive proposition. Instead, he instructed brands to distill brand strategy information from a market analysis to inform product development. He underscored it's essential for brand owners to turn to the analysis information as they proceed with their commercial strategy. Wuttke said, "The way we like to look at it is this is the bridge from the market analysis through to the actual market development."
Product Development: Brand research guides the target product profile. Brands have to organize numerous elements of a product's characteristics and lifeline, including positioning, ingredient formulation, continuity of supply, cost of goods, distribution, regulatory standards, labeling requirements, claims verification and more. Reinforced by market analysis, these extremely valuable components are crucial to the success of a brand's products.
Pro Tip: "This isn't a nice to have," said Wuttke. "It's a must do. You're going to potentially waste a lot of time and/or money if you don't do it. You may very well miss the whole opportunity [present in today's market] if you haven't thought through this from the beginning." Managing impatience and urgency is key. Wuttke said, "Entrepreneurs are impatient." He continued that having market analysis at the ready "would really assist us in helping people realize their vision and their goals. If you've done all that homework, and you bring this information, it can help that dream actually become a reality."