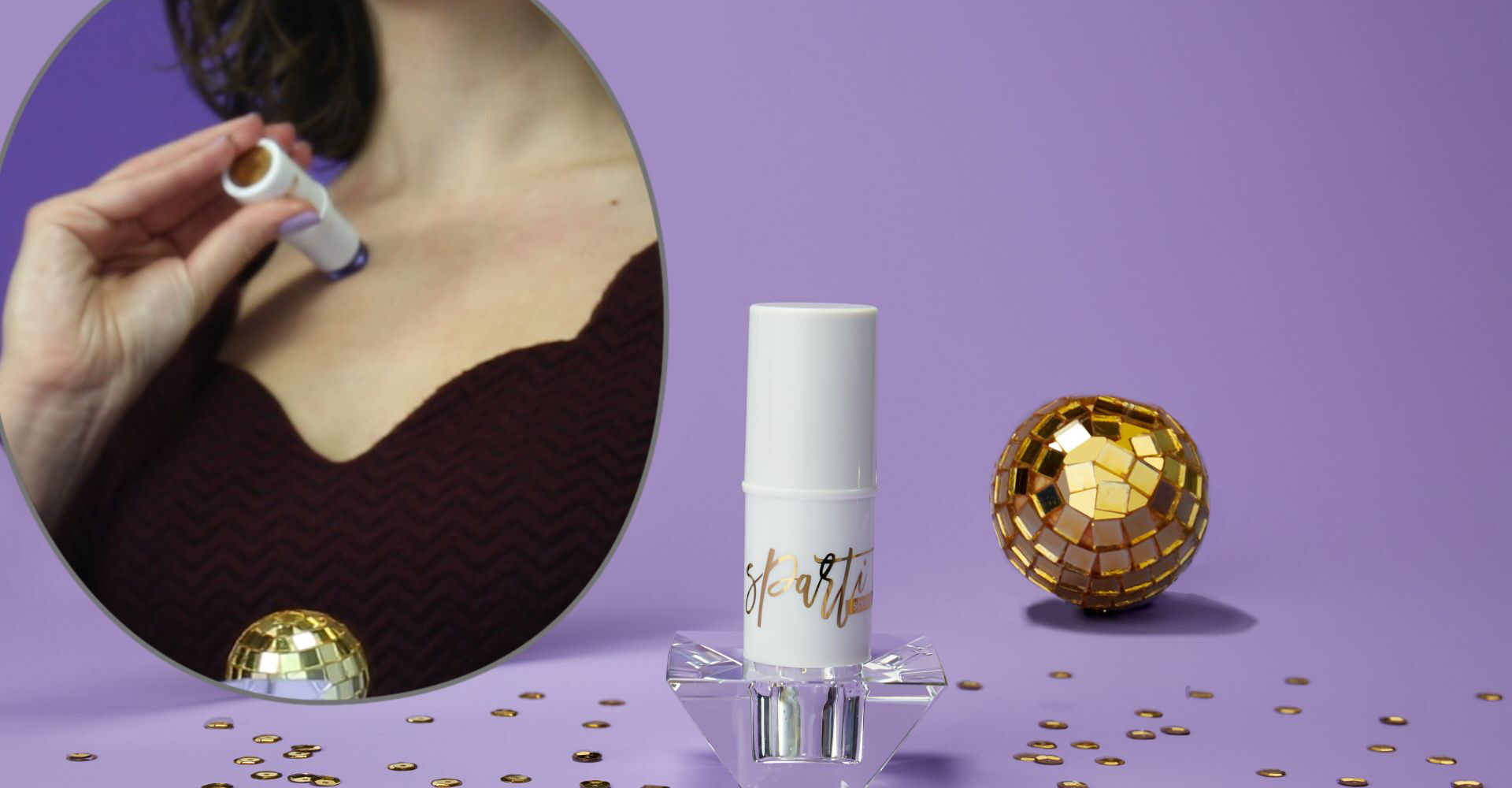 With Fragrance Poised To Propel Holiday Beauty Purchases, Gen Z Brand Sparti Scents Enters Walmart Stores
Sparti Scents is adding a dash of color—three colors, to be exact—to Walmart's fragrance assortment.
After launching on the megachain's website in September, the gen Z perfume brand has entered nearly 230 locations with a trio of twist-up tinted solid fragrances priced at $28 each: Spring Sparti is a fresh citrus with a green hue; Dance Sparti is a sexy sandalwood, musk, amber and starfruit combo with a purple hue; and Love Sparti is a fruity floral with an orange hue. Sparti Scents has a shelf to itself at the locations, which feature Walmart's prestige-oriented selection, for the holidays, and will roll out to 1,700 locations across the country in the spring with a smaller version of its scents priced at $14.97.
"People have really been loving this concept because, for the first time, scent is able to be seen," says Caroline Fabrigas, who established Sparti Scents parent company Scentinvent Technologies with Abby Wallach. "When it lays down on the skin, it releases perfume without any drydown. It gives you a smooth, velvety finish. People have said it lasts a long time, and they really enjoy the texture and portability of it. You can put it in your pocket. It's fragrance on the go."
No doubt, Walmart enjoys that Sparti Scents has the potential to entice young shoppers. Guided by Musab Balbale, merchandising vp of omnichannel beauty, the retailer has been remaking its beauty department with gen Z in mind. It's brought in more than 40 brands such as Bubble, Kaleidoscope Hair Products, Skin Proud, Luna Magic and Uoma by Sharon C. Balbale told the publication Glossy, "I feel fairly optimistic that, when we talk in, say, five years from now, smaller brands are going to be a pretty significant portion of our business."
Sparti Scents is breaking into Walmart doors as the retailer is bullish on holiday shopping and the beauty industry is bullish on fragrance. Expecting a strong holiday season, Walmart raised its same-store sales forecast from 5% to 6% above last year. In the prestige beauty segment, The NPD Group predicts fragrance will propel holiday beauty purchases. Generally, over 40% of annual fragrance sales occur in the fourth quarter.
Introduced last year, Sparti Scents has been busy building buzz to energize people to pick up its products at Walmart and its website. The brand created a short dance called the Sparti Shuffle and an unboxing moment involving recycled confetti and reusable bags, both fodder for social media. It's seeded products to gymnasts, cheerleaders, models and other tight groups with a tendency to share. Participating in Fashion Week Brooklyn, it did a window display at Kings Plaza Mall with its QR Code. Also on Sparti Scents' bags, the QR code leads to its products on walmart.com and TikTok account. Informed by interviews with hundreds of fragrance wearers, Sparti Scents' fragrances are free of alcohol, mineral oil, phthalates and parabens.
"People have really been loving this concept because, for the first time, scent is able to be seen."
For gen Z consumers, emotion and experience are drivers of interest in fragrance, according to Fabrigas and Wallach. Fabrigas says they gravitate toward the ability to mix and match Sparti Scents' offerings, and tailor scent usage to their moods and preferences. So far, Sparti Scents' fragrances have sold roughly evenly. Wallach says customers want the scents "to be with them everywhere and that has been powerful for us to see. They not only want one, they want three. They want them with them at school, at lunch, at the gym." She adds, "Fragrance is a very important part of a customer's beauty routine and journey on a day-to-day basis."
Fragrance has been interwoven into Fabrigas's and Wallach's careers. As a 20 year old entering the professional world at public relations firm Madeline de Vries, Wallach worked to launch the fragrance Quelques Fleurs at Bergdorf Goodman. She would go on to work in media and entertainment positions that often overlapped with beauty. She was director of special events at Showtime in the 1990s. Later, she developed lifestyle destination Beautiful Stranger.tv into a shoppable online platform. Currently, on top of her role as CEO of Sparti Scents and Scentinvent Technologies, Wallach is cohost of the podcast "Beauty Is Your Business." Fabrigas was formerly SVP of marketing at Clarins, CEO at Fusion Brands and CMO at Farmacy Beauty.
Friends as well as colleagues, Fabrigas and Wallach joined forces to start Scentinvent Technologies in 2014. "The vision was to reimagine fragrance with new forms and functions to reach a new level of fantasy," says Wallach. The company has a licensing deal with WWP Beauty to make its formulations and a stacked advisory board that includes Debbie Murtha, former SVP/GMM at Macy's, Wendy Gottfried, former VP/DMM at Saks Fifth Avenue for beauty, fragrance, lingerie and swim, and Pamela Baxter, operating partner at MidOcean Partners, co-founder of Bona Fide Beauty Lab and former president and CEO of Parfums Christian Dior. Along with Sparti Scents, it has the brand Linger Fragrance Primer.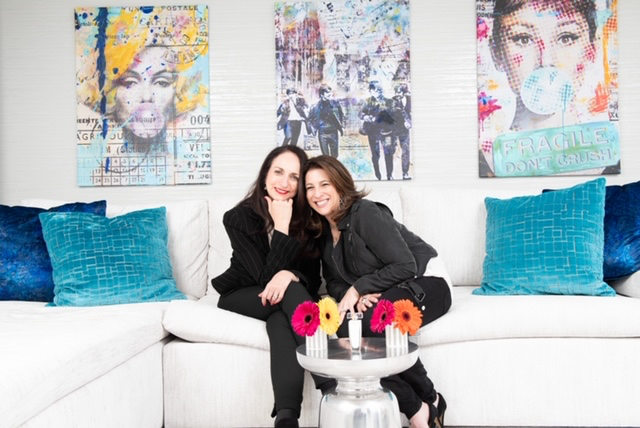 Wallach's son helped Scentinvent Technologies arrive at the name Sparti Scents after an initial name for the brand was claimed by another company. "He said, 'Why don't you call it 'Sparti'? It's like a scent party. You and Caroline like to have parties all the time. You are party girls,'" recalls Wallach. "It was a joke. You never know where your inspiration comes from." Wallach and Fabrigas plan to expand Sparti Scents' array of colors, fragrances and formats. The main focus distribution-wise for the brand is achieving success at Walmart, but the co-founders foresee it enlarging its footprint generally at accessible stores and abroad. Wallach says, "We think the Asian market will love this fresh approach to fragrance."
Next year, industry sources estimate Sparti Scents could generate $5 million to $6 million in retail sales. Fabrigas and Wallach have begun the process to raise funds to accelerate its growth. "It hasn't been an easy road as independent entrepreneurs self-funding this business, but Walmart is very behind female entrepreneurs," says Fabrigas. "It's been a wonderful partnership with them."