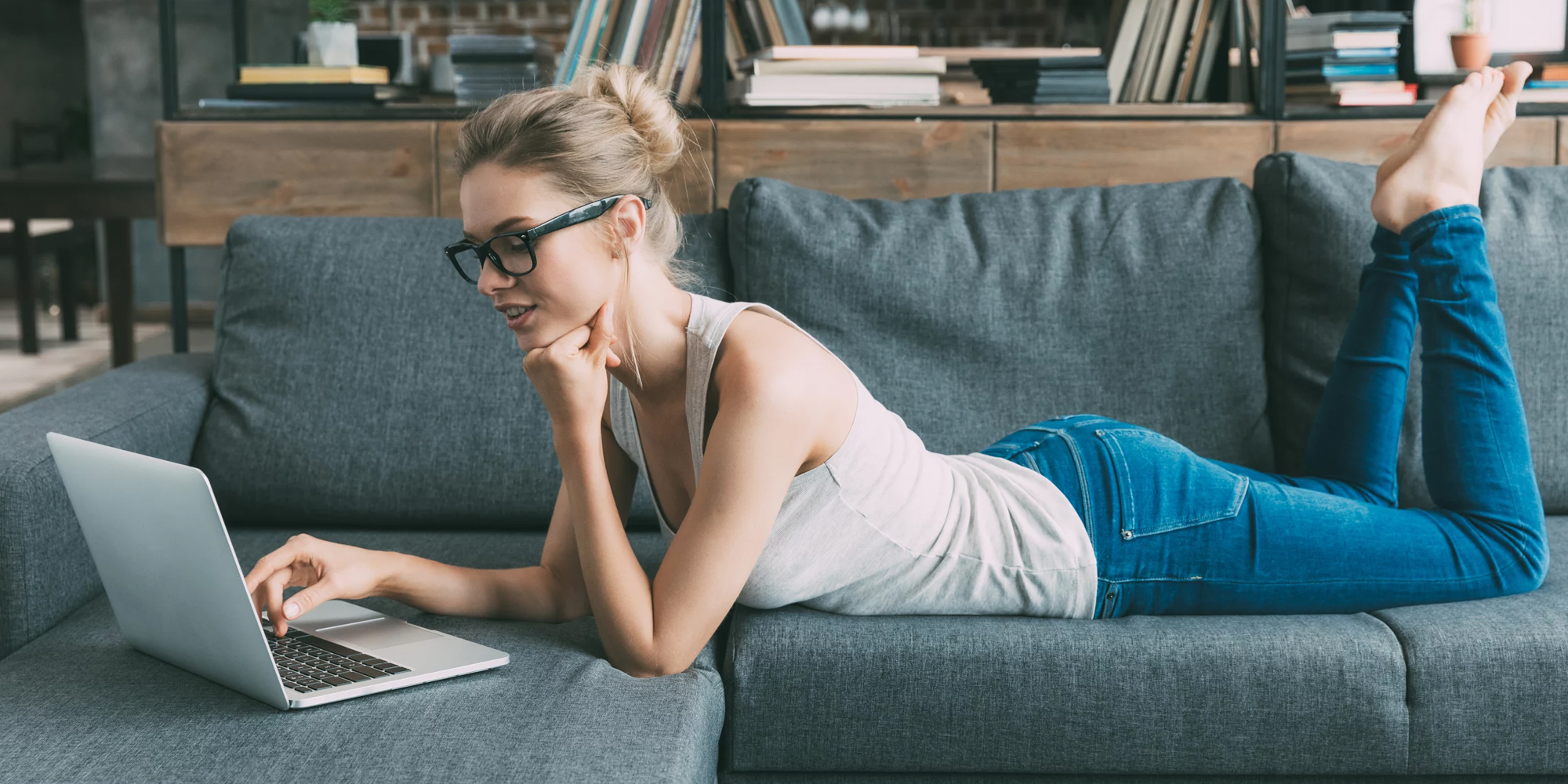 The Freelance Economy Is Changing How We Look
When communications consultant Jaime David went freelance, she expected her lifestyle to change. She no longer had to commute to New York from her Maplewood, N.J. home. Schedule flexibility allowed her to tote her two sons to school and grocery shop strategically to miss the early evening rush. But one of the biggest changes, and most surprising, was to her beauty routine.
"I don't really put on makeup anymore," says David, who took the freelance plunge a year-and-a-half ago after 15 years in public relations office jobs and counts Aviator Nation and Ace Hotels as her clients. "If I run out to be social with people in my neighborhood or at school, I'll put on mascara and Glossier's Boy Brow, but that's it, which is nice. It's kind of like being on vacation when you don't wear makeup."
David is part of a growing group of women joining the freelance ranks or the so-called gig economy. By 2021, Intuit estimates roughly 40% of the U.S. workforce will be classified independent. Even those workers that remain in traditional full-time positions will be increasingly laboring from their own homes as 80% of large corporations plan to permit hours outside of office confines. The state of employment is radically transforming and, with it, so is weekday beauty.
Women typing away at their computers from home are spared the pressures of assembling office-appropriate wardrobes and set their own relaxed rules for what they wear on their bodies and faces. As a result, they often skip slathered-on foundation and excessive eyeshadow in favor of a modicum of makeup. The new independent boss lady has a pared-down look designed for the occasional FedEx guy dropping by, not for besting cubicle buddies.
"As women continue to pursue employment in the gig economy, they no longer have a form of physical community that can greatly impact not only personal relationships, but brand perceptions and purchasing behaviors,"
The freelance look is lighter on the pocketbook. Women scale back their beauty budget to suit home-office needs. But that doesn't mean they're totally off the beauty industry's grid. They're seeking easy-to-apply, easy-to-access cosmetics, and skincare services and products that keep their faces fresh for the intermittent instances they're hustling in person. The youth culture, obviously, doesn't disappear just because people are punching the clock from their apartments.  
"As women continue to pursue employment in the gig economy, they no longer have a form of physical community that can greatly impact not only personal relationships, but brand perceptions and purchasing behaviors," said Larissa Jensen, beauty industry analyst at The NPD Group. "As these women work at home, convenience is a big factor for them, so brands within the industry that are sold at retailers like Target and drugstores that carry more than one product type may resonate greatly with them."
Nudestix co-founder Taylor Frankel designs products for independent professional women, those often heading their own businesses and working remotely. She understands their specific beauty demands because she knows the life of stay-at-home entrepreneur well. In 2015, she toiled from home in the first few months of the brand along with her Nudestix colleagues sister Ally and mother Jenny.
"In the beginning, we were super hands-on with the business and our beauty regimen was very effortless," says Frankel. "Because we weren't necessarily going into the office and didn't have somewhere to be, that was the lifestyle. As Nudestix progressed as a brand – now, we have our own office with over 25 employees – our lifestyle has continued to be the same. We're still wearing less-is-more makeup and doing it in five minutes to get out the door."
Rose-Marie Swift's natural makeup brand RMS Beauty has freelancers or self-starters in mind as well. Its easy pots of Living Luminizer and  "Un" Cover-up are coveted for minimal fuss and a "no-makeup-makeup" look adored by women working from the bedroom rather than the boardroom. "They don't want the whole regime, some 10-step application for skincare," says Swift. "They want fast, easy and they don't want to be attacked by going into a department store. They go on their iPhone, get a product that's cool and groovy, and they're done."
Hardly ever separated from their devices, women freelancers peruse Sephora.com, Net-a-Porter or other e-commerce beauty destinations during breaks. David is a skilled Internet shopper. "Having more time and not being pulled in so many different directions has allowed me to research new products," she says. David discovered Drunk Elephant and Vintner's Daughter searching for beauty solutions from the comfort of her home. "With more time, I've also been upping my skincare game with more serums, better moisturizers, eye creams and masks," she says. "I love that I can be working from home with a mask on."
For many women, going freelance modifies their skincare strategies in addition to their e-commerce habits. Hours and hours in front of computers or chatting on cell phones exposes them to considerable electronics-emitted blue light with possibly negative consequences for their skin. Perhaps less definable, stress takes a toll on freelancers' complexion, too. Professional independence is coupled with constantly searching for work, nagging people to pay promptly and rarely unplugging.
Spas cater to freelancers desperate for stress relief. Liana Cutrone, a skin therapist at New York facial salon Heyday, recommends freelancing women visit monthly for services to treat their skin and stress levels. "You come in; you relax; you get a massage, and you try to rid yourself of the stress that can cause inflammation, which then manifests on the skin," she says. "Keeping a less stressed life helps reduce the inflammatory response on the body, which in turn will cause less sebum production and aggravation."
Celebrity facialist Joanna Vargas addresses the effects of cellphone attachment as well as stress. She encourages clients sport headphones as much as possible rather than having objects pressed against the face for long periods. "Prolonged cell phone use can cause breakouts on the cheek in the area the phone touches, so clean your phone regularly," Ms. Vargas said. "We touch our screens all the time, so to then put that on your face, it creates bacteria and grime quickly."
"I now have the flexibility to walk my dog or go for a bike ride, so actually sunblock is a big thing for me," says Barash Hedges. "One benefit to freelancing is the idea that we can work from anywhere, which for me means outside."
Dermatologist Dr. Elizabeth Tanzi often treats women complaining of face sagging from staring at computers or phones. She'll inject fillers around the face and jaw line to combat wrinkles that stem from peering down constantly. She also recommends topical treatments like sunscreen with iron oxide to block out blue light, though she doesn't feel current research confirms whether blue-light radiation is harmful to the skin.
"Research on rays is one thing," says Tanzi, "but there's also the reality of eye fatigue. When you're spending a lot of time in front of a computer, you're squinting more and you can gain wrinkles around the eyes. Also, people who spend a lot of time looking at the computer have a tendency to touch their face, which can increase breakouts. Take appropriate breaks, get up and exercise, remember to hydrate. A stressful lifestyle of chasing deadlines is not great for skin and how we manage it. Make good choices."
Working out of corporate offices isn't all bad, of course. For some freelancers, laboring from home stimulates healthier lifestyles. Sonya Barash Hedges, a Brooklyn-based freelance graphic artist, is able to air dry her hair and stick to a minimal makeup routine incorporating brands such as Korres and Ren. On top of that, she's regularly slathering on sunscreen, not for blue light, but to shield the excess sun she gets by squeezing in exercise when traditional full-timers are chained to their chairs.
"I now have the flexibility to walk my dog or go for a bike ride, so actually sunblock is a big thing for me," says Barash Hedges. "One benefit to freelancing is the idea that we can work from anywhere, which for me means outside."
Takeaways
Freelancers constitute a large portion of the workforce, and skincare product and service providers might be able to mint a pretty penny tackling their specific needs.

Freelance workers turn to fuss-free cosmetics and advanced skincare rather than dramatic makeup and multi-step skincare regimens.

To curb the stress associated with freelancing, hard-charging professional stay-at-homers rely on regular skincare maintenance, and healthy and active lifestyles.