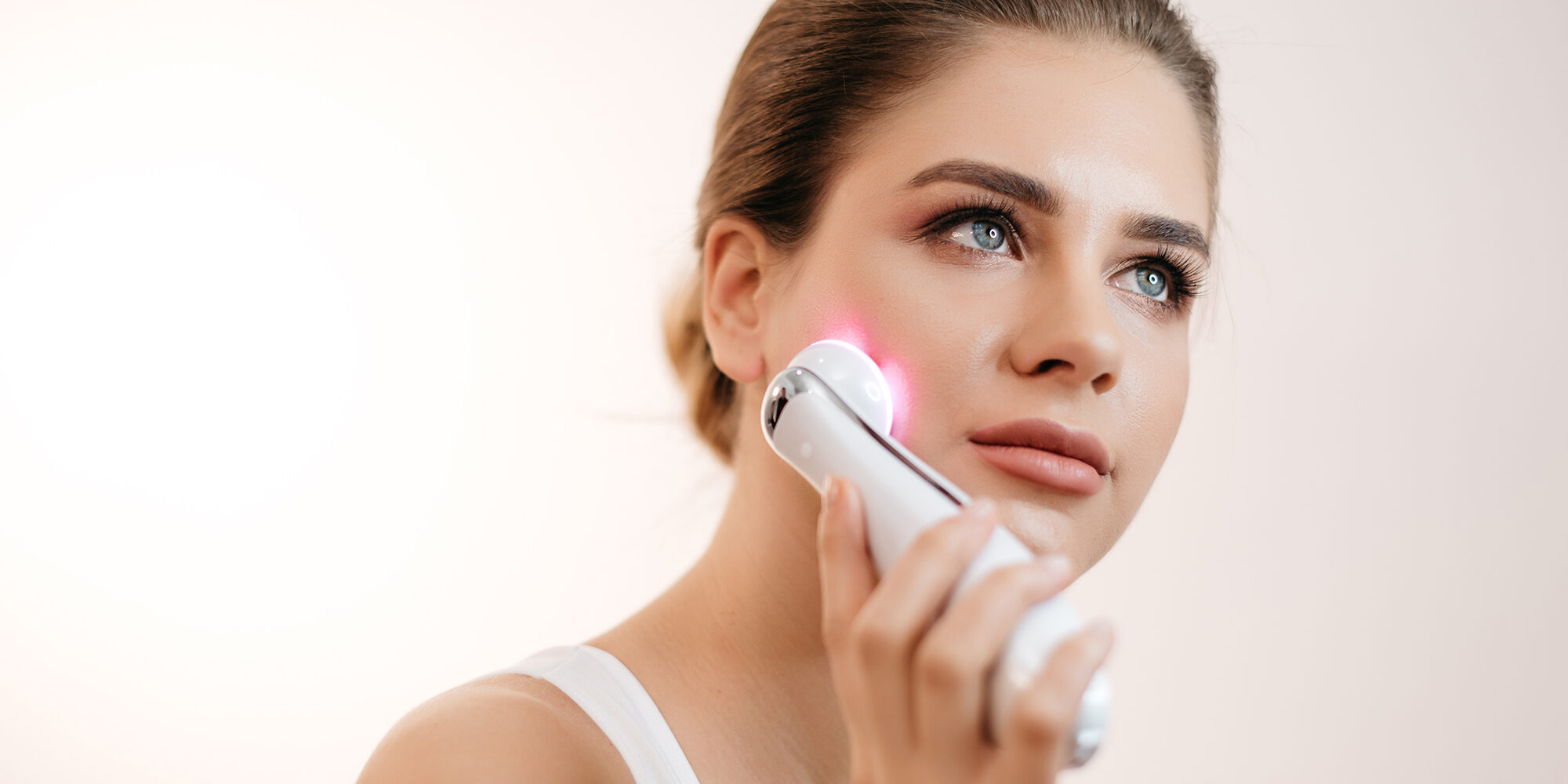 From SPACS To E-Commerce, Where Beauty Consumer And Investor Money Will Flow This Year
As vaccines roll out globally, the shape of the pandemic is changing.
However, the effects of the great health calamity will be long-lasting for many sectors, including beauty. The online shopping revolution and shock to brand loyalty it engendered have dramatic ramifications. The brands and retailers responding to them best will be situated to gain permanent advantages.
Still, for all the changes the pandemic has caused, Emily Gerstell, associate partner at McKinsey & Co., said, "One thing that absolutely hasn't changed, and we hear loud and clear in our consumer research, is the continued importance of newness in the beauty category."
Gerstell participated in Beauty Independent's In Conversation webinar last Wednesday that provided a snapshot of the beauty industry's performance last year and explored what to expect for it the rest of this year. For the webinar, she was joined by Larissa Jensen, VP and beauty advisor at The NPD Group, who identified categories responsible for beauty's wins and losses in the fourth quarter of 2020, and Nini Zhang, director of luxury, beauty and apparel at Credit Suisse, who delved into the mergers and acquisition landscape. Below are six takeaways from the conversation.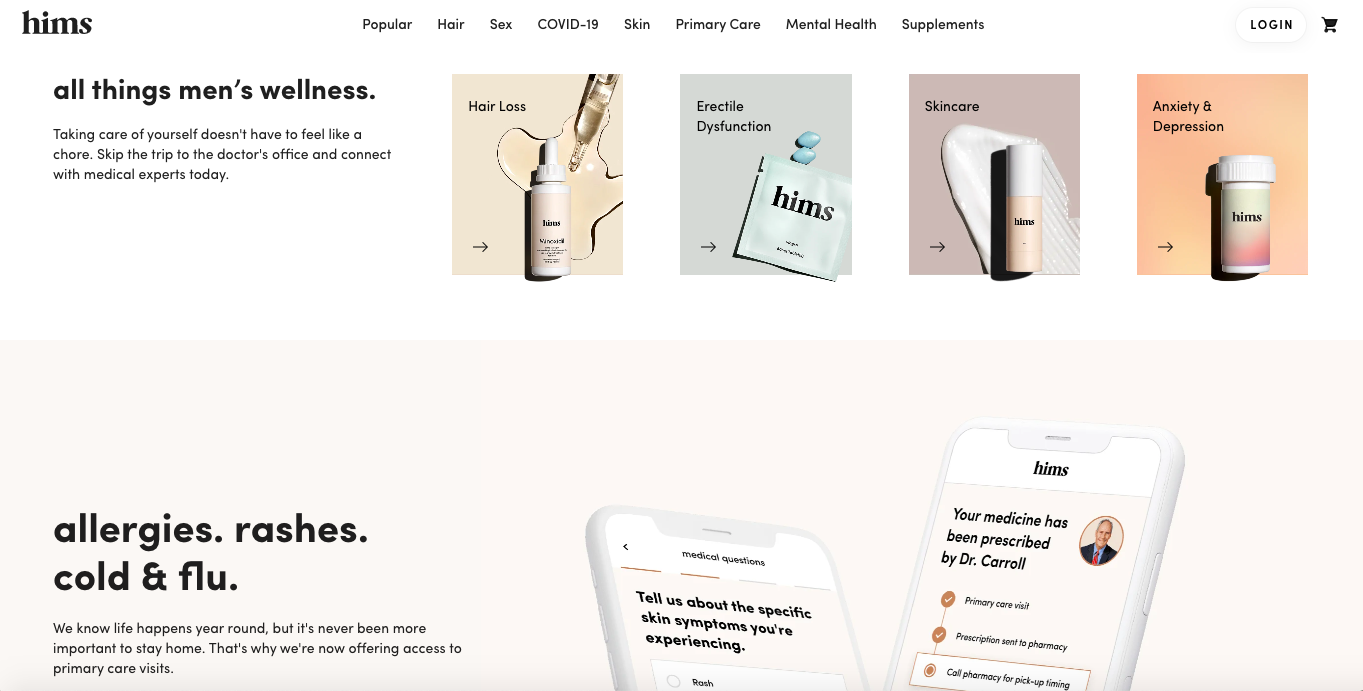 1. The Rise of SPACs
In 2021, special purpose acquisition company (SPAC) activity has been robust. According to Zhang, over 200 SPACs formed to raise more than $80 billion in capital. As an example, Hims & Hers went public in a $1.6 billion SPAC deal in January in which Credit Suisse was a capital markets advisor to Oak Tree Acquisition Corp. Potential target companies of SPAC mergers are typically valued based on public market valuations rather than private market valuations. In a constructive equity market, public market valuation may sometimes be higher than that in the private market.
"Why does this matter in beauty? There are multiple SPACs who have a consumer and or beauty, personal care and wellness focus," noted Zhang. Zhang said, "SPACs are becoming a viable third path for monetization versus a traditional IPO or M&A path, and can offer structural flexibility." Writing in Crunchbase, Sophia Kunthara speculated SPACs could outpace IPOs this year. 
Zhang explained large strategic players like Unilever, L'Oréal and Estée Lauder are still going to be looking to buy assets, but will focus on needle movers – brands of a certain scale or brands that fill a particular need in their portfolios, whether due to product offering, channel or geography. "The IPOs of The Hut Group [and Perfect Diary parent company] Yatsen, in combination with the rise in SPACs that focus on beauty and personal care, will likely lead to more M&A activity in the sector as well as an increased interest in brands that are conscious or in the better-for-you category," said Zhang. She believes that private equity and venture capital will also be competing for assets at attractive multiples. Within beauty, she predicts brands that can achieve $50 million or more in sales will be on the radars of the multiple buyer groups such as strategics, SPACs and private equity.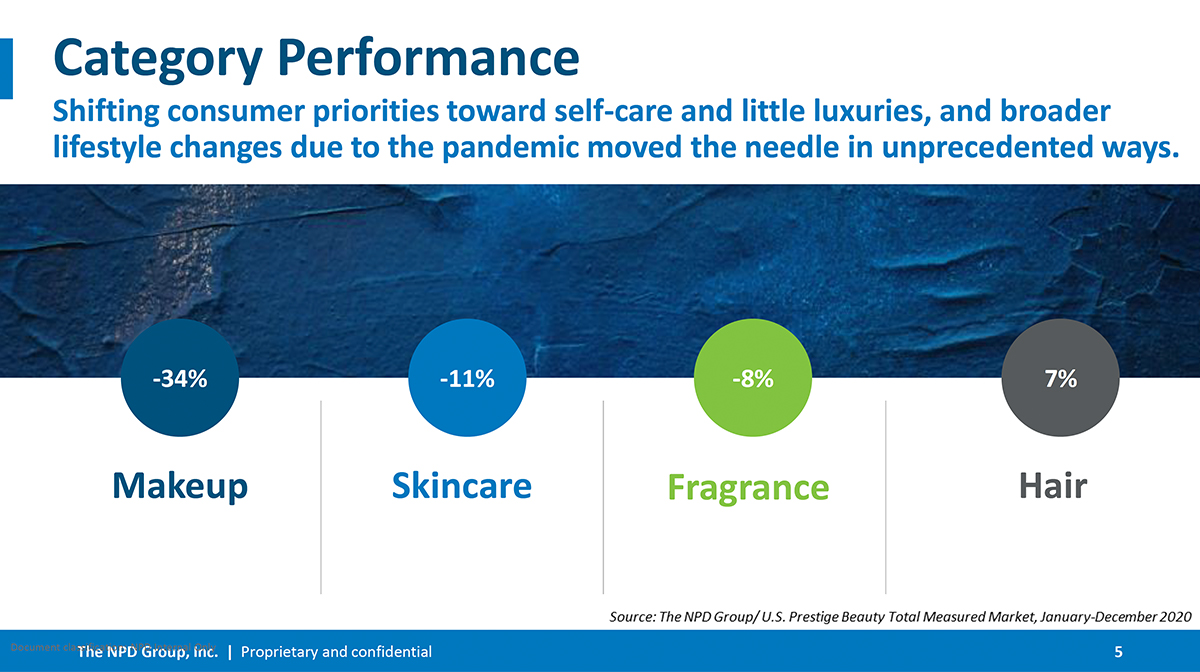 2. The Troubles Of Prestige Beauty 
Thanks to core distribution in department stores and other brick-and-mortar retailers hurt by pandemic-related closures and spending behavior adjustments, prestige beauty sales plummeted 19% in the United States last year, equating to a loss of $3.8 billion, according to NPD data. In total, U.S. prestige beauty sales hit $16.1 billion in 2020. The last time they rung in at about that amount was 2015. 
Makeup, which saw sales crater 34%, was the prime culprit in the sales plunge. It was the most negatively impacted by the pandemic. Skincare sales fared a bit better, dropping 11%. Skincare now has more users than makeup. Brick-and-mortar stores registered a 49% decline in prestige beauty sales. "That's half of the volume just wiped out from this channel," said Jensen. In contrast, e-commerce sales soared 46%. 
Jensen emphasized that there were geographic disparities in sales performance. Cities that had large numbers of people working from home and typically draw big crowds of tourists like New York, Los Angeles, San Francisco and Chicago dragged down the overall makeup category. The sales decreases in these cities were 10% to 15% worse than the overall market. "If the city has more people working, makeup performance is better," said Jensen. "This is actually a dynamic that we're going to be watching very closely as it ties in many ways to the recovery of the category."
3. The Products Helping People Look Good On Zoom 
Despite the makeup category's dive, there were bright spots Jensen attributed to "the Zoom face." Concealer, tinted moisturizer, setting spray and bronzer performed well. Their duties to cover imperfections and bring a bit of color to the face while retaining natural looks were coveted by people occupied with Zoom calls. 
Cleansers and serums were major sales drivers within skincare. Previously soft segments in both mass and prestige, body care and devices saw a reversal of fortunes in 2020 and posted double-digit growth. Prestige fragrance was the only category to post growth last year, besting skincare's growth. Jensen believes the strength of prestige fragrance to persist in 2021. Fragrance is the smallest slice of the prestige beauty market in the U.S. Its share of it stands at less than 10%. 
3. The Momentum of E-COMMERCE
"Digital is winning, and we think this shift is sticky," said Gerstell. On top of department stores' struggles, she remarked travel retail's declines are helping drive e-commerce sales. She concluded, "Brick-and-mortar will lose share that they won't be able to regain." Post-coronavirus, McKinsey data shows that 60% of consumers plan to shop for beauty online in the U.S., compared to about 40% prior to the pandemic, and they plan to make e-commerce their primary purchasing channel. Three out of four consumers have tried new shopping methods such as delivery apps and curbside pickup during the pandemic. Even though digital made big gains, there's still room for the channel to grow by leaps and bounds as evidenced by China's e-commerce numbers. Nearly 90% of consumers in the country shop for skincare and makeup online. 
Gerstell recommended that brands should be looking for retail partners with vigorous e-commerce operations as well as investing in their own direct-to-consumer businesses. She said, "There does seem to be a bit of a cap on how big a brand can get in brand-dot-com. Morphe is a great example. It grew tremendously just as morphe.com, and its own stores, but doubled the year it entered Ulta."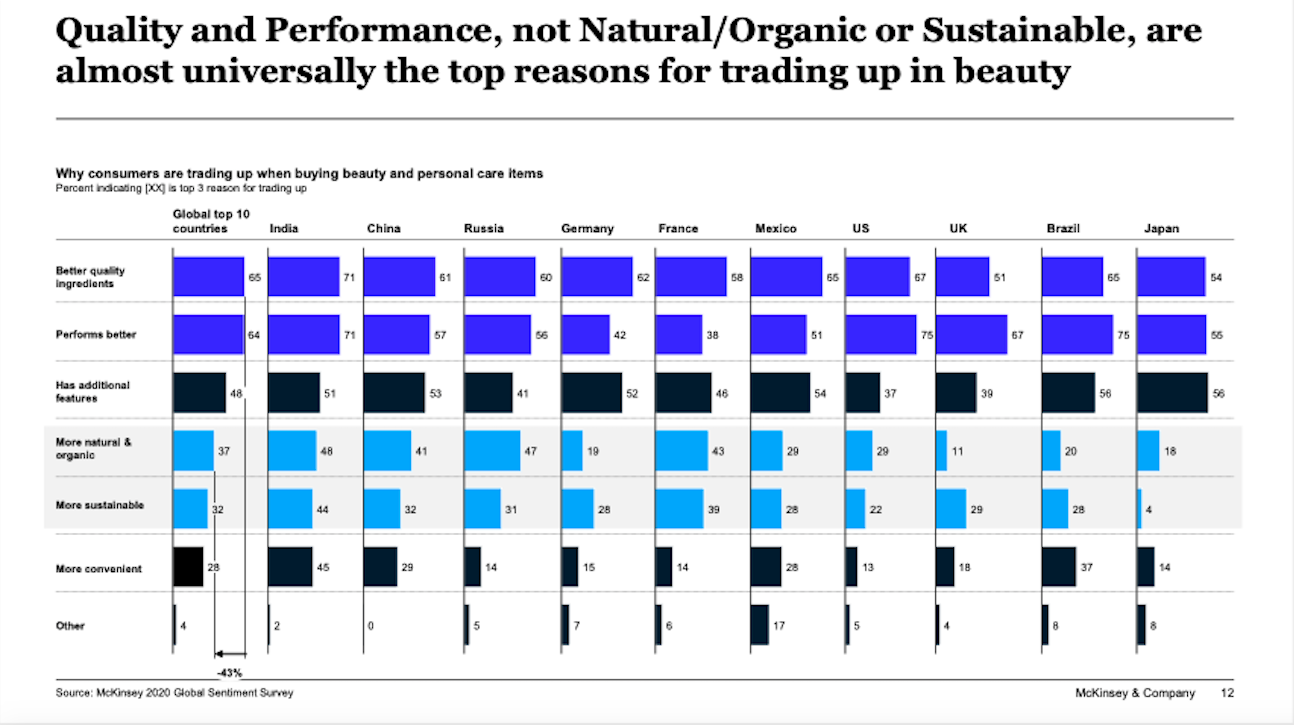 4. The Significance Of Value Propositions 
Consumers are zeroing in on price, promotion and availability amid the pandemic. To illustrate the significance of value, Gerstell said a quarter of shoppers have swapped brand names for private-label or in-house products. Gen Z and millennial consumers care about a brand's values and how it treats employees. On the whole, prioritizing natural, organic, clean and sustainable practices isn't a top reason why consumers try a product. "It's just not driving the new brand selection in the same way that things like value and quality are," asserted Gerstell.
Across the board, Gerstell mentioned consumers trading up to more expensive skincare and makeup cite quality ingredients and performance as the top reasons, not natural and sustainable positioning. "We're really lagging things like Europe on the relative importance of that," she said. While sustainability and clean formulas are becoming table stakes for beauty brands, Gerstell cautioned, "We shouldn't kid ourselves that the consumer, when push comes to shove, is actually going to pay more for it." 
In the fragrance category, there was a sales jump for "jumbo" offerings that promise value. In general, though, consumers appear to be willing to shell out for fragrances. There was an uptick in artisanal scents and eau de parfums that tend to sell at higher prices. "Fragrance is very much that little luxury in beauty that consumers are investing in for themselves," said Jensen. 
5. The Impact of Social Selling
Gerstell shared that consumer behavior shifts and a willingness to try products is bolstering peer-to-peer shopping.  She highlighted social media as a purchase channel to watch. "When you think about the incredible growth that we see in China with peer-to-peer sales or the growth that a company like Perfect Diary has seen this is what social selling in the future could look like in the U.S.,"  said Gerstell.
In China, the social-selling leader, almost 20% of consumers purchasing directly through social media. In the U.S., 9% of consumers turn to social apps to shop. Gen z and millennials are leading the trend, but social selling isn't just going to galvanize the youngest generations, determined Gerstell. She said, "It's really going to be about reaching a whole host of consumers." 
6. The Market Read On Mindfulness ANd ReADINESS 
For the time being, Zhang prognosticates that equity markets, including the SPAC market, continue to be constructive. In beauty, she anticipates investments to continue to flow into skincare and self-care oriented brands. Brands with mindfulness and wellness components will also likely be sought after. Catalyzed by the transition to digital shopping, Zhang pointed out product personalization is becoming expected by consumers rather than a nice-to-have for brands.
To attract capital, brands should continue to build their strategic moat and points of differentiation whether in their product offering or consumer base.Consumer packaged goods (CPG) players that primarily focus on the consumer staples categories experienced resilience and were able to continue growing in 2020. Those with a more a discretionary product mix experienced a deceleration in sales growth, especially in categories such as color cosmetics and fragrance. However, these players are expected to resume growth in 2021 and into 2022.