The Future Of Color Cosmetics Involves Making Makeup Fun Again, According To Mintel
Makeup took a significant hit during the pandemic, but Sarah Jindal, associate director of global beauty and personal care at Mintel, predicts the future of the category won't be all doom and gloom.
"There have been challenges, but we've seen a really rapid recovery, and we've seen some interesting shifts from the consumer perspective that have given us some interesting innovation opportunities," she said, speaking at the New York Society of Cosmetic Chemists Suppliers' Day last Wednesday. For more on what's ahead for color cosmetics, the below recap covers subcategories Jindal identifies as potential growth areas over the next two to five years, exciting products in the space and strategies for brands to take advantage of the changing market.
Self-Care, Simplicity And Hybrids 
Skincare became a huge aspect of beauty routines during the pandemic, and makeup crossed into the well-being arena. Jindal mentions that 84% of Chinese makeup users consider applying makeup a pleasurable act. "People started to rely on those routines as a way to kind of make themselves feel better and really take care of themselves in a different way," she says.
Rather than multiple steps, consumers prefer a simple approach. That preference is informed by shrinking budgets and ethical factors. "People are really putting a little bit more thought behind their purchases and saying, 'OK, do I really need this? Is it a nice to have, or do I absolutely have to have it? How much waste am I creating? Is this something I'm ultimately just going to use once and then throw away?'" says Jindal. "So, they're really starting to rethink their relationship in that regard."
She continues, "You ultimately want to get people to come back to your brand and buy more, so really think about the idea of building routines and making it really simple and really straightforward for your consumer…[with] products that are easy to use, can be applied with your fingers, no brushes, no applicators, no nothing really. Simple techniques, very clean looks really do appeal to this new evolving makeup consumer."
What Jindal calls the "eco-lution" of consumers has increased. Brands emphasizing natural ingredients and sustainability efforts are expected to retain customers. "Consumers are doing all of that research and looking for that information, so having some of this language on their packaging and in their advertising is good," says Jindal. She highlights Typology's naturally derived Tein Tinted Serum and La Bouche Rouge's plastic-free Le Serum Noir Mascara as examples of products responding to the "eco-lution" movement.
Jindal is seeing mounting interest in hybrid products, namely makeup that benefits skin and can save consumers money. She points to Saie's Liquid Lip Balm, which is advertised as "more than a balm, not quite a gloss," and Merit Beauty's minimalist essentials as models for the hybrid products gaining in popularity.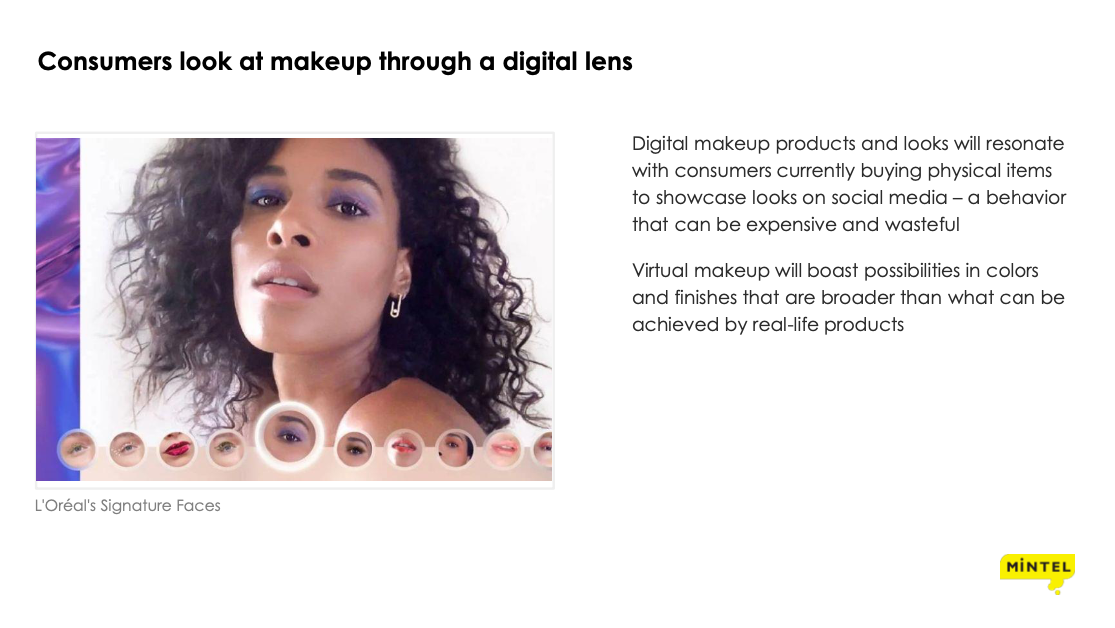 Inside And Outside Looks 
Jindal classifies two types of makeup looks that emerged during the pandemic: inside makeup and outside makeup. "People were doing full glam and not leaving their houses, but, then, when they were going out with the mask, it was completely different and the focus was on the eyes and the eyebrows while the rest of the skin was very clean," she explains. Looking good on screen became more important than looking good IRL. "It really has shifted the way that we see ourselves and perceive ourselves, and that's driven a lot of changes in terms of how we apply our makeup," says Jindal.
It's impacted the products people are using, too. At home, they're interested in elevating their on-screen looks. "People are really starting to rethink the colors and the shades and the pigment loads and the types of finishes that are going into a lot of these products because the last thing you want to do on video is be wearing tons of glittery eyeshadow or a frosty highlighter because it doesn't really translate the way it should in real life versus on video," ays Jindal. "So, we're starting to see brands launching products specifically for these digital platforms because they know that that's their best translation on screen." She remarked Hourglass compared the results of its Ambient Lighting Palette to a filter. "Their messaging was really interesting, and it really tapped into exactly what people were looking for," says Jindal.
Virtual makeup like L'Oréal Signature Faces is also taking off. It offers broader color and finish possibilities than real-life products, and facilitates creativity. "This is a really great opportunity for self-expression and individuality, and using tools like this really does give people the opportunity to try something new without commitment or try something new that they might not necessarily have the skill set for," says Jindal, adding, "Rather than running out and spending all of this money buying all of these new products, you can just experiment and play around with some of these digital tools."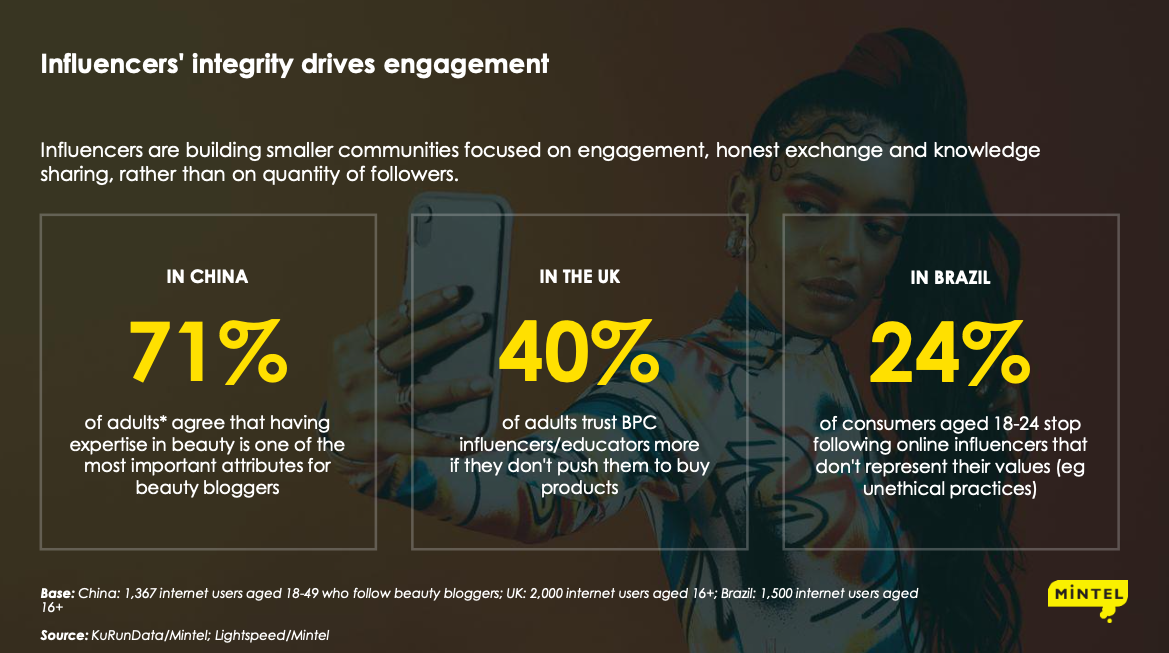 Influencer Relationships
Community has been a big topic of late—and Jindal envisions that persisting. She asked, "It's really important that brands start thinking about what is your community? How do you engage with them? If you don't know who they are, how do you create one? How do you foster an environment in which these like-minded people will want to come together and have these really great conversations, and how do you leverage that and get involved in that?"
Consumers are no longer following influencers merely because they have pretty faces or ample followings. Just over 70% of adults in China report that having beauty expertise is among the most important attributes of a beauty influencer. Of consumers aged 18 to 24 years old in Brazil, 24% stopped following influencers who don't represent their values.
As far as influencers go, Jindal has noticed them stepping away from major platforms and moving to smaller platforms such as Patreon or Only Fans where they produce content for pay. "It's a great opportunity to create these sort of micro-communities that are super focused and really do allow for these more authentic connections," she says.
Jindal recommends brands find smaller platforms such as Clubhouse and livestreaming options to cultivate micro-communities. "We saw not just influencers, but experts, dermatologists and brand founders all taking to these digital platforms and having these great open conversations with their customers," she says. "And it really…goes a long way to building those authentic relationships and getting people coming back for more, especially if you can share some really interesting knowledge and have some really great engagement."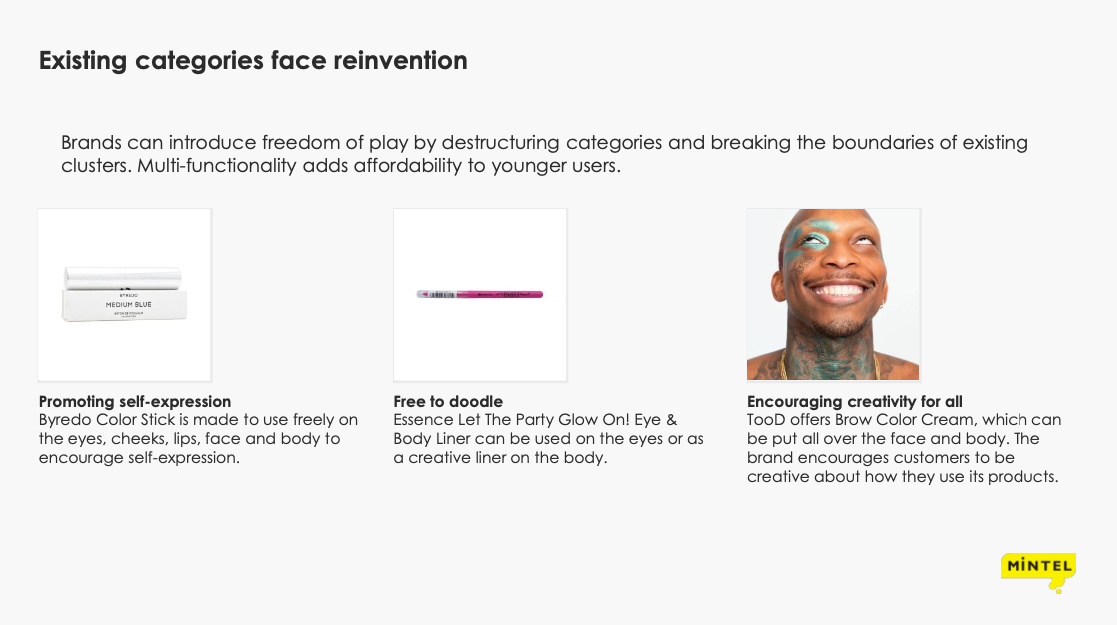 The Joy of Makeup
Jindal believes consumers are ready to enjoy makeup again—and she stresses inclusive products help spark joy. "The key factor is promoting this elasticity of beauty and this flexibility of beauty and using it as a way to have this complete freedom of self-expression, regardless of how old you are, where you live, what you're doing with your day, it shouldn't make any difference whatsoever," she says. "There is this overwhelming desire to really break out of those traditional boxes in terms of the beauty rules and what you're supposed to look like and what is attractive or what's beautiful and just whatever you want."
Multifunctional products grease the wheels of experimentation. Jindal spotlights Byredo's Color Stick for the eyes, cheeks, lips and body, Essence's Let The Party Glow On! Eye & Body Liner and TooD's Brow Color Cream. "These are all products that don't narrow themselves to being used on any specific part of the face or body, it opens it up to be completely creative for the consumer," she says. "At the end of the day, makeup is fun. Don't make everything boring, enjoy it."