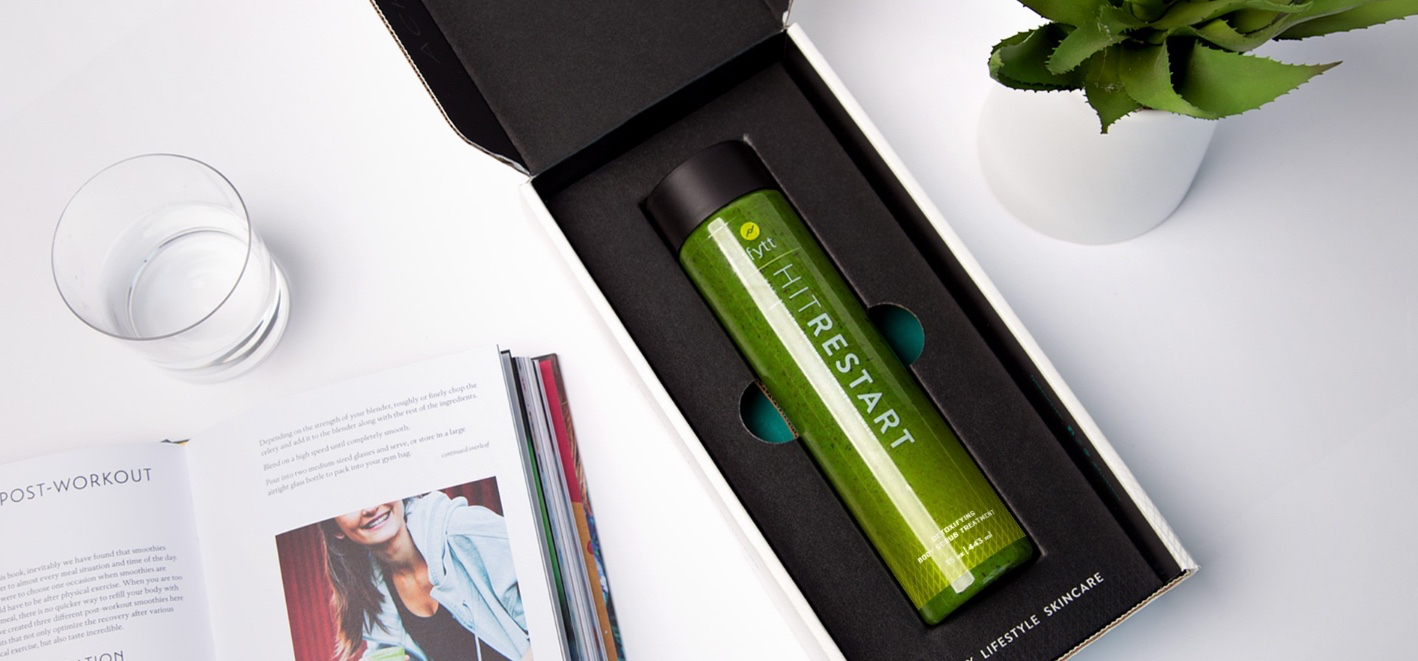 Fytt Beauty Translates Green Smoothies From Juice Bars To Skincare
One of the biggest beauty mergers in recent years has paired beauty with health and fitness. Fytt Beauty has been the beneficiary of that merger and a pacesetter moving it forward. Launched by Southern California-based beauty industry veterans and husband-and-wife Kevin Vu and Kellie Chen less than a year ago, the brand courts wellness-oriented consumers with its debut product Hit Restart, a green smoothie scrub containing kale, spinach, spirulina, cucumber and flaxseed. Beauty Independent caught up with Chen to learn about Fytt Beauty's vision, challenges, social media tactics and future product plans.
Can you tell me how you and Vu came up with Fytt Beauty?
I've been in the beauty industry pretty much all of my career, working with a good spectrum of brands from mass market all the way to prestige, and my husband has also worked in the brand marketing world for consumer packaged goods. About two years ago, we were sitting down and brainstorming new ideas about how to bring our careers to the next level. We really thought that we should start something. We've both been in this industry, we know how a lot of it works, and we wanted to put it all together.
Since a lot of my career had been in the innovation and product development world, I applied the approaches from those fields to really look at the market landscape and gather the information to see what was missing. I observed that most beauty and body brands tended to have very feminine and soft brand expressions, but, on the other hand, the fitness and health worlds were very active and dynamic, with everyone wanting to live this healthy, active lifestyle. So, we wanted to capture that in the skincare world, like Nike meets Lululemon in the beauty space because that's something that hasn't really been seen. It's this concept that your skin should be fit as well, and we focus on that fundamental health of your skin.
Why does Fytt Beauty use mostly food ingredients?
After our brand formation, we started to work on our product philosophy. We saw that a lot of beauty brands tended to take more of a short-term solution approach. If you have dull skin, then you get a brightening cream. It's all about the aftereffect. So, my husband and I, who try to focus on what we eat and take into our bodies, we said, "You should do the same thing for your skin." If your skin was fundamentally well-maintained and has vitamins, minerals and antioxidants, then it would have that healthy glow, and you wouldn't really need that Band-Aid. We wanted to take that food and health approach to promote good, total body care.
One day, I was brainstorming on the product. I had just finished working out and finished a big bottle of my green juice, and left it out on the counter, when that light bulb went off. I thought, "What if we brought that concept to skincare, a real juice for your body?" I started to do a lot of research, look into ingredient properties, food inspiration and the skincare data about applying it to your skin and what benefits it would yield. That was the start of this superfood-inspired concept.
What are unique challenges marketing and merchandising a beauty product with real food ingredients?
There have been a lot of ingestible beauty products that have come out on the market that you can actually make, [and] you have to put it in the refrigerator and use it within a certain amount of time. We were aware of that trend and consumers were too, but we realized it was quite inconvenient and impractical to be doing a beauty regimen, and have to go all the way down to your fridge and get your beauty products to bring to your bathroom. We really wanted to bring that food concept to beauty, but also truly make it practical.
Our product formulation was about a year-and-a-half in the making, and we worked closely with our lab asking, "How do we take these amazing fresh ingredients, but also preserve them in a way that it is shelf stable?" Through extensive testing, we were able to make it twelve-months shelf stable, so you can just leave it in the shower and use it whenever you like. That's how we've overcome the challenge of keeping the benefits and making it long-lasting.
What's consumer response been to a skincare product that looks like a green shake?
We almost intentionally made it to look like a green shake so that you feel like your skin is really experiencing the health benefits of juicing like the rest of your body. Most people are pleasantly surprised and find it pretty cool and, with all the visual cues in our branding, we haven't had too much confusion about whether it's a shake or skincare.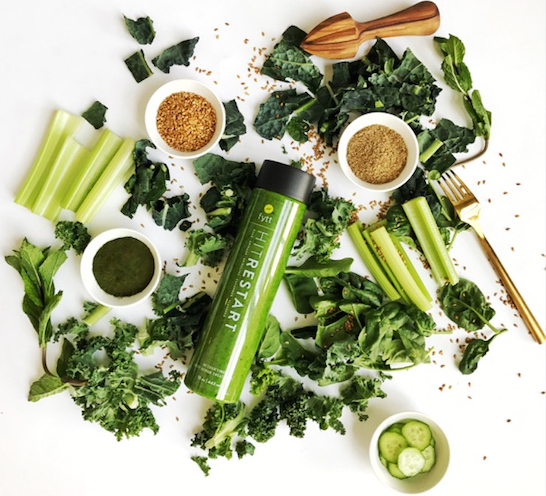 What can you share about Fytt Beauty's retail strategy? 
We just launched in July 2017, and are currently selling on our own e-commerce site and in discussion with a few online retailers like Amazon. We're not currently in physical retailers. We're not a traditional beauty brand and may belong in more of a health and fitness store. There's always the traditional beauty route like Anthropologie or Ulta, but what's interesting to us is the potential of the health and fitness world. For example, SoulCycle's L.A. corporate reps reached out to us expressing that they liked seeing a beauty brand take this creative approach. Usually they'll partner up with food or beverage brands to do in-store events and promotions, but, when the Beverly Hills rep reached out, they expressed wanting to promote the brand with an understanding that their core audience would love it. We see that in our followers as well, who are really more of the health- and fitness-conscious individuals rather than traditional beauty fans. So, we feel like there's a lot that could still happen in the fitness world. We're not quite sure what it is yet, but we're getting a lot of interest and buzz from that channel.
What plans do you have for future Fytt Beauty products?
We have two additional body scrubs launching very soon called Gain Strength and Boost Energy, which follow the same concept of using nourishing ingredients for the body. A couple of products we have further down the pipeline will complete our product line and include a body cleanse and green body oil, and will build upon the three different lines. Eventually, we hope to extend into other skincare categories that we've been doing some market testing on and people are excited about, though fundamentally our scrubs do double duty for body and facial care today.
Has Fytt raised outside funding?
Everything is currently self-funded and, in the short-term, we plan to continue to keep it that way, so we can grow in a strategic and manageable way. We're comfortable with where we are at this point, but maybe, in the next two to three years, if we can scale on a larger level, then we'll definitely be open to funding.
You and Vu have experience at sizable beauty players, including Ole Henriksen, Freeman Beauty and more. Are there entrepreneurial obstacles your backgrounds didn't prepare you for?
We both worked in marketing and started our careers in traditional advertising spaces like TV and print. We understood brand vision and DNA all the way to execution, and it's something we were very comfortable with in those formats. The challenge we have now is with the rise of social media and that landscape changing really rapidly. When we launched, we got all our foundational materials like the website and our content strategies ready, a PR agency getting us coverage, but, then, there was this big piece with influencers. We initially just let our PR agency handle that whole thing, and it was definitely a learning experience.
We didn't know what to expect, and encountered many different personalities and expectations about compensation, posting, and there were all these high transactional relationships made even weaker with a middleman. We eventually decided to bring that influencer work in-house and apply our knowledge of well-planned, campaign-driven advertising to this area instead of just sending free products and hoping for sales. This has worked out really great as these campaign-driven programs are building relationships and longer stories for the Fytt brand.
What is the biggest difference between how the PR agency handled influencer marketing and how Fytt does?
The PR agency had a very reactive approach and, mostly, asked us to tell them which influencers we liked, and they'd send products out to them. I thought, "If I were an agency, I would have taken a more proactive approach and worked on the influencers a bit more since I just didn't believe that giving them one product was sufficient enough to build a relationship." Doing it in-house has given us more time to figure out how to truly make the product a part of their lifestyle instead of just making a one-off post.
For example, we recently launched this campaign to go with all the different New Year's fitness challenges. It's a 10-day skin fitness challenge and, for those 10 days, you exfoliate your body and your face, and follow this schedule to really let the nourishing ingredients get into your skin. If you keep up with the journey, then we'll send extra product to give out to your followers, and you let us know how it went. So far, we've been getting a lot of good feedback and new influencers wanting to work with us. I'd say that's been the biggest difference from the PR agency [is] being able to work directly with the influencers instead of a third party developing that relationship, learning from it and being able to fine-tune campaigns. We've recently brought a third employee on board as our director of communications and she'll be handling all the content, messaging and outreach to influencers.
What's been a crucial lesson you've learned about what it takes to make it as a beauty entrepreneur?
Spend the time doing the initial homework and analysis to really know who you are and your brand DNA. Define your vision and mission, and how those apply to your product, and how those plans apply to your brand story. This is important because, once you launch, people will be poking at your idea every day and, even though we're still learning and evolving, it's so much better to be starting from a strong foundation. Taking the time to think long-term instead of hopping on a trend will help you plan for what your brand will be in the next five to ten years. Also, find a really good partner.