Garance Doré's New Skincare Brand Leans Into The Allure Of French Beauty
To an outsider steeped in stereotypes rather than real life, French style seems effortless because, among other reasons, it's simultaneously classic and trendy. And it's that duality that Garance Doré, the French illustrator, photographer and blogger, embodies. After starting her blog in 2006, Doré's digital prowess turned her into a powerful influencer, but she remained rooted in traditional mediums, worked on campaigns for major houses likes of Louis Vuitton, Moschino and Kate Spate, and was a darling of the fashion circuit.
About a decade into her fashion fame, she stepped away from fashion shows and evolved her blog into lifestyle platform Atelier Doré in a move that was prescient and personal. Now, she's making another move, transitioning to beauty entrepreneurship with Doré, a French pharmacy-inspired skincare brand occupying the online real estate previously held by Atelier Doré. "Today, you have to stay true to yourself while adapting to the changing world around you and not jumping on every trend," says Doré.
Business of Fashion headlined its article last month on Doré's brand, "The Search for the Next Skin Care Trend." And certainly French pharmacy skincare could be considered a trend. Scrolling through skinfluencers posting about their favorite French pharmacy finds would indicate it is. However, French pharmacy skincare—and French style—transcends trends, and Doré's brand isn't likely to succeed for long if it's simply considered trendy.
Emily Yeston, Doré's business partner who created the brand with her, suggests it taps into the trend-crossing magnetism of French style and the women who encapsulate it. Speaking of that magnetism, she says, "I think it comes from a certain self-confidence and then also trust that things that come out of France come with a certain quality and a certain savoir faire in how things are made."
Doré is starting with three products: $24 Le Cleanser, $36 Le Crème and $12 Le Baume. To support its launch, the brand raised an undisclosed amount of money from investors, including The Board founders April Uchitel and Anita Gatto, Brand Love Lab partner Noria Morales, Tina Frey Designs creator Tina Frey and New Look founder Tom Singh.
Beauty Independent spoke with Doré and Yeston about their brand's French pharmacy connection and whether it will enter French pharmacy distribution, how it's approaching influencer relationships and an upcoming partnership with Cult Beauty.
In 2020, you took a moment to pause and reflect like a lot of people did at that time. What did you realize?
Doré: Emily and I, right before the world started closing down, had decided that it was a moment to wrap what we were doing the way we were doing it. It had all come in the same energy of, OK, we've done that, we've loved it, but we don't love it as much anymore. It started at a silent retreat that we went to in the summer of 2019 together where we couldn't talk for a week. When we came out, we both went our own ways.
She went with her parents, and I took my car and went back to LA. I called her, and we had a very long chat. That's when we decided, OK, we're going to drop everything. We don't know what the future is made of, but we're going to accept that. That was the vibe for a while, it was like accepting nothingness.
Yeston: A couple of months later, COVID happened, and I think we were already in a weird unknowing state of preparedness for that because we had already started to think about transition. We used it as a time of real observation just to see how we were feeling, what was happening with our readers and what was happening in the world.
Garance started her career as sort of this observer of fashion, so we were like let's get ourselves back into that observational mindset and see what comes out of it. For us, this next iteration of Doré is what ended up coming next.
When did you come up with the idea for Doré?
Doré: The story goes that Emily called me one day and was like, "Hey, I have an idea." She had the vision for this brand and had taken into account all the complaints that we both had. We're different ages, we had different experiences, but we've worked in fashion and beauty for the last 10 years, and we knew what we stood for, our values, what we were looking for in skincare lines.
I think she aggregated all of that and saw that there was something there and our potential for creativity together. That's how it started, but my first reaction was a little bit like, "Oh, no, no, no, this is a moment of quiet," but she shook me up and that was a good thing.
Yeston: Over the last 10 years, we've cultivated such a wonderful community of other founders and people who've worked in the industry for a long time, and I had spent a lot of time talking with friends about where we were at and that I didn't know what to do. I was chatting with a friend and she asked, "Have you ever thought about beauty?" I was like, "I don't know, it's such a crowded industry," but she planted a little bit of a bug in my ear.
The idea about the pharmacy, I can't put my finger on exactly when the aha moment happened and it clicked, but at some point I was like, yes, this is everything that we believe in when it comes to the simplicity in routine and product, really working with stuff that's super gentle, focused on hydration and that we know clinically works.
That space hadn't really evolved in such a long time, and I thought, given Garance's roots and heritage and coming of age in her career in Paris, it just made so much sense. I felt very confident that this was a place where we really had something to say and something to do, and we could make beautiful products that felt like they were meeting the modern consumer where they are today.
Can you elaborate on the pharmacy positioning?
Doré: The vision that we have in France of beauty is quite specific. The French pharmacy is something that everybody uses that we really trust because there is a focus on efficacy and not so much on advertising or celebrities or expensiveness. It's something also that's passed on from mother to daughter.
It's like with fashion, French women like to just have one thing and use it well. A bag that's perfect, they just use it for the rest of their life and then pass it on to their daughter. It's that same idea with beauty products. This is what I use, this is what makes your skin look great, here it is. I'll give you the first one, and then you're just going to go buy your own next time.
Yeston: The experience that I had with my skin more personally is also tied into the brand. I had been struggling with really bad cystic acne in my late 20s and had been trying everything and anything I could find to try to fix my skin because I had become so self-conscious about it. I found that, when I went back to using more of these tried and trusted pharmacy essential products, my skin would balance out and be at its best.
But the more that we've become well-educated around the clean beauty space, the more I realized that there were some ingredients in these formulas that felt a little bit questionable for me to be using. I really wanted something that would be clean, and by clean I mean safe to use, but also deliver those simple, gentle and effective results that I was looking for. I think bringing that element of clean and also modernity to the brand in terms of sustainability and design felt really important to us as well.
We also knew from our readership and seeing what types of stories people came back to over the years, that anytime Garance or another French woman was sharing their beauty routines with us through our Beauty Minute features and other stories that we were doing, there was always consistent use of these pharmacy products and that our readers were coming back to those stories for years and years and years. There really is I think a true fascination, not only with U.S. consumers, but with consumers around the world, of this allure of the French woman and how they approach everything.
How did you land on the three products in the initial lineup?
Doré: I spent a lot of years on the road and I could never follow a very complicated routine. I think this is very French, but I'm somebody that will use my red lipstick as a blush on my cheeks when I'm traveling and I don't have all my stuff. So, I really like products that are very simple and can do many good things. The line was based on the idea that you don't need a ton of things to do great work because what your skin needs is simple and effective.
Yeston: When we worked on building the range, we really thought about the foundation of a routine, which is cleansing, treating and then moisturizing. Looking at cleansing options, we wanted to minimize steps in a routine. One thing that was really important for Garance was that the cleanser needed to be able to remove eye makeup so you wouldn't need to carry a separate eye makeup remover with you when you were traveling. We wanted something that would be multifunctional in that regard, which is another trademark of a lot of the pharmacy brands.
With the moisturizer, we wanted something that would feel super hydrating and really quench the skin. I'm not personally a fan of using different products for morning and evening, so we wanted to find something that wasn't so thick that you couldn't wear it as a day cream, but would be as hydrating as something that you would use as a night cream.
Balms, I think, are those little miracle products that you can put everywhere. The issue that I had was that a lot of balms on the market have petrochemicals in them. So, it was, how can we come up with something that has that same amazing delicious texture that you can use on cracked skin and dry lips and as a highlighter and put it on bug bites and burns and all of those things, but without the petroleum?
How do you think about expanding the line?
Yeston: We're working on a couple of other products that we're very excited about that have these same multipurpose effects and are forever heroes. It's really about building a foundation of essentials that people can come back to for years and then thinking about hyper-specific treatments, which to me also feels pharmaceutical in that way. The foundation of French pharmacy essential products is, you're going to get a great cleanser, you're going to get a great moisturizer and then some of the products are more dermo-pharmaceutical.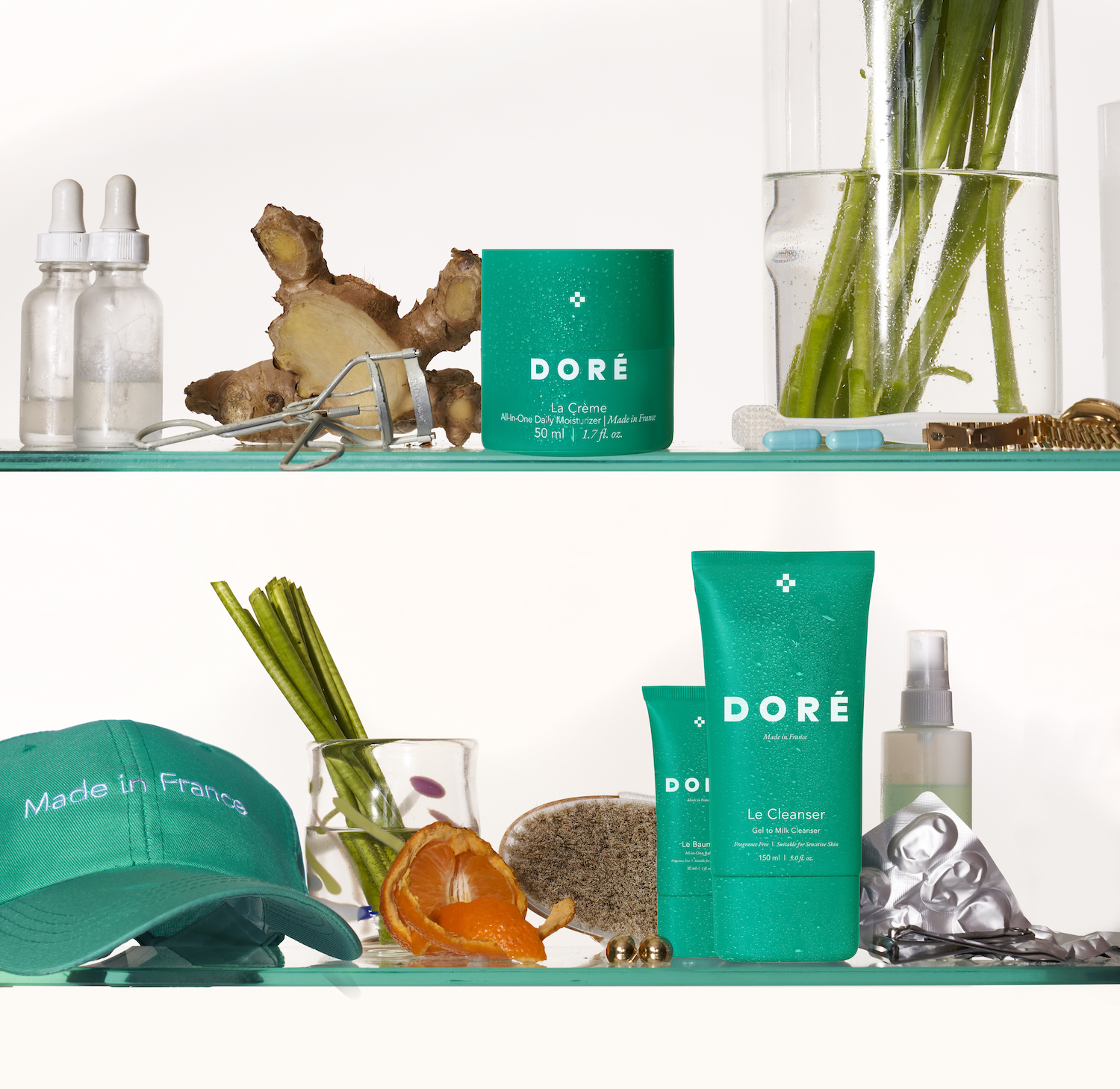 What does the marketing strategy look like for the brand? Are you partnering with influencers to promote the line?
Yeston: Rather than a traditional influencer program you'd see with other brands, we're really focusing on building an ambassador network. It's about how we can bring those like-minded friends of the brand into the fold of what we're doing and have them be true supporters of what we're doing, but also create opportunities to collaborate with them, feature them through the site and really work with them on their projects that they have going as well.
We really like to look for other people who have an interesting creative lens and take on whatever it is that they do. We have someone that is doing really amazing tableware that we're working with. It's really about cultivating that sense of authenticity with people that we have true relationships with rather than just thinking about how can we just send something to someone so it gets a lot of likes and follows.
The other thing we've really been working on building as well is putting a lot of effort and energy into what loyalty looks like for us. Our readers and followers have been supporters for such a long time, and we found such incredible people in the moments we've been able to connect with the community. I remember being on Garance's book tour and meeting people in line to have their books signed. It blew my mind the quality of people that had come together around us. It was so awe-inspiring. We saw that again when we were doing our retreats.
How we can really cultivate a deep sense of connection around the amazing followers that we have who are now becoming customers of the brand?  That true sense of loyalty that you build comes from those types of connections. So, we're trying to do things beyond just points for purchases. We're trying to do more online and offline events where we're bringing that community together and using Doré as the vehicle for making those connections happen in real life and online.
Doré: To go back to the idea of the French pharmacy and the French environment, we do really truly believe in word of mouth. We put most of our resources into the product and believe in that and making sure and trusting that it will travel on its own as well, and people will make it theirs. Using it off-label and sharing it with our boyfriends and their mothers, that's how we usually come to know our favorite products.
Even with what we were doing before with the website, we've never had to advertise, people came to us. It's a different thing for sure, but we have that trust that, if you do something really cool and good and interesting, people will come.
What's the distribution strategy for the brand?
Yeston: We're going to be launching with Cult Beauty on July 5. Finding a retail partner that could support the international audience that we've built over the years around the brand was essential from as early as possible, so we have built the brand to be able to scale it and sell it within the EU and the U.K. The Cult partnership was really fundamental in getting this off the ground and connecting with our customers that are in different parts of the world.
Direct-to-consumer was really important and the majority of our readership is within the U.S. That was where we thought we would begin in the U.S. because you need to begin somewhere. We're in talks with lots of retail partners and are excited about getting the brand into the store.
For us, a modern brand needs to be able to really sit in both spaces. The days of DTC only or wholesale only are in the past. We're definitely strategically working on a very two-pronged approach when it comes to how we think about distribution in that capacity.
There's been so much talk about the pharmacies. Obviously, we're not actually sold at any pharmacies yet, so we can't say that we are truly a French pharmacy brand yet. I think we're really built more on the values that we find similar throughout the brands that are sold at pharmacies and what they've come to represent. That's been foundational for how we've created the brand.
We are hoping to crack into the pharmacy space in France, but also worldwide. There's so much opportunity there, and we see so much value in that channel. It's definitely very high on our list and something that we're actively pursuing.
This interview has been edited and condensed.