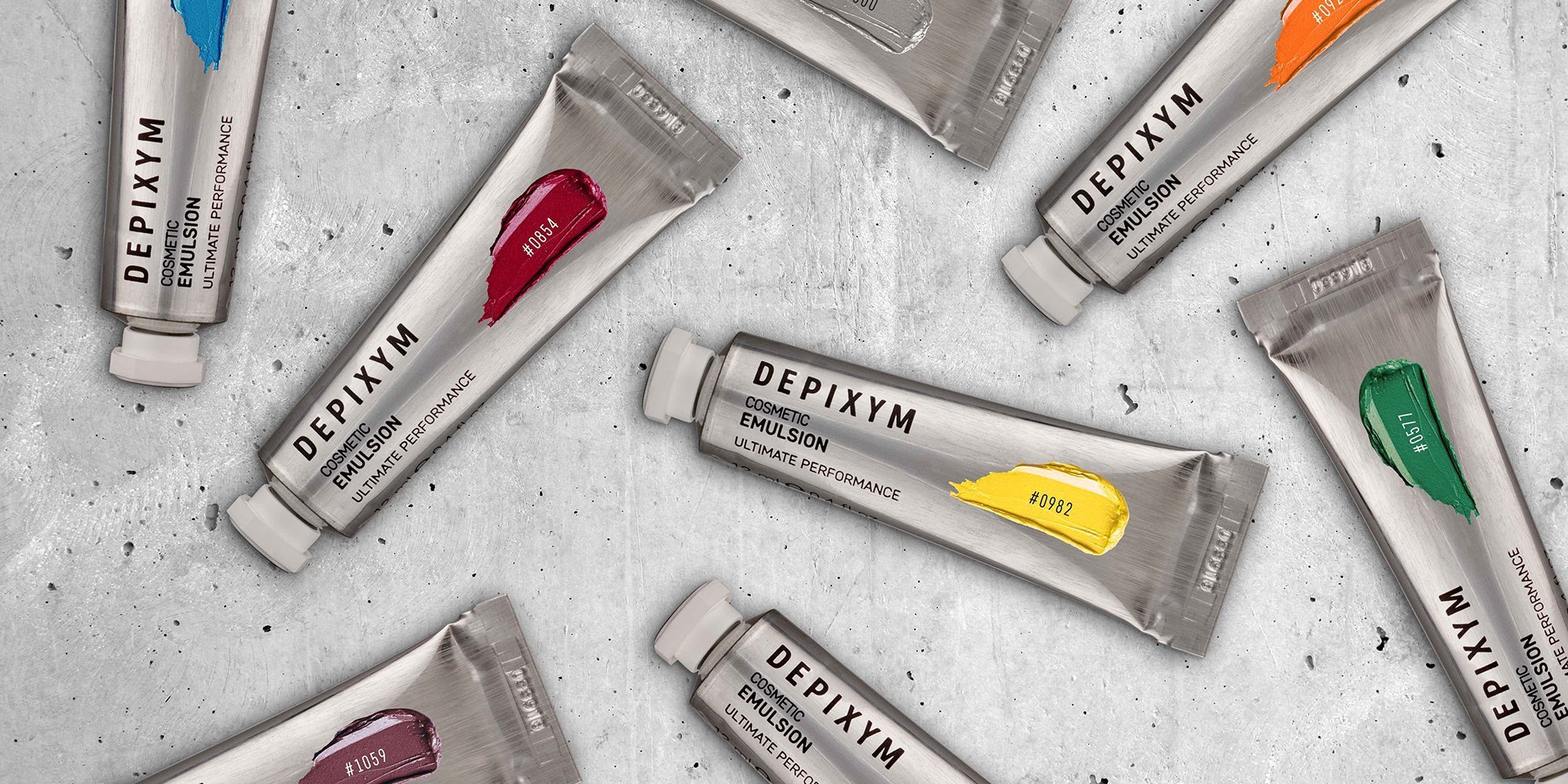 This New Gender Barrier-Busting Brand Hones In On The Art Part Of Makeup Artistry
Where Depixym takes makeup, no labels are necessary.
The gender barrier-busting brand's 20 colors are packaged in aluminum tubes that seem as if they should come with an easel and palette—and they sort of do. Each is paired with a mixing palette and wooden stick to encourage customers to mix the colors together. The brand describes them as vegan, cruelty-free, matte, blendable and waterproof color emulsions, but doesn't identify whether they're lipsticks, eyeliners, eyeshadows, foundations or concealers. That's because they're meant to be all those things.
"We thought, 'Why not make a product that works for everything and everyone?'" relays Victoria Feebery, who founded Depixym with fellow former Boots buying manager Alice Rhodes. "We'd see brands position things for different types of people, and we realized, actually, if we make it right, we can make it for every type of person. The beauty industry, as much as we love it, does have a tendency to make people feel like they don't belong, and question whether they're too old for this brand, too young or is this the right brand for me? Should I be using these products? We thought, 'Why don't we just try and be what the beauty industry should do and create some products that just make people feel great?'"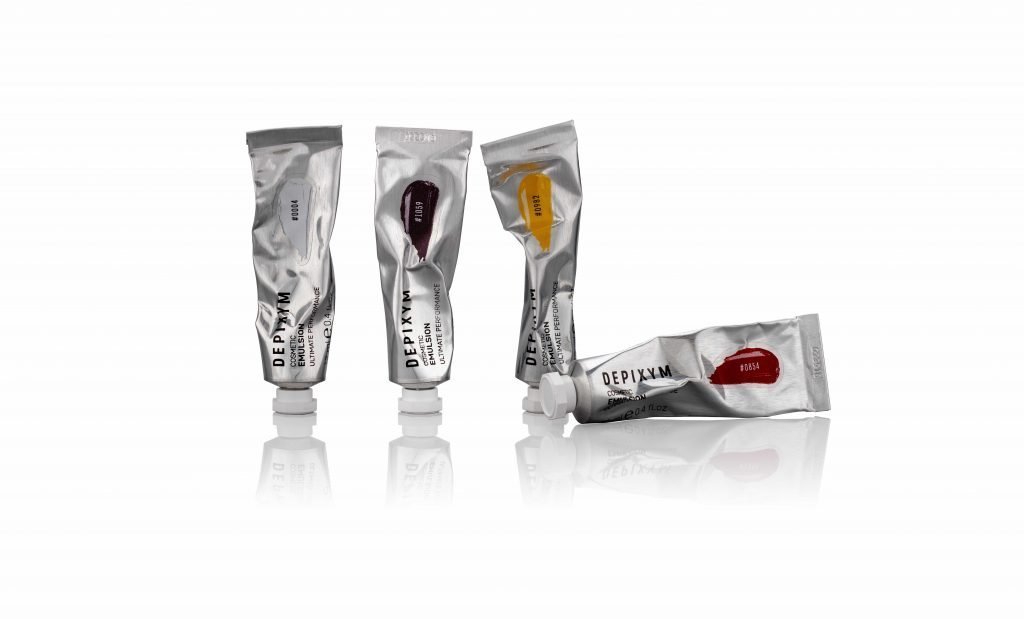 A scroll through Depixym's Instagram feed shows that the brand's products can be wielded to transform people into colorful skeletons and graphic illustrations or simply the best versions of themselves with pops of color on their lips or eyelids. Priced at 18 pounds or roughly $22 at the current exchange rate, the color emulsions are intended to foster customers' imagination as well as individuality. On social media and its website, Depixym reveals human flaws that other brands cover up.
"We don't use models per se. We just shoot people that embody the brand, and we wanted it to look a bit real and a little bit gritty," says Rhodes. "It is quite different from a few Instagram feeds, but I think that's because we don't use Photoshop. We don't retouch. It is literally how you would see that person on the street."
"We thought, 'Why don't we just try and be what the beauty industry should do and create some products that just make people feel great?'"
Click over to Depixym's tagged images and more creations emerge, many of which are by makeup artists. The brand is sold at Guru Makeup Emporium, a destination for makeup artists. "They're early adopters, and they get how to use the product in different ways," says Feebery. Depixym sends products to well-known makeup artists such as Lisa Eldridge, who used the brand on singer Dua Lipa for a Vogue shoot.
Depixym doesn't pay people to promote its products or instruct them how to apply them. It's an organic exchange, and makeup artists maneuver the products as they're moved to do. Feebery says. "We don't want to say to people, 'This is how you use it,' because it's about your expression and about you. The makeup artists are a brilliant way in because they're curious, and they want to play. Then, it will hopefully continue to ripple from there."
When Feebery and Rhodes were first developing the brand, they put together what they call The Collective with people from different walks of life to guide Depixym's products. Feebery says, "We're two white girls in the middle of England, [and] we want to create a brand for all skin tones, for all ages, for all types of people, so The Collective is there to help us check does it work on your skin tone? Does it work for different ages, different aesthetics, different needs?"
Because Depixym is self-funded, it doesn't have to chase massive turnover—and massive turnover isn't what Feebery and Rhodes are after anyway at the moment. They expect to expand the number of colors available eventually to be "like when you walk into a paint store, and there are all of the colors in front of you," according to Rhodes. Currently, however, there are no plans to explode the assortment, and Depixym's products are made in small batches to tweak them based on customer feedback.
"We don't want to say to people, 'This is how you use it,' because it's about your expression and about you."
"We don't want to create a huge pipeline of products now because, actually, it's really great having this community and hearing what they're saying," explains Feebery. "That way, we're going to go where the demand is and create the products that people want to use. Instead of pushing things on to them and trying to create a trend, we want to listen to where they want to go."
While the duo enjoys the freedom being self-funded provides them, they recognize a lack of money is part of what's preventing Depixym from, well, making more money. "That initial getting your name out there without a huge budget for PR is hard," says Feebery. "So, while the funding and not having an investor allows us to remain independent and true to our values, it does mean that we're growing slower than if we had a couple of million in our back pocket."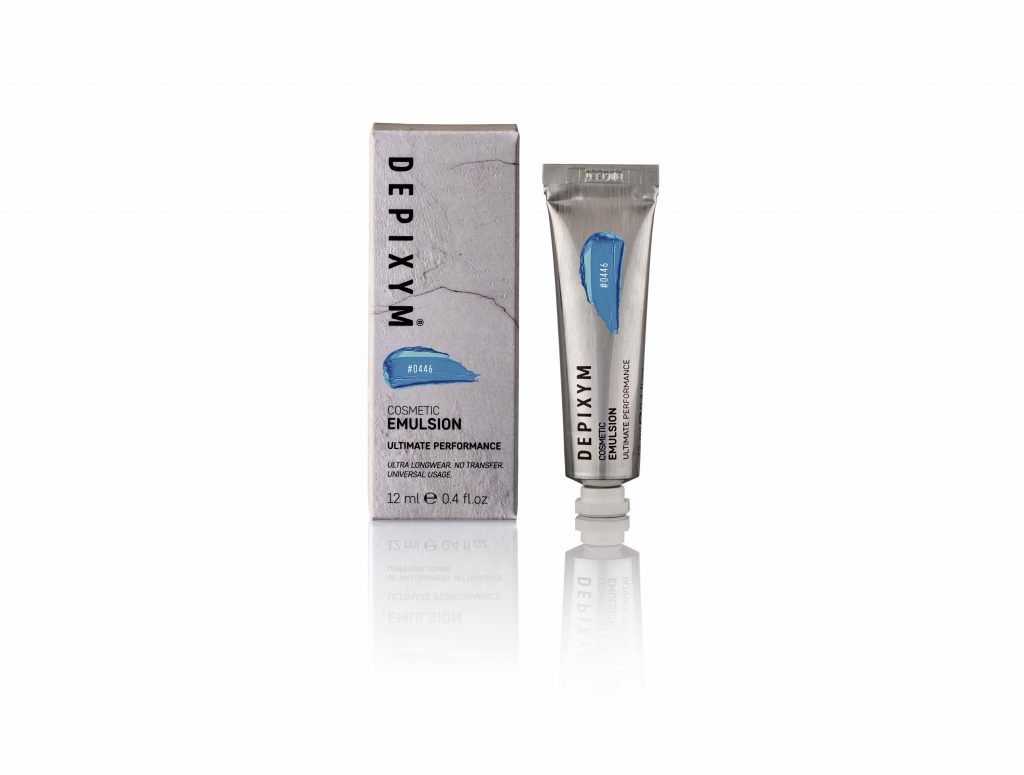 Feebery and Rhodes are confident Depixym's message and its unique products will ensure longevity—and they are dedicated to staying true to them. "That's where brands lose their way," says Feebery. "They end up developing products because it's easy or because they have a gap to fill. They take their eye off of the why, why they started this and what they're about." Rhodes chimes in, "We always want to keep that question of, 'Who is Depixym for?,' in the back of our minds. It's never been about me and Vic. It's always been about other people because we're really conscious about creating a brand for everyone."