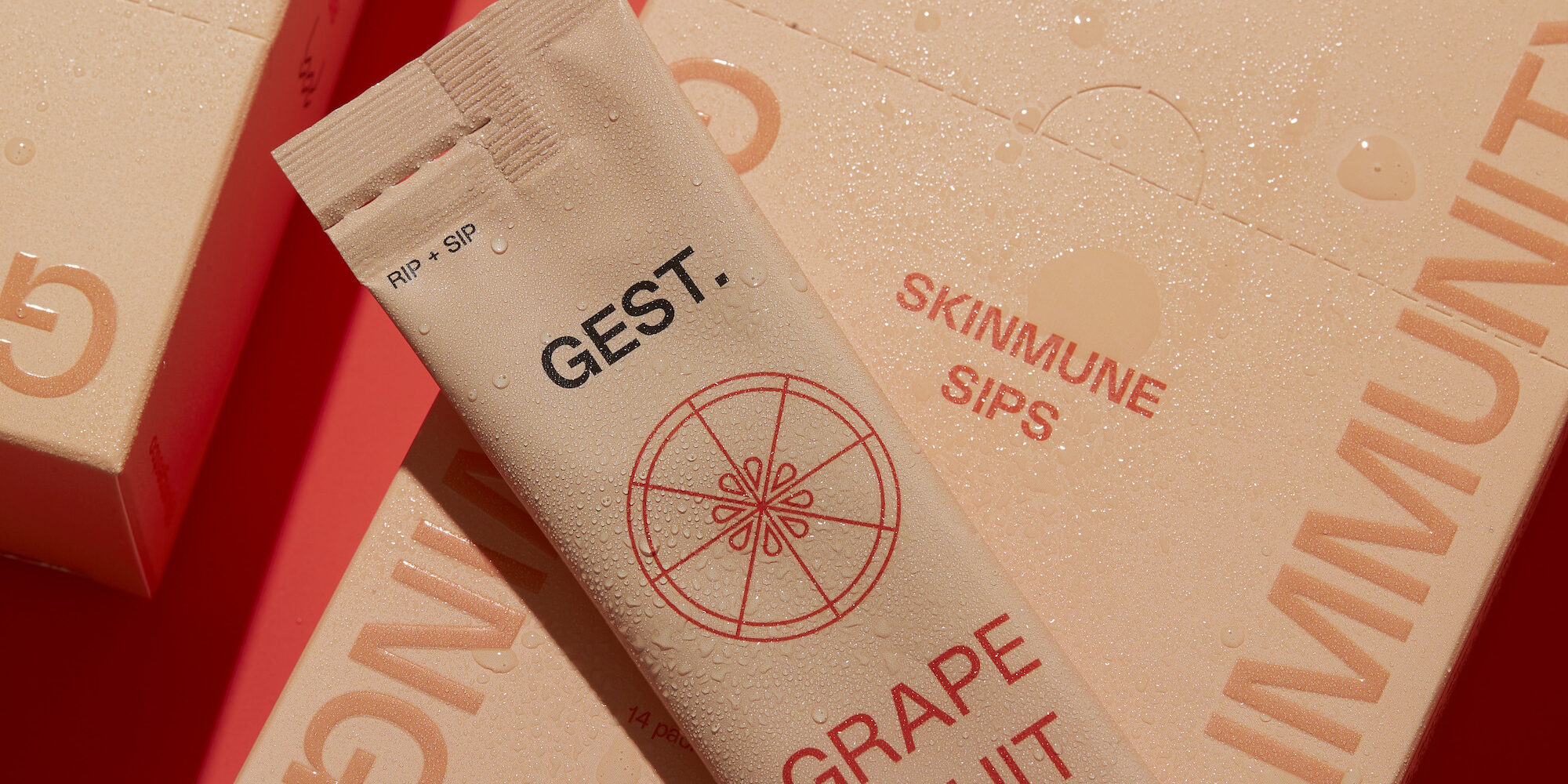 Gest's New Drinkable Skincare Supplement Aims To Reduce The Collagen Churn Rate
The majority of consumers who start taking collagen to fortify their hair, skin or nails  abandon the protein before making it all the way through a tub of powder. New w
ellness brand Gest attempts to keep them on collagen with its first
 product, Skinmune Sips.
Over the course of three months, Gest collected data through interviews with 160 would-be collagen enthusiasts aged 30 to 50 years old on their supplement pain points. Gest co-founder Bauer Wann reports, "One, they don't see results. Two, they don't really know what they're ingesting and, three, it can get overpriced." Consumers want a pleasant user experience, too. Supplements that are supposed to be taken every day need to be easy to consume as well as delicious.
Informed by the findings, Gest took a year to develop Skinmune Sips. In addition to 8,000 milligrams of hydrolyzed marine collagen peptide, the grapefruit-flavored liquid is charged with ingredients usually packing topical skincare products, including 80 milligrams of hyaluronic acid, ceramides, astaxanthin, vitamin C and monk fruit. The formula is designed to target the skin's three layers, boost immunity, and benefit the hair, nails and joints. Skinmune Sips comes in single-serve packets, and 14 packets are $36 or 28 packets are $68.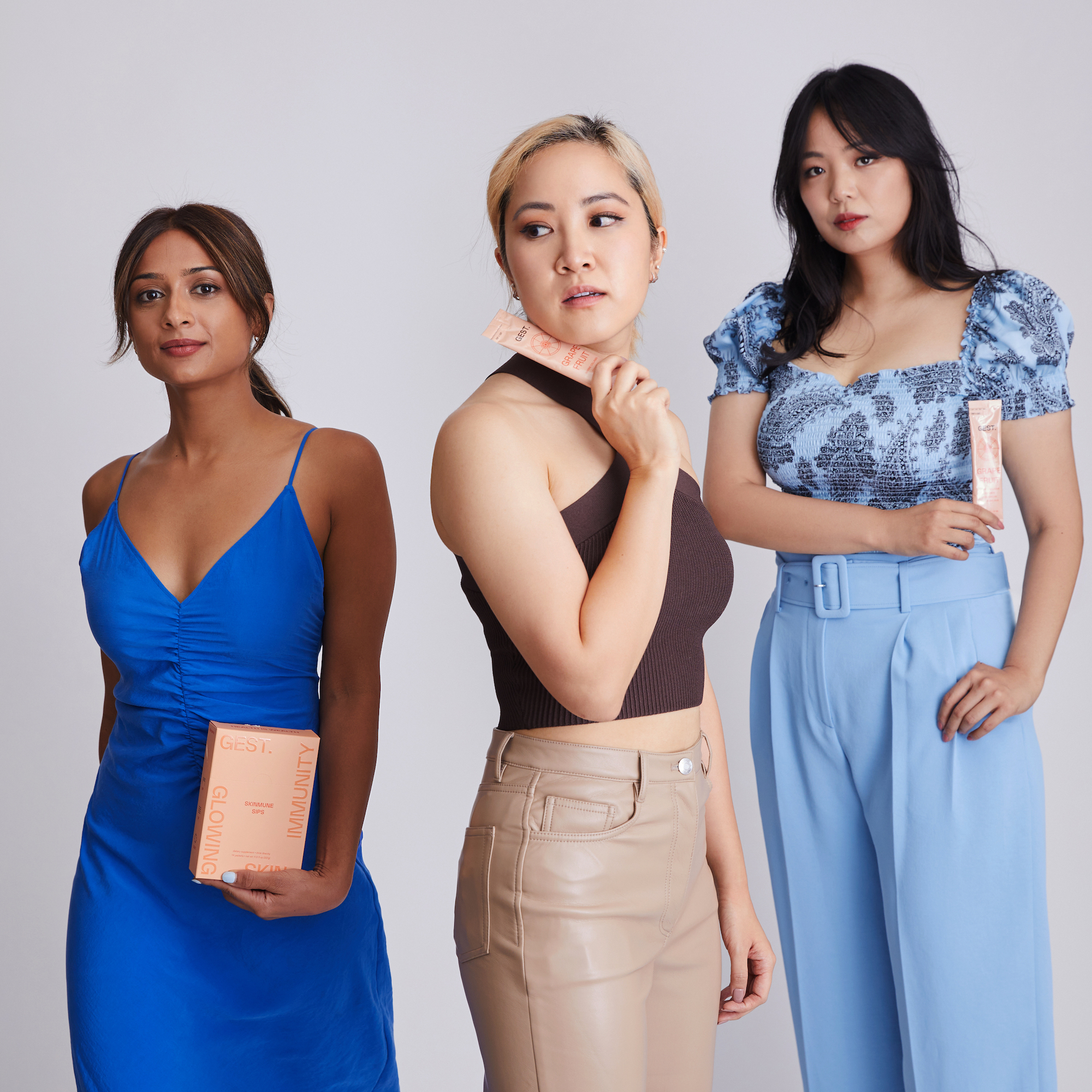 "Supplements traditionally have a terrible rep, and it was our customers who helped us realize a powerful liquid formula was needed to fit our customers' routine and provide the desired results to keep them motivated," says Eleonor Trinh, who founded Gest with Wann and Rupa Patel.
Gest's research also unearthed reasons why consumers turn to supplements to begin with. Skin health is the top reason, followed by overall immunity. "That makes sense because we know that your skin reflects your health, and people always want to look like you're bright, glowing, healthy," says Wann. People aren't patient about achieving those results. They prefer to achieve them within a month. 
Meeting the multiplicity of demands consumers have for collagen supplements seemed like a seriously tall order, but Patel, Wann and Trinh, who share product and technology backgrounds, weren't deterred. They hunted for labs to develop effective products without extra sugar, preservatives, coloring and other additives they discovered are pervasive in supplements available at leading retailers such as Target, Sephora and Costco.
"We looked at labs in the U.S., in Germany, and eventually decided to do our R&D manufacturing in Taiwan, where I'm from," says Wann. "Taiwan does a lot of manufacturing for Korean and Japanese supplements. Japanese people are amazing when it comes to different formulations, different ingredients. And, honestly, in terms of the two things we picked [to focus on]—skin and immunity—they were ahead of us in terms of innovation in regards to supplement formulations."
Skinmune Sips' liquid formulation ticks Gest's consumers' boxes. It's devised to be tasty and user-friendly without fillers and with active ingredients chosen for maximum bioavailability at therapeutic doses. "Ingredients we put in there like hyaluronic acid, ceramides are associated with topical application, but, in fact, it's something that you should eat to create a much bigger impact for your body because you actually digest it, absorb it in your body," says Wann. "We use those components for our connective tissues."
"We're tired of the same old pills, powders and gummies that are ineffective."
Patel adds, "Gest redefines what's possible. We're tired of the same old pills, powders and gummies that are ineffective, low dosage and lacking an effective formulation. With our flagship product Skinmune Sips, a first of its kind, liquid supplement featuring five clinical ingredients proven to boost skin, hair, nail and immunity, we have a product our customers love."
Gest debuts in a high growth sector, collagen, of the high growth nutraceuticals category. According to a recent report from Research and Markets, the global market for collagen peptides is projected to exceed $800 million by 2027, growing at a rate of 5.5% over the next five years. That represents just a fraction of the even more dynamic total nutraceuticals market, which is expected to expand at a rate of 7.8% to reach $441 billion by 2026.
The bootstrapped brand has spent just under $100,000 to get to market, with most of those dollars dedicated to R&D and production of the initial batch of Skinmune Sips. Unlike most direct-to-consumer startups, Gest has outlaid next to nothing on digital promotion, spending only $200 on Instagram promoted posts thus far. Going forward, the brand will focus on marketing, including influencer marketing, as well as perfecting future products addressing popular concerns like sleep, energy and relaxation. 
"We have developed this methodology of, what do people want, what are the ingredients that actually work that have been validated by lab testing? In what form factor, and visually, and also flavor profile wise do people want to consume? That's how we create our product," says Wann. "But it is important for us to find out what the industry needs because, if there's already great products out there, we feel we can do better, but we don't want to go for micro improvements. We want to go for significant wins so that people can really feel the difference."