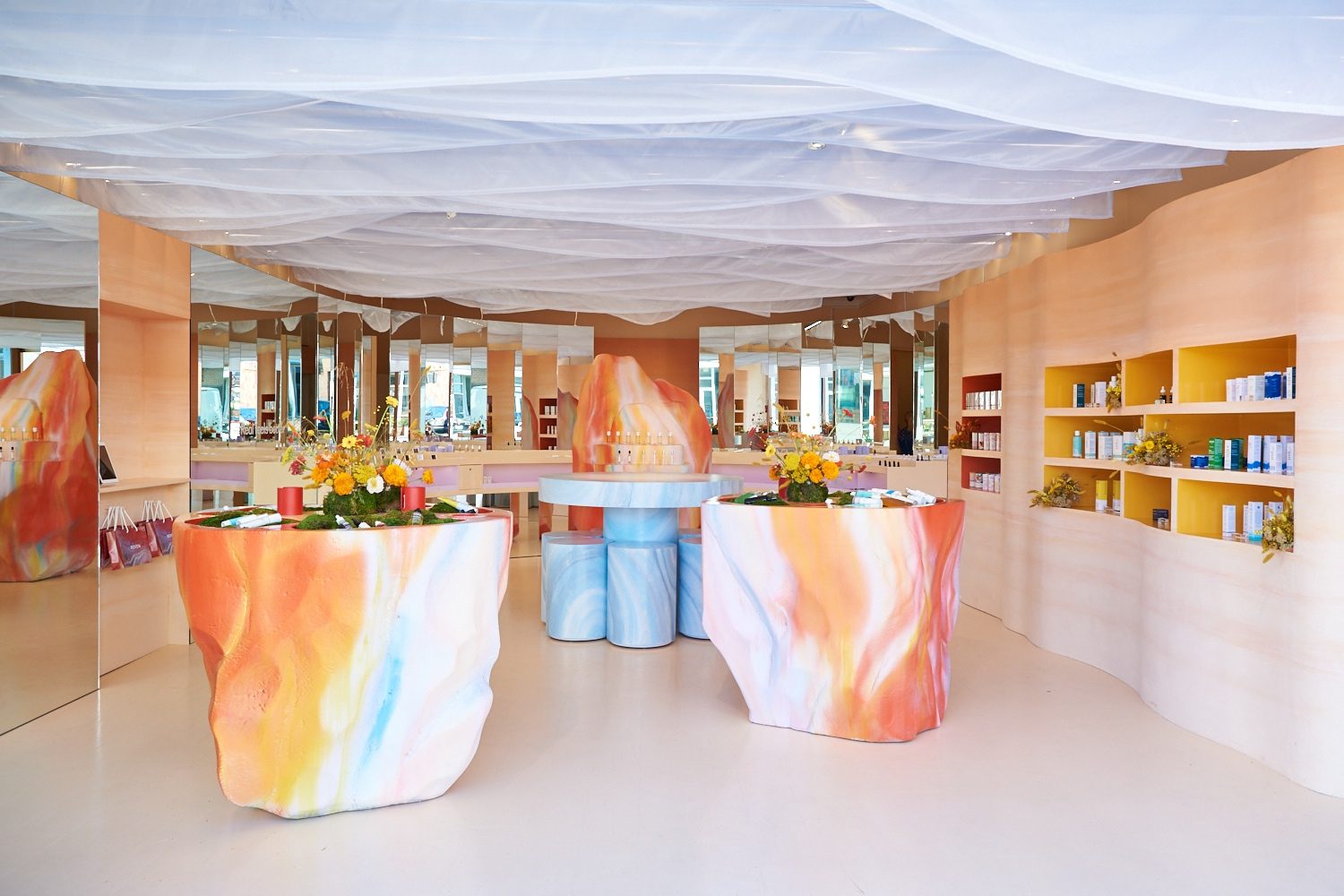 A Glance Inside Grove Collaborative's New Clean Beauty Concept Roven
Darby Smart co-founder Nicole Farb knows a thing or two about cultivating a community. A glance at the former investment banker's track record shows she helped to attract 5 million viewers to the online DIY destination and, then, sell it to home products e-tailer Grove Collaborative earlier this year. Now, she's emphasizing transparency and education to grow Grove's clean beauty offshoot, Roven, in Middle America.
"Our goal at launch was to bring the Grove customer a trusted place to shop beauty," says Farb. "We know she has high standards for the products she puts in her home, and we wanted to give her that same standard for the products she puts on her skin."
With Roven's flagship store, which opened in conjunction with the e-commerce site last month in the Los Angeles neighborhood Venice, Farb has leapt from the digital space to bricks-and-mortar by incorporating a lot of good vibes, and eye-catching colors and curves. Shoppers walk off Abbot Kinney Boulevard through sliding glass doors into a compact space that evokes Instagram-famous Arizona destination Antelope Canyon. Orchestrated by Robert Storey, a set designer who's worked on fashion shows and retail displays for clients such as Christopher Kane and Nike, the store is a study in pastels enhanced by soft edges.
Grove spent months talking to its customers before Roven's debut. "We've learned so much from them," says Farb. "Our customer loves moisturizer and mascara equally. Our customer wants products that are pure and powerful. They're very interested in clean beauty, but don't necessarily have easy access to it."
Stocking about 25% of the 500 products sold on Roven's website, the Venice shop displays Burt's Bees mascara ($12.99), 16 shades of RMS Un Cover-Up ($36 each), Josh Rosebrook Nutrient Day Cream with SPF 30 ($85), Pai Light Work Rosehip Cleansing Oil ($56) and approximately 130 other items in trays filled with lavender pebbles and green moss. Appealing to Southern California shoppers, the selection leans into hydration and sun care.
In the back, Roven built a mirrored room inspired by Farb's experience at a music festival. As easy electropop establishes the mood, visitors can pose for selfies underneath pink plants hanging from the low ceiling while a hidden wind machine gently invigorates their hair. "People call it the Beyoncé moment," the Roven co-founder says of the wind-in-your-hair effect.
With the store, she continues, "A lot of what we're trying to do is change the way you feel when you shop beauty, to really ground it in the power of nature and plant-based healthy product and take a lot of guesswork out of your experience, and to not necessarily focus on how to put on this cat's eye."
"Our customer wants products that are pure and powerful. They're very interested in clean beauty, but don't necessarily have easy access to it."
Paying attention to feelings is part of Roven's strategy to make clean beauty approachable for Grove's customers, most of whom live in what Farb describes as second-tier cities. Nashville is one of its largest markets. "Not everybody has a Lemon Laine in their neighborhood," says Farb, referring to the pioneering natural beauty and wellness boutique in East Nashville.
Avoiding a list of "absolutely-not ingredients" such as microbeads, avobenzone and parabens, and certified as a B Corp, Grove follows a multistep vetting process at Roven. Farb details, "First is the formula. Second is how they ethically treat their employees and other standards. Next is the brand story."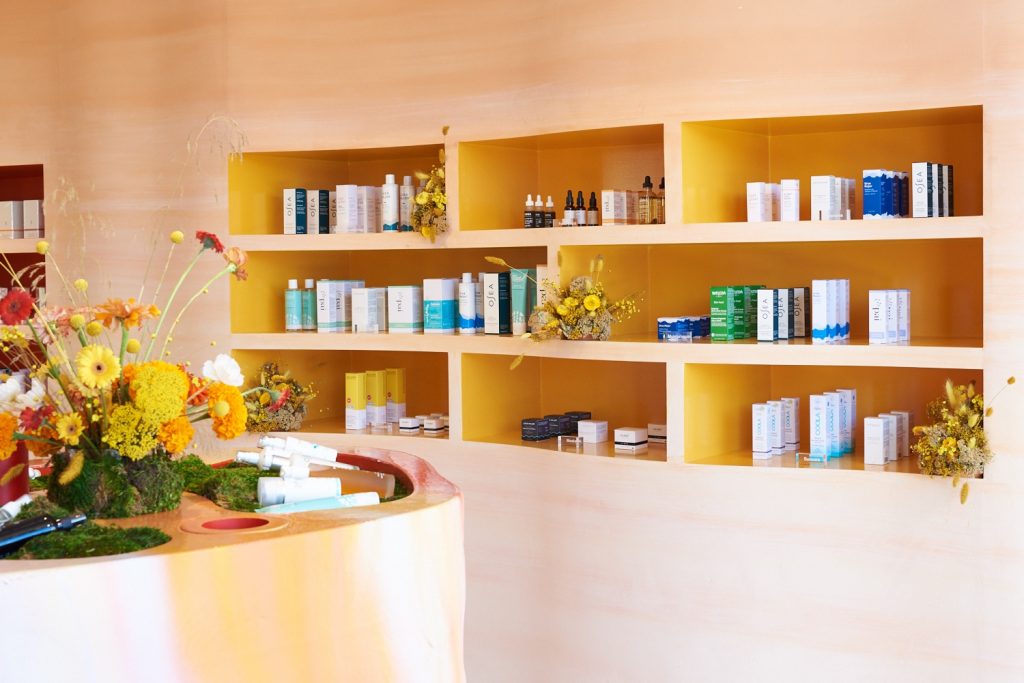 Grove has big plans for Roven, fueled by growth into more categories. Farb says it's currently in testing mode with nail polish, which is supposed to begin selling before the holidays. Roven is projected to account for half of Grove's total sales within three years. In September, Grove revealed it raised $150 million in a series D round and reached unicorn status with a valuation above $1 billion.
Roven listens to an advisory board it dubs the Better Beauty Board. Farb, entertainer Julianne Hough and dermatologist Caroline Robinson are on the board. Within a few months, Roven plans to double the number of board members to six. By testing and vouching for the products, the board aims to guide consumers on their journeys into the $20 billion clean beauty industry.
"To be honest, many are on a confusing journey," says Farb. "Most consumers are interested and excited, but clean beauty isn't super accessible to many of them."
"The ability to touch and feel the brand is more powerful than we would have expected."
Hough is relatively new to clean beauty. As recently as June, she wrote on beauty site Byrdie that Johnson's baby oil was her "major skincare secret." Farb says Roven picked Hough because "we really wanted someone who we had seen sort of help women find their confidence, feel good about themselves [and] celebrate themselves."
Grove has deactivated Darby Smart's site and Instagram account, and transitioned them to Roven, although Darby Smart's YouTube and Twitter channels remain operational. Grove still has valuable relationships with beauty influencers. For instance, it's partnered with Cassandra McClure's Clean Beauty podcast, and Jennifer Chan and other bloggers have visited the Venice store and raved about their experiences to followers.
"There isn't one specific type of influencer we'd like to work with because beauty is subjective and doesn't fit under just one category of influencer," says Farb. "The influencers we do decide to work with in the future will be representative of Roven's ethos."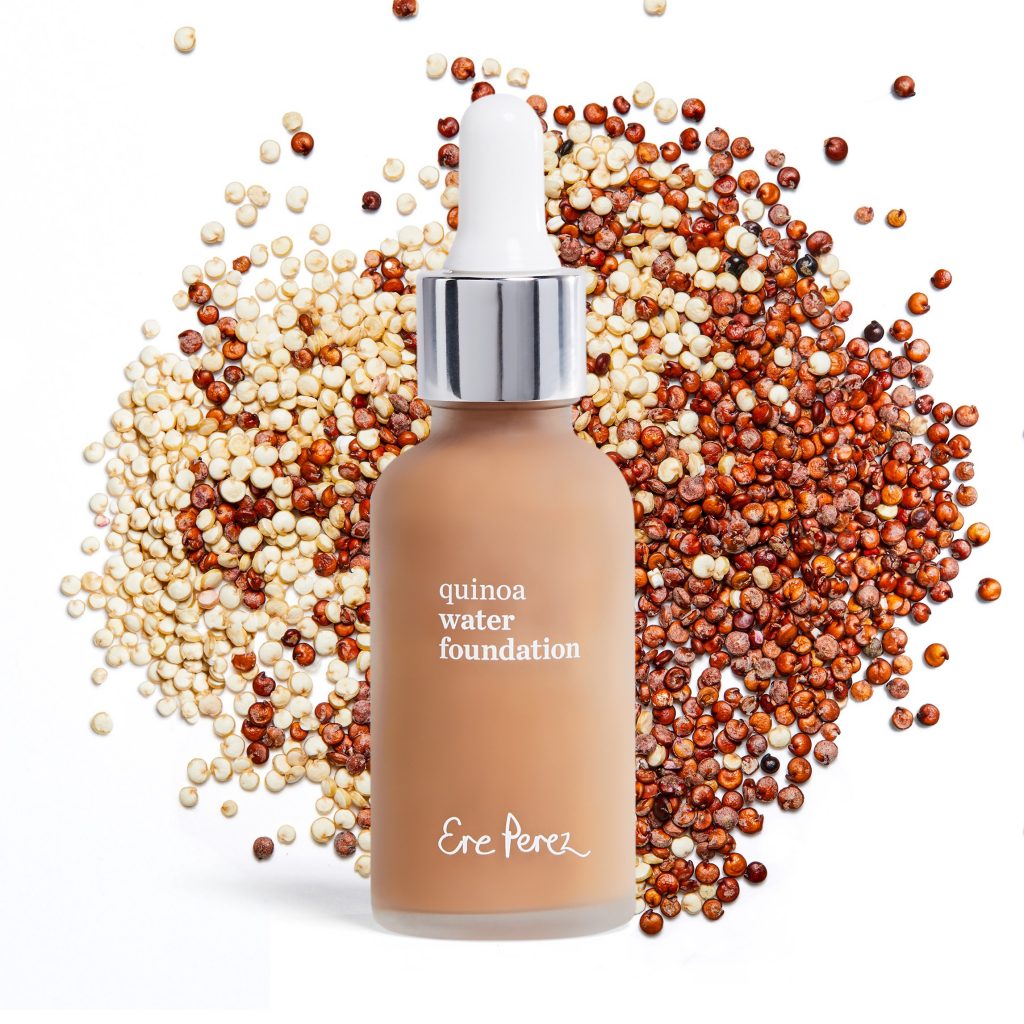 Abbot Kinney emanates an eco-friendly ethos. Natural fragrance house Strange Invisible Perfumes is located two doors down from Roven. About half a mile away on Rose Avenue, The Detox Market stocks green beauty bestsellers in a nook inside vegan eatery Café Gratitude. Even though Osea sells its products in its skincare studio on Abbot Kinney, Roven also carries the L.A.-based label's Ocean Cleansing Milk, Atmosphere Protection Cream and Hyaluronic Sea Serum. Within 11 days of Roven's official opening, the staff reported the store had sold out of Osea's $38 Sea Minerals Mist.
To train its young sales associates, Roven welcomes a queue of creators from the brands it carries, including Kari Gran's Lisa Strain, Abel Odor's Frances Shoemack and Josh Rosebrook. Clove + Hallow founder Sarah Biggers is scheduled to visit the middle of this month.
Roven is keen on talking to new brands. Farb says, "As long as they meet our standards, we're open to exploring and bringing them on." Facing competition from Ulta Beauty and Sephora, not to mention Target and Walmart, which have beefed up clean beauty selections, Roven is attempting to overcome what Farb identifies as the enormous challenge of getting customers "to feel confident with these new products and brands."
To do so, Roven is considering opening additional brick-and-mortar stores. The initial month of its multiyear presence on Abbot Kinney has "gone well," says Farb. "The ability to touch and feel the brand is more powerful than we would have expected."