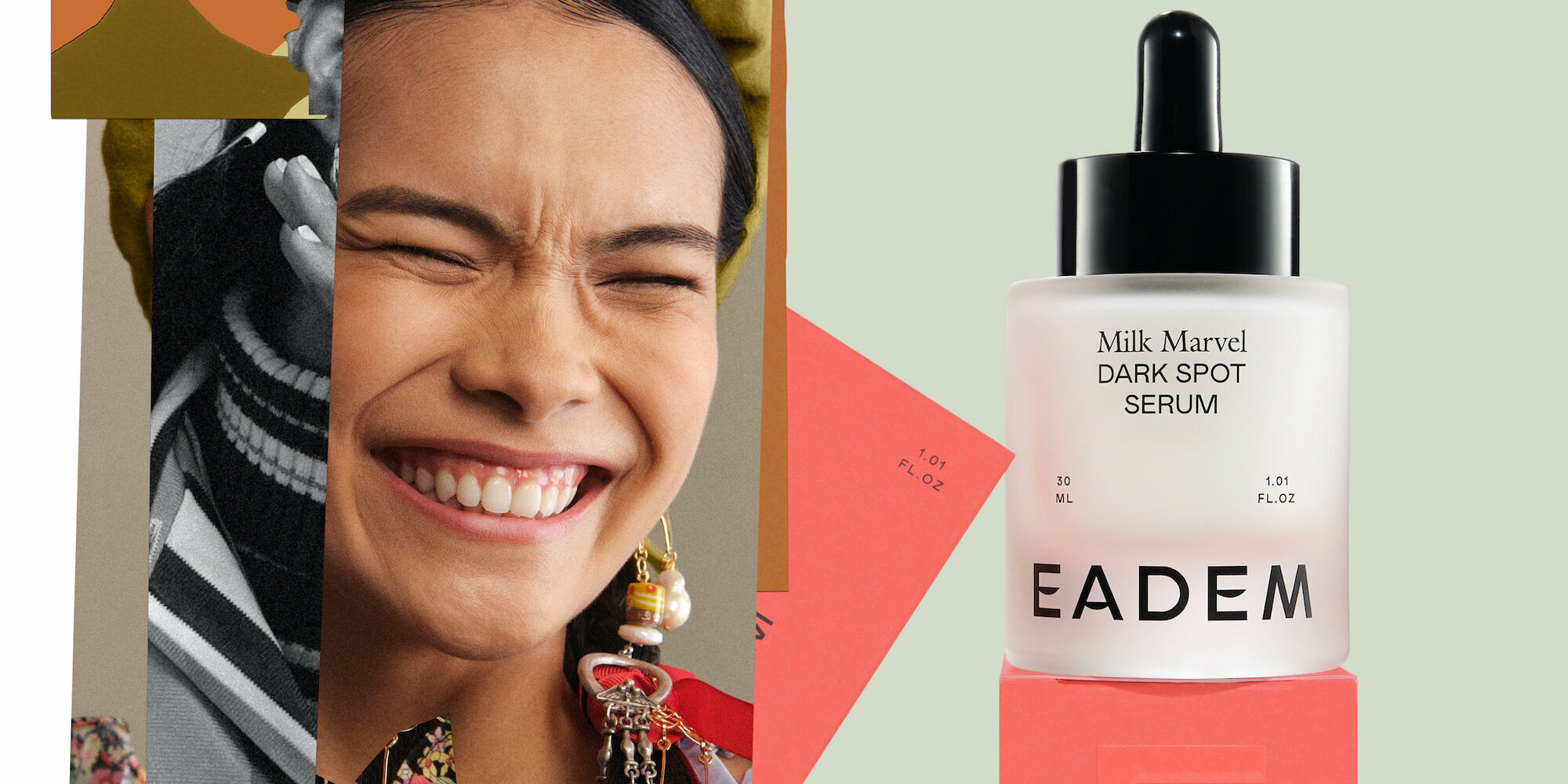 Glossier Grant Recipient And Sephora Accelerate Participant Eadem Launches With A Dark Spot Serum
The idea for Eadem evolved from a friendship. Co-founders Marie Kouadio Amouzame and Alice Lin Glover met seven years ago while working at Google's marketing department, where they bonded over their same-but-different backgrounds.
Lin Glover's family is from Taiwan, and Kouadio Amouzame was born in Côte d'Ivoire, moved to France when she was three and came to the United States in 2014. "Although we don't look the same and our parents don't come from the same parts of the world, growing up as children of immigrants—or an immigrant like myself—you have to adapt, and you're always caught between the culture of the country you live in and your parent's culture," says Kouadio Amouzame.
In addition to their immigrant connection, Kouadio Amaouzame and Lin Glover found a common cause in exploring the unique biological needs of their melanated skin. That cause underpins Eadem, their skincare brand launching today that gets its name from the Latin word for "the same." Kouadio Amouzame explains, "It's about finding commonalities in the experiences and skin needs of women of color and gathering us around those topics."
With its $68 Milk Marvel Dark Spot Serum, the initial topic Eadem is tackling is hyperpigmentation, which Lin Glover notes is the leading reason why women of color visit dermatologists. On top of cystic acne and eczema, it's also a skin condition she suffered from growing up. "I have a lot of experience with dark spots and over-the-counter prescriptions and products that you can buy from the beauty counter," says Lin Glover. "And I think the first thing to note is that a lot of the products that target dark spots on the market are for aging dark spots," not an issue she was dealing with.
The second thing she noticed is many hyperpigmentation products contain hydroquinone, a controversial ingredient banned in Europe, Australia, and select countries in Asia and Africa. "It's meant to be used under a dermatologist's watch and only meant to be used for a short amount of time, but, if you have hyperpigmentation like me, and I go along for decades using it, how safe is it really to be using every day?" asks Lin Glover. "That underscores the opportunity we saw to provide a non-harmful targeted skincare product that's efficient for women of color."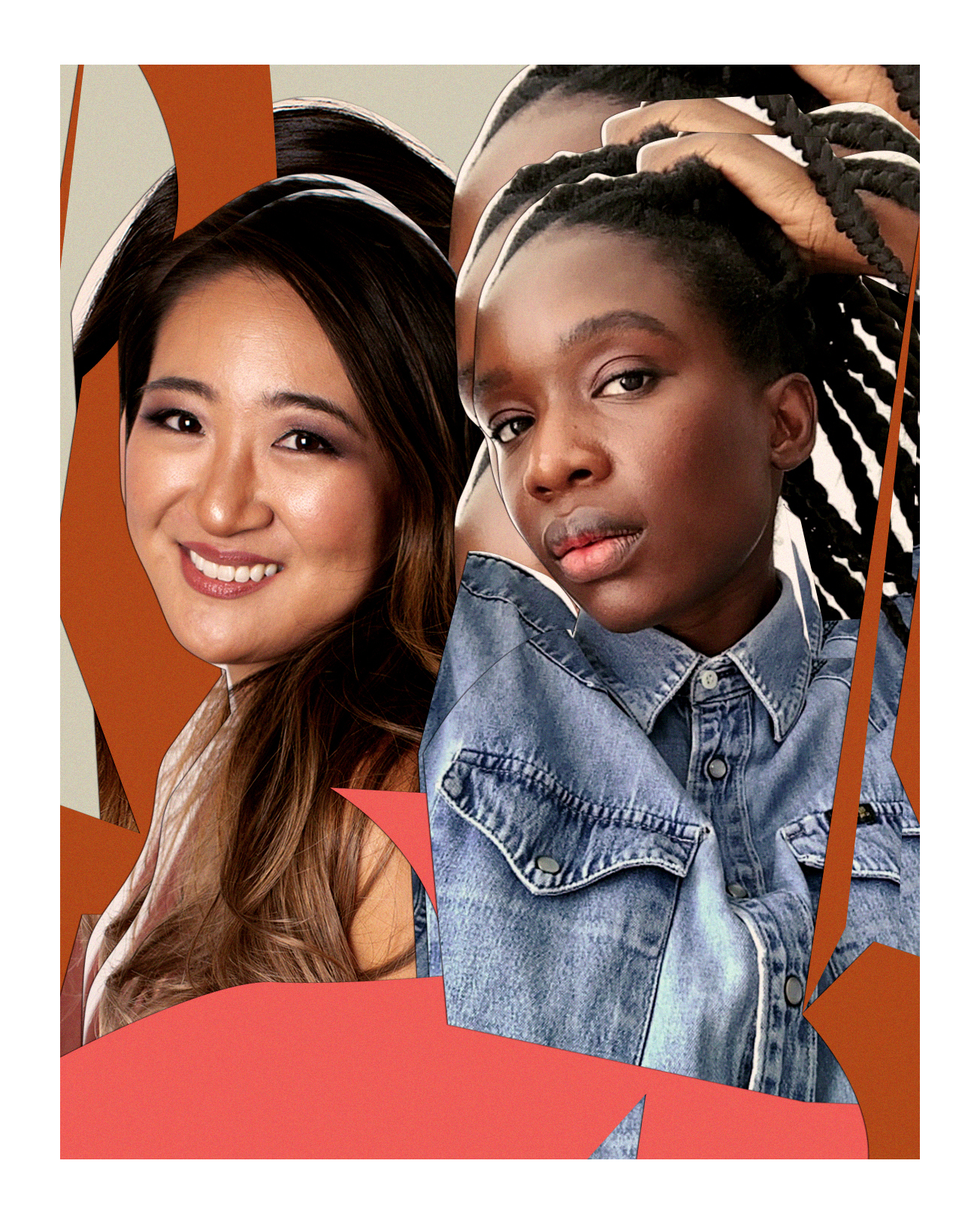 They've coined their approach to product development "smart melanin beauty." The approach involves challenging the status quo at each step of the process. Lin Glover elaborates, "There's a certain way things are done in the beauty industry because that's how it's been for so long, but even things like clinical testing and asking like, 'Well, who's on the panel of these clinical panels and how do we make sure that it's an all-women of color panel?' People told us, 'Oh, we don't do that. That's not possible, that costs more, nobody ever does that.' And we're like, 'Well, why not?' And so I think not being afraid to question everything and making sure it makes sense for us and our consumer was important."
Neither Lin Glover nor Kouadio Amouzame ascended the ranks in the beauty industry. That led to them having a beginner's mindset and constructing Eadem from the ground up. "Most beauty brands, when they launch, go to a manufacturer, tweak an existing formula and launch within a few months, but, for us, with what we wanted to accomplish, that just wasn't an option," says Lin Glover. Eadem relies on a custom formula and enlisted a woman of color formulator and dermatologist to ensure Milk Marvel Dark Spot Serum properly tends to the skin of women of color. It took 25 iterations to get the product right.
Lin Glover and Kouadio Amouzame sought to develop a product that would fit into current routines, not disrupt them. They strove for it to avoid leaving a milky residue on the skin, be non-comedogenic and, above all, efficacious. Vitamin C is a trendy ingredient for managing hyperpigmentation, and Milk Marvel Dark Spot Serum does have it but Lin Glover emphasizes it's not included simply for marketing purposes, and Eadem pursued to determine an effective dosage.
"We look at each individual active. Was it tested on skin of color? Was it proven to be effective and at what percentage to make sure it's gentle, but it doesn't overdo it? Because if you're using an active that's too strong, then you're just making more hyperpigmentation," she says. "We could make this in our kitchen and sell it, but that's not how we want to do it. We had an FDA-approved facility. We do all the preservation testing, irritability and allergic testing, and stability testing."
The product isn't positioned as a vitamin C serum because vitamin C isn't the hero ingredient, amber algae is. It's sustainably sourced from the Atlantic Ocean and, according to research that guided Eadem, targets excess pigmentation. "If you look at other key ingredients that people use—like hydroquinone or kojic acid—they're meant to lighten your whole face everywhere you apply it, so it just kind of without discrimination lightens your skin tone," says Lin Glover. "But the amber algae is able to detect the excess melanin in production, and only cut that and not address your tan or your natural skin tone."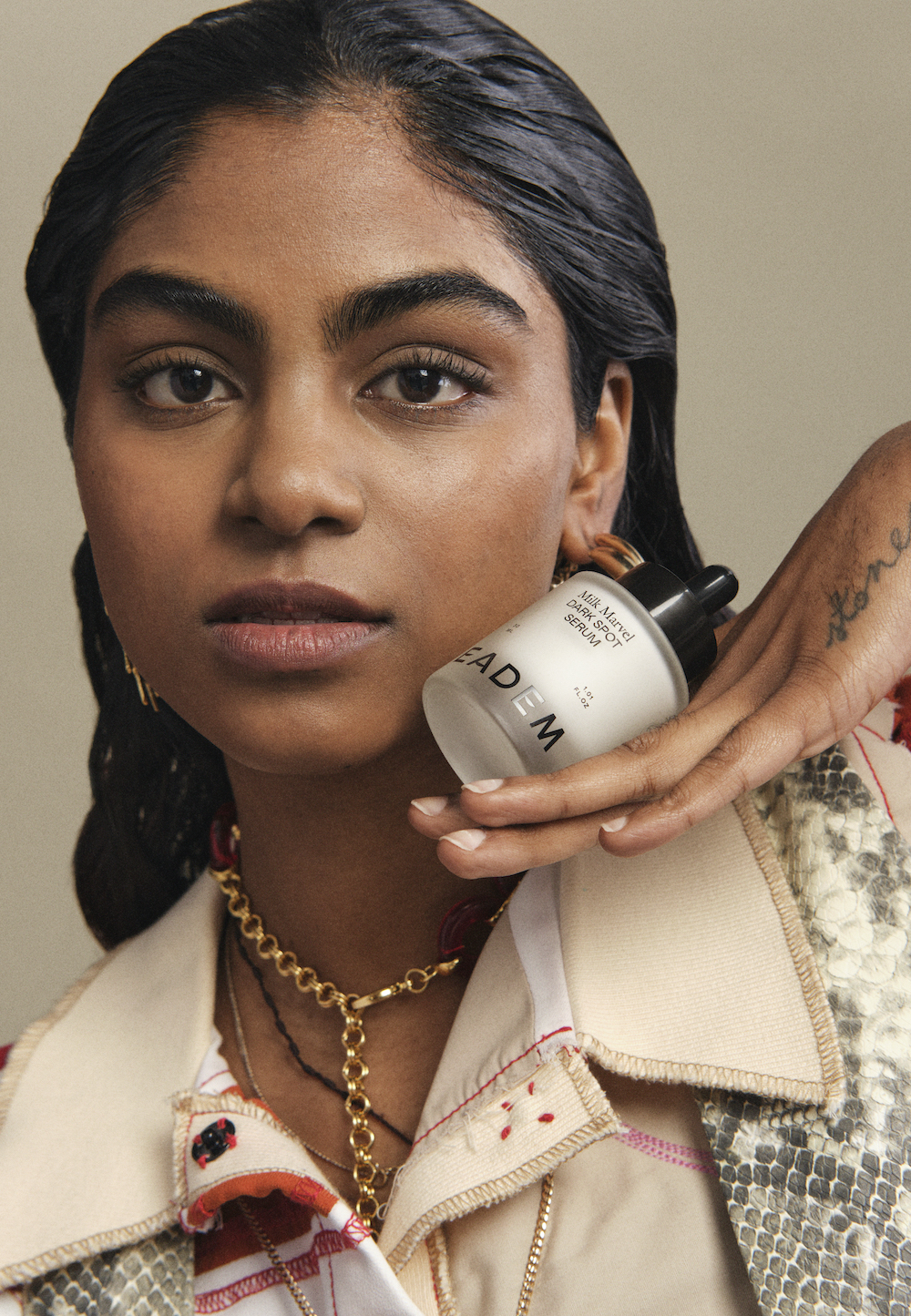 Eadem was a recipient of a grant from Glossier specifically intended for Black-owned businesses. The $30,000 it received went toward branding and imagery. Beyond the money, Kouadio Amouzame gushes about the relationships formed with fellow grant awardees and Glossier employees, who were happy to impart insights. She says, "Our company aged two years with all the knowledge they shared with us."
Eadem also participated in Sephora's Accelerate program this year. The program paired the brand with Sephora executives to walk it through the ins and outs of retailing, fulfillment and inventory management, among numerous aspects of business. Finance was a critical aspect for Kouadio Amaouzame and Lin Glover to broach. "Sometimes, we only talk about the glamorous side of beauty, he products and the consumer and the brand and all this color," says Kouadio Amouzame. "But, actually, for us as people of color, building a strong financial foundation is really, really important."
Eadem is self-funded but hopes to fundraise in the future to support expansion and enlarge its team. "Bootstrapping is nice until a certain level, but, then, when you need to achieve growth, we will certainly need outside funds," says Lin Glover. Retail partnerships are in the plans, but the priority now is direct relationships with consumers. "There's just so much to be done there that we can build and understand our consumer with that direct relationship versus having a middleman in between," says Lin Glover.
Eadem is fostering that direct relationship through a digital community platform encouraging women of color to share stories on subjects ranging from code-switching to cultural beauty rituals. Kouadio Amouzame says, "All these things that we have in common, we wanted to resurface and build a community around it because it's not just about products, it's about us talking about ourselves, our stories, healing together and coming together to uplift each other."
There are products in the pipeline, but Lin Glover and Kouadio Amouzame are interested in adding to Eadem's assortment slowly. In the long term, the pair expects to harken back to their stints at Google and gather information about skin of color, which they've discovered is lacking. "There's an entire body of research on our skin that does not exist, and that's quite worrying for us," says Kouadio Amouzame. "We hope that we can partner either with universities or labs or even bigger companies that have labs and scientists to help us, and start more research around our skin and more research around ingredients and how our skin functions, and maybe we'll find some breakthrough things that nobody is thinking about."