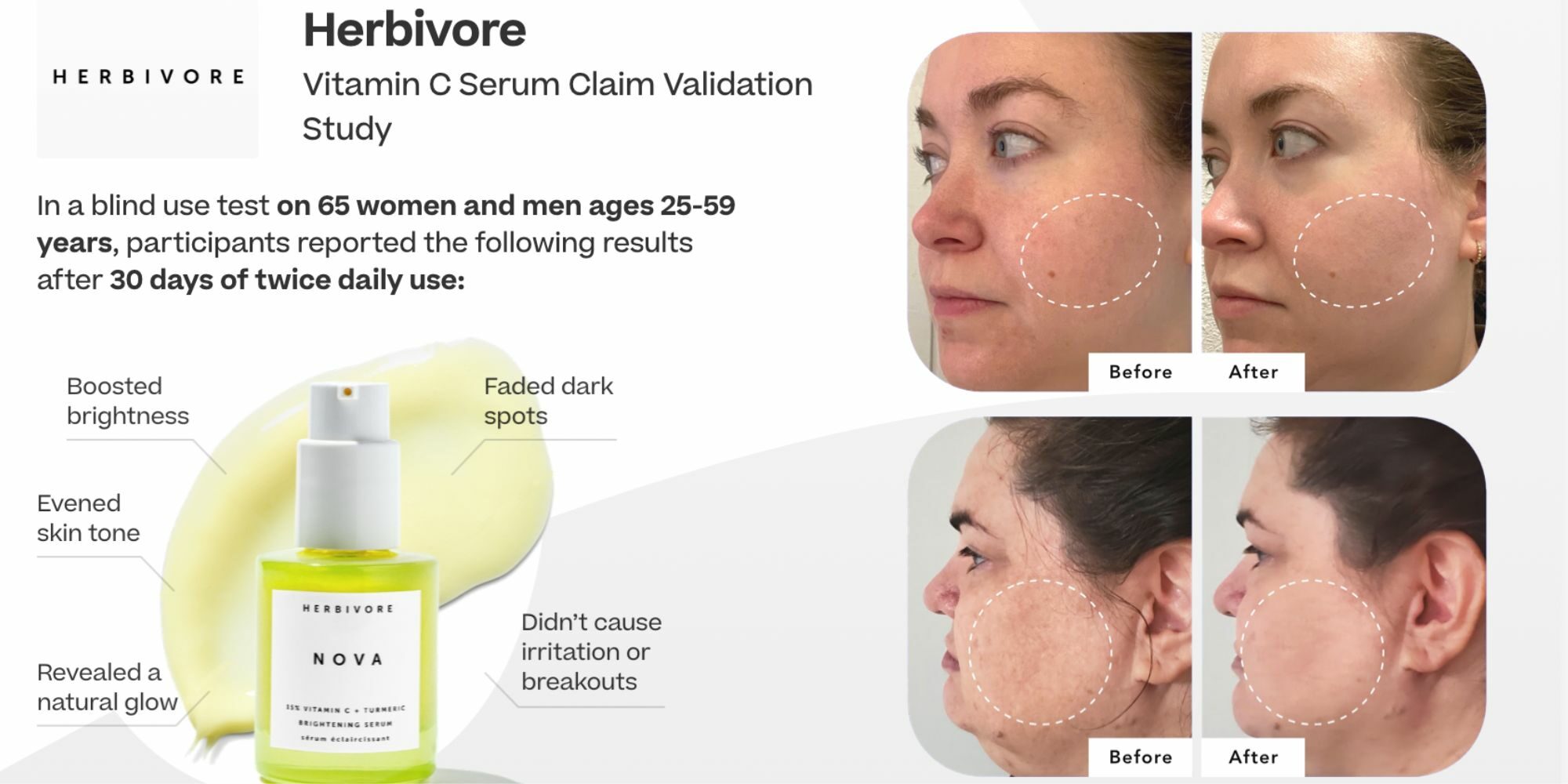 Good Face Project's New Subscription Offering Focuses On Facilitating Consumer Perception Studies
Formulation, transparency and regulatory platform
Good Face Project
is adding a new subscription tier called Good Face Launch. 
Introduced in the third quarter of this year, it's aimed at strengthening fast-growing indie brands' go-to-market plans by ensuring their formulas are screened for compliance and validated by consumers. The subscription tier unlocks unlimited regional and retailer regulatory screening through Good Face Project's Formulator tool and allows brands to produce turnkey consumer perception studies in a relatively cost-effective way.
Access to Good Face Launch is $15,000 annually. Each Good Face Launch subscription includes one consumer panel. Additional panels cost $10,000. Good Face Project co-founder Iva Teixeira says Good Face Launch is worth the investment because it saves brands time, money and energy.
"Brands are out there innovating on products, bringing the newest ingredients to market, and they can get bogged down by figuring out the regulatory screening aspects or collecting people for the studies if they're doing it all themselves," she explains. "We want brands to focus on doing what they do best, and we can help on the regulatory side." 
Teixeira has noticed an uptick in United States Federal Trade Commission warnings involving efficacy claims and so-called transparency- or sustainability-washing in beauty, making both clinical and consumer data increasingly important. In the last six months, the companies Klarity Kratom, Omni Consumer Products, Herbsense Botanicals and Bespoke Apothecary have received warning letters from the FTC or Food and Drug Administration due to unapproved and misbranded products.
"The FDA is not really regulating what goes into the bottle, but the FTC is becoming the enforcing body of what is OK to communicate to consumers and what is not OK," says Teixeira. "It's really important for brands to know how to abide by these rules, and we work within the parameters set by the FTC. There's a very, very strict guideline on how to elicit answers from consumers in a truthful way, and our job is to enlighten and make this process transparent." 
Clinical tests or in-vivo studies on live subjects are often hailed as the gold standard for brands backing up product claims. Study periods generally range from 30 to 90 days, and studies recruit panels of dozens to hundreds of human test subjects. The collected data leads to product claims such as "revives the skin for 48 hours"or "reduces wrinkles up to 10% in four weeks." Clinical testing is expensive—typically it starts at $25,000 and jumps to upwards of $100,000, depending on the length and panel size—and can be unrealistic for emerging brands.
Aside from being cost prohibitive, clinical tests tend to be designed to measure the skin's response to best-case scenario conditions with subjects who are highly incentivized to maintain the prescribed regimen for the duration of the study and by holding environmental conditions constant. When a product makes it into the hands of actual consumers incorporating it in their everyday routines, Teixeira argues these best-case scenarios don't always translate. As a result of clinical test construction, brands can miss vital insights about their products and messaging. 
Teixeira says, "While even receiving hero ingredient claims from manufacturers can help guide product decisions, it doesn't replace real life data from at-home consumer perception studies which help brands best understand their target customers and provides a unique competitive advantage." 
In-home consumer perception studies are advantageous because they're less costly than clinical studies and uncover valuable data under more realistic testing conditions. Brands have experienced success deploying consumer perception studies via partnerships with Good Face Project.
Natural skincare brand Herbivore conducted a blind test for its Vitamin C serum on 65 women and men. The test results showed that twice-a-day application for 30 days led to the test subjects reporting an increase in brightness and natural glow. The brand featured the claims and before-and-after images in its product launch campaign to target customers looking for brightening products.
Clean haircare brand Odele runs its own consumer panels during the product development process, but working with a third party like Good Face Project to validate efficacy and claims provides another layer of assurance as a final step before launching products. Zeroing in on the most compelling claims from a consumer perspective also gives Odele a leg up.
"In our industry, it doesn't matter what we say about our brand. What matters is what our consumers say about our brand and what they tell other people," says co-founder Britta Chatterjee. "Knowing what people will say about your brand before you launch is priceless because word of mouth is the foundation of your brand's success."
Jaycee Tok, associate manager of product development and regulatory for Kopari, reveals consumer perception tests play a vital role in the skincare and body care brand's marketing strategy. It deploys data from the tests to shape messaging and positioning. Tok says, "When it comes time to develop the marketing campaign, we can have full confidence our products are going to deliver, and we have real feedback on what users actually love about the product." 
With Good Face Launch, Good Face Project takes care of the heavy lifting by facilitating panelist recruitment, data collection, analysis and reporting. Its consumer-facing app is used by tens of thousands of consumers monthly seeking evaluated clean beauty formulations that fit their needs. The most engaged app users are whittled down to a pool of ingredient conscious consumers who are chosen to participate in a study. There's a guaranteed 80% completion rate for studies. Usually, Good Face Project sees an at least a 90% completion rate, far above the industry standard.
The Good Face Project seal, an emblem that verifies products adhere to the highest standards of safety and transparency, can be employed on products that qualify. Teixeira says, "Brands are spending time, money and resources ensuring that their products are safe, and our seal is a way for them to signal to the market that they made an investment and consumers should trust them." 
Brand founders are leveraging the seal to bolster trust with consumers and retailers. "I truly believe the Good Face Project could be the beauty/skincare industry conscience, an impartial organization that holds formulators and brands factually accountable if the FDA will not," says Inna Tumarin, SVP of global sales and brand marketing at Higher Education Skincare. "By vetting ingredients, screening percentages and cross-referencing against retail INCI list baseline, Good Face not only takes away the human error from formulation builds, but also creates transparency and peace of mind for consumers. When speaking with potential retailers, the buyers find the Good Face Project reporting valuable as to ensure they are stocking their shelves with quality, safe skincare products."
The Good Face Project announced a $5.65 million seed round in August to further its mission of helping products meet the exacting standards of contemporary consumers and retailers. VMG Catalyst, the venture capital arm of private equity firm VMG Partners, led the round. The Good Face Project launched a PRO version of the Good Face Formulator, its popular formula workflow subscription for manufacturers and ingredient vendors, in May of 2022. 
GF Formulator PRO is science- and AI-powered, and features 150,000-plus ingredients mapped across dozens of dimensions of efficacy and safety. It's constantly updated as regulatory, scientific and consumer sentiment changes occur, allowing for real-time input on formula design and the procurement process. Through a partnership with the Good Face Project, brands that are members of Adit, a retail matchmaking service owned by Beauty Independent parent company Indie Beauty Media Group, have complimentary access to GF Formulator.