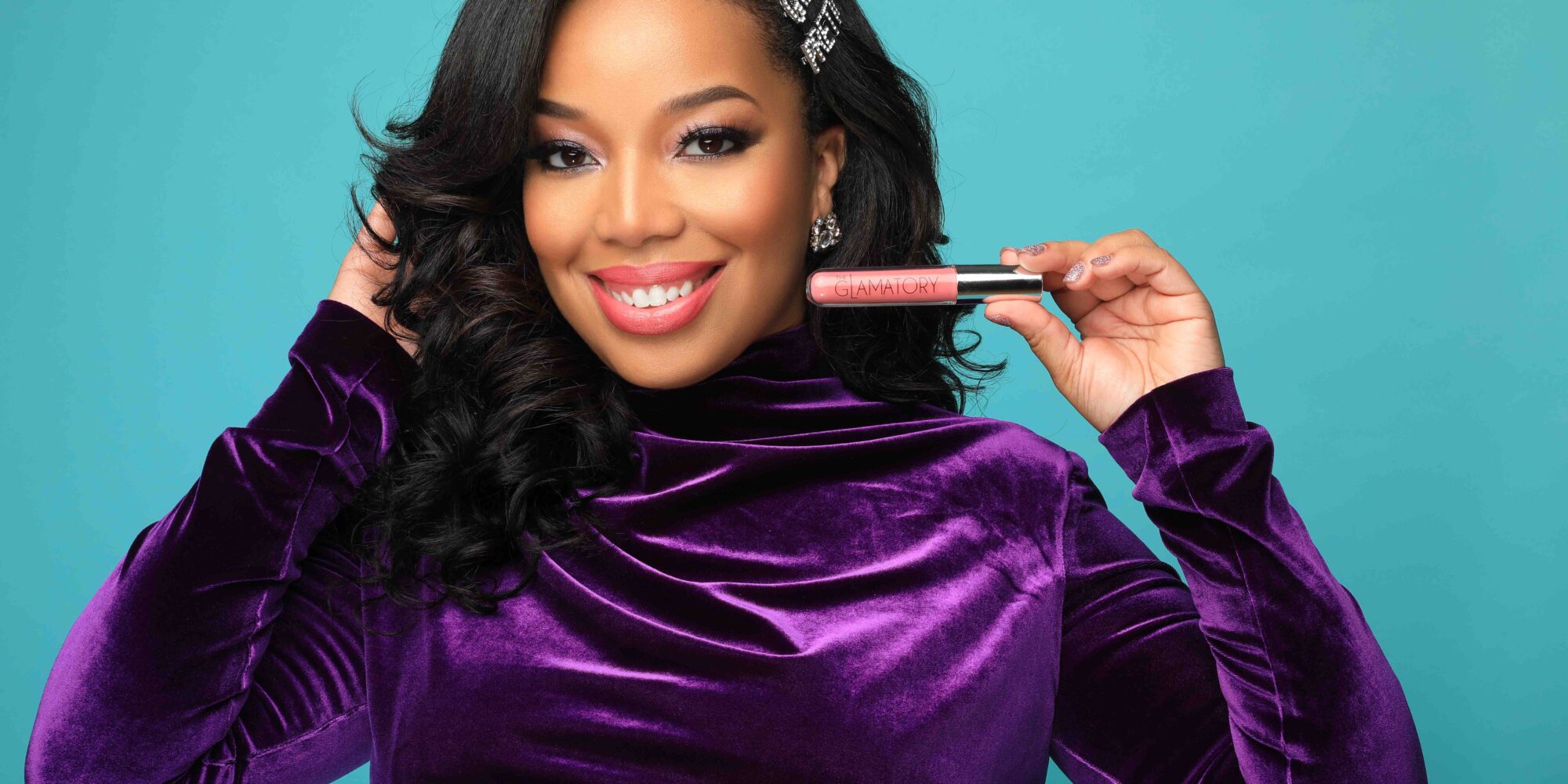 Grind Pretty's Mimi J Is Building A Beauty Empire By Helping Other Women Build Their Businesses
Mimi Johnson, the Atlanta-based makeup artist and budding beauty mogul better known as Mimi J, isn't satisfied simply building a business. Instead, the founder of product line-cum-retailer The Glamatory and content-commerce vehicle Grind Pretty wants to build a movement. More specifically, as the motto for Grind Pretty heralds, she's building "a movement created for a woman who works hard for the life she wants, while striving to maintain herself emotionally, spiritually, mentally, and physically."
Johnson has certainly worked hard. She's handled makeup on television shows such as "The Real Housewives of Atlanta" and "Love & Hip Hop: Atlanta," been an ambassador for brands the likes of Colgate, Shea Moisture and Strength of Nature, turned The Glamatory into a showcase for emerging makeup artists, and struck partnerships for Grind Pretty's subscription boxes with well-known personalities, including Angela Simmons, Yandy Smith and Pretty Vee.
Grind

 

Pretty

generates 1 million-plus impressions across social media and press outlets when a new collaboration drops, and has

15,000

active subscribers, an amount it has the goal of doubling this year.
As Johnson succeeds, she hopes to pull others up through their involvement in her endeavors. She says, "I really want to make more of a difference for female entrepreneurs." Beauty Independent talked to Johnson about becoming a makeup artist, the pandemic's impact on subscription boxes, programs supporting BIPOC-led brands,
mistakes beauty startups make, and her vision for the future of The Glamatory and Grind Pretty.
How did you get into the beauty industry?
I am from Kansas City, Mo. I come from a very loving family, but I was the first to graduate from college in my immediate circle. I've always been very ambitious. I also felt weight on my shoulders to be an example for my family, especially my nieces. I became an aunt at a young age when my sister had kids early.
I moved to Atlanta on a full academic scholarship to Clark Atlanta University. My family was proud that I went, but, when I got there, they were like, "Get a degree to get a job." I was a marketing major, and I got a good job. I was grateful for it. I was working in IT as a consultant, but, in that environment, I kind of hated the experiences I had. I was one of the few Black people, and I faced challenges to the extent that I said, "It's nice to have security, but this can't be it for me."
I wanted to be an entrepreneur. Makeup was my third try at business. I did event planning, and it didn't work out. Graphic design didn't work out. Makeup stuck. It was something I was doing naturally. I was the designated makeup artist for my friends. One of them said, "You are good at this, you should really try it professionally." So, I began to do it.
I put my myself out there. I did my own business card. It looks like crap now that I look back at it. I've always been girly, but not a glamour, glamour girl. So, the concept of paying a lot for makeup unless you are going to your prom or your wedding, I couldn't understand that until I was in Atlanta, and girls were getting their makeup done to go to Lennox Hall. Then, I thought, "How do I brand myself among all of the thousands of makeup artists?"
I didn't know anyone in the industry when I started. My come up was truly based on sweat equity, networking and collaborating with like-minded people. The head makeup artists and photographers weren't giving me play, so my strategy was to look for up-and-coming ones that were just like me, and I did creative things. I had a segment on YouTube called "Beauty Behind The Beat." That was in 2008 and 2009. I started building a name for myself. One thing led to another, and I got on "Real Housewives" and "Love & Hip Hop," and my career went off from there.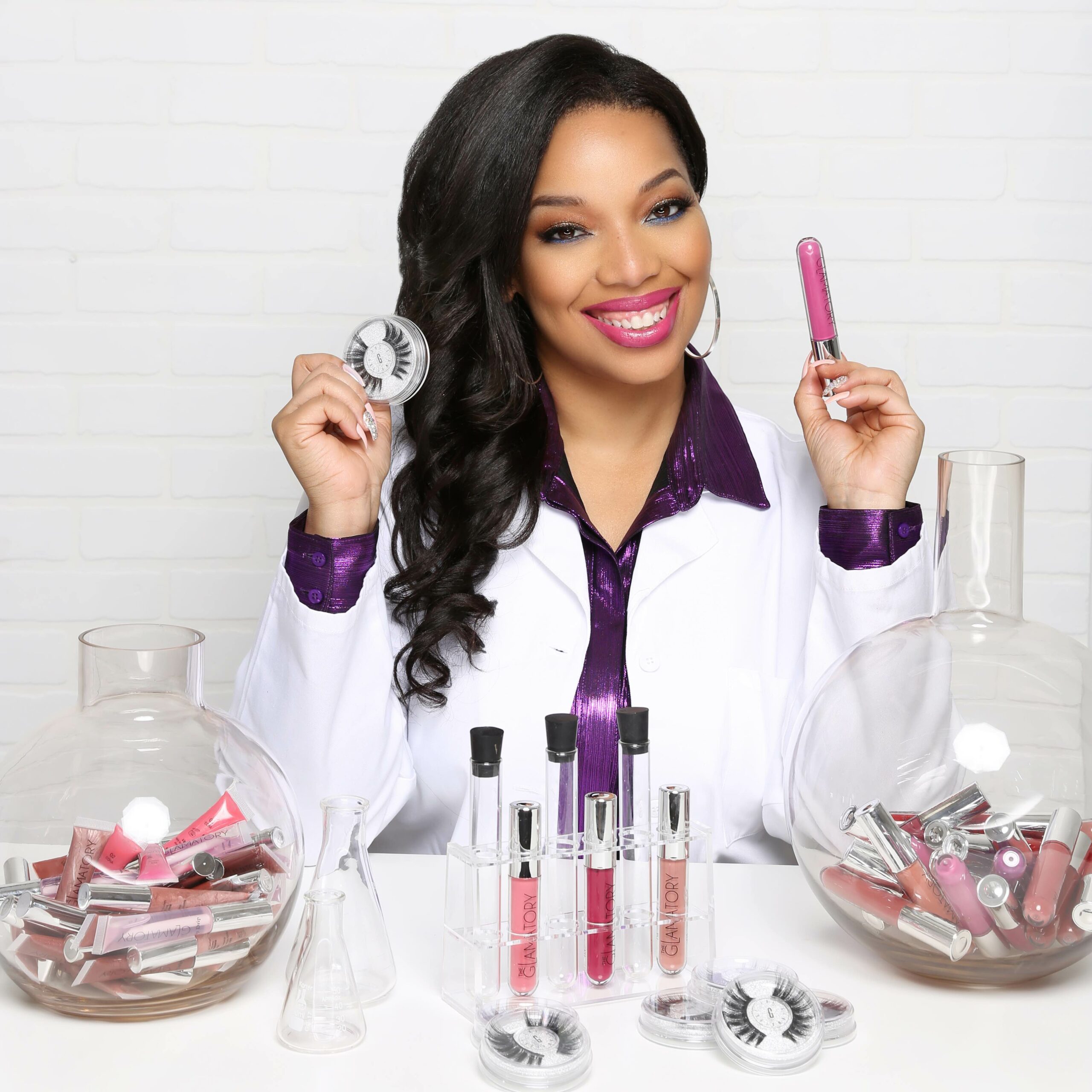 What makeup style did you become known for?
At the time I started, heavier makeup was trending, and that wasn't really my style. I felt that I wasn't a good makeup artist because I wasn't doing the dramatic look, but my style has always been naturally pretty and about enhancing someone's beauty as it already exists. Once I accepted that, that became my thing. My clients come to me because they want to look like themselves, but a more glamorized version.
What was it like working on set?
Reality TV is totally different from scripted TV. In reality TV, you never know what you are going to get. There's a level of patience, poise and professionalism that you really have to have to stay in that world. The things you might see on some of those shows you can't really be prepared for. I will give you an example that aired on "Love & Hip Hop: Atlanta." I was in Mimi's apartment when K. Michelle got into an altercation with Rasheeda, and threw a lit candle. I was thinking, "What if this entire apartment lights on fire?" That is not what I signed up for.
When did you start branching out beyond makeup artistry?
It all happened when I had my son. In the height of my come up as a makeup artist, I got pregnant. I was like, "OK, this is going to be different." I can't get those calls I was getting to do makeup or travel with less than 24 hours' notice. I was thinking to myself, "I really need to build something that is going to create paths of income and allow me to have an exit strategy." My son was born in 2012 and, in 2014, I started The Glamatory.
What's The Glamatory?
Makeup artists are different from hairstylists. A hairstylist can have their weekly clients, but makeup is special occasion unless you are working in TV and film in the union. The structure of a suite space doesn't really work for makeup artists. We can't really pay $1,000 a month. So, I thought, "Why don't I have a space where artists can pay a more flexible rate, and I can cultivate the community and have classes, and I can also carry my products?" That was what was behind the creation of The Glamatory. I had a brick-and-mortar for five years and, when COVID happened, I took it really hard, but, once I opened my eyes, I thought, "This is a blessing in disguise." The girls are still working there as an agency, and we are doing virtual classes and parties. I'm still selling my makeup brand and mentoring other makeup artists.
How did Grind Pretty come to be?
I've had so many women come in to get their makeup done and shop, and they always ask me questions about entrepreneurship. I said, "How can I produce something to address that and build the community?" That was the birth of Grind Pretty. It started very organically. It was a blog in the beginning and was on Instagram. I used that platform to highlight women who were doing amazing things, tell their stories, and share resources that would help others.
Then, I took it a step further. I thought to myself, "I have CEOs in my phone contacts who are my clients that own a lot of successful brands. What can I do with them?" I started creating video content and a magazine, and that was very well-received, so I thought I was onto something. The last component of Grind Pretty that has stuck is the experiment of the subscription box.
As I was growing the community, I came across a lot of emerging brands that needed help. They didn't have capital, and they were mostly by women of color. I said to myself, "If I did a box, I could put in a lot of different brands, but, if people don't know them, they might not be interested. What if I pair the boxes with a celebrity or well-known influencer or more recognizable brand?" That would be an initial draw and, then, they would discover the other brands. In essence, it was giving them extra promotion that they might not necessarily get organically. To my surprise, a lot of celebrities who aren't known as entrepreneurs were just as interested. They were using me as a test to see how their products could do or for people to see them in a different light.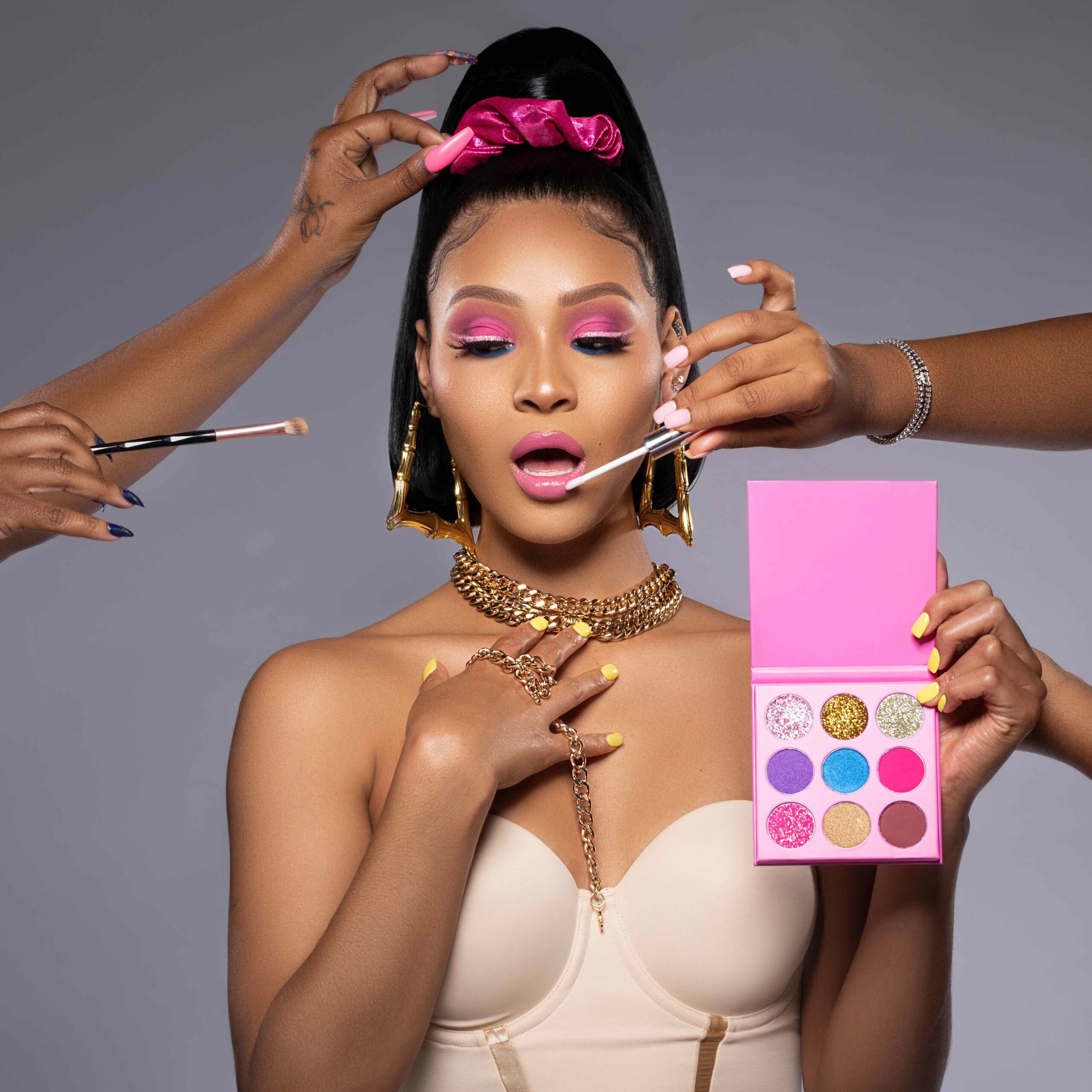 How do the subscription boxes work?
Right now, there are two kinds. There are quarterly subscription boxes and special collaboration boxes. In the quarterly boxes, there is always going to be a mix of well-known brands and emerging brands. The boxes have four to six products and retail for $25. For the special collaboration boxes, those aren't subscriptions. They are first come, first serve. Pretty Vee's retailed at $49.95, and Lottabody's was $34.95.
What brands do you want for the boxes?
Our audience is mainly millennial and women of color. Skincare is really big as are mixes of lifestyle things like candles and fragrances. Anything within the self-care realm is most sought-after. Some of the brands that have been popular are AcARRE, Black Girl Sunscreen, Alikay Naturals and Skin Glass by Noorface.
How have the boxes been impacted by the pandemic?
The boxes started booming even more because of the pandemic. We even did a special box with Amara La Negra from "Love & Hip Hop: Miami" just because. I had done a box with her and the box had done so well, and she was at home because of the pandemic. So, her manager said, "Can we do another one for Mother's Day?" I said, "Sure." People thought the subscription model was dying off, but there's been an uptick because people are at home.
What other things would you like to do with Grind Pretty?
The majority of the people in my community are entrepreneurs. We provide free courses, downloadable templates, e-books and networking opportunities that come with the subscription in addition to the boxes. I plan to make even more of an impact for entrepreneurs. This last campaign that I did with Lottabody was really fulfilling because we were able to give away three grants to women of color business owners. I look forward to doing more things like that. I want to put a charge into some of the brand sponsors that are bigger to give back and do more, whether it's grants, training or advertising support. Also, we are planning a big Grind Pretty Fest this year. I want to have engaging panels with tangible things you can apply to your business, and things that allow you to network and connect with others.
At Grind Pretty, you work with many emerging brands. Do you have tips for them?
I am all for emerging brands, but there has to be a certain level of work they have to do for their brands to begin with. That means packaging. That means the labels. That means the branding they have. I get a lot of brands that literally just started, and they are not ready. What I want to happen is that someone discovers a brand through Grind Pretty, and they start buying directly from the brand or the brand has conversations with someone who wants to carry it in a store, but a lot of brands aren't ready for that. So, I say, "Be prepared." It doesn't make sense to get into a box if they are not.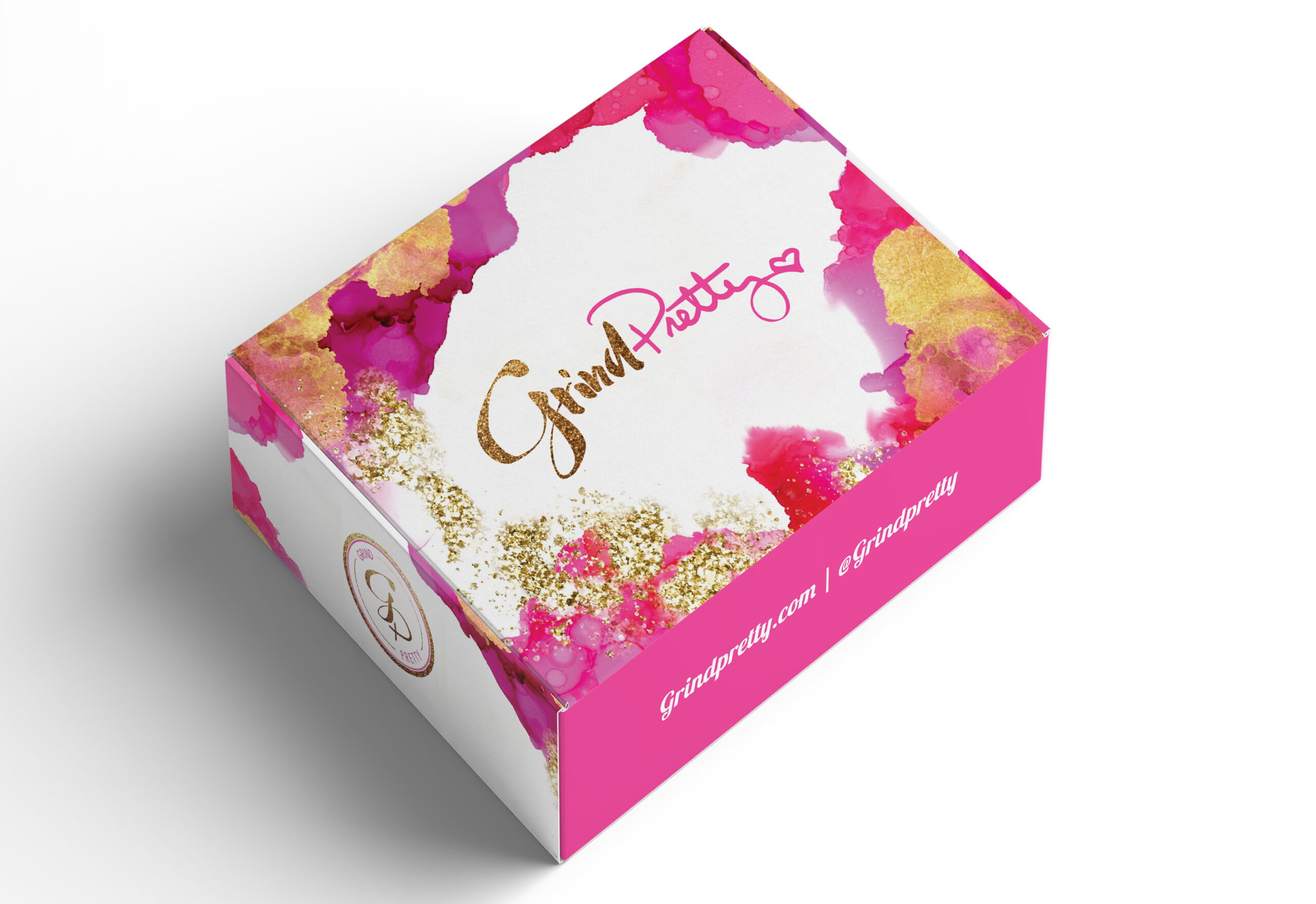 What are emerging brands doing well?
When the founder is at the forefront, and you are connecting directly with the founder. The founder isn't hiding behind the brand, they are the brand. They are on Instagram. They are going live. They are being consistent with the content they are pushing out. People invest in people. The product being great keeps the customer, but it's the initial connection with the brand story, the founder of the brand and their values that are especially important right now in the climate we are in.
Are there brands that you've worked with that you think are really going somewhere?
Range Beauty. The founder [Alicia Scott] is on the rise. She's built a really solid brand. Also, Skin Glass by Noorface is phenomenal. I love how [founder Noor Farooq] continues to elevate the brand.
Last year, there were many programs launched to support BIPOC-owned brands. What do you think should happen now?
Of course, we need the resources, but, when $5,000 or $10,000 is given to someone, we don't know if they even know how to use that. It seems like, "Hey, that was given. Check me off the list because I gave," but that's not enough. Moving forward, it's about finding mentorship and being able to be introduced to people to be in the room. We still get very little venture capital money, and it's because we aren't invited into the room. That's the barrier. I received grant money from Frito-Lay's Stacy's Rise Project, and they also provide mentorship and advertising. That's the extra step. It's about bringing in the relationship with mentors, and having them use their platforms to help us.
What was it like to receive the Stacy's Rise grant?
I never win anything, So, I was like, "What?!?!" I had applied to every grant under the sun. When they reached out, I was like, "Oh, great, I made it to the next round." They acted like they were interviewing me and, at the end, they were like, "You won." I actually cried. I used the money for advertising and inventory, and I retained a bit for working capital. They lined us up with mentors. They actually used their social media for us. Even on their potato chip bag, there's a QR code and, when it's scanned, it has all of our businesses linked to it. That's power. I wish more brands would be like that.
Are there gaps in the makeup market you believe could be filled by brands?
I think we still have some things to do for women of color. It's definitely excelled to a new level, but there are things I do as a makeup artist where I still need to mix. There are still skin concerns that aren't addressed that much and multi-use products that women of color need. Most women don't spend so much time on their beauty routines. You know how there are co-wash products that combine conditioner and shampoo, I think there needs to be that for skin, shortcut products. Also, I think it's important to really understand the ingredients in products for women of color. A lot of us are still slapping labels on things and not really looking at the ingredients to see if they are good for us, and there needs to be more accountability there.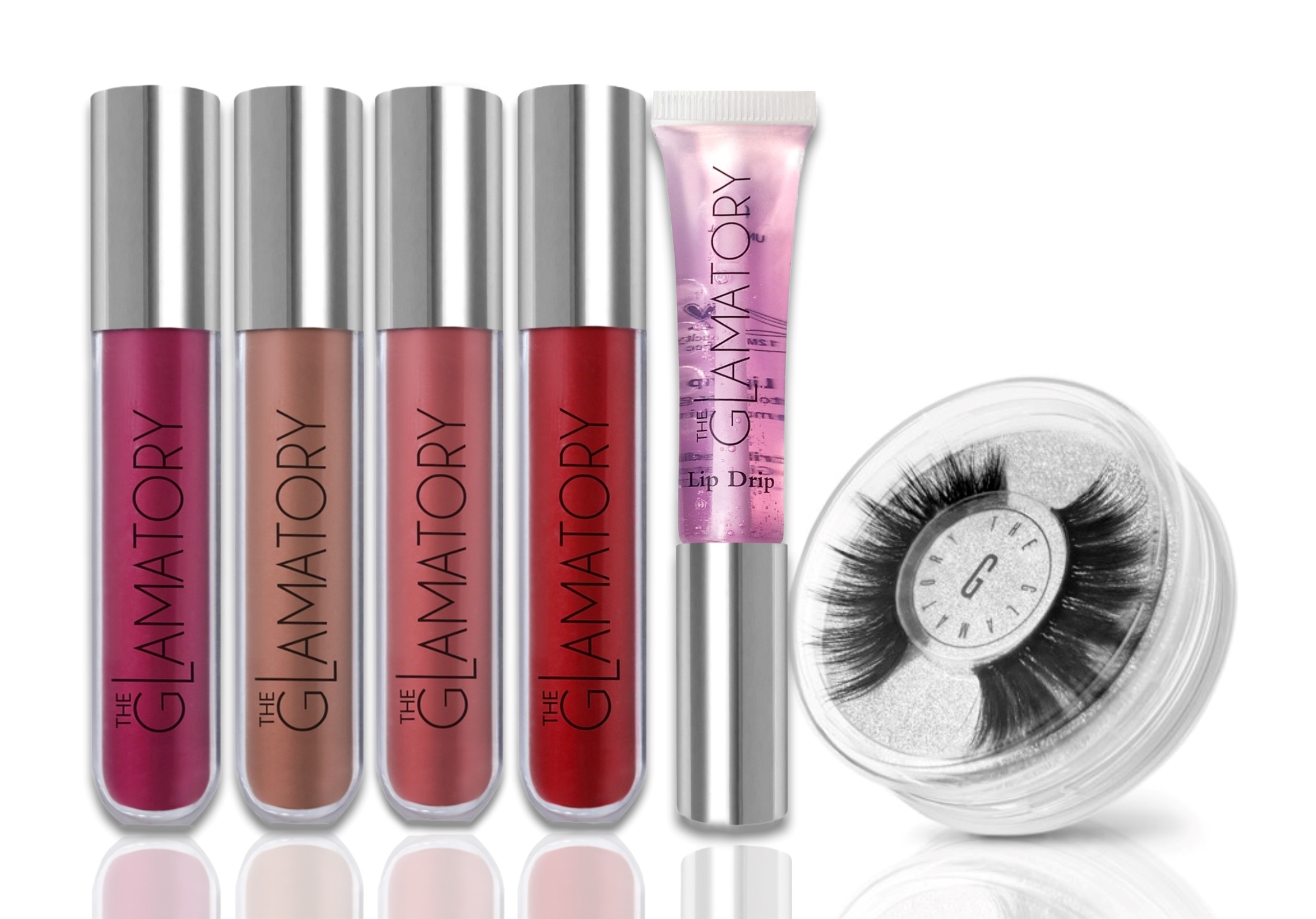 Many women of color have experienced racial profiling at beauty stores and have found the stores don't address their needs. Was it important to you to do the opposite at The Glamatory?
That was one of the things I was trying to combat with my brick-and-mortar in the services. It was a safe place. I never looked at Sephora as having great makeup artists. I only looked at them as having salespeople. I always looked toward MAC artistry, although MAC is different from what it was before. MAC is more about sales now. When you take away expertise on the artistry side, you are going to get people who don't know brown skin unless they have it themselves. I think that's a fundamental problem.
Once upon a time, Bloomingdale's had an artist and a salesperson separate, and they partnered. I understand the money side of it. It's going to cost a bit more to split that up, but it's really effective because the artist is not trying to sell you. They are trying to help you. The salesperson is trying to close the sale. We have makeup artists that aren't trying to sell you, but help you. They are trained correctly, and that's what needs to happen.
What goals do you have as an entrepreneur?
My goal is to have a strong team to have more freedom and peace as an entrepreneur. One of the biggest challenges is to be able to stay on top of things in a timely manner. I might have 10 brands reaching out to me at one time, and my intentions are good to get things going with them, but, if I had more people on my team, I could be more efficient in moving those business conversations along.
As an entrepreneur, a lot of times, we get stuck doing this or that, and it compromises our own peace. With all the crazy stuff in the world, my goal is really to have peace. Of course, I want sales and the community to grow. I want to make my collaborations 10 times better than they were last year, but, at the center of it all, is being able to have peace and be a mom to my son.
Where do you see Grind Pretty and The Glamatory in five years?
In five years, for The Glamatory, I am hoping it can be in more retail stores. Once we are out of this pandemic, I am hoping we can open the shop again, and there might be more brick-and-mortar shops and even a franchise of The Glamatory. On the Grind Pretty side, I look forward to growing the box more. Right now, we are quarterly, but we could be monthly or bimonthly along with the magazine as well. I want to be doing things on a larger scale.