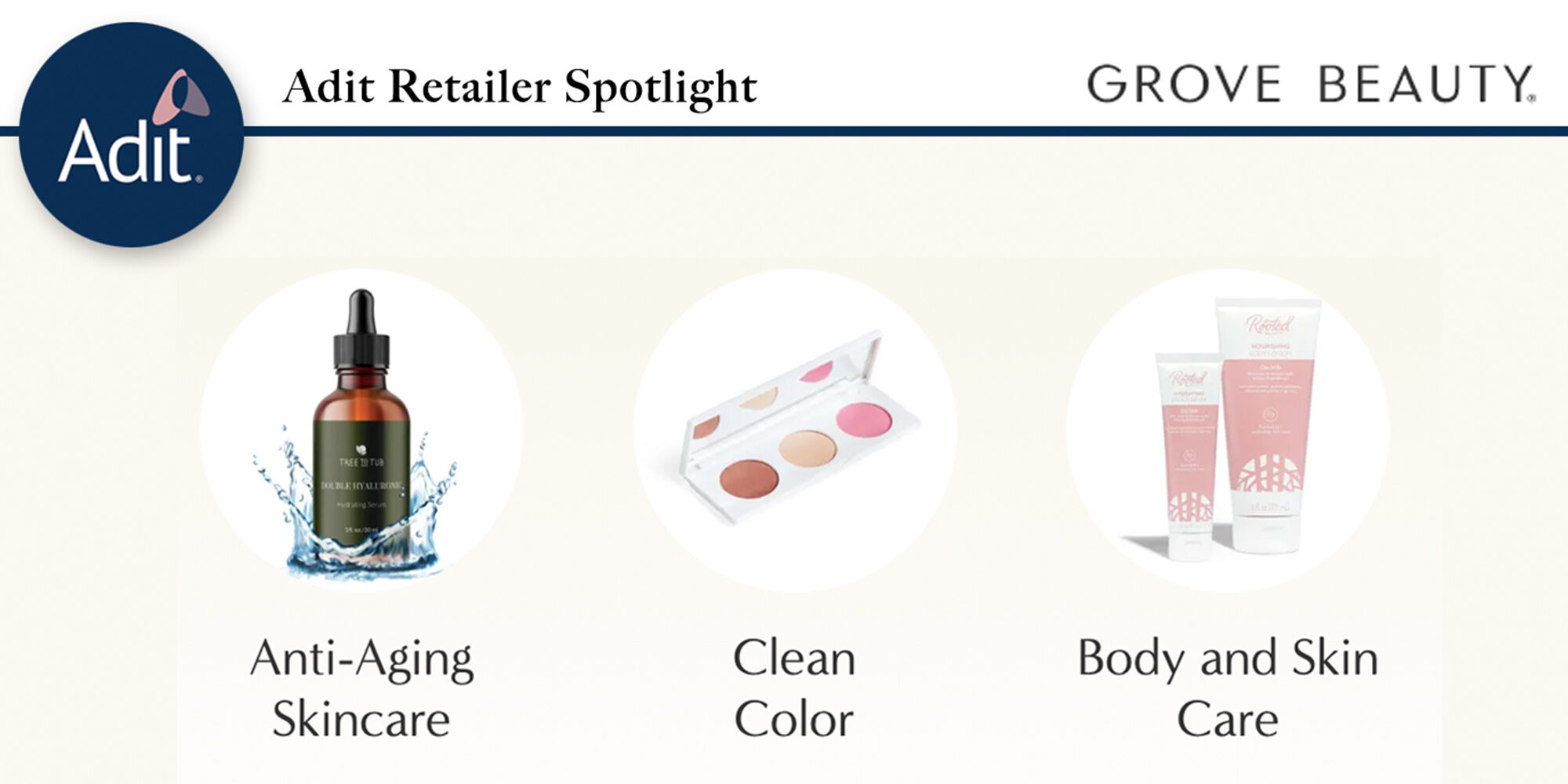 Grove Collaborative's Strict Brand Criteria Are Designed To Foster A More Ethical CPG Industry
Last year, Grove Collaborative CEO and co-founder Stuart Landesberg told Inc. magazine he reached out to 176 firms and was rejected after 75 pitches before finally landing $6.7 million in series A funding for the natural home and personal care product e-commerce company in 2016. "I remember vividly I met with this angel investor in the very early days. He was just like, 'This is the stupidest idea I've ever heard,'" recounts Landesberg in an Inc. video. "I was like, 'Well, I really appreciate that direct feedback.'"
It's the angel investor who seems stupid today. In December 2020, Grove closed a $125 million funding round at a valuation of $1.32 billion. In total, it's estimated to have amassed $436 million in capital. According to information provided to Glossy, beauty and personal care accounts for over 30% of its sales, and sales in the category increased by 301% in the first three quarters of 2020. Earlier this year, Grove extended from screens to stores by entering Target with eco-conscious home essentials in a partnership that's part of its Beyond Plastic initiative to go plastic-free by 2025.
On its website, Grove's assortment spans 110 brands across beauty, wellness, home, pets and kids. It combines third-party brands such as Indie Lee, Pai, Acure, Burt's Bees, Lina Hanson, Vapour, Innersense Organic Beauty and RMS with a growing in-house brand lineup, including Peach and Superbloom. On Tuesday, it released refillable deodorant system Peach Not Plastic.
Grove isn't done injecting newness into its assortment. It's on the hunt for innovative indies that meet its strict clean, cruelty-free and sustainable guidelines. The e-commerce platform works with Adit, a service owned by Beauty Independent parent company Indie Beauty Media Group connecting emerging beauty brands with retailers, to help sort through brands that could be a good fit. To understand what constitutes a good fit, Beauty Independent spoke with Luana Bumacher,  VP of owned brands and innovation Grove, about bestselling categories, keys to success with customers and nonnegotiable brand criteria.
What is Grove's mission?
Our mission is to transform the consumer goods industry into a force for good, for people and the planet, and we want to do that in a way that makes it easy for people to switch to healthier and more sustainable routines. We are leading the pack in the consumer industry to push towards a more sustainable future. We have a direct connection with consumers and that constant dialogue is really critical for us to help build out fantastic, disruptive, purpose-led brands. 
Where do consumers stand on sustainability now?
Consumers are more interested in sustainability now than they've ever been. I think, even post-pandemic, this trend will continue. We've all been at home for the past year and a half seeing plastic waste we're generating as consumers. People care more about their health, the things they're putting in their homes and on their body than ever before. That's really important because it's a big trend, but it's a beautiful trend because it not only helps us to live a better life and healthier life, but also helps the planet for future generations.
What sets Grove apart from other retailers?
We have a strict process for curating the brands we bring to our website, but we also create our own brands that have set the bar higher. It can be hard to navigate for consumers. There's a lot of greenwashing that happens in the industry about natural and sustainable or what packaging is better for the environment—plastic, virgin plastics, post-consumable plastics, aluminum. So, what sets us apart from Amazon or other new retailers is our Grove Guides who are available 24/7 via text, email or phone to help consumers uncover the products, but also help them to navigate.
So, if you have, for example, a health concern and are wondering if these ingredients would irritate the skin or is that something that is healthy if you have allergies to X or Y, the Grove Guides are there to help you find the best brand and the best product for you. You can really be buying products that not only make you feel and look good, but also do good for the planet. That's quite an advantage if you shop at Grove.
Do you find that consumers have an assumption that sustainable or better-for-you products are more expensive?
Our prices are very competitive. That's another myth that we need to debunk. Our prices are not higher than any other beauty retailer selling the same set of brands. It's really important that we have attainable products for people answering to the sustainable world. There are a lot of barriers for people to try more natural products. One is performance. Do they perform as well as conventional? The other one is price. And we are in this constant dialogue with consumers debunking those myths. 
How do consumers typically discover Grove? 
Because we are digital first, it's all the mediums of digital like social and influencers. We work with a lot of the micro-influencers that have aligned values with the company. That's really what matters to us. We aren't just working with any influencers, we just work with people that share the same values that we do. We are extending to advertising on streaming platforms such as Hulu, HGTV and Tubi, and are going into basic cable and satellite channels as well. Also, the company was just launched at Target, so we are now an omnichannel company. People can find us at Target and get to know a select assortment of our products and, then, come back to the Grove platform and learn more.
Who are the target customers? 
Grove is for the people who are paying attention and those that know they should be and want to be a part of the solution. Our customers are naturally conscious and are invested in discovering products with safe ingredients that have a positive impact on the environment. They make sustainable choices as a way of life, and they are engaged in exploring the naturals category, having a real passion and zest for their home, cleaning and organizing.
Grove's customers are also continuously on the lookout for what's new and love sharing recommendations with the rest of the Grove community. Our target customer skews female between the ages of 25 and 54, and lives across both urban and suburban areas of the U.S. and typically have young families. What is really good about Grove and the way we communicate is we don't judge where you are in your journey. We help you to navigate and to make one step forward because we know, if you make one step forward, next time, you'll make maybe two steps forward. 
How did COVID-19 affect the business?
I think the search for more sustainable products during COVID was happening and, of course, there were categories like in health and hygiene that grew significantly. We've seen very strong growth in beauty, and we have been very fortunate that we have a company that plays in the right space, which is natural, clean products. We've been seeing strong growth for a long time. People are more concerned about their well-being and, now, it's extended to your home. We've seen that reflected in sales, but also in engagement—engagement with our guides, the engagement through the comments on our social accounts.
In terms of categories that were in highest demand, it is health and hygiene products, so hand wash, sanitizer, a bit of the obvious ones, and shoppers were looking for more wellness products like vitamins. Our vitamins business has really strong growth. Then, our home care products, people are just more into their home, and they care more for their home. In beauty and personal care, we've seen a shift, and I think part of it is us driving the industry forward towards sustainability. If you're spending more time at home, you go into your bathroom and you see plastic all over, you start questioning yourself about the better options out there. You don't have to waste so much. We've also seen a pretty significant growth in haircare bars since we launched Peach.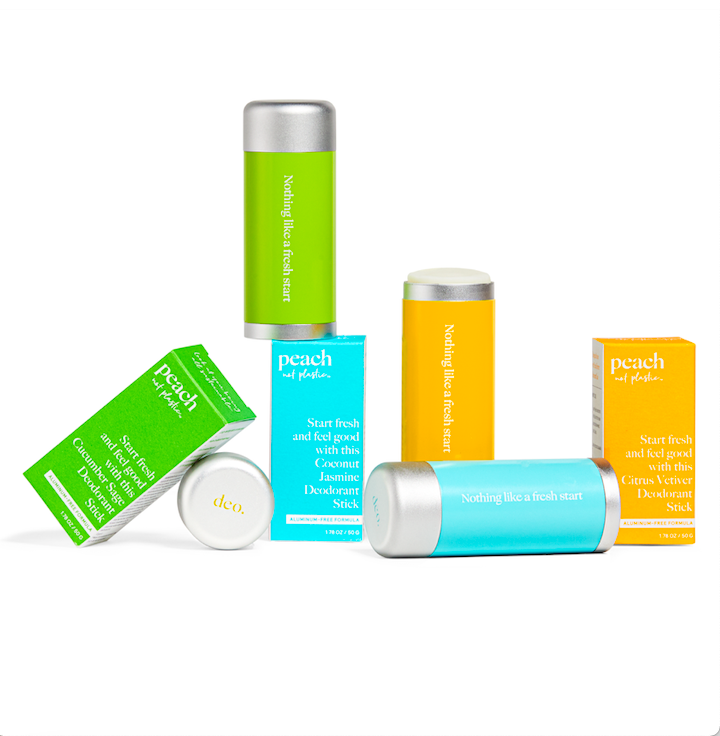 Grove just launched a plastic-free deodorant and body care refill system. Can you tell us about that?  
Peach Not Plastic is a brand of clean, vegan, non-compromised personal care products that are 100% plastic-free. In October of last year, we started in the shower. I've worked in the beauty industry for a long time, and I never realized how much plastic I had around me. So, we launched our haircare bar, body bars and facial bars, and it had been highly successful. Peach was born through that principle that you don't have to compromise on performance and your experience in personal care to live a more sustainable life.
The next step is to say, OK, what else people do use on a daily basis that has a lot of plastic in it? We believe we can offer a better, cleaner option from a formulation perspective without any compromise on the user experience that can be plastic-free. So, deodorant and lotion was the immediate next step for us because you might say, "Hey, I've seen plastic-free deodorant, but they are in a tube kind of like a push pop. It's really challenging." Or you might have seen refillable deodorants, but they still have a ton of plastic. So, Peach is highly innovative. It doesn't require you to change your habits and how you apply your deodorant. It's clinically proven for 48 hour protection and smells great. 
What is the Beyond Plastic initiative about?
Beyond Plastic is Grove's comprehensive five-year plan to address the plastic crisis. 320 billion pounds of plastic packaging are created annually—or the weight of 800,000 Boeing 747s—and only 9% of plastic is recycled no matter how much ends up in the recycling bin. To help solve this issue, Grove is leading the consumer product industry out of its reliance on single-use plastic and has set an ambitious goal of becoming 100% plastic-free by 2025 with the company's comprehensive Beyond Plastic initiative. Today, we're plastic neutral. By 2025, we will be 100% plastic-free. Specifically, since its launch in October 2020, Peach's bar format shampoos and conditioners, hand and body wash, and facial cleansers have helped consumers avoid over 54,000 pounds of plastic from entering landfills. In 2021, Peach is projected to save 170,000 pounds. 
What is the growth plan for the assortment?
We have over 110 brands, but we don't set out for a certain number. We set out to find brands that meet all of our criteria. Our Four Point Standard is uncompromisingly healthy, effective, sustainably produced and cruelty-free. Out of all this, being nontoxic is the No. 1 sub-criteria that we have. They all need to be a 100% cruelty-free. We look for products that have ethical supply chains. All of our products on our platform have ingredient transparency. We disclaim everything, even the nuances that you don't have to necessarily disclaim. 
How do you sell in-house brands while not taking away from other brands?
No one has plastic-free, refillable deodorant, but, if there was, we would sell it if they met our criteria. What is really important is how we decide when to create our own brand, and that's when we see an opportunity. We see a white space that none of our competitors are really nailing, and we think we can do a better job. The brands in our portfolio occupied a white space on our platform or from a customer segment perspective. We do believe that we need to lead the industry, but, because we're a mission-driven company, we believe that we are all in this together to move the industry forward.
What are the current bestselling categories?
I can say Peach, our personal brand, and Superbloom, which is our masstige skincare brand, are No. 1 sellers on the platform in their own categories. The self-care category is big. Masks, creams, moisturizers and vitamins are the top sellers and top-growing categories right now.
How can a brand be successful on Grove?
We have a constant dialogue because, again, you're all sharing the same purpose of offering healthier, better-for-you and the planet products. They don't necessarily have to have a super established brand, but what they do need to have is a product that performs because that will translate into sales. The Grove customer is pretty knowledgeable on what they're looking for and, if they are not, they will go into the Grove Guide, test those products, and they love sharing what they are trying.
We have a private Facebook group with our VIP customers where they exchange tips and products. So, if the products don't work, that's a big failure. One of the things for me that is very interesting about Grove is how much people want to talk to you and share with us on the platform and with their peers about their experiences, about the brands and the products they love. And, if strong marketing plans are shared, that's even better.
Do expect brands have clinical data or studies to back up claims?
Performance and product efficacy is really important. So, the more data we can share with our customers, the more they would appreciate it. This data isn't necessarily for marketing purposes, but it's to train our Grove Guides so they are very well equipped to help customers navigate.