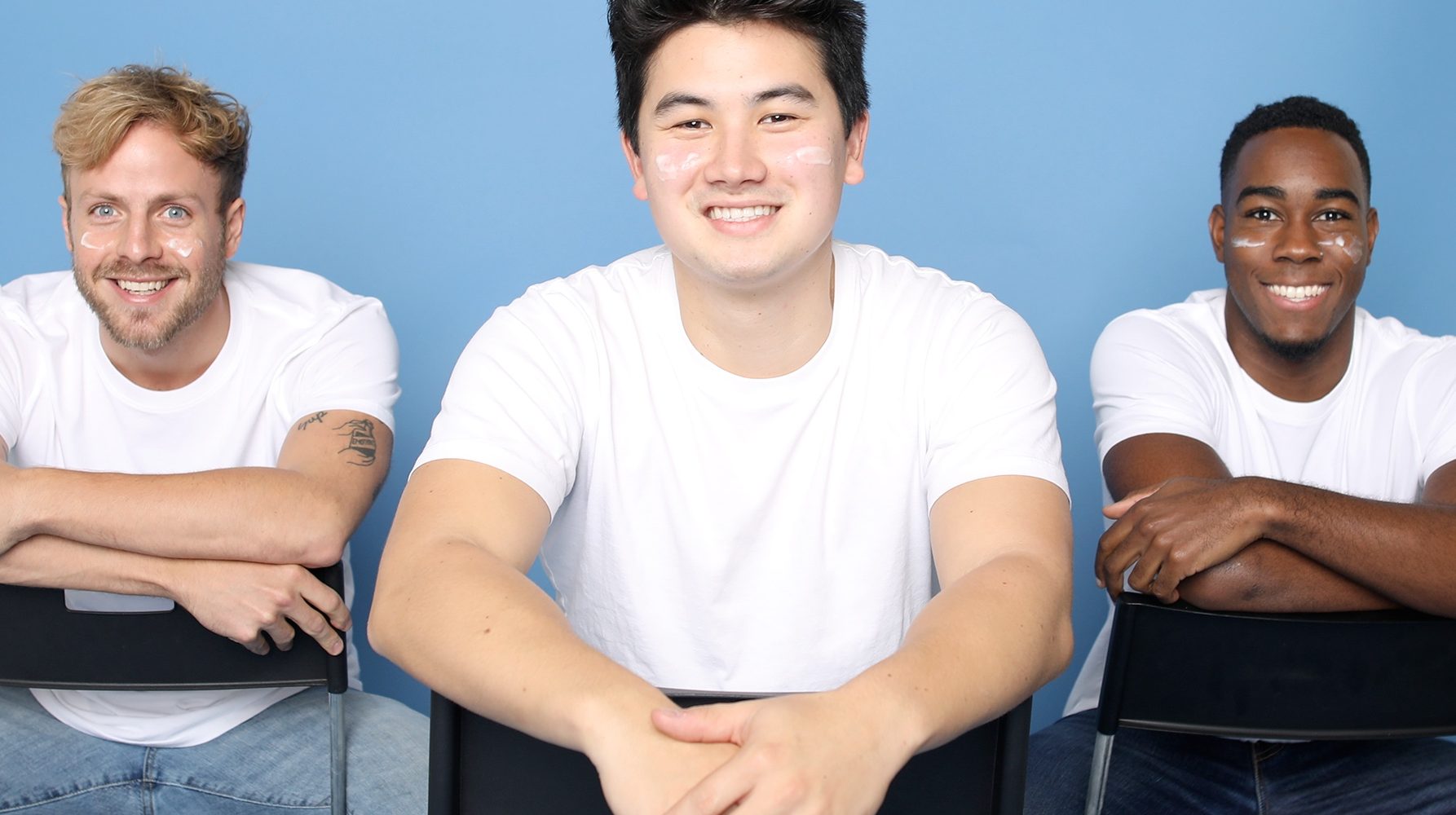 Guys With Skincare Questions Can Text New DTC Brand Bruvy For Answers
Most men aren't likely to walk into a Sephora and ask cast members their pressing facial care questions. With Bruvy, they don't have to.
The new direct-to-consumer skincare brand is stepping in where traditional beauty customer service has faltered in the men's segment to offer guidance—or, in its term, guydance—to customers via text message. Texting provides privacy to encourage discussion of personal maintenance concerns they might be hesitant to share openly, and Bruvy hopes it will foster a trusted relationship between it and male consumers often unsure about the best skincare routines for them.
"How do we help these guys feel comfortable taking care of themselves? We are combining daily essentials and guidance, and we haven't seen that in this space," says Steadman Dinning, co-founder and CEO of Toronto-based Bruvy, which is pronounced "bruh-vee," adding, "Bruvy is slang for brother. What we are really aiming to be is a cool older brother to these guys. A lot of guys were brought up without a figure in their lives to tell them how to wash their face or moisturize."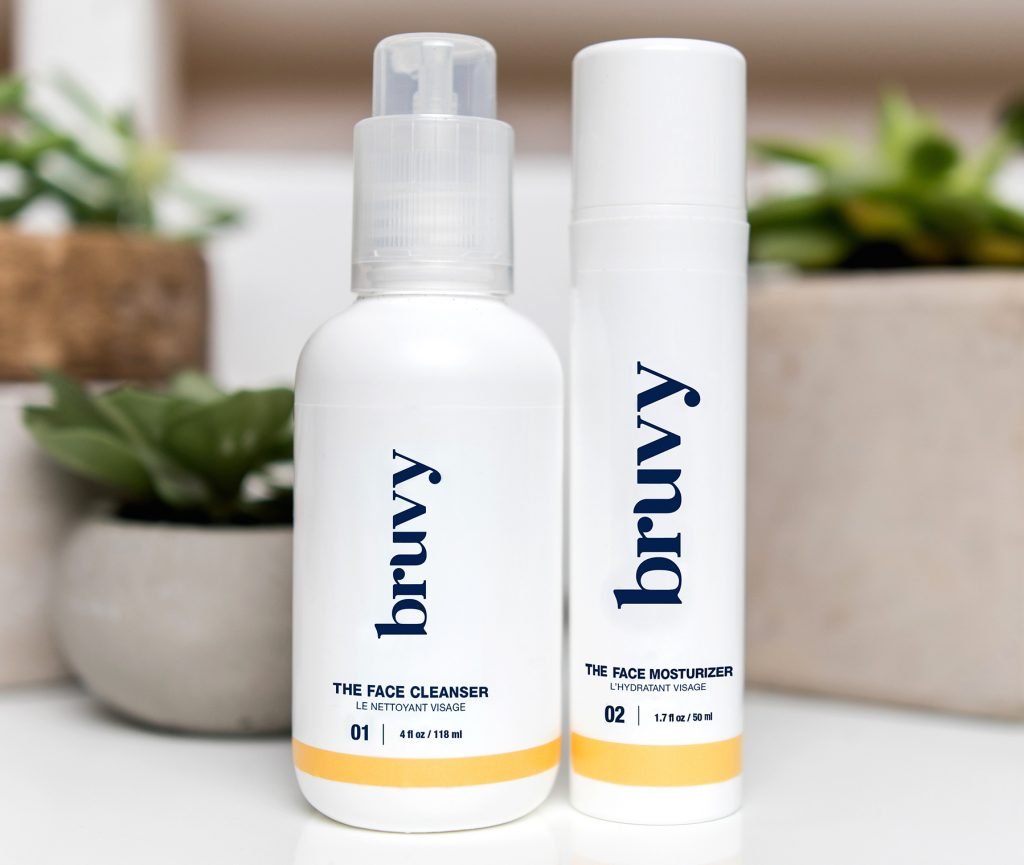 Dinning met Evan Romano, COO and co-founder of Bruvy, while they both were at Shopify Plus from 2017 to 2018, and the pair commiserated about improving their skincare habits. Both recent graduates of Queen's University, they were climbing in their careers and thought they should upgrade their products to suit their moves from students to serious professionals—and they knew they weren't the only ones interested in doing so. With an idea for a business percolating, they interviewed 50 guys to determine what a digital-savvy skincare brand directed at 22- to 35-year-old men should entail.
"We are combining daily essentials and guidance, and we haven't seen that in this space."
"We sent beta kits to them to test different formulas and unboxing experiences. They ended up texting us questions like, 'I've got a beard. Can I use your products with it? I go to the gym in the morning. Should I wash my face there after I work out?' We saw the education gap that could be solved through one-on-one conversations," says Romano. "We decided to do that with texts because that was the medium that our customers wanted to talk to us through."
The delivery of a Bruvy package triggers its texting system. Customers initially receive an automated message and, if they engage with it, follow-up interaction isn't automated. At the moment, Dinning replies to customer texts. However, Bruvy is assembling an advisory board of experts to explore the numerous skincare and wellness queries customers might have to develop beneficial responses. A cosmetic chemist is already on the board, and the brand is in the process of securing a dietician and dermatologist for it. Product replenishment capabilities aren't currently programmed into Bruvy's text-messaging system à la Dirty Lemon, but they're planned for later.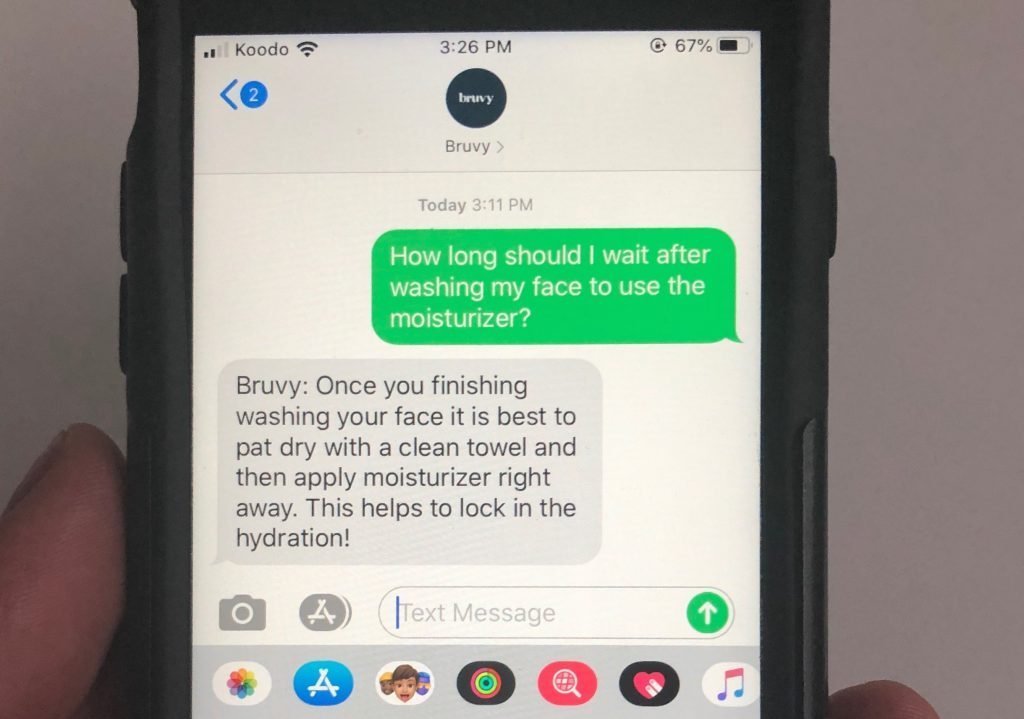 Romano and Dinning learned about more than texting from their early interviews. They learned millennial men primarily keep their skincare regimens to a minimum. However, that doesn't mean they're happy with minimal results. Bruvy has launched two products—The Face Cleanser and The Face Moisturizer—that it loads with high-performance ingredients such as aloe vera, pomegranate, hyaluronic acid, hydrolyzed lupine protein, resveratrol and ceramides. The bottles clearly communicate about the product application order (The Face Cleanser is step No. 1 and The Face Moisturizer is step No. 2) and key ingredients. For example, Nicole Drutz, CMO and co-founder of Bruvy, details, "On our cleanser, it says, 'Aloe vera nourishes skin.' You can understand it and why it's good for you."
"What we are really aiming to be is a cool older brother to these guys."
Individually, the 4-oz. The Face Cleanser is priced at $20 and the 1.7-oz. The Face Moisturizer is priced at $24. In a duo set, the products are $40. The prices are rooted in amounts potential consumers informed Bruvy they'd be willing to pay for the plant-driven, eco-friendly and fragrance-free products. Consumers also informed the brand that they had trouble figuring out the right quantities of product to squeeze out from tubes. Bruvy relies on pumps and instructs guys a single pump every time they wash their faces or moisturize is all that's needed. Its products are intended to last about three months. Wellness items are in the product pipeline.
Bootstrapped Bruvy went through 50 product iterations before settling on its two debut releases, and it cost roughly $60,000 to get the brand off the ground. Bruvy's goal is to reach $400,000 to $500,000 in sales for its first year on the market. Beyond revenue, establishing a profitable enterprise is a chief goal. Romano says, "We are taking the first couple of months to test growth channels to understand what messaging on Facebook works and what real-life events work. We don't expect a huge takeoff in the first few months, but we expect to understand what efficient customer acquisition will look like."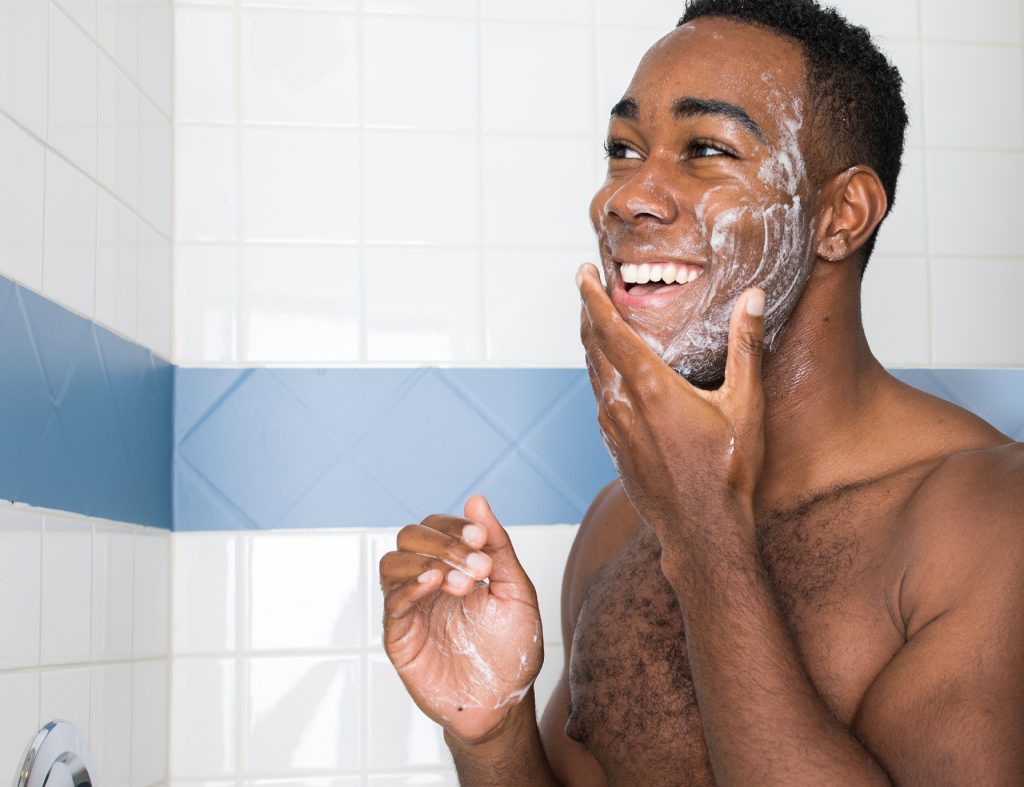 Bruvy is considering hosting meditation and yoga sessions to draw consumers, and it's building a portfolio of content on topics including skincare, holistic wellness and sexual health for the forthcoming blog The Wake Up. Images on The Wake Up and Bruvy's website aren't generally of David Beckham doppelgängers. Dinning says, "When we were talking to guys in our interviews, they said, 'I want a product made for normal guys. I care about my health, and I go to the gym, but I'm a regular guy. Can you talk to me and show guys like me?' We really took that to heart."
Spreading positive word of mouth about the brand is an important objective. "We are looking at the longer-term game. A lot of brands right now are raising capital, and that has different expectations for valuations and exit opportunities. For us, because we're bootstrapped, we have the ability to make really strong connections by creating short feedback loops. A lot of customers say, 'I really want to share this with my friends,' and we will do a referral program for them," says Dinning. "A big thing we talk about internally is taking steps in the short term that lead to strong relationships with customers. With the one-on-one texting, we can build for the long term as opposed to looking for short-term growth returns."